Setting New Medium and Long-term Goals
Shimizu recognizes the issue of climate change resulting from CO2 and other greenhouse gas emissions as one of the most important issues we face, and we are implementing measures related to mitigation of and proper responses to climate change. We are also acting to reduce CO2 emissions from our own business activities during construction and at our offices, as well as CO2 emissions by customers as they operate the buildings that we have designed, built, and delivered to our customers, over the lifecycle of these buildings.
We have integrated these activities and launched a wide range of Ecological Mission activities in fiscal 2005 to mount a comprehensive response with the goal of saving energy and reducing total CO2 emissions 30% by 2020, compared to the 1990 level. This will be achieved by reducing emissions from our offices and job sites, and through the construction of energy-efficient buildings. Meanwhile, COP21 was held in Paris in 2015, marking a critical juncture. Japan declared the goal of a 26% reduction by 2030 compared to 2013 emissions levels, and countries around the world also announced their new goals. The Japan Federation of Construction Contractors also set the medium-term goal of a 25% reduction in CO2 emissions per base unit during construction by 2030, compared to 1990 levels.
Shimizu also took this opportunity to formulate Ecological Mission 2030-2050 to set new medium and long-term goals in light of Goal 13 (specific measures to combat climate change) of the Sustainable Development Goals (SDGs).
We have established the category of emissions produced directly from Shimizu's construction and office activities as part of the CO2 emissions that Shimizu is associated with. We pursue company-wide efforts to reduce these emissions, have set a goal in terms of the percentage reduction from 1990 levels, and use this as the KPI to manage reduction efforts. Moreover, Shimizu's energy-efficient design technology can make a substantial contribution to reducing CO2 emissions over the lifecycle of a building as it operates after Shimizu has completed the design and construction and delivered it the customer. We therefore have also established a similar KPI for the percentage of reduction compared to 1990 levels and use this in management.
The three categories for which KPI have been set specify the reduction goals for 2030 and 2050 as the medium and long-term reduction goals for the entire company, and we pursue initiatives to achieve these goals.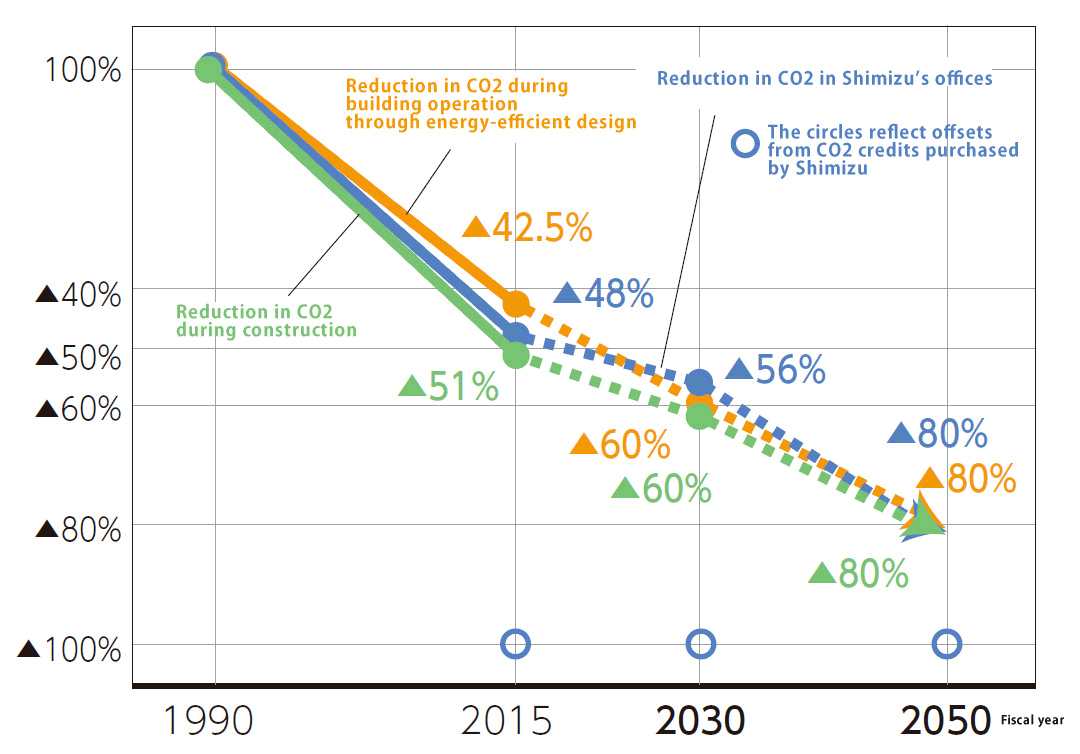 Shimizu Corporation is committed to the formulation of SBT (Science Based Targets) to achieve the long-term goal of the COP21 Paris Agreement on climate change.
We are analyzing several climate change scenarios and are considering setting medium- and long-term targets consistent with SBT.
Reduction in CO2Emissions from Shimizu's Own Business Activities
CO2 Reduction Efforts During Construction
Fiscal 2016 Results

250,000 tons of CO2 emissions


Reduction of

51

%


compared to fiscal 1990

Fiscal 2017 Goal

Reduction of 54%


compared to fiscal 1990
CO2 Reduction Efforts at Shimizu's Office
Fiscal 2016 Results

9,000 tons of CO2 emissions


Reduction of

46

%


compared to fiscal 1990

Fiscal 2017 Goal

Reduction of 49%


compared to fiscal 1990
Contribution to Reduction in Customer CO2 Emissions
CO2 Reduction During Building Operation from Energy-efficient Design
Fiscal 2016 Results

48,000 tons of CO2 emissions


Reduction of

46

%


compared to fiscal 1990

Fiscal 2017 Goal

Reduction of 47%


compared to fiscal 1990