As digitalization, globalization, and large changes in society progress, accepting human resources with diverse characteristics and values, generating innovation through the interaction of differing skills and opinions, and enhancing corporate value are essential to sustainable growth.
At Shimizu, we aim to create an organization that manifests the creativity of diverse human resources by utilizing the diverse characteristics of each individual employee and promoting diversity management in a way that enables everyone to demonstrate their creativity to the maximum extent.
Basic Policy
Basic Human Resources Policy
We are working to develop human resources skilled in global innovation while also striving to pass on the DNA and technology of Shimizu through systemic cross-sectional education and specialized training by system and function and entrench the mindset of superb craftsmanship. We do so from the perspective of mining and evolving the construction business, establishing a revenue base in non-construction businesses, and developing the human resources to support growth.
Human Resource Development
Human Resource Development to Develop Individuality and Creativity
On-the-job training (OJT) is the basis for developing a rich sense of humanity and drawing out the inherent ambition and potential of employees while also supporting greater growth and character formation. We have employees take on various tasks while they are young with an eye toward future career development, and provide training to encourage a mindset of independent study based on personal responsibility and personal choice.
A person who has self-knowledge and passion, thinks seriously about what he or she wants to do and what he or she can do, and acts on it
A person who can respond flexibly to changes in his or her environment
A person with superior expertise who is also interested in a wide variety of things
A person with a rich imagination who dares to actively take on challenges in the path toward he or her dream
Developing these kinds of human resources is goal of Shimizu's human resource development.
Educational Promotion Structure and Human Resource Development Program
Shimizu's educational promotion structure consists of a core company-wide education committee and various education committees for individual divisions, line and functions. Each committee formulates and revises the educational plans for each fiscal year, and builds an even better educational promotion structure by utilizing the PDCA cycle.
We are also working to produce human resources who are first-class professionals trusted by the community and customers through programs revolving around specialized education by line and function, from the perspective of developing capable people.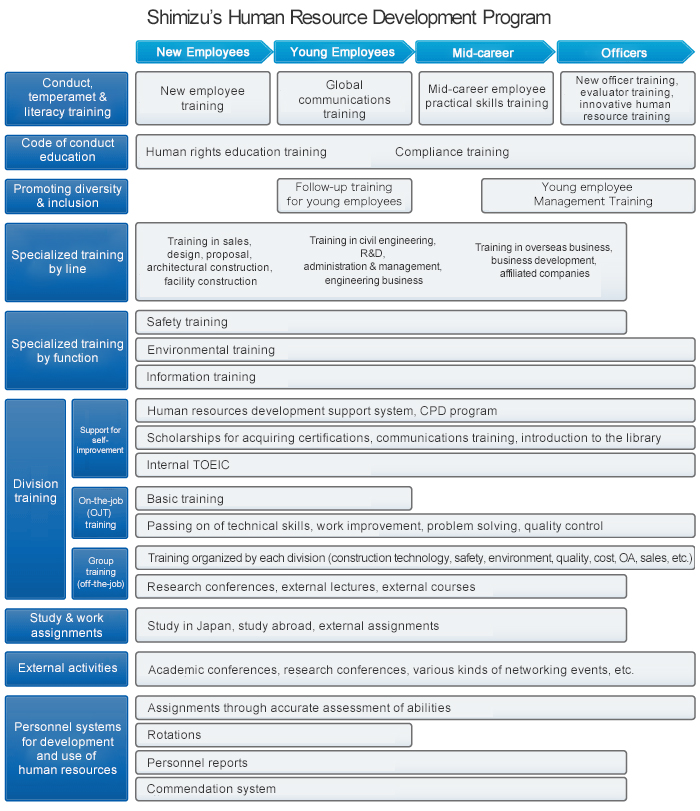 Planning Detailed Training Based on Experience and Skills
Training for All New Employees
Shimizu has held 15 days of lectures and work group sessions from fiscal 2017 onward. The sessions were held in April (10 days), September (3 days), and February (2 days) with the goal of equipping employees with the basic knowledge necessary to be a community citizen, a member of the construction industry, and a Shimizu employee, and ensuring that they understand the DNA of monozukuri (craftsmanship). Shimizu also scheduled tours of Toyama, the birthplace of Shimizu.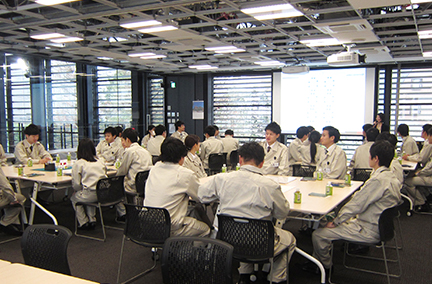 Support Program for Newly Accepted Employees (Group Tour of Job Sites)
After the informal acceptance ceremony in October, Shimizu conducted job site tours for newly accepted employees in the Greater Tokyo area and all branches nationwide. The goal of this was to deepen their understanding of the construction industry (monozukuri), an awareness of themselves as employees of Shimizu, and given them a sense of purpose in their work. Responses to the survey after the tours indicated a high degree of satisfaction with the tours. The following are comments from two of the participants: "It was very beneficial to hear from senior employees about the joy of craftsmanship and the sense of accomplishment when a building is completed," and "I was able to network with the other participants."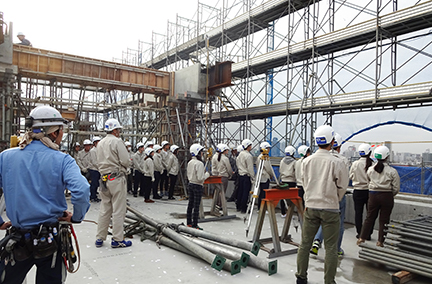 Passing on the DNA of Shimizu Employees
We use the Shimizu Start Guide as one of the steps taken to strengthen the development of people. This guide explains the values that the company has preserved since its founding and how to become a first-rate at your job in a manner that is easy to understand. It is used as both a textbook and a topic in new employee training and the Monozukuri (Craftsmanship) Heart, Skills and Engineering Seminar for Newly Appointed Managers. It creates an opportunity for superiors and subordinates at job sites to talk to one another and provides other means of encouraging communication under a variety of scenarios, which leads to the passing down of Shimizu's DNA.
Content of the Shimizu Start Guide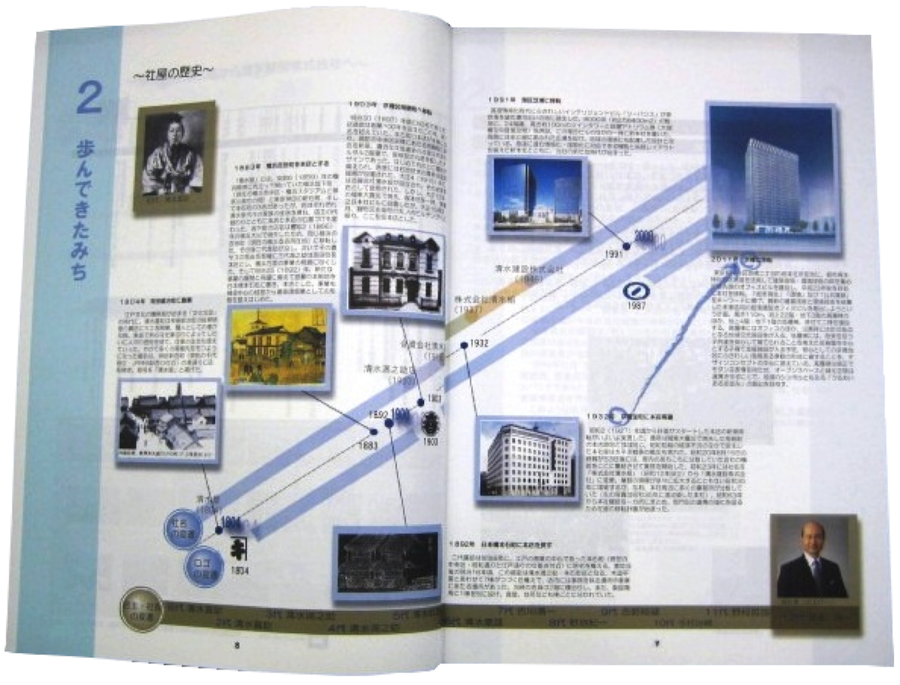 Introductory Version

Shimizu's basic principles, history, and position

Mindset Version

Developing yourself helps the company to grow

Comportment Version

Let's begin with personal groom and greetings

Methodology Version

Think about the meaning of your work and be particular
Monozukuri (Craftsmanship) Heart, Skills and Engineering Seminar for Newly Appointed Managers
Shimizu holds a Monozukuri (Craftsmanship) Heart, Skills and Engineering Seminar for Newly Appointed Managers based on the theme of working together with the entire company to produce good work. Senior managers participate as panelists in several sessions. The panelists discuss how to achieve monozukuri (craftsmanship) and develop people as a new manager. Participants work on practical implementation at job sites based on an action plan after finishing the training.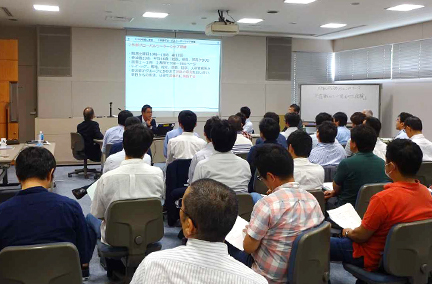 Supporting Self-Development
Shimizu has established a strong system of support for obtaining professional qualifications, which includes the establishment of external training groups and group discounts. One of the ways we support those who qualify is by paying their exam and registration fees.
We support self-development through a training support system that enables employees to take advantage of e-learning and a library of textbooks from courses already completed.
Monozukuri Training Center: A Hands-on Training Center to Pass on the "Heart" and "Skills" of Craftsmanship
Monozukuri, or superb craftsmanship, is Shimizu's mission and passing on technology and techniques forms the very core of our company. There are numerous cases in which classroom learning or limited visits to a job site cannot give employees the mastery they require, particularly with regard to technology and techniques used in design and construction management at job sites. Shimizu therefore opened the Monozukuri Training Center, a hands-on training center, in October 2016, and conducts employee training at the center. The center became fully operational in April 2017.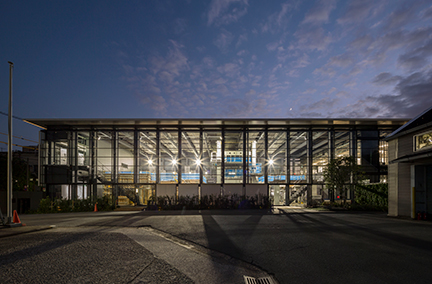 The Monozukuri Training Center is used to train young employees, who are mainly construction engineers. The center is designed to given them hands-on experience with actual structures, and to equip them with basic knowledge on framework construction at the core of monozukuri, and learn how to perform quality inspections. Providing a practical training program based on job sites therefore enables employees to think things through on their own, discover problems, and enables Shimizu to develop engineers who will be able to pass the vision of monozukuri based on concrete knowledge and the basic principles.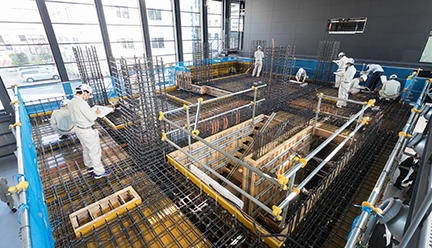 Global Initiatives
We are currently taking necessary measures to improve our global management structure by enhancing the connectivity of our corporate functions including human resources, business management, and risk management in Japan and overseas. In addition to the head office and our construction sites in Japan, we have established local subsidiaries in the U.S., China, India, Southeast Asia, and other locations around the world. In addition to branches and job sites in Japan, Shimizu has local subsidiaries in the U.S., China, India, Southeast Asia, and various other regions. We employ human resources of many nationalities at each of these locations and are working to expand overseas in a manner that keeps us close to the local community.
We value the health and well-being of our local hires, and promote work-life balance at our overseas subsidiaries as well. Our goal is to be a company where employees of different genders, disabilities, nationalities, ages, sexual orientations, gender identities, etc. who possess a wide range of values, views, and skills can demonstrate their abilities and uniqueness to the greatest extent and work with passion.
Global Human Resource Development
Shimizu began assigning new employees overseas in 2011. Follow-up training was conducted in Singapore and follow-up interviews were arranged with management in the Human Resources Dept. and a clinical psychologist after the overseas assignments.
From 2012, we also incorporated a technical English training course for construction engineers who are assigned as managers of overseas projects. The training envisions various scenarios in construction projects. The instructors are also engineers and those who have taken the training are highly satisfied with the program because it enables them to learn while imagining the construction sites they will work at after accepting the assignment. We also offer global communications training for global position employees in their 5th year with the company. They perform work together as a group, then give presentations in English about the results. This provides an opportunity for practical language training and prompts participants to recognize the importance of communication in producing results as a team.
We have also been implementing regular rotations between Japan and overseas since 2013.