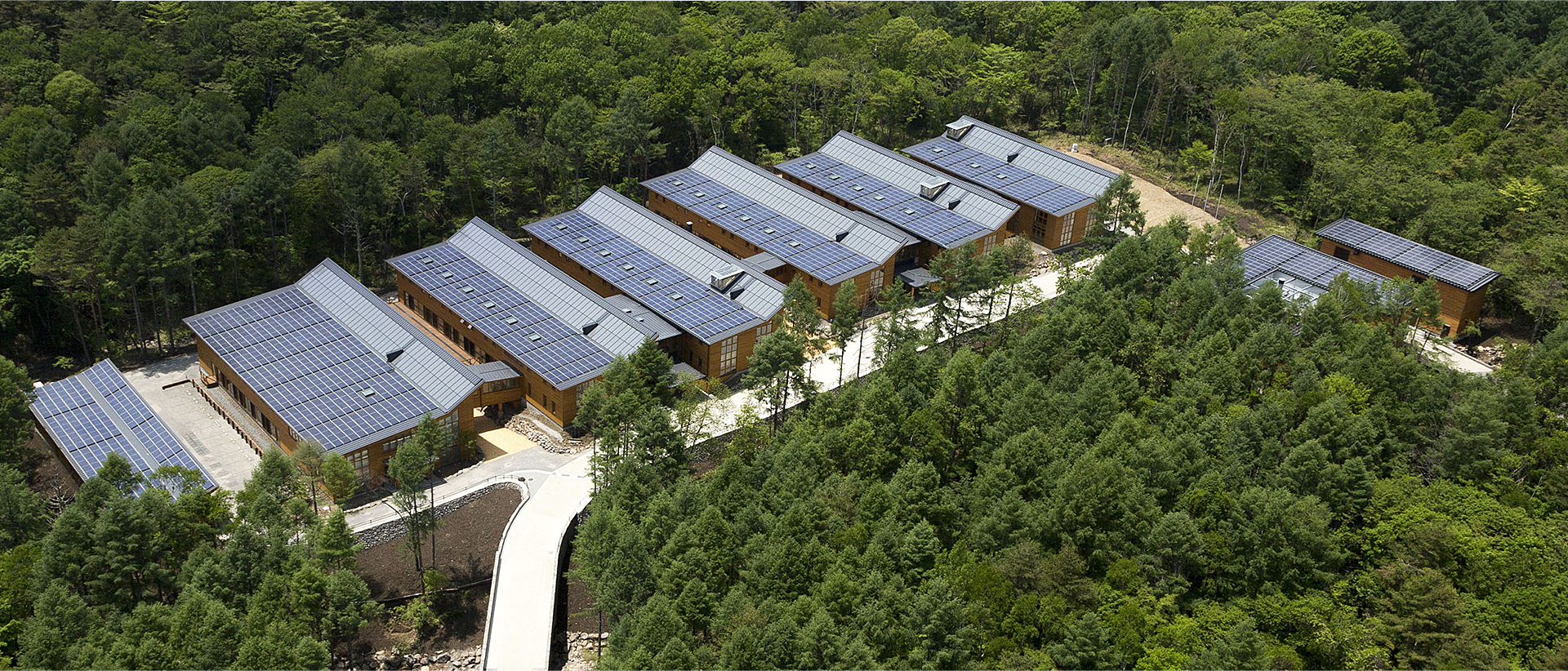 Seicho-no-Ie's Office in the Forest
ZEB (Zero Energy Building)
This refers to a building that has annual energy consumption that is effectively zero.
As global warming progresses, the proliferation of zero energy buildings that are ultra-eco-friendly will be key to achieving a sustainable society.
Shimizu is continuing to take on the challenge of creating zero energy buildings through concerted efforts in energy conservation, and creation of new energy alternatives and energy storage.
The High Goals Set at COP21
At the 21st Conference of Parties on the U.N. Framework on Climate Change (UNFCC, "the Paris Climate Conference") in 2015, the Paris Accord was adopted, establishing the legal framework for 2020 and beyond. Japan submitted a goal of achieving a 26% reduction in greenhouse gas emissions compared to the 2013 level by 2030. As a subsidiary goal to that, the government set the goal of reducing greenhouse gas emissions in the businesses and other segment and the household segment related to energy consumption in buildings and homes by 40% compared to 2013 levels by 2030.
This extremely high goal cannot be achieved without the promotion and proliferation of ZEB.






Ahead of the Construction Industry in Achieving ZEB
Shimizu, which was the first in the construction industry to take on the challenge of ZEB, achieved a 43% reduction in greenhouse gas emissions in the main building of the Shimizu Institute of Technology which was completed in 2003, compared to the 1990 level.
The company's head office, which was completed in 2012, is an ultra-eco-friendly urban office building equipped with solar panels and other energy generation technology, in addition to a radiant air conditioning system*1 and many other types of energy-conserving technology. Our head office was certified as the first large carbon neutral*2 building in Japan. This was achieved by using CDM (Clean Development Mechanism) greenhouse gas emission credits acquired overseas.
Shimizu subsequently succeeded in designing and building the first zero energy building (ZEB) in Japan. It was the Seicho-no-Ie's Office in the Forest, which was completed in 2013.
*1

Radiant air conditioning system
This is not the conventional convection air conditioner that circulates air. It is an air conditioning system that cools and warms the entire space by cooling or warming the ceiling surface with cold or hot water (some systems also cool and warm the walls and floors).
An initiative that offsets the total greenhouse gas emissions generated from business and other activities with the volume of emissions reduced and absorbed in another location.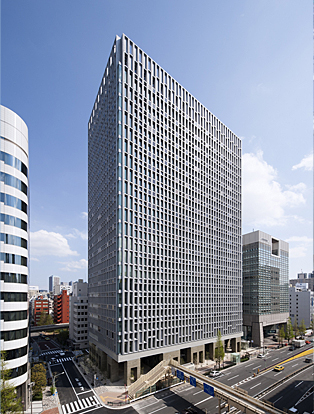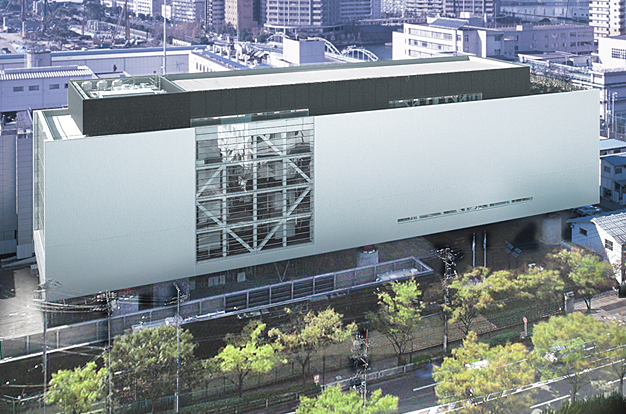 Seicho-no-Ie's Office in the Forest, Japan's First ZEB
The Seicho-no-Ie's Office in the Forest is located in the city of Hokuto, in Yamanashi Prefecture, a location with an abundance of wood-based biomass resources and where the average annual amount of sunlight is 2,100 hours, high compared to the national average.
To take advantage of the unique characteristics of this area, solar panels were installed on the entire roof, and these solar panels supply approximately 60% of the annual electricity consumption. Local resources are also used to generate energy by using a wood chip gasification cogeneration system and a wood pellet boiler, among other systems.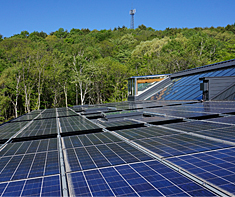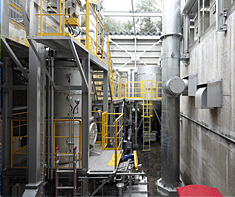 Maximum Use of Natural Energy
Using a detached pavilion-style skip-floor architecture that made advantageous use of the high and low elevations on the grounds maximized the natural air flow and made the use of air conditioning unnecessary. The use of natural light has also made the use of artificial lighting almost unnecessary on sunny days. Shimizu also worked to conserve energy by using a solar heat collection system to supply more than 60% of the heating energy. This was achieved by making sure the buildings were well heat-insulated and combining the solar heat collection system with a pebble heat storage system beneath the floors.

Optimal Electrical Power Control via a Microgrid
A microgrid system was constructed using both solar panels and a biomass gasification cogeneration system for power generation. The system stores the energy generated in a high-capacity lithium-ion battery, which is then discharged to provide stable electricity supply. This saves power by forecasting and regulating electricity use without waste, based on meteorological data and data on the status of facility operation.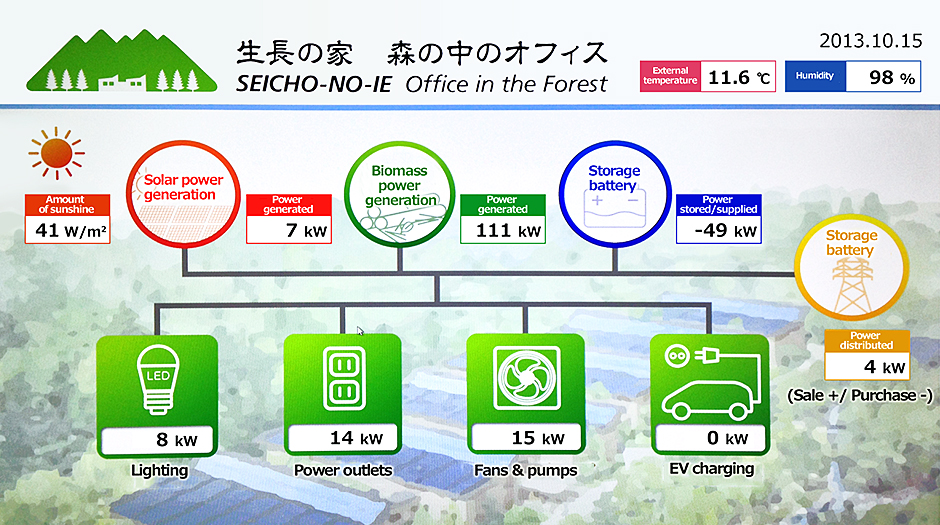 Promoting ZEB will Change the Future
Currently, all buildings designed and built by Shimizu are about 20% more energy efficient on average that the benchmark.
We have raised our goal and are working to achieve 50% energy savings in 2020. We are also working to further improve the performance and comfort of mid- and high-rise buildings that we have not yet achieved ZEB certification for.
We will change the future of Japan with ZEB.
Shimizu will continue to take on the challenge to leave behind a healthy environment for the next generation.

Column
Definition of ZEB
ZEB (Zero Energy Building) refers to a building that strives to reduce total energy use by minimizing energy use to the extent possible through innovative architectural planning and technology while also supplying its own energy through solar power generation and other means.
ZEB is categorized into three levels, according to the percentage reduction in energy use
| | |
| --- | --- |
| ZEB | Reduction of 100% or more |
| Nearly ZEB | Reduction of 75% or more |
| ZEB Ready | Reduction of 50% or more |
Japan Pushing for Widespread Achievement of ZEB
In the Basic Energy Plan decided on by the Cabinet in 2014, Japan set forth the policy goal of aiming to achieve ZEB status for new building construction on average by 2030. Subsidies for boosting growth in the number of buildings equipped for energy-efficient performance have been provisioned for in the budget. This will spur response on office buildings, stores, and other such buildings that have yet to make progress on energy conservation.
Independent Rating as the First ZEB in Japan Acquired
The new Seicho-no-Ie educational center in Ibaraki Prefecture (in Kasama, Ibaraki Prefecture), a wooden structure designed and constructed by Shimizu and completed in February 2016, was independently rated as a ZEB in November 2016, based on the Ministry of Land, Infrastructure, Transport and Tourism's BELS system (Building-Housing Energy-efficiency Labeling System). ZEB rating and certification began on April 1, 2016, so this was the first certification.
Shimizu achieved an effective energy reduction rate of 108% in this building through a combination of a high degree of heat insulation, use of highly efficient equipment, and the introduction of renewable energy by installing a solar power generation system.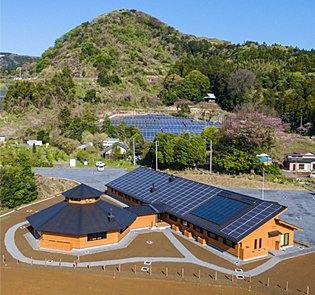 The information posted here is the current information on the date of posting.
Please be aware that this information may have changed by the time you view it.