Basic Policy
Basic Human Resources Policy
In order to be a company that values people, Shimizu respects the diversity, personality, and individuality of employees, prohibits discrimination, and works earnestly to prevent various kinds of harassment. We work actively to improve employment and labor conditions, to develop the full potential of employees as human beings and draw out their inherent ambition and potential, and to support further growth and development of character.
Corporate Ethical Standards Compliance with Laws & Regulations(PDF:199KB)
Basic Human Rights Policy
Shimizu works to create a positive workplace without discrimination in line with the spirit of the human freedom, equality, and dignity set forth in the United Nations Universal Declaration of Human Rights, and the Constitution of Japan. We also recognize that all corporate activities are carried out by human beings, and believe that it is extremely important for each and every employee to have a spirit of charity and respect the human rights of one another so that the basic human rights and diversity of each individual is respected and there is no discrimination based on ethnicity, gender, language, religion, job position, circumstances of birth, or any other type of discrimination.
In accordance with this, Shimizu actively conducts training on human rights to establish respect for all human beings and deepen the awareness and understanding of human rights among employees, and to teach each individual employee to truly observe the spirit of a respect for human rights and develop the sensitivity to avoid prejudgment and bias, recognize discrimination, not discriminate, and not permit discrimination by others.
Human Resource Development Policy
The basis of Shimizu's human resource development policy is on-the-job training (OJT). We have employees take on various tasks while they are young with an eye toward future career development, and provide training to encourage a mindset of independent study based on personal responsibility and personal choice.
Policy on Promotion of Diversity & Inclusion
[Basic Policy]
Shimizu works to promote diversity. Our goal is to effectively utilize the diverse range of individuality that exists among our employees and enable each employee to manifest his or her skills to the fullest extent.
Our employees possess a diverse range of values, views, and skills that originate from differences in gender, presence or absence of disabilities, nationality, age, sexual orientation, gender identity and other background influences. Shimizu aims to be a company that can fully and actively utilize this diverse range of skills and individual characteristics to the fullest extent.
Shimizu promotes work-life balance and creates a workplace that makes it easy to work.
Shimizu's goal is to respond to changes in the business environment, increase corporate value, and improve business results by promoting diversity.
The values and needs of Shimizu's customers and stakeholders are becoming increasingly diverse and complex as the society, economy, and labor environment surrounding the company change. Shimizu must respond flexibly and appropriately to these changes.
As described in Shimizu Smart Vision 2010 in regard to the future development of the company, the construction business will be our core business, and we will expand business domains and areas by promoting our global business, sustainability business, building stock management business, and other businesses peripheral to the construction business.
As we expand our business domains and regions, our customer segments will expand and include new customers, and we will need to accommodate an increasingly diverse and complex range of values and needs.
As employees' lifestyles and reasons for working at the company become increasingly diverse, we will need to take the initiative on offering a variety of workstyles and providing work-life balance in order to develop and utilize first-rate human resources.
Our company has a social responsibility to employ and promote social integration of people with disabilities and help to develop the next generation of human resources. The degree to which we fulfill these responsibilities will be how we are valued by the community, and this will be reflected in our corporate value.
Human Rights Initiatives
Our policy on human rights is stated in our Code of Corporate Ethics and Conduct and we have established a company-wide structure for promoting human rights based on our Basic Human Rights Policy. This structure includes the Human Rights Education Promotion Committee (Chair: Vice President), a chief administrator in charge of promoting education on human rights, and supporting personnel in each division. We actively engage in activities to educate everyone on human rights, including at affiliated companies. Shimizu holds training sessions and meetings to explain educational materials for those in charge of human rights education at affiliated companies, and also supports group company activities.
At Shimizu, we understand and work to implement the Guiding Principles on Business and Human Rights (Implementing the United Nations "Protect, Respect and Remedy" Framework).
Our policy on preventing harassment is clearly explained in our Employment Rules and on the Intranet. A helpline dedicated to human rights has been established, and we work to educate employees and raise awareness of a broad range of human rights issues by holding training on human rights by employment grade, soliciting slogans and awarding commendations, and displaying posters on preventing sexual harassment, bullying by superiors, etc. in branches and offices.
Human Rights Education Promotion Structure
Harassment Prevention Helpline
In order to protect the human rights of its employees, Shimizu Corporation accepts complaints on the intranet regarding harassment and other relevant concerns that occur at the working place. We work to solve and manage each of these complaints based on consultations with designated professionals. In 2017 we received 19 complaints through the helpline and conducted responsive procedures to all 19 of them.
Managing Human Rights Through CSR Procurement
At Shimizu Corporation, we require our business partners to address human rights and labor standard issues such as the below, and provide guidance where necessary on respecting human rights and compliance with labor standard laws.
Human Rights and Labor

We ask our suppliers and subcontractors to respect the diversity, personality, and individuality of employees; be strict in prohibiting discrimination, various kinds of harassment, child labor, and forced labor; strive to pay appropriate wages and manage work hours, holidays, and time off appropriately, and take other steps to ensure proper employment and labor conditions.
Human Rights Education Program
Officer Training (must undergo training annually)
Training for general managers and deputy general managers (must undergo training annually)
Training for general employees (must undergo every other year)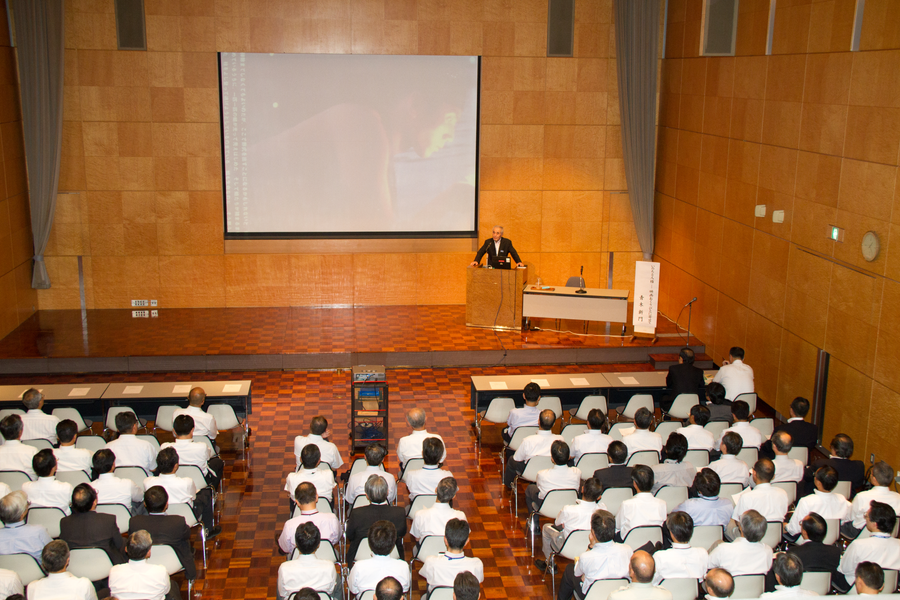 Work-life Balance
Shimizu has established a system that provides various kinds of time off work, including sabbaticals for refreshment, time off for job site workers to relocate to a new job site, and days off as a rest break. Many of our employees use the time off for volunteering to help with the recovery efforts in the wake of the Great East Japan Earthquake.
See Promoting Diversity and Work-life Balance for further details
Promoting a Five-day Work Week
As is the case in the construction business, the civil engineering business in Japan is also facing the pressing issue of a shortage of workers amid the current anticipated high demand due to an aging workforce of skilled construction workers and a large number of workers retiring.
Shimizu is currently working on initiatives to improve productivity to reduce the number of workers needed and shorten construction periods. We have also introduced a five-day work week at job sites and are promoting other types of workstyle reform to attract young people, women, and others and ensure a new supply of workers to carry on the work.
On March 27 2017, the Japan Federation of Construction Contractors (formerly the Nikkenren), which is an organization consisting of the major general contractors, established a new Five-day Work Week Promotion Unit, and appointed Shimizu's president, Kazuyuki Inoue, as the head of the unit.
Maintaining and Improving Health
Shimizu is working to maintain and improve the health of employees in keeping with their age and work environment through such means as a mandatory comprehensive physical examination at age 40 and over. A health management classification system based on the decisions of an occupational physician has been introduced. An occupational physician, public health nurse, or other medical professional provides guidance on health, and the employee's superior follows up on this.
We also offer counseling and training by clinical psychologists, have partnered with an external EAP (employee assistance program), and have taken other steps to improve the mental health of employees, such as a return-to-work assistance program for those on leave.
We also have a medical clinic at the new headquarters, and are putting a system into place for offering vaccines, various kinds of medical exam, and urgent care, in addition to the general treatment covered by insurance in internal medicine, surgery, and ophthalmology.
Shimizu has also set a lower radiation dosage monitoring limit than the legally mandated limit for employees who work on construction to help recovery efforts for the Fukushima Daiichi nuclear reactor accident and those involved in decontamination work for each local government. We have built a system for properly measuring, recording, and monitoring internal and external radiation dosages, and are carefully monitoring radiation exposure dosages. In addition to the legally mandated health exams for radiation exposure to check on physical condition, we are also ascertaining health status through physical exams, mainly at our headquarters clinic, and are following up on these.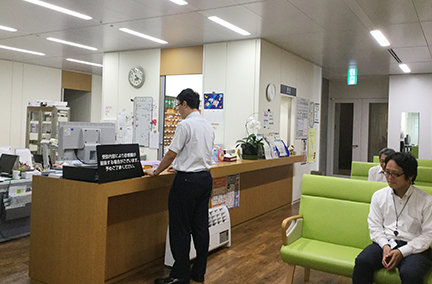 Walking & Quit Smoking Campaign at the Hiroshima Branch
For the month of October, Shimizu put on the "300,000 steps in one month" challenge, stressing that making a habit of walking will improve health and prevent illness. Over 60% of participants met the challenge and participants confirmed the unexpected benefit of better communication in addition to the health aspects, with comments such as "Checking in with one another about our daily results provided a springboard that energized conversation in the workplace." We also held a Quit Smoking Campaign under the guidance of a public health nurse. All nine participants succeeded, and one person voiced his joy, saying "I worried about whether I could quit smoking during a busy period, but I was able to succeed with the support of my workplace and family and I am incredibly satisfied."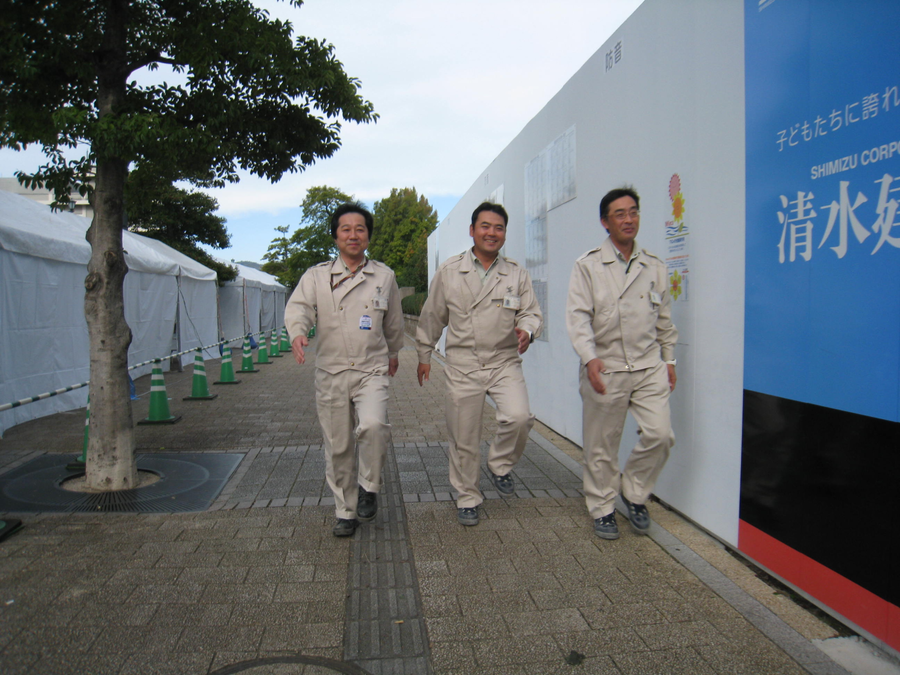 Human Resource Development
Human Resource Development to Develop Individuality and Creativity
On-the-job training (OJT) is the basis for developing a rich sense of humanity and drawing out the inherent ambition and potential of employees while also supporting greater growth and character formation. We have employees take on various tasks while they are young with an eye toward future career development, and provide training to encourage a mindset of independent study based on personal responsibility and personal choice.
Developing these kinds of human resources is goal of Shimizu's human resource development:
A person who has self-knowledge and passion, thinks seriously about what he or she wants to do and what he or she can do, and acts on it
A person who can respond flexibly to changes in his or her environment
A person with superior expertise who is also interested in a wide variety of things
A person with a rich imagination who dares to actively take on challenges in the path toward he or her dream
Educational Promotion Structure and Human Resource Development Program
Shimizu's educational promotion structure consists of a core company-wide education committee and various education committees for individual divisions, line and functions. Each committee formulates and revises the educational plans for each fiscal year, and builds an even better educational promotion structure by utilizing the PDCA cycle.
We are also working to produce human resources who are first-class professionals trusted by the community and customers through programs revolving around specialized education by line and function, from the perspective of developing capable people.
Young Employees
Mid-Career
Officers
Conduct, Temperament, and Literacy Training
New employee training
Practical skills training
Officer training, etc.
Code of conduct education
Compliance, human rights education, security
Promoting diversity and inclusion
Follow-up training for women, management training for promoting the advancement of women
Specialized training by line
Sales, design, architectural construction, facility construction, civil engineering, R&D, administration and management, overseas, and other lines
Specialized training by function
Safety, environment, use of information
Division training
Support for self-improvement
e-learning, encouragement to acquire qualifications, TOEIC, etc.
OJT On-the-job training
Basic education, passing on of technical skills, quality control, work improvement, etc.
OFF・JT Off-the-job training
Training organized by each division (technology, safety, quality, cost, OA, sales, etc.)
Study and work assignments
Domestic study and study abroad, external work assignments
External activities
Academic conferences, research conferences, networking events with people in different industries, etc.
Development and use of human resources
Rotations, personnel reports, commendations, etc.
Participation in the United Nations Global Compact
Shimizu is committed to complying with labor standards as a signatory to the United Nations Global Compact.
Home/Corporate Information/CSR Management/CSR Concepts and Key Performance Indicators
Labor and Training Performance Data
Labor-related Indicators, Results, Targets, and Past Initiatives
(As of the end of each fiscal year)
| Labor Force | 2013 | 2014 | 2015 | 2016 | 2017 |
| --- | --- | --- | --- | --- | --- |
| Number of employees(Unconsolidated) | 10,721 | 10,714 | 10,547 | 10,466 | 10,431 |
| (Of this, number of contract employees) | 2,402 | 2,461 | 2,187 | 1,925 | 1,619 |
| Employees | 2013 | 2014 | 2015 | 2016 | 2017 |
| Number of new employees (new grads) | 211 | 199 | 228 | 245 | 252 |
| Number of new employees (mid-career hires) | 35 | 38 | 34 | 65 | - |
| Turnover (%)(Number in the Employment Handbook) | 1.0 | 1.1 | 0.9 | 0.9 | - |
Time Invested in Training Courses
Training Record(FY2016)
Training Category
Content
Number of Participants
Participation Rate (%)
Training
Hours Training per Person
Conduct, Temperament, and Literacy Training
(1)Training for new employees
Targeted participants
100.0%
10,480.0h
40.0h
(2)Global communications training
Targeted participants
100.0%
2,131.5h
14.5h
(3)Career support training for clerical positions
Targeted participants
100.0%
1,264.0h
8.0h
(4)Practical skills for mid-career hires
Targeted participants
100.0%
4,054.5h
26.5h
(5)Evaluator training
Targeted participants
100.0%
1,092.0h
6.5h
(6)Monozukuri (Craftsmanship) heart, skills and engineering seminar for newly appointed managers
Targeted participants
100.0%
4,788.5h
30.5h
(7)Specialized training for newly appointed management-level clerical positions
Targeted participants
100.0%
220.0h
20.0h
(8)Innovation-oriented human resource training
Targeted participants
100.0%
648.0h
36.0h
Diversity & Inclusion Promotion Training
(1)Female employee follow-up training
Targeted participants
100.0%
504.0h
12.0h
(2)Management training on promoting the advancement of women
Targeted participants
100.0%
225.0h
4.5h
Study (in Japan/abroad) & external assignments
(1)Study
17
(2)External assignments (registration-type)
94
Complaint Handling Process
Labor complaints are accepted at the link below.
Home/Corporate Governance/Internal Whistleblowing System
Initiatives to Ensure that Shimizu is a Company that Values People
The Diversity Promotion Office, which was established in 2009, is working on various initiatives to ensure effective utilization of diverse human resources. The office has held the Forum on Promoting the Advancement of Women every year since 2013.
It is also working to create an environment that is easy for women to work in by introducing work clothing tailored for women at job sites. The office also introduced Dialog in the Dark training for officers and newly appointed officers on engaging in mutual communication and performing collaborative work in the dark. The goal is to learn the communication skills necessary for creating a work environment that is accepting of a diverse range of human resources, including people with disabilities. These efforts were recognized and Shimizu was selected as a Nadeshiko Brand company in 2017 for being a company that excels in promoting the advancement of women. Shimizu was also selected as one of the companies for "Diversity Management Selection 100" for being a company that implements diversity management and achieves results.
Creating a Workplace that Makes It Easy to Work
In addition to the company-wide No Overtime Day held since fiscal 2015, Shimizu endorsed the objectives of Premium Friday in fiscal 2016 and is working to establish an environment for implementing more flexible workstyles by enabling employees to take annual vacation in hourly units, introducing a system that enables leaving the office earlier, and other measures. (Excerpted from the fiscal 2016 Corporate Report)
The president himself takes advantage of the many informal events with employees to outline the vision that the company strives for and the need for innovation in workstyles on an ongoing basis, and is working to change the mindset of each and every employee about work styles and hours.
Planning Detailed Training Based on Experience and Skills
Training for All New Employees
Shimizu has held 15 days of lectures and work group sessions from fiscal 2017 onward. The sessions were held in April (10 days), September (3 days), and February (2 days) with the goal of equipping employees with the basic knowledge necessary to be a community citizen, a member of the construction industry, and a Shimizu employee, and ensuring that they understand the DNA of monozukuri (craftsmanship). Shimizu also scheduled tours of Toyama, the birthplace of Shimizu, and the disaster recovery job site in the Tohoku area. A total of 268 employees participated in the training, including 13 foreign nationals and 58 women.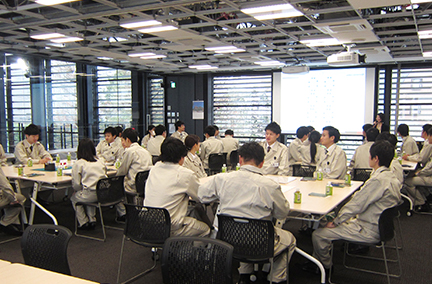 Support Program for Newly Accepted Employees (Group Tour of Job Sites)
After the informal acceptance ceremony in October, Shimizu conducted job site tours for newly accepted employees in the Greater Tokyo area and all branches nationwide. The goal of this was to deepen their understanding of the construction industry (monozukuri), an awareness of themselves as employees of Shimizu, and given them a sense of purpose in their work. Responses to the survey after the tours indicated a high degree of satisfaction with the tours. The following are comments from two of the participants: "It was very beneficial to hear from senior employees about the joy of craftsmanship and the sense of accomplishment when a building is completed," and "I was able to network with the other participants."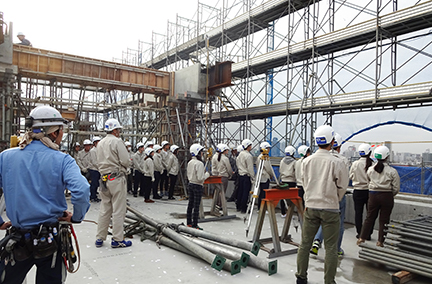 Global Human Resource Development
Shimizu began assigning new employees overseas in 2011. Follow-up training was conducted in Singapore and follow-up interviews were arranged with management in the Human Resources Dept. and a clinical psychologist after the overseas assignments. We have also been implementing regular rotations between Japan and overseas since 2013.
From 2012, we also incorporated a technical English training course for construction engineers who are assigned as managers of overseas projects. The training envisions various scenarios in construction projects. The instructors are also engineers and those who have taken the training are highly satisfied with the program because it enables them to learn while imagining the construction sites they will work at after accepting the assignment. We also offer global communications training for career-track employees in their 5th year with the company. They perform work together as a group, then give presentations in English about the results. This provides an opportunity for practical language training and prompts participants to recognize the importance of communication in producing results as a team.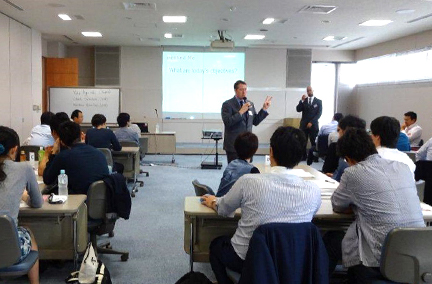 Training When Switching to Career Track
After employees received written notice of a switch from the local work track to the career track, they received training at the time of the switch. The training was aimed at motivating participants about their new roles and clarifying what their own goals for themselves (the vision they should strive for) were. In addition to understanding occupational mental health, compliance and management policy, the program included training by an external instructor on how to demonstrate leadership that builds people up. Participants gained many insights into the importance of developing subordinates, communication, and many other aspects.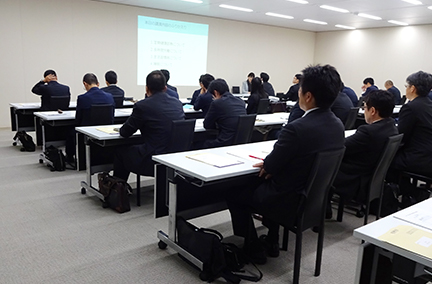 Passing on the DNA of Shimizu Employees
Shimizu has begun to use the Shimizu Start Guide as one of the steps taken to strengthen the development of people. This guide explains the values that the company has preserved since its founding and how to become a first-rate at your job in a manner that is easy to understand. It is used as both a textbook and a topic in new employee training and the Monozukuri (Craftsmanship) Heart, Skills and Engineering Seminar for Newly Appointed Managers. It creates an opportunity for superiors and subordinates at job sites to talk to one another and provides other means of encouraging communication under a variety of scenarios, which leads to the passing down of Shimizu's DNA.
Content of the Shimizu Start Guide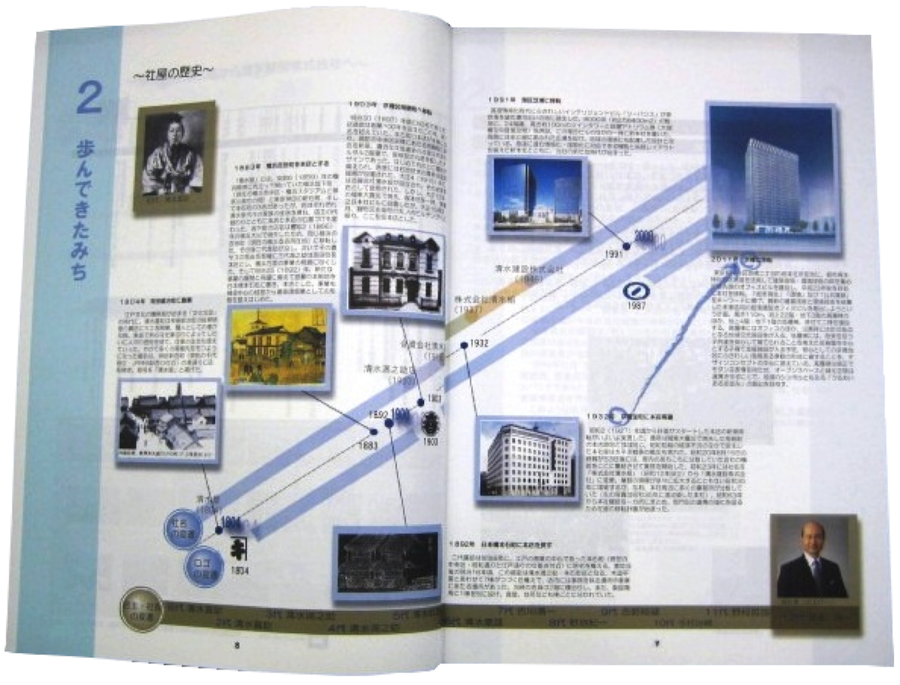 Introductory Version

Shimizu's basic principles, history, and position

Mindset Version

Developing yourself helps the company to grow

Comportment Version

Let's begin with personal groom and greetings

Methodology Version

Think about the meaning of your work and be particular
Monozukuri (Craftsmanship) Heart, Skills and Engineering Seminar for Newly Appointed Managers
Shimizu holds a Monozukuri (Craftsmanship) Heart, Skills and Engineering Seminar for Newly Appointed Managers based on the theme of working together with the entire company to produce good work. Senior managers participate as panelists in several sessions. The panelists discuss how to achieve monozukuri (craftsmanship) and develop people as a new manager. Participants work on practical implementation at job sites based on an action plan after finishing the training.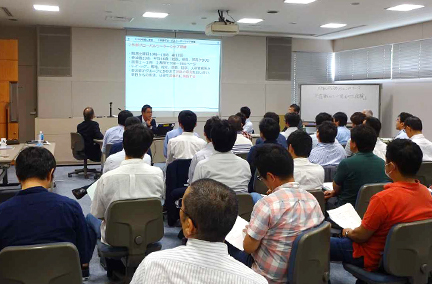 Supporting Self-Development
Shimizu has established a strong system of support for obtaining professional qualifications, which includes the establishment of external training groups and group discounts. One of the ways we support those who qualify is by paying their exam and registration fees.
We support self-development through a training support system that enables employees to take advantage of e-learning and a library of textbooks from courses already completed.
Monozukuri Training Center Opens: A Hands-on Training Center to Pass on the "Heart" and "Skills" of Craftsmanship
Monozukuri, or superb craftsmanship, is Shimizu's mission and passing on technology and techniques forms the very core of our company. There are numerous cases in which classroom learning or limited visits to a job site cannot give employees the mastery they require, particularly with regard to technology and techniques used in design and construction management at job sites. Shimizu therefore opened the Monozukuri Training Center, a hands-on training center, in October 2016, and conducts employee training at the center. The center became fully operational in April 2017.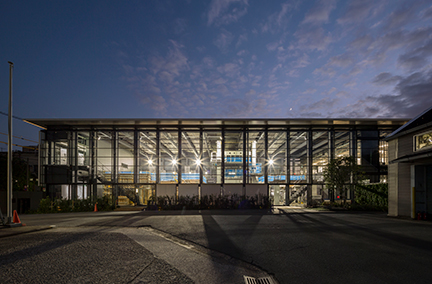 The Monozukuri Training Center is used to train young employees, who are mainly construction engineers. The center is designed to given them hands-on experience with actual structures, and to equip them with basic knowledge on framework construction at the core of monozukuri, and learn how to perform quality inspections. Providing a practical training program based on job sites therefore enables employees to think things through on their own, discover problems, and enables Shimizu to develop engineers who will be able to pass the vision of monozukuri based on concrete knowledge and the basic principles.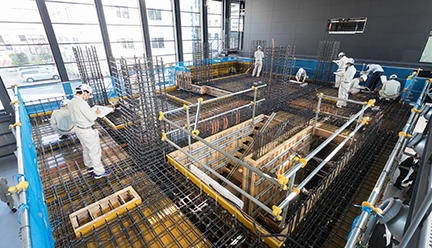 Risk Evaluation in Overseas Civil Engineering and Construction Projects
The International Division is responsible for civil engineering and construction projects overseas. It evaluates projects beforehand to determine where a given project presents the risk of a serious adverse impact on the environment, violation of environmental, labor, or other laws and regulations, infringement of human rights, lawsuits by stakeholders, or other such risks. The results of such evaluations are considered when determining whether or not to proceed with a project. Shimizu solicits the advice of local partners and experts on any aspect that could cause even a minor problem, and proceeds with the project after confirming that they will not cause a problem.