Smart Vision 2010, the Long-term Vision
Aiming to be a Smart Solutions Company
Shimizu wants to be the type of company that grows along with society as a leader in creating environments in which people can live comfortable and securely.
Our goal is to be a Smart Solutions Company that continues to provide value that surpasses the expectations of our customers. We diligently pursue sustainability of the community and structures, with our construction business at the core of our efforts.
Smart Solutions Company: A company (group) that provides solutions and maximizes the value added for customers at every stage. Value is maximized through active participation, investment, and management in both the core construction business and promising areas of business peripheral to it.
Smart: The qualities of being refined, intelligent, ahead of the times, and wise.
Shimizu formulated the Midterm Management Plan 2014 (FY2014–2018) in June 2014. It is aimed at realizing the long-term vision, Smart Vision 2010.
Basic Policies − Sustained growth, further evolution −
Business Enhancement Policies
Improve competitiveness in the construction industry through innovation to overcome a contracting domestic market and expand market share to achieve sustainable growth.
Establish business bases in three key areas to build the cornerstones for future revenues.
Boost the power of group company management through synergies generated by focusing on the "environment" in all areas of business.
Base Enhancement Policies
Build a management structure that minimizes the impact of economic cycles, and enables flexible response to environment changes sustainable growth.
Establish management systems that are designed to handle global expansion, building stock management, and other aspects of business diversification.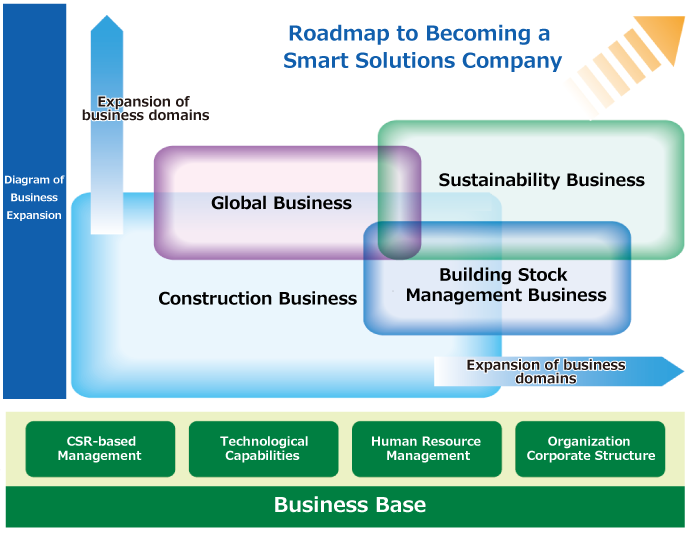 Business Enhancement Policies
Establish and develop businesses that will lead to sustained growth.
Construction Business Enhancement Policies
Consistently being the company chosen as the best partner
Provide optimal integrated solutions for the construction business by working to achieve customer satisfaction in all aspects and working to maintain and improve our technological capabilities and services.
Position Shimizu as a top green contractor through an optimal mix of construction and environmental solutions.
Building Stock Management Enhancement Policies
A second company cornerstone in addition to construction
Establish a proprietary after-sales service model to strengthen and enhance the management and maintenance businesses throughout a building's entire lifespan.
Build a stable revenue base by expanding business in diversified real estate and in the building stock management field.
Global Business Enhancement Policies
Maintaining global competitiveness
Make a Contribution to building and developing infrastructure and to economic growth, mainly in emerging countries.
Establish the Shimizu brand as one that is trusted globally, by providing the support that each customer needs on both "hard" construction and "soft" services.
Sustainability Business Enhancement Policies
Being an industry leader in environmental fields
Contribute to the realization of low-carbon communities by establishing an advanced, next-generation environmental and energy-management business.
Become a global player in nuclear power engineering.
Business Base Enhancement Policies
Maintain a clean corporate image and a spirit that welcomes challenges.
CSR Management Policies
Maintaining integrity and the trust of society
Provide value that surpasses expectations of customers and the community by taking the initiative on meeting the expectations of a changing society and environment.
Perpetually maintain the trust of local communities by actively contributing to society at all levels―in the company, at the worksite, and to and through employees.
Technological Capability Enhancement Policies
Shimizu, a provider of technology-based solutions
Engage in strategic technological development of innovative production techniques and next-generation built environments* to achieve an even stronger core construction business.

Built environment: Human-built spaces that encompass nature, human activities, and architectural spaces

Develop and commercialize innovative technologies in the areas of the environment and energy to enhance sustainability.
Human Resource Management Policies
Be a company whose employees are motivated and energized
Develop a trusted group of professionals by ensuring the transmission of Shimizu's technology and corporate culture, which is rooted in monozukuri (superb craftsmanship).
Build a corporate culture that better energizes employees by respecting their diverse values, personalities, and individuality.
Organizational and Structural Enhancement Policies
Being a company filled with positivity, dynamism, and a spirit that welcomes challenges
Foster a corporate culture that encourages each individual to tackle challenges, and utilize his or her own abilities to the fullest extent.
Build a simple, transparent organization that is customer-oriented.
Exercise strict risk management and maintain the financial soundness needed to take on challenges.
Midterm Management Plan 2014 (FY2014–2018)
Shimizu formulated the Midterm Management Plan 2014 (FY2014-2018) in June 2014, which is aimed at realizing Smart Vision 2010, the long-term vision for the company. The plan defines the basic policies for the five-year period and establishes the performance targets for fiscal year 2018 and the strategies necessary to strengthen the business and the management platform to achieve the performance targets. The performance targets were revised in May 2016.