Shimizu works to improve health and safety management and engages in activities to prevent occupational accidents, harm to health, and protect the environment at job sites.
Basic Health and Safety Policy
Basic Principles
Shimizu stands on the principle of respect for human life and human beings and places the highest priority on safeguarding the lives and health of our employees in all corporate activities. We have established a corporate culture that is grounded in safety and maintain a safe, comfortable work environment.
Measures for Achieving Our Goal
Shimizu operates a Construction Occupational Health and Safety Management System (COHSMS). We pursue enhancement of preventative safety measures through risk assessment and strive to reduce occupational accidents on a continual basis.
We recognize the importance of both safety and production in business activities, based on our policy of safety as a top priority. We ensure safe equipment by implementing redundant safety measures and other means and work to make construction procedures readily visible, from the construction planning stage onward.
We encourage suppliers and subcontractors to establish independent safety management*, actively encourage disaster prevention conferences, and clarify the respective role and responsibilities of Shimizu and our subcontractors in promoting the prevention of accidents.
We recognize our responsibility as a business operator to further improve initial explanation of projects and training on job site rules to workers who are new to a job site. We work to ensure strict safety compliance among workers and eliminate accidents involving them.
We make sure that managers in charge of health and safety have the knowledge and dynamism to educate employees and develop them as promoters of compliance with laws and regulations (strict compliance with company rules for safety work) and accident prevention.
We have strengthened rules on working safely to eliminate exposure to dust, asbestos, and other materials that are harmful to health, and work to provide comprehensive education on preventing health hazards.
The policies above also apply to subcontractors to which construction work is outsourced.
Shimizu distributes the Supplier and Subcontractor Health & Safety Management Guidelines to subcontractors we outsource construction work to and facilitates independent and sustainable health and safety management by these companies.
Company-wide Health and Safety Plan for Fiscal 2022
Code of Conduct for Achieving Zero Accidents
Based on everyone having a sense of ownership and maintaining a strong determination to absolutely avoid causing incidents or accidents for what we call "double safety," we implement a thorough PDCA cycle through close communication.
5 Key measures
Eliminating low and high falls
Eliminating accidents related to construction machinery and cranes
Eliminating accidents related to collapsing or failing structures
Eliminating accidents involving the public, infrastructure damage, and fires
Eliminating asbestos-related problems
Operating System (Responsibility and Management Resources)
Health & Safety Management Structure
Every month, each business branch holds a Branch Health & Safety Committee meeting, where labor and management representatives discuss and report on progress related to health and safety activities. Important decisions made in the Committee meetings are communicated to all employees mainly through the company Intranet. Shimizu also has a Company-wide Health and Safety Committee that oversees the Branch Health & Safety Committee, as well as manages health and safety and deliberates at a high level on health and safety issues such as employee health management. This Committee is chaired by either the president, executive vice president, or head of the Safety Administration & Environment Division, with representatives from labor and management serving as committee members.
Health & Safety Management Structure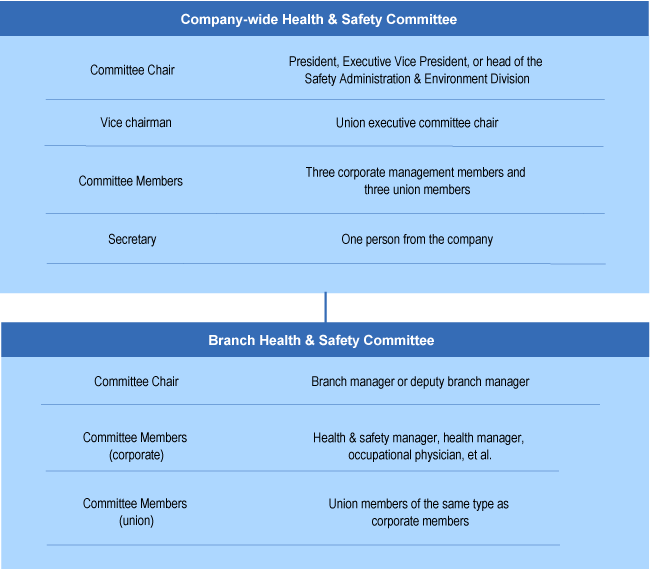 Health & Safety Management Structure for Construction Projects
The Health & Safety management structure for construction projects is headed by a safety & environmental officer, who is director and senior managing executive officer appointed by the president. The health & environmental officer is responsible for overseeing the company's health and safety management. The head of the Safety Administration & Environment Division plans and implements specific activities and initiatives. At the branch level, each branch manager is responsible for planning and implementation in their own branch. Shimizu also holds an annual Safety Committee meeting, where committee members including the safety & environmental officer report on the status of health and safety activities. The committee also deliberates and makes decisions on key issues concerning health and safety plans such as preventative measures for serious accidents and disasters.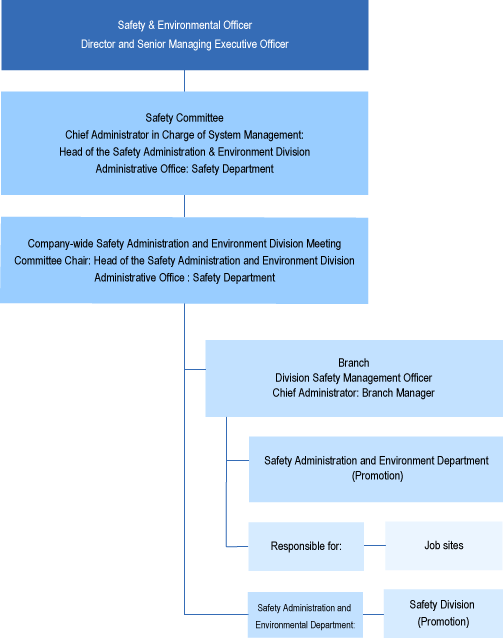 Initiatives to prevent occupational accidents
Construction Plans Incorporating Risk Assessment
Risk assessment refers to the process of investigating (identifying, estimating, and evaluating) the likelihood of potential occupational incidents and their severity, and identifying and implementing appropriate measures to mitigate these risks.
Shimizu implements risk assessments based on previous incidents that occurred in the company. This means that we lay emphasis on critical risks throughout different levels of the entire company, by identifying and designating hazardous work at the corporate level while also identifying and designating hazardous work at branch level risk assessments.
Prior to beginning construction at each job site, we identify hazardous work that are applicable to new operations at pre-construction review meetings. After construction begins, we follow up with incremental risk assessments prior to each phase of the project, and discuss results at the respective preparation meetings for each phase to identify what specific risk mitigation measures will be prioritized, and who will be held responsible for its implementation. This approach allows us to have consistent health and safety risk oversight prior to and during each project.
We also strive to achieve progressive improvements in health and safety through effective operation of the PDCA cycle based on COHSMS (Construction Occupational Health and Safety Management System).
COHSMS(PDF:293KB)
The Nagoya branch acquired certification ahead other branches.
Sharing Information and Activities to Prevent Recurrence
At Shimizu we implement an initiative internally referred to as a "safe construction cycle", where the company and business partners meet regularly to implement fundamental safety management procedures. By thoroughly putting this cycle into action, we ensure information sharing among all members involved in the project and the prevention of accidents.
Furthermore, during National Safety Week and National Occupational Health Week National Safety Week (both are nation-wide initiatives lead by the Japanese Ministry of Health, Labour and Welfare) the president and Company-wide Safety Committee members participate in safety patrols on various job sites.
Daily Work Cycle
Weekly Cycle
Monthly Cycle
When
What
When
What
When
What
Before beginning

Morning greeting and safety reminders
Risk assessment of job site, hazard prediction activities
Facility, machinery, and environment checks and measurements

Weekdays

Weekly checks
Clean-up involving everyone at the site
Weekly process meeting
Safety conference

Designated day

Safety conference
Special safety conference
General safety meeting

During work

Inspection tour by person(s) in charge
Checks during work (Shimizu, subcontractors)
Guidance and supervision during work
Safety process coordination
Coordination of individual work processes

Day Before a Holiday

Steps taken before all holidays

After work is completed

Site clean-up
Completion check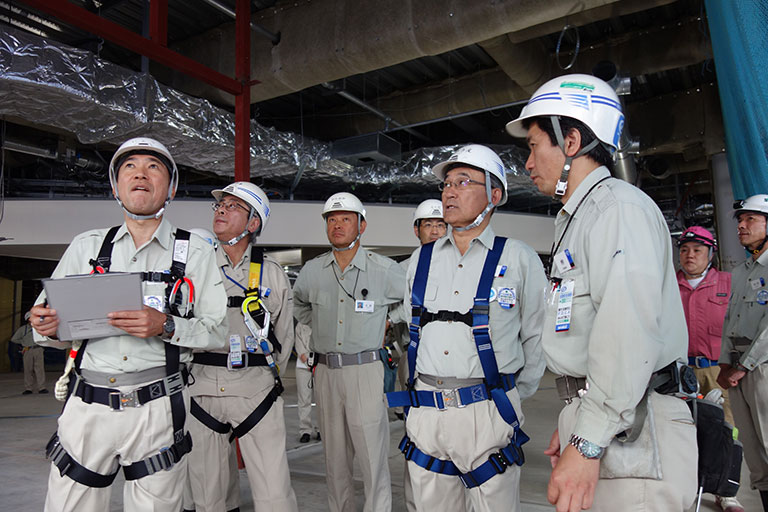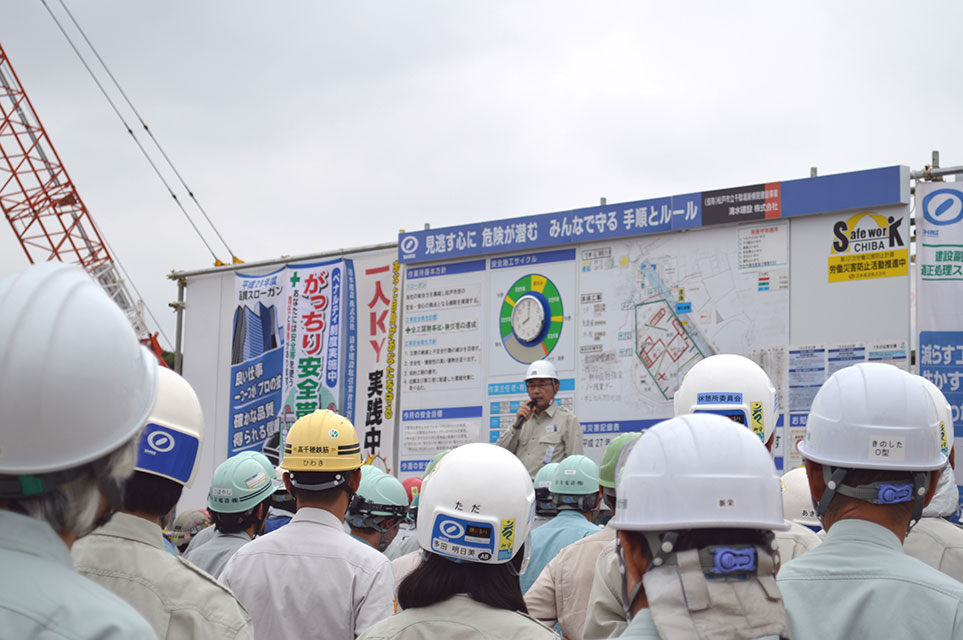 Health & Safety Results
Health & Safety Results
The LTI (lost time injury) frequency rate* in FY 2022 was 0.71, raise than in FY 2021 for both fatal and serious accidents.
LTI (lost time injury) frequency rate: The number of deaths and injuries per million cumulative man-hours. Figures for all industries and for the construction industry represent accidents resulting in one or more lost work days, calculated on a calendar-year basis. Figures for Shimizu represent accidents resulting in four or more lost workdays, calculated on a fiscal-year basis.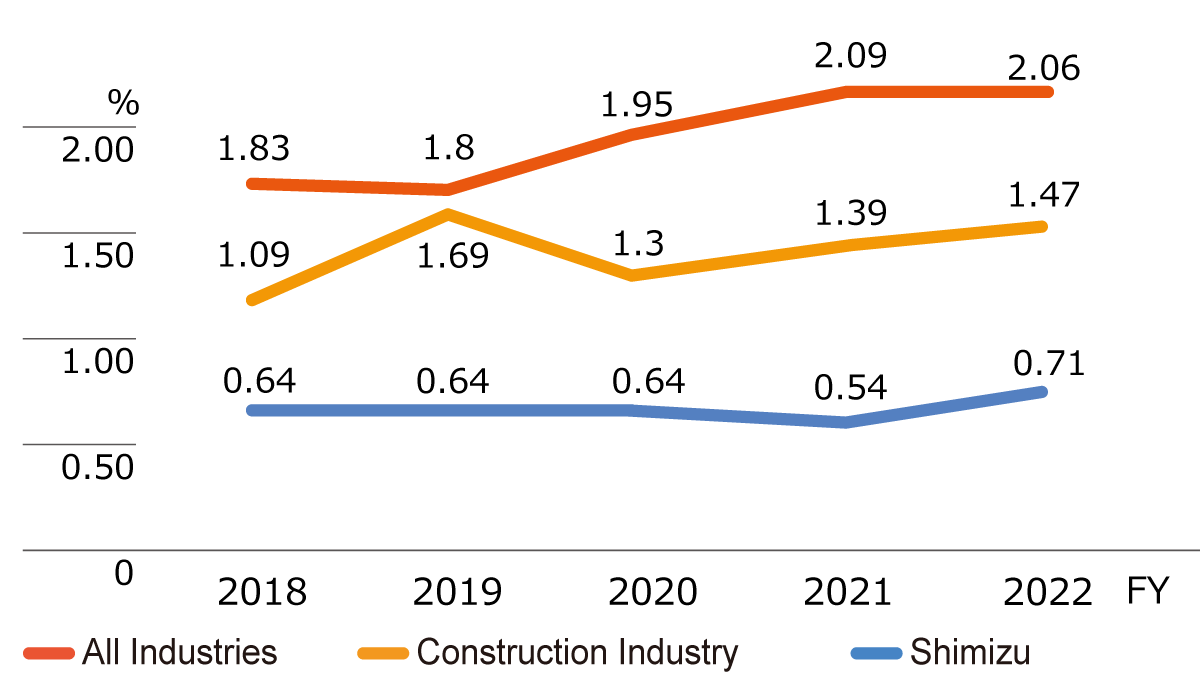 Accident Analysis
The following procedures are followed when responding to on-the-job accidents:
Provide information to the relevant people through the accident reporting system.
Perform an investigation of the accident and include safety staff in the investigation.
Formulate plans for and implement corrective measures to prevent recurrence of similar accidents based on the investigation and analysis.
Roll out measures internally, across the organization when necessary.
Accumulate accident data for use of risk assessments, etc. and prepare safety-related statistics.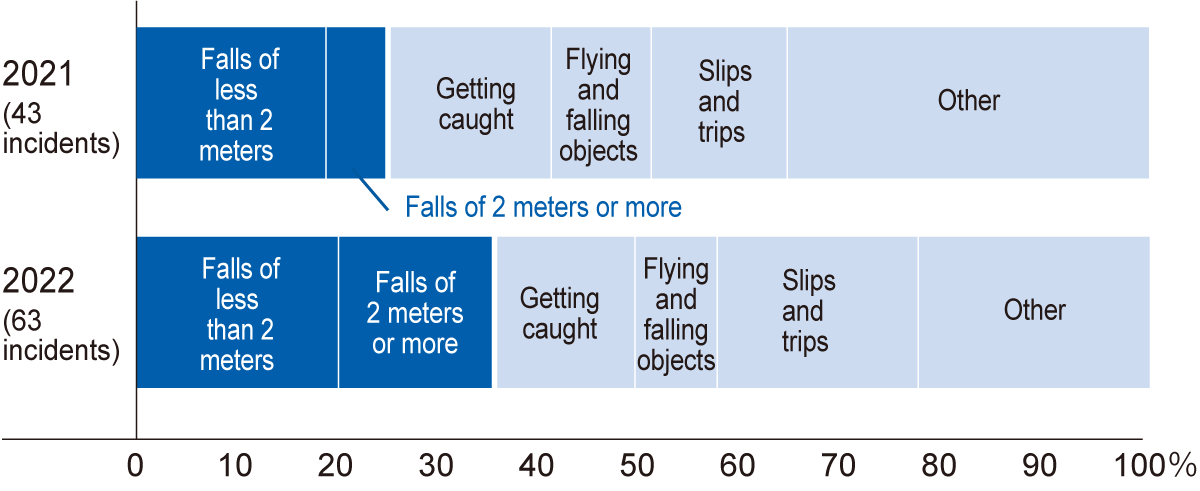 By type, the highest percentage were low falls, followed by getting caught and slips & trips.
There were 63 accidents in FY 2022 requiring four or more days off, which was twenty more than the previous year.
Factors contributing to accidents included unsafe attitudes and behavior by workers and insufficient hazard prediction.
We aim to reduce workers' accidents by analyzing and investigating these factors in the event of an accident, reflecting the results in health and safety plans and then rolling them out company-wide.
Mechanism for Handling Complaints
The link for complaints regarding health and safety is listed below.
Health & Safety at Suppliers and Subcontractors
Training Support for Suppliers and Subcontractors
With regards to the health and safety trainings listed below, Shimizu provides support and guidance to its business partners such as by supplying training material, lending venues, and dispatching instructors.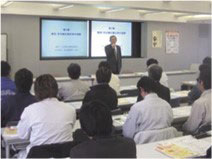 Safety training for workers upon initial employment, upon initial dispatch to a job site, and upon changes made to their assigned work
Special training for workers assigned to work legally designated as dangerous or hazardous
Training for foremen and safety and health officers
Training for workers assigned to dangerous and hazardous work and capacity building training for workers assigned to health and safety operations
Shimizu also cooperates to provide training opportunities for workers regarding crane operation, gas welding, and other technical skills.
Strengthening Partnership with Suppliers and Subcontractors
There are two multi stakeholder initiatives that aim to enhance our cooperation with suppliers and subcontractors to ensure quality and safety: 1. The Shimizu Rengo Kanekikai (hereafter, "Kanekikai"). 2. The Shimizu Construction Accident Prevention Council.
The Kanekikai independently engages in activities aiming to achieving the following: talent development for skilled workers, productivity improvement, cost reduction, and elimination of occupational accidents.
Shimizu also provides guidance and support to the following projects implemented by the Shimizu Construction Subcontractors' Accident Prevention Council.
Research on occupational health and safety and conducting health and safety training
Research on health and safety regarding machinery, tools, and other equipment used in construction
Investigation into the cause of accidents and implementation of relevant preventative measures
Compliance with labor laws and regulations, and miscellaneous matters regarding health and safety
Coordination of health and safety related measures with suppliers and subcontractors
Provision of guidance on health and safety through regular job site patrols
Surveying job site environments and implementing policies and measures
Planning and executing various events related to occupational health and safety campaigns
Other actions necessary to achieve the goals of the Construction Accident Prevention Council