Health Management Declaration
The Shimizu Group aims to be a company that advances each employee by ensuring that each employee can be healthy, work energetically, and demonstrate the skills they possess. To accomplish these things, we have established a company-wide structure for improving employee health and promoting improvements in the workplace environment, and continue to take the necessary steps. By pursuing these activities, we fulfill our corporate social responsibilities and improve the job satisfaction and happiness of every employee. This is health management in the Shimizu Group.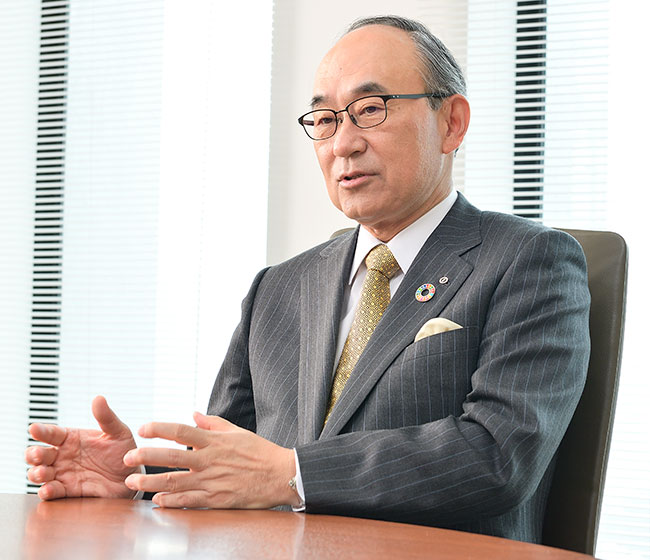 September 29, 2020
President and Director
Kazuyuki Inoue
Health management Promotion Structure
We have established a dedicated committee chaired by the president. This committee works to promote various measures and works together with the Human Resources Department, the clinic at the head office, the Health & Safety Committee, and the Health Insurance Association to establish measures and strengthen the system for managing and improving employee health.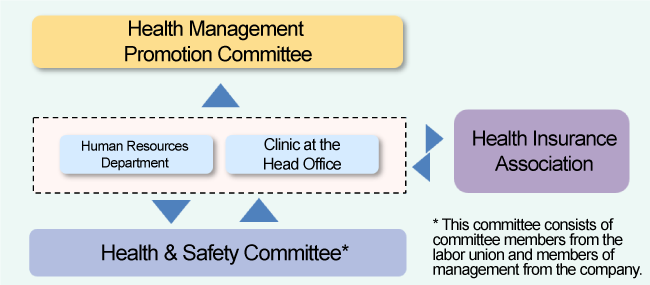 The main measures
To promote health management, we have specified the actions in the four quadrants at right, and cycle through the PDCA process.
[Specific Actions]
Consistently perform various kinds of exams and stress checks.
Provide health guidance and promote health education for people at risk of lifestyle diseases.
Promote anti-smoking measures.
Reduce long working hours.
Provide support for working while undergoing medical treatment, etc.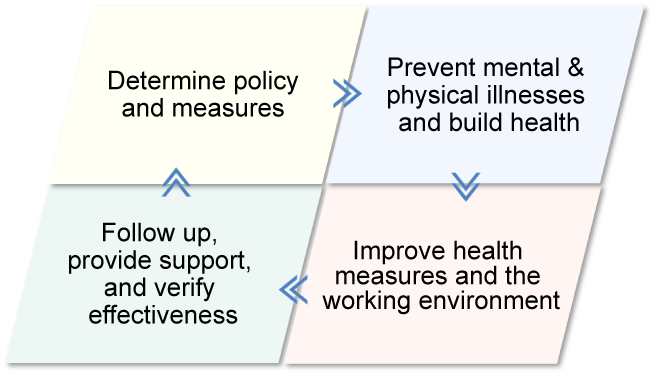 Mental and Physical Health and Energizing the Workplace
In our Mid-Term Management Plan, we have included "Improve health management by promoting individual physical and mental health" as part of our key strategies.
We are working to detect health conditions early and prevent them from worsening by making sure that all employees undergo a regular medical exam (a comprehensive medical exam for people aged 40 and over) every year. If the occupational physician determines there to be a need for "occupational considerations" after an employee undergoes a health exam, the employee is assigned to the "health management category" and receives health guidance from a specialist physician. In addition to this, the company also offers counseling and group sessions led by a clinical psychologist, has a partnership with an external EAP (employee assistance program), implements a program to provide support for employees on leave when they return to work, and other programs to improve mental health.
Shimizu also employs a full-time occupational health physician at the clinic in the head office. The clinic is equipped with the equipment and structure to vaccinate employees and provide other care to prevent the spread of infectious diseases and provide acute care, in addition to performing typical internal, surgical, and psychosomatic medical exams for insurance.
For employees involved in work on response to the Fukushima Daiichi nuclear accident or decontamination work for various local governments, we manage exposure to radiation to make sure that it remains below the legal limits and have established a system for measuring, recording, and managing internal and external radiation exposure to strictly manage radiation doses. The clinic in the head office also takes primary responsibility for ascertaining and following up on health conditions in addition to the legally mandated ionizing radiation exams during health checks.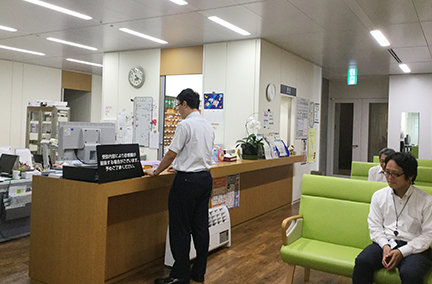 To ensure vibrant workplaces, we analyze the issues in each workplace based on the results of the employee awareness survey and provide feedback on measures for improvement and other support.
We encourage self-directed initiatives to make the workplace one in everyone can feel a sense of job satisfaction, and present the workstyle reform awards to notable projects, workplaces, and individuals.