Analysis of Operating Performance and Financial Position
Summary of Business Results for FY2022
In fiscal 2022, there were signs of normalization of social and economic activities in Japan as various restrictions to stop the spread of COVID-19 were gradually relaxed. However, factors such as the prolonged crisis in Ukraine and the depreciation of the yen along with the consequent global supply constraints and price increases in energy resources and food had a wide-reaching impact on corporate activities and people's daily lives.
In the construction industry, there were signs of a recovery in private capital investment. However, the business environment remained challenging due to soaring construction material prices and other factors.
Amid these circumstances, the group's net sales increased by 30.4% compared to the previous year to 1,933.8 billion yen. This growth was driven by factors such as the increase in our completed construction volume as a result of steady progress on large-scale projects on hand.
As for profit, although gross profit in the development business and others decreased, operating profit was up 21.0% from the previous year to 54.6 billion yen, ordinary profit was up 12.2% to 56.5 billion yen, and net income attributable to shareholders of the Corporation was up 2.7% to 49.0 billion yen. This was primarily a result of an increase in gross profit on completed construction arising from a recovery in profitability of overseas construction works.
Forecast for FY2023
In fiscal 2023, as the COVID-19 pandemic subsides in Japan, further normalization of social and economic activities is expected along with a recovery in inbound demand. However, there are concerns about a slowdown in the global economy due to worldwide inflation and monetary tightening measures in various countries. The Japanese economy could also be impacted by international instability. In the construction industry, steady public investment is expected, along with a continued recovery in capital investment in the private sector. However, on the supply side, we must continue monitoring the developments in order to address concerns, such as construction material and energy prices remaining high.
In the midst of this business environment, the forecasts for consolidated results in fiscal 2023 are net sales of 1,945.0 billion yen (up 0.6% YoY), operating profit of 57.5 billion yen (up 5.2%), ordinary profit of 54.0 billion yen (down 4.5%), and net income attributable to shareholders of the Corporation of 50.0 billion yen (up 1.9%).
Construction Business Orders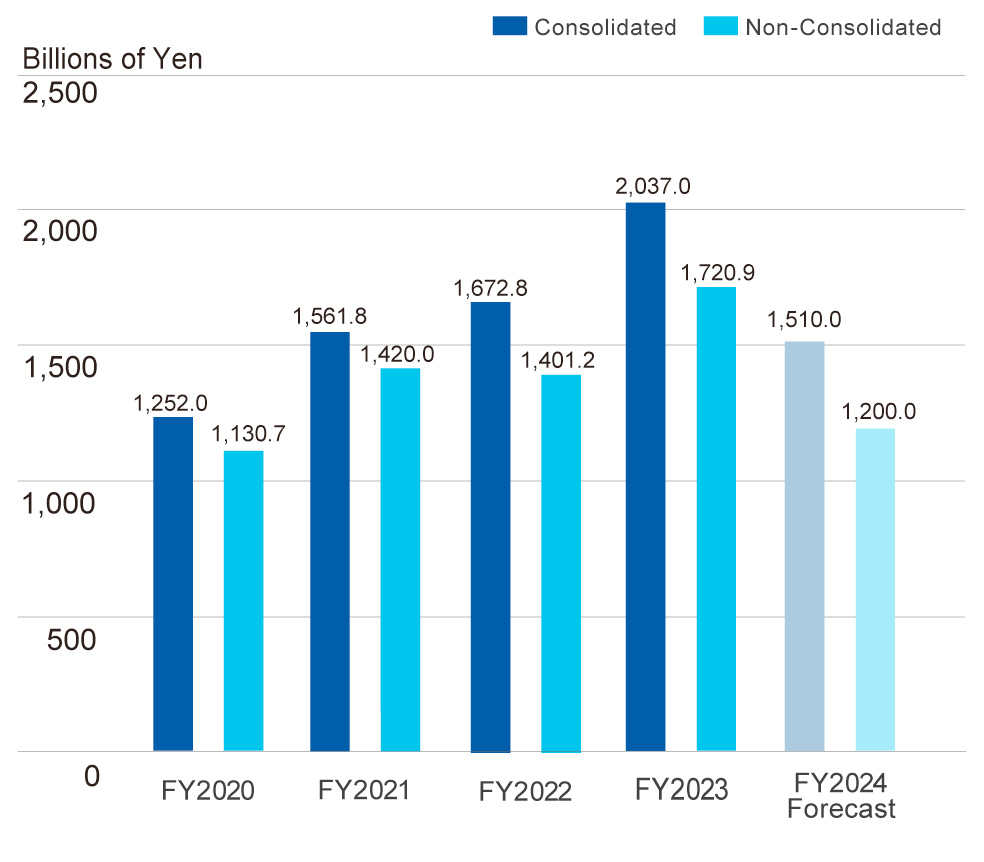 Net Sales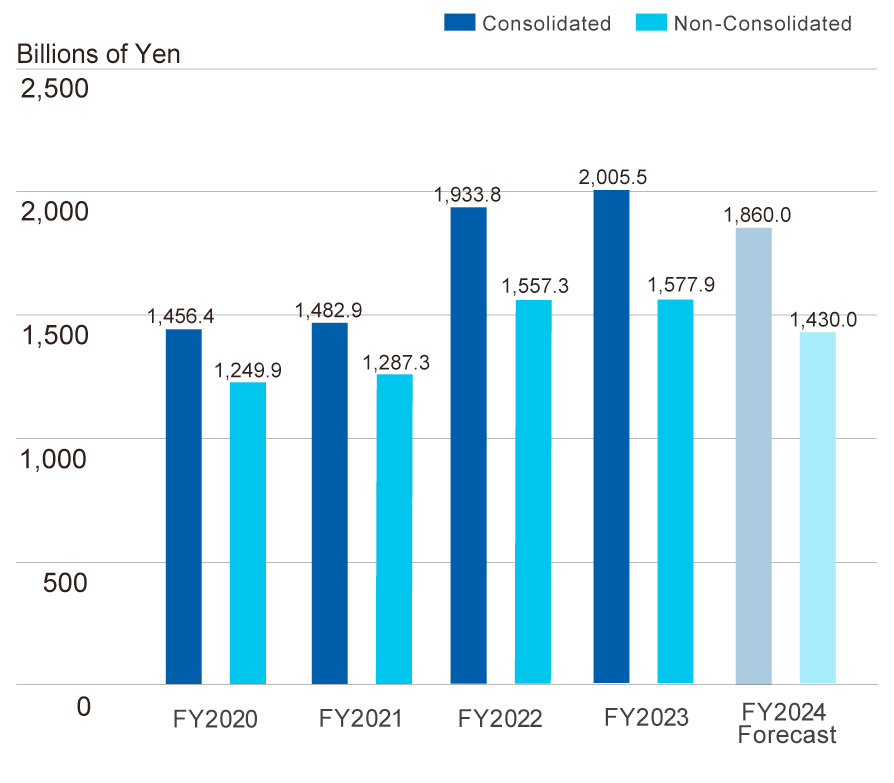 Net Income Attributable to Shareholders of the Corporation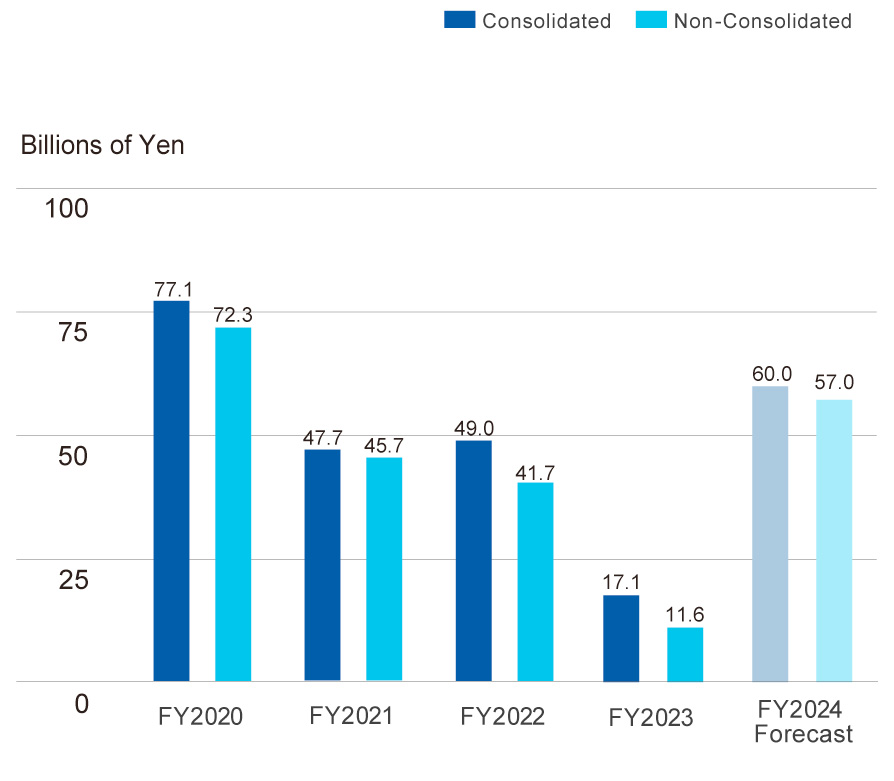 Total Assets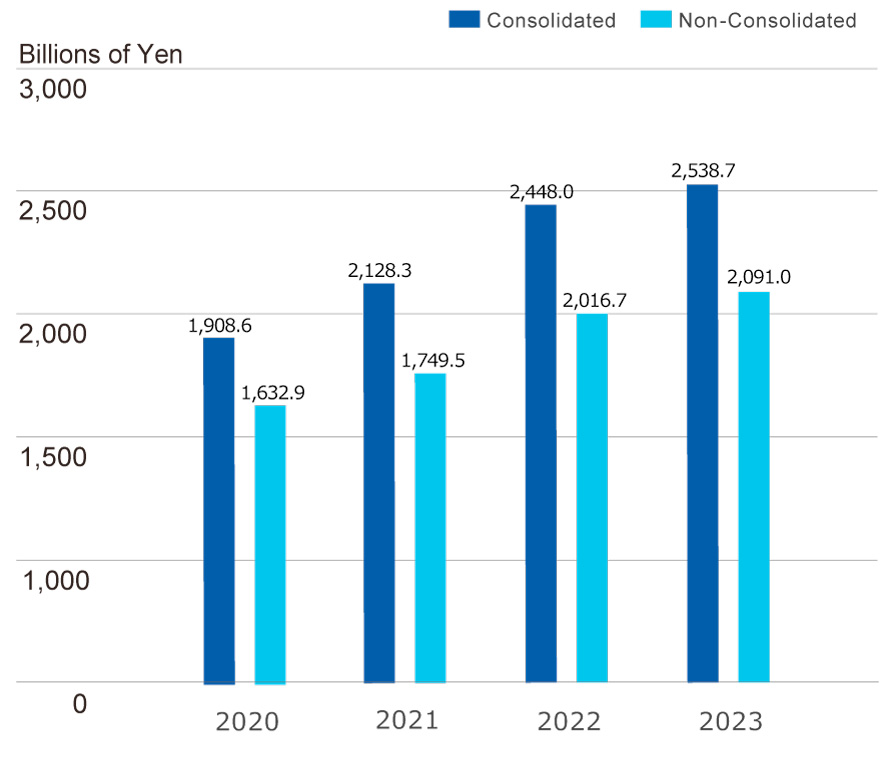 Net Assets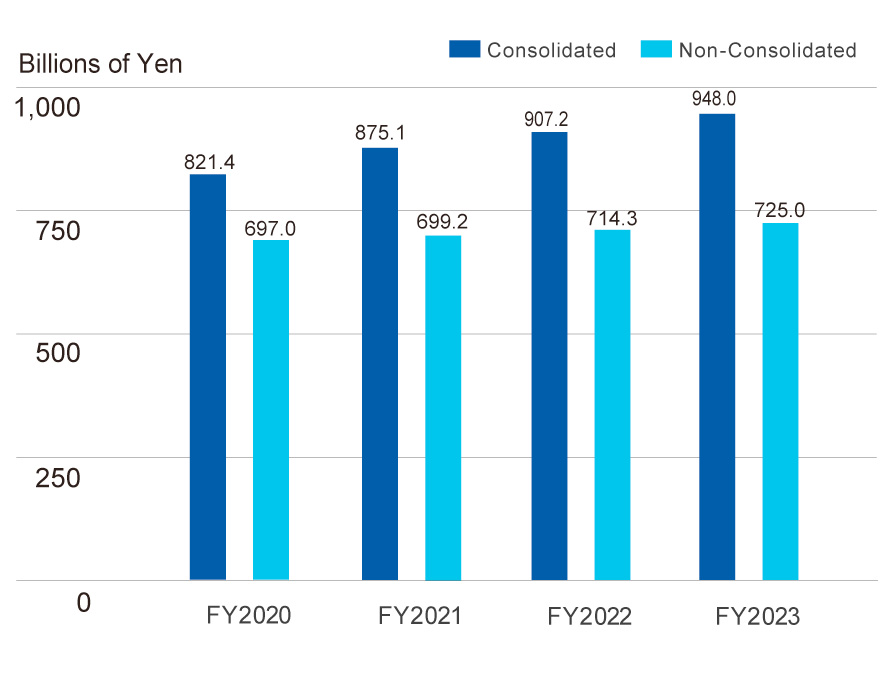 Interest-bearing Debt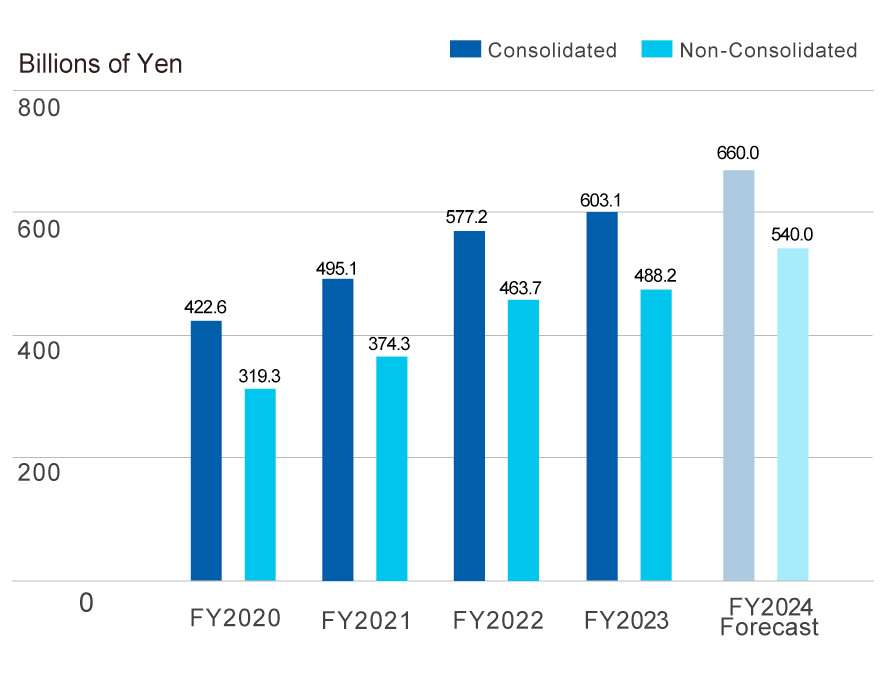 (Billions of Yen)
FY 2019
FY 2020
FY 2021
FY 2022
FY 2023
Forecast
Construction Business Orders
Consolidated
1,318.7
1,252.0
1,561.8
1,6728.0
1,560.0
Non-Consolidated
1,194.7
1,130.7
1,420.0
1,401.2
1,280.0
Net Sales
Consolidated
1,698.2
1,456.4
1,482.9
1,933.8
1,945.0
Non-Consolidated
1,417.6
1,249.9
1,287.3
1,557.3
1,530.0
Net Income Attributable
to Shareholders of the Corporation
Consolidated
98.9
77.1
47.7
49.0
50.0
Non-Consolidated
89.3
72.3
45.7
41.7
44.0
Total Assets
Consolidated
1,904.9
1,908.6
2,128.3
2,448.0
-
Non-Consolidated
1,604.4
1,632.9
1,749.5
2,016.7
-
Net Assets
Consolidated
736.4
821.4
875.1
907.2
-
Non-Consolidated
620.1
697.0
699.2
714.3
-
Interest-bearing Debt
Consolidated
441.3
422.6
495.1
577.2
630.0
Non-Consolidated
326.8
319.3
374.3
463.7
520.0