The construction industry has a deep impact on biodiversity and must engage in continual initiatives to preserve biodiversity in business activities. Social awareness of biodiversity is increasing, as evidenced by the establishment of the third National Biodiversity Strategy of Japan in 2007, the enactment of the Basic Act on Biodiversity in 2008, and the COP 10 Convention on Biological Diversity held in Nagoya in Aichi Prefecture, Japan in 2010.
Shimizu recognizes that the construction industry has a large impact on natural ecosystems, and regards biodiversity as an important aspect of environmental management. We work to ensure that all employees are aware of the need to consider biodiversity and reflect that in the details of initial plans, designs, and construction plans.
Policy on Nature Conservation and Biodiversity
Shimizu Biodiversity Guidelines
Shimizu led the industry in recognizing biodiversity as an important challenge in environmental management and formulated the Shimizu Biodiversity Guidelines in 2009 to continue and develop those activities further. We aim to preserve biodiversity and take the initiative on co-existing harmoniously with nature in all business areas to contribute to the realization of a sustainable society and pass the blessings and cultural value of biodiversity on to the next generation.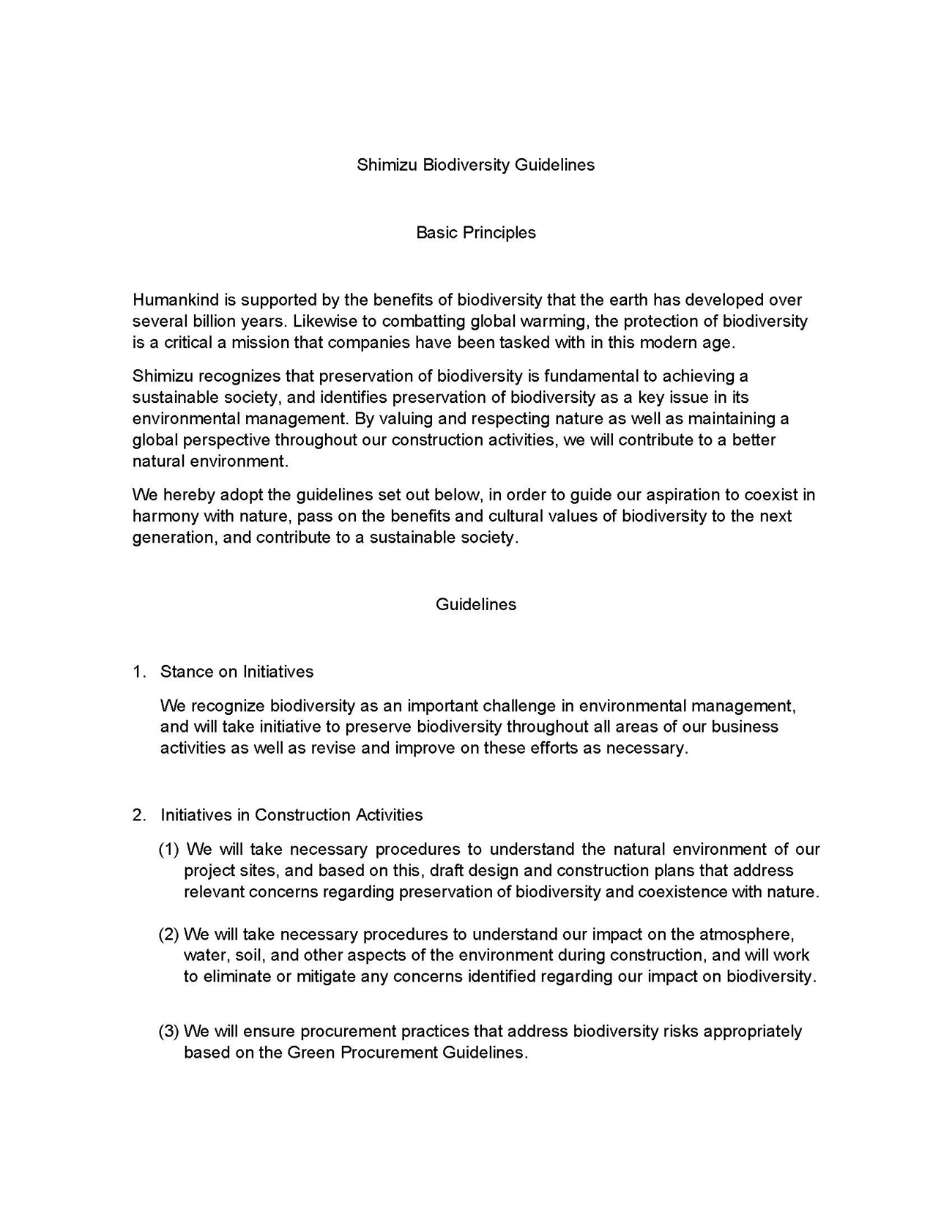 Shimizu Biodiversity Guidelines (PDF: 19.2 KB)
Eco-First Certification and Endorsement of the Declaration of Biodiversity by Keidanren
As Shimizu has continued to pursue activities in line with the Shimizu Biodiversity Guidelines, we have worked to preserve and restore biodiversity in urban areas with ecosystem evaluation tools and set a goal for the types of endangered species to attract in the biotope at the Institute of Research by 2030 as the next medium and long-term goals in our written pledge under the Eco-First Program, for which Shimizu obtained certification from the Minister of the Environment in 2018.
Shimizu also endorsed the Revision to "Declaration of Biodiversity by Keidanren and Action Policy" in 2020 and established the corporate policy of adhering to this in implementing future initiatives in design and build projects that should be standardized and have indicators established by 2030.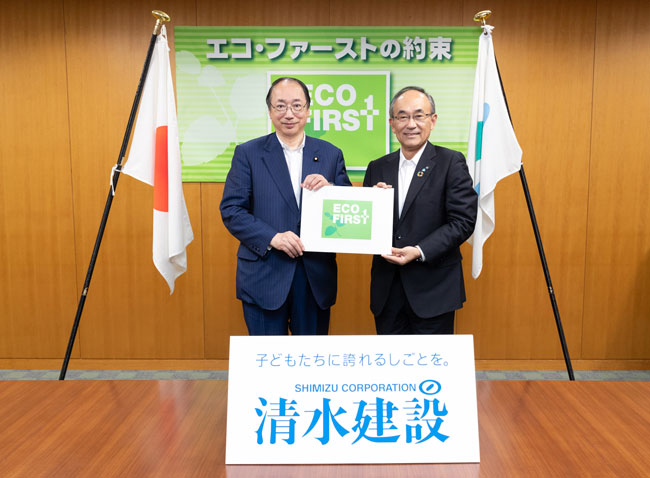 Promoting the Spread of Biodiversity Certification Systems
As a member corporation of the Association for Business Innovation in Harmony with Nature and Community (ABINC), Shimizu participates in various working groups, and contributes to education on and spread of the ABINC Certification.
The system certifies plants, office buildings, commercial facilities, housing complexes, and other types of buildings which engage in efforts to preserve biodiversity as a business establishment in harmony with nature. The Shimizu Institute of Technology located in Koto City, Tokyo is a Shimizu facility that obtained certification in February 2015. The Saisei-no-Mori Urban Biotope, which was built at the Institute of Technology in 2006, is praised for its 2,000 m2 biotope that is visited by more than 300 varieties of wildlife, despite the fact that it is located only 3 km from Ginza.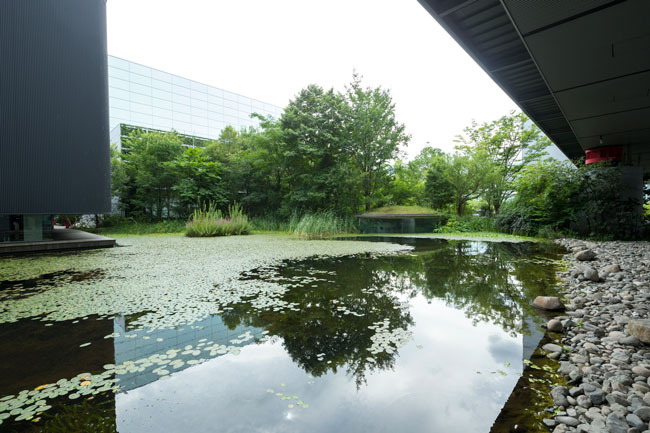 Initiatives that Consider Biodiversity in Business Activities
Research and Planning and Construction of Business Activities with Consideration for Biodiversity
At the planning and design stage, we require the mandatory drafting of an "architectural and civil engineering design eco map". This mandatory eco map requires team members to identify and evaluate the biodiversity related key issues such as risks and opportunities and relevant laws and regulations. Moreover, where necessary team members are expected to conduct site-visits for the evaluation of ecosystems and conducting of relevant simulations, as well as consider policies and guidelines for the preservation of biodiversity and the creation of greener infrastructure that can be incorporated into the biodiversity preservation and enhancement plans. Draft biodiversity preservation and enhancement plans will be subject to a design review by the relevant executive design manager, and if approved, will be incorporated into the "design transfer sheet", and passed on to the person in charge of construction.
Shimizu requires the mandatory drafting of a "key environmental area management chart" when beginning construction. This management chart explicitly incorporates items such as impact on ecosystem due to water pollution and issues identified regarding the ecosystem as environmental management indicators. If there are any material concerns regarding impact on biodiversity based on opinions obtained from relevant stakeholders – the client, the designer, the government and municipal offices, the local neighborhood, and academics, these concerns are deliberated on at the pre-construction committee meeting, where approval must be provided to proceed with the project.
Furthermore, during and after construction, project teams are expected to cooperate with relevant internal divisions to conduct monitoring over the local ecosystem. Project teams are also expected to recommend obtaining certifications such as ABINC, SEGES, and SITES to the client. If the client agrees to the recommendation, we will provide assistance to obtain the certification and enhance public visibility of the project's greening efforts.
Association for Bussiness Inovation In harmony with Nature and Community
Social and Environment Green Evaluation System
Sustainable SITES Initiative
UE-Net Evaluation of the Ecosystem Network in an Area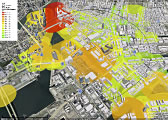 In 2009, when interest in biodiversity increased in the community, Shimizu developed the UE-Net (Urban Ecological Network), a practical simulation system to assist in the formulation of development plans that consider biodiversity in urban development. UE-Net uses satellite images and data to analyze the natural environment of an area, and visually shows the ripple effect of greening plans on the premises of a business on the surrounding ecosystem network from the perspective of appropriate habitats for wildlife. It proposes greening plans that can contribute to the biodiversity in an area.
In 2011, we expanded the UE-Net biodiversity database. This enabled the input of just the greening plans for development projects, and enabled application of this system in the conceptualization stage of development business, which requires the consideration of different types of greening plans in a short period of time. It could also display the ecosystem network for a broad area and could also be used to consider offset preservation plans prior to development. Shimizu intends to apply UE-Net, with its expanded database, to the evaluation and proposal of urban development plans in an area ranging from the Tokyo waterfront to the city subcenters. This will contribute to the creation of an ecosystem network.
[Main Uses of UE-Net to Date]

| Year | Planned Site | Purpose |
| --- | --- | --- |
| 2009 | Koto City, Tokyo | Government office building |
| 2010 | Shinjuku City, Tokyo | Commercial facility |
| 2010 | Chuo City, Tokyo | Office |
| 2011 | Koto City, Tokyo | Housing complex |
| 2011 | Saitama Prefecture | Educational facility |
| 2011 | Chuo City, Tokyo | Office |
| 2011 | Shinjuku City, Tokyo | Office, factory |
| 2011 | Shinjuku City, Tokyo | Office |
| 2012 | Nakano City, Tokyo | Complex |
| 2012 | Shibuya City, Tokyo | Office |
| 2012 | Minato City, Tokyo | Office |
| 2015 | Kanagawa Prefecture | Complex |
| 2016 | Kanagawa Prefecture | Government office building |
Note: Includes proposals that did not make it the construction order stage.
Shimizu also sets a quantitative goal under ISO 14001 for the number of proposals to customers on biodiversity in projects, including the use of UE-Net, and these proposals are pursued company-wide.
[Number of Proposals to Clients on Biodiversity in Projects]

| Year | Results | (Goal) |
| --- | --- | --- |
| 2015 | 23 proposals | (14 proposals or more) |
| 2016 | 12 proposals | (14 proposals or more) |
| 2017 | 22 | (14 proposals or more) |
| 2018 | 29 | (14 proposals or more) |
Japan Society of Civil Engineers FY 2012 Environmental Award, Engineering Advancement Association of Japan
Shimizu registers trademark on UE-Net.
Evaluation of urban area ecosystem networks(only in Japanese)
Designing Biodiversity-conscious Spaces
Ecological Landscapes Draw on the Hidden Potential of Nature in Designing Spaces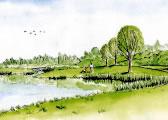 This design method attempts to satisfy the demands of both people and nature by coordinating the ecosystem, engineering, and design in the same dimension. Doing so enables a dam or school, medical facility, or housing complex to be incorporated into the ecosystem, and enables the creation of spaces that take the biodiversity that should normally exist there into consideration.
Construction with Consideration for the Biodiversity of Local Plants and Animals
Measures to Protect Plants and Animals During Construction of a Dam or Tunnel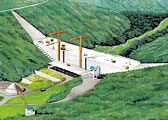 Tunnel and dam construction is done in the abundant natural environment of mountainous areas, and is accompanied by major changes in the terrain and removal of trees. This has a major impact on the ecosystem, so we take various steps, depending on the particular characteristics of the natural environment, or the status of rare species living in the area. We also rely on the research and advice of a committee or other body consisting mainly of academic experts established to ensure protection of rare species as we proceed with construction.
Examples of Biodiversity Preservation
Shimizu cleverly utilizes the functions of inherent in nature in building infrastructure and supports business activities that contribute to restoration of the blessings of nature and the creation of sustainable communities.
Preserving Biodiversity in Urban Areas
Yokohama Nomura Building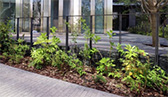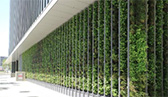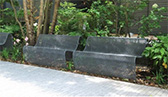 In the Yokohama Nomura Building in Minatomirai, Yokohama, which was completed in 2017, the client and the city of Yokohama set the goal of environmentally-friendly development that incorporated new greening technology.
We employed a team that consisted of all divisions of the Shimizu Group that are involved in ecosystems and the environment and met the needs of the client and the city of Yokohama by successfully employing the following five greening and environmental technologies in the project.
The UE-Net biological habitat suitability simulation technology was used to evaluate the ecological network of the area before and after establishment to provide comparative verification and visualize it.
The introduction of local plant varieties (genetic analysis technology) enables us to consider an ecosystem that is intrinsic to the area, without genetic disturbance.
A depressed planting zone (rain garden) to collect rainwater was created, to promote the natural collection of rainwater and biodiversity in a marsh environment.
A vertical louvered "green radiator" full of greenery was installed on the exterior walls with a wide variety of species intrinsic to Japan, including rare species.
Green benches that would not obstruct the green area were installed, and an urban environment was created to provide a cool spot in summer and where people can experience the biodiversity.
These types of initiatives in preserving biodiversity in urban areas has enabled Shimizu to acquire certification under several environmental assessment systems such as the Organization for Landscape and Urban Green Infrastructure SEGES (Social and Environmental Green Evaluation System), LEED (Leadership in Energy and Environmental Design), and CASBEE (Comprehensive Assessment System for Built Environment Efficiency) certifications.