Aiming to be a Company that Helps to Build Sustainable Communities
Contributing to the global environment is one of Shimizu's management principles.
In order to materialize this principle, we established the Shimizu Global Environmental Charter in 1991. We clearly explain our stance on environmental initiatives and promote environmental management.
Environmental Management Policy
Shimizu's goal is to contribute directly to the community and global environment through our own business activities while also contributing to an increase in the corporate value of our customers and to the community and the global environment by providing environmentally friendly products and services.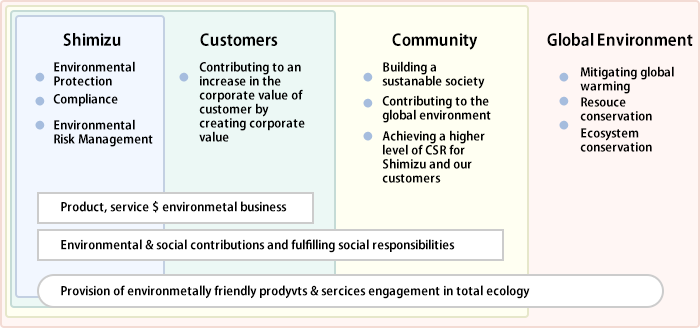 The Four Wheels that Drive Shimizu's Environmental Management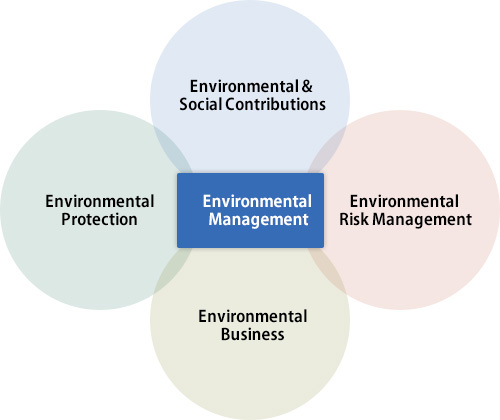 Environmental Protection
We make even greater efforts to reduce the environmental impact of buildings and structures over their entire lifecycles by extending their lifespans, reusing existing buildings, and improving energy-saving performance.
Environmental Business
We contribute to solving social challenges of increasing severity through business activities that utilize our integrated strengths and technical capabilities by decontaminating contaminated soil and groundwater, supporting new sources of energy, and using technology that takes biodiversity into consideration.
Environmental Risk Management
We provide compliance training for the entire company, exercise strict management, and work to improve awareness to prevent environmental accidents and legal violations.
Environmental & Social Contributions
We continually engage in activities to co-exist with local communities primarily at work sites, provide environmental education to youth, and engage in other activities to contribute to society, in addition to providing buildings and structures that are environmentally friendly assets of value to the community.
Shimizu Global Environmental Charter
Basic Principles
Shimizu contributes to building a sustainable society by working to preserve the global environment and to create a better environment as a corporate citizen and as a member of the construction industry.
The Global Environment Office (now the EMS Administrative Office) was established in April 1991 and the Environmental Countermeasures Promotion Committee (Chair: Vice President) was established in December of the same year. The company's policy on initiatives was decided upon at the first meeting of the Environmental Countermeasures Promotion Committee. The Shimizu Global Environmental Charter was established in October 1991. It was subsequently amended in April 2002 and has remained the same since then.
In 1991, the International Chamber of Commerce (ICC) enacted the Industrial Charter for Sustainable Development and the Japan Federation of Economic Organizations (now, the Japan Business Federation) enacted the Keidanren Global Environment Charter.
Basic Environmental Policy
In April 1997, Shimizu adopted the company's basic position statement and guidelines on conduct on environmental management in the name of the president and established the Basic Environmental Policy which set forth guidelines on conduct. The policy was amended in April of 1997, 2003, 2004, and 2006, and has remained the same since then.
The Kyoto Protocol to the United Nations Framework Convention on Climate Change (UNFCCC) was adopted at the Conference of Parties in 1997, and the Japan Business Federation published the Voluntary Action Plan on the Environment.
2019 Basic Environmental Policy (PDF: 92KB)(Content from this point onward is only in Japanese.)
Basic Position Statement
Shimizu and its group companies engage in environmentally friendly business activities and creation and restoration of the environment at each stage of sales, R & D, design, procurement, construction, renovation, and dismantling of all business activities. We contribute to value creation for our customers and sustainable development of society.
Guidelines on Conduct
Shimizu sets and works on the following related goals that will contribute to the achievement of the SDGs.

Mitigating Global Warming (Ecological Mission)
Resource Conservation and Resource Recycling
Biodiversity Preservation

Shimizu implements the following measures that will contribute to the achievement of our goals.

Energy saving and conversion to renewable energy in life cycle of buildings
Reduction of waste such as waste plastic and promotion of effective use
Promotion of activities for biodiversity preservation and indexing
Technology research and development that contributes to solving environmental issues and strengthening business competitiveness

Shimizu complies with environmental laws and regulations through continuous improvement and utilization of our environmental management system.
Shimizu contributes to value creation and social development through communication inside and outside the business, such as promoting the adoption of environmental technology through dialogue with customers, environmental volunteers and support activities.
Shimizu strives to raise environmental awareness and acquire knowledge through environmental education.
Recognizing this policy, Shimizu Group aim to minimize environmental-related business risks such as climate change and maximize opportunities.
Environmental Policy
The Building Construction Headquarters, the Civil Engineering Headquarters, the Engineering Headquarters, and the Nuclear Projects Div. have acquired ISO 14001 certification and declare their overall intentions and policies on environmental activities in the Environmental Policies they have established in accordance with the ISO 14001 standard.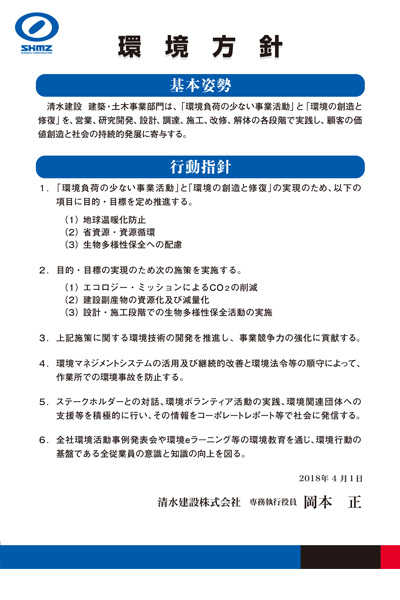 the first edition:
July 28th, 1998
Construction and Civil Engineering Businesses
(PDF: 527KB)(Content from this point onward is only in Japanese.)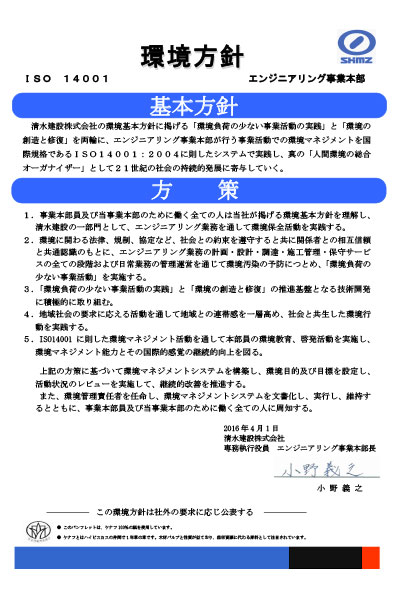 the first edition:
May 21st, 1998
Engineering Headquarters
(PDF: 301KB)(Content from this point onward is only in Japanese.)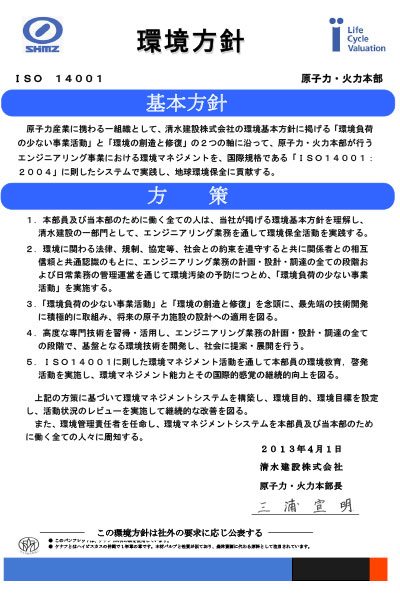 the first edition:
July 1st, 2009
Nuclear, thermal headquarters
(PDF: 126KB)(Content from this point onward is only in Japanese.)
SDGs and ESG Promotion Committee
The Global Environment Committee was established in 1993 as the ultimate company-wide decision-making body on matters relating to the environment. The committee is chaired by the President. The committee was reorganized as the CSR & Global Environment Committee in fiscal 2008, as the SDGs and ESG Promotion Committee in fiscal 2018.
ISO 14001 Certification
In 1998, Engineering Headquarters acquired certification. In 1999, Shimizu acquired certification for all divisions and branches, except for overseas branches. At the time, other companies were acquiring certifications at the branch level and Shimizu was the only company to acquire a blanket certification for its entire Construction and Civil Engineering Headquarters.
As of December 2019, offices that acquired ISO 14001 certification encompass roughly 94% of all Shimizu employees and directors.
List of offices that acquired ISO 14001 certification
ISO 14001 certification of the acquired business sites
Percentage of business establishments that have obtained certification
Domestic


Construction and Civil Engineering all Businesses and Engineering Headquarters

88%*
Overseas


Thailand: Thai Shimizu
Vietnam: Hanoi sales branch/Hanoi Office/Shimizu Vietnam
Malaysia: Malaysia Office
India: Shimizu Corporation India
Indonesia: Jakarta Office
China: Shimizu Corporation(China)
Singapore: Singapore Office
Taiwan: Taipei Office
Philippine: Shimizu Philippine Contractors

Shimz Group

SC PRE-CON CORP.
SHIMIZU BLC Co., Ltd.
Daiichi Setsubi Engineering Corporation
FaB-Tec Japan Corporation
The Nippon Road Co., Ltd.
Shimizu Comprehensive Development Corporation, PM Division
Calculated based on the percentage of employees that work in the certified offices (this is due to the fact that certifications were obtained mainly for our large offices, and therefore the percentage of certified business sites does not provide an accurate picture of our certification ratio).
Of the international division, departments based in Japan are counted as domestic. Overseas establishments individually acquired certification according to the situation in each country.
Engineering Headquarters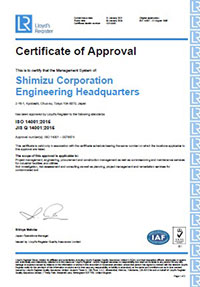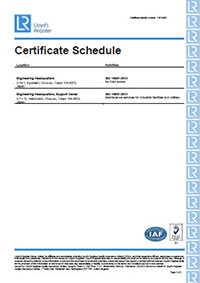 Construction and Civil Engineering Businesses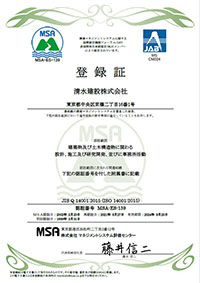 March 31st, 1999
Certification (Content from this point onward is only in Japanese.)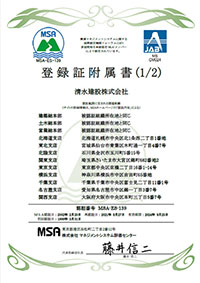 March 31st, 1999
Certification (Content from this point onward is only in Japanese.)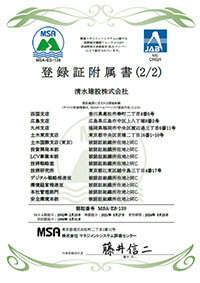 The certification details from this point onward are only in Japanese.