Policy on Promotion of Diversity & Inclusion
Shimizu works to promote diversity. Our goal is to effectively utilize the diverse range of individuality that exists among our employees and enable each employee to manifest his or her skills to the fullest extent.
Our employees possess a diverse range of values, views, and skills that originate from differences in gender, presence or absence of disabilities, nationality, age, sexual orientation, gender identity and other background influences. Shimizu aims to be a company that can fully and actively utilize this diverse range of skills and individual characteristics to the fullest extent.
Shimizu promotes work-life balance and creates a workplace that makes it easy to work.
Shimizu's goal is to respond to changes in the business environment, increase corporate value, and improve business results by promoting diversity.
Message from the President
International and social factors are changing dramatically to keep pace with rapid advances in technology, such as AI, the Internet of Things (IoT), and big data. I believe we must make the most of the diverse range of individuals who make up our workforce on a global basis and create the framework and opportunities they need to demonstrate their abilities to the fullest. This will be crucial for identifying market trends, ensuring management stability, and achieving sustained growth.
For these reasons, we are energetically promoting diversity in management and striving toward an inclusive society in which we can all work and enjoy our lives with a sense of vitality, regardless of nationality, age, gender, gender identity, sexual orientation or disability.
(Excerpt from the Fiscal 2017 Corporate Report)
Kazuyuki Inoue, President
Shimizu Corporation
Chosen for Inclusion in New Diversity Management Selection 100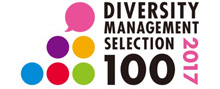 Chosen as a Nadeshiko Brand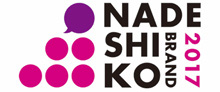 Recipient of the Bronze Award for the "work with Pride" Corporate Equality Index
Shimizu received the first Bronze award among general contractors for its initiatives aimed at "work with Pride" Index 2017. This work with Pride Index was first created by "work with Pride," a private organization, in 2016. It is an index that evaluates initiatives aimed at ensuring inclusion of LGBTQ individuals and other gender identity minorities in companies.
Shimizu was one of 109 organizations chosen to receive the award this fiscal year.
work with Pride PRIDE Index 2017 Report (Content from this point onward is only in Japanese.)