The Shimizu Group works to ensure business continuity and stable growth by mitigating risks and minimizing potential losses. We achieve this by identifying risks relevant to our business activities and managing them appropriately.
Taking a PDCA cycle approach to risk management
Risk management structure
Each fiscal year, the Risk Management Committee (Chair: CEO) makes decisions on key items of risk management for the entire company and each division incorporates these decisions into its business plans – some of these risks are listed below. Furthermore, in order to ensure appropriate risk management, we implement a PDCA cycle by monitoring risks by function at the head office, business division, and group company levels, providing timely guidance and oversight for corrective actions as necessary, and leveraging these insights to respond to emerging risks. The Board of Directors provides direct oversight by having the Risk Management Committee report directly to them, and by monitoring and evaluating the implementation and effectiveness of the Code of Corporate Ethics and Conduct and Risk Management Rules.
ESG-related issues are also included among the risks monitored by the Board of Directors and the Risk Management Committee. These include legal and regulatory violation risks, which is overseen by the Legal Department, and environmental and safety risks, which are overseen by the Safety Administration & Environment Division. The Code of Corporate Ethics and Conduct, which is also overseen by the Board of Directors and the Risk Management Committee, covers a comprehensive range of corruption issues including bribery and accounting fraud.
Management risks: Violation of laws and regulations (including violations of the Code of Corporate Ethics and Conduct, bribery, and corruption), and risks associated with finance, IT, information security, etc.
Business risks: Risks associated with construction, the environment, safety, and overseas business
External risks: Accidents/disasters, social and political conditions
Risk management structure (According to risk management regulations)
Information Security
Information Security Policy
Shimizu strives to satisfy its clients through quality construction and relevant services and aims to contribute to the sustainable development of the 21st century society. In order to fulfill these goals, Shimizu recognizes the importance of utilizing information as efficiently and effectively as possible in order to leverage the company's full range of available resources. In its use of such information, Shimizu, including its Group companies, are committed to maintaining an appropriate standard for information security.
Information Security Guideline
Develop an information security management system that complies with international standards, and continuously maintain and improve upon this system.
For all information under our oversight related to business activities, and all related systems that use this information, we will clarify the scope and reasons for protection in order to develop solutions for appropriate information management.
In order to maintain and continuously improve upon information security, we will appoint a committee at the group-company level to consistently promote and manage information security throughout the entire company.
We will work to expand and deepen the understanding and knowledge of information security amongst our employees and company affiliates through educational and informative initiatives.
By conducting routine audits and assessments regarding information security, we will identify and confirm new and emerging risks, as well as assess external environmental changes, in order to continuously manage these risks.
Management and Protection of Personal Information
Through its business operations, construction companies retain personal information of their clients and business partners as well as personal information of their own employees. In 2005, Shimizu drafted its Privacy Policy and based on this, continues to protect personal information.
To learn more about our Privacy Policy, please refer to the following: 「Privacy Policy (Guidelines on protection of personal information)」
Information Security Initiatives
Based on the established Information Security Guideline and the accompanying information security management structure, Shimizu has taken a range of initiatives to improve security levels. This has included security enhancement around the company's IT infrastructure, provision of educational contents regarding information security, and raising awareness about policy/guideline revisions.
Shimizu aims to raise awareness of information security amongst each and every one of its employees through initiatives such as the targeted threat prevention activities we started in FY2013. Furthermore, Shimizu continuously works with specialty contractors whom we collaborate with on construction projects to strengthen information security management.
Business Continuity Plan (BCP)
Basic Policy
In cases of natural disasters such as major earthquakes or other crises that may pose major damage, our mission is to secure the safety of citizens residing in areas affected by disaster and to preserve the foundation for living and the foundation of society. In our Business Continuity Plan, we focus on promptly preserving our workplace and facilities, supporting the recovery and restoration of the affected areas and supporting our customers to restart their businesses as quickly as possible.
In order to act promptly under such circumstances, our individual employees must understand their roles and act independently and responsibly. Additionally, we must prepare to be able adapt to new situations and quickly reform our corporate structure. In accordance to the points above, our BCP policy is established as below:
BCP Policy
Prioritize ensuring and confirming the safety of our workers and their family
Share the conscience of social and local contribution throughout the company
Preserve affected facilities, workplaces and facilities that are used by the company
Create a structure that allows workers that are involved in preservation activities to act independently and responsibly
Identifying disasters and estimating potential damages
In consideration of the studies by the Central Disaster Management Council's "Specialized research committee to counter earthquakes that occur directly under capital Tokyo", we are estimating major damages that will be done by the worst case scenario which will be the "Northern Tokyo Bay Earthquake". The conditions and estimated possible damages of this specific earthquake are as below.
The intensity and potential damages of the "Northern Tokyo Bay Earthquake"
Black points in the image = Property constructed by Shimizu Corporation

Intensity Scale(Japanese Seismic Intensity)
5 upper
6 lower
6 upper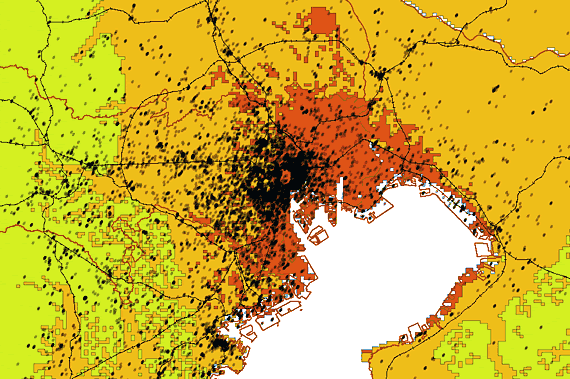 Conditions
Epicenter

Northern Tokyo Bay plate boundaries(on the surface of the Philippine Sea Plate)

Scale of Earthquake

Magnitude 7.3

Intensity of specific areas(Japanese scale)

(Intensity 6 upper)Parts of the Yamanote-line, East Tokyo, coastal areas of Tokyo~Chiba

(Intensity 6 lower)East Tokyo, East Kanagawa, Southeast Saitama, West Chiba
Estimated potential damage
Destroyed/Burnt Buildings

Approximately 850,000 (530,000 of which are within Tokyo prefecture)

Number of fatalities

Approximately 11,000 (7,800 of which are within Tokyo prefecture)

Number of people injured

Approximately 210,000

Number of evacuees

Maximum of 7,000,000 people (3,100,000 of which are within Tokyo prefecture)

Number of stranded commuters

6,500,000 people (3,9000,000 of which are within Tokyo)(If occurred during noon)

Economic loss

112 Trillion Yen

Utility damage

【Blackout】 Approximately 1,600,000 buildings (six days)
【Water outage】 Approximately 11,000,000 people (30 days)
【Gas outage】 Approximately 1,200,000 buildings (55 days)
【Phone outage】 Approximately 1,100,000 circuits (14 days)
(The days within the parenthesis are the number of days that will be needed for complete restoration of the written situation)
Improving disaster prevention activities in partnership with communities
In the event of a major earthquake, forecasts indicate roughly 300,000 people will be unable to return home from Tokyo's Chuo Ward, where the Shimizu head office building is located. Under these conditions, at Chuo Ward's request, the head office building would serve as a regional disaster center and provide space and temporary accommodations for those unable to return home. Shimizu regards these regional disaster center functions as central contributions to local communities and is currently working on a system to deploy these functions effectively in the event of an emergency. In cooperation with Chuo Ward and other companies, we plan to help develop an area-wide disaster prevention system based on mutual support and mutual aid.