The Shimizu Group works to ensure business continuity and stable growth by mitigating risks and minimizing potential losses. We achieve this by identifying risks relevant to our business activities and managing them appropriately.
Taking a PDCA Cycle Approach to Risk Management
Risk Management Structure
Each fiscal year, the Risk Management Committee (Chair: CEO) makes decisions on key items of risk management for the entire company and each division incorporates these decisions into its business plans – some of these risks are listed below. Furthermore, in order to ensure appropriate risk management, we implement a PDCA cycle by monitoring risks by function at the head office, business division, and group company levels, providing timely guidance and oversight for corrective actions as necessary, and leveraging these insights to respond to emerging risks. The Board of Directors provides direct oversight by having the Risk Management Committee report directly to them, and by monitoring and evaluating the implementation and effectiveness of the Code of Corporate Ethics and Conduct and Risk Management Rules.
ESG-related issues are also included among the risks monitored by the Board of Directors and the Risk Management Committee. These include legal and regulatory violation risks and environmental and safety risks. The Code of Corporate Ethics and Conduct, which is also overseen by the Board of Directors and the Risk Management Committee, covers a comprehensive range of corruption issues including bribery and accounting fraud.
Risk Management Structure (According to risk management regulations)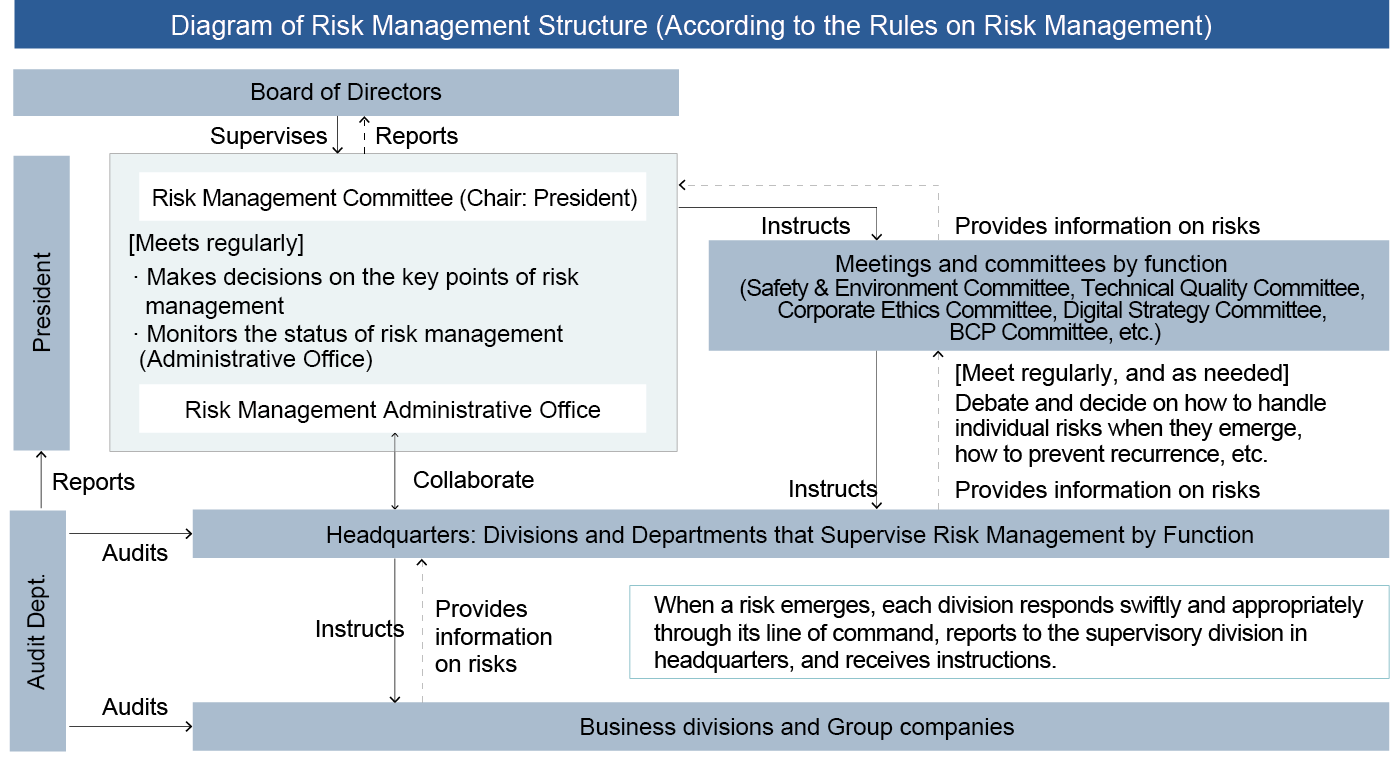 Information Security
Information Security Policy
Shimizu strives to satisfy its clients through quality construction and relevant services and aims to contribute to the sustainable development of the 21st century society. In order to fulfill these goals, Shimizu recognizes the importance of utilizing information as efficiently and effectively as possible in order to leverage the company's full range of available resources. In its use of such information, Shimizu, including its Group companies, are committed to maintaining an appropriate standard for information security.
Information Security Guideline
Develop an information security management system that complies with international standards, and continuously maintain and improve upon this system.
For all information under our oversight related to business activities, and all related systems that use this information, we will clarify the scope and reasons for protection in order to develop solutions for appropriate information management.
In order to maintain and continuously improve upon information security, we will appoint a committee at the group-company level to consistently promote and manage information security throughout the entire company.
We will work to expand and deepen the understanding and knowledge of information security amongst our employees and company affiliates through educational and informative initiatives.
By conducting routine audits and assessments regarding information security, we will identify and confirm new and emerging risks, as well as assess external environmental changes, in order to continuously manage these risks.
Management and Protection of Personal Information
In 2005, Shimizu drafted its Privacy Policy and based on this, continues to protect personal information.
Privacy Policy (Guidelines on protection of personal information)
Information Security Initiatives
Based on the established Information Security Guideline and the accompanying information security management structure, Shimizu has taken a range of initiatives to improve security levels. This has included security enhancement around the company's IT infrastructure, provision of educational contents regarding information security, and raising awareness about policy/guideline revisions.
Shimizu aims to raise awareness of information security amongst each and every one of its employees through initiatives such as the targeted threat prevention activities. Furthermore, Shimizu continuously works with specialty contractors whom we collaborate with on construction projects to strengthen information security management.
Business Continuity Plan (BCP)
Basic Principles
In recent years, changes in the natural environment such as climate change and global warming have precipitated natural disasters that cannot be responded to with existing practices. At Shimizu, we have done many things to counteract disasters in the past, have formulated a business continuity plan (BCP) to prepare for the occurrence of disasters of a level which we are unable to respond with the existing network of countermeasures. The plan is revised as needed.
In cases of natural disasters, our mission is to secure the safety of citizens residing in areas affected by disaster and to preserve the foundation for living and the foundation of society. In our BCP, we focus on promptly preserving our workplace and facilities, supporting the recovery and restoration of the affected areas and supporting our customers to restart their businesses as quickly as possible.
In order to act promptly under such circumstances, our individual employees must understand their roles and act independently and responsibly. Additionally, we must prepare to be able adapt to new situations and quickly reform our corporate structure. In accordance to the points above, our BCP policy is established as below:
BCP Basic Policy
Prioritize ensuring and confirming the safety of our workers and their family
Strive to preserve our facilities and job sites where construction is in progress
Assist in the restoration of customer facilities (properties built by Shimizu)
Contribute to ensuring the living foundation for society and community
Create a structure that allows workers that are involved in preservation activities to act independently and responsibly
Identifying Risks and Estimating Potential Damages
Emergencies caused by devastating disasters such as natural disasters having a high probability of widespread impact on Shimizu's business activities including suspension or cessation of headquarter functions (large earthquakes, pandemics, volcanic eruptions, widespread flooding, super typhoons, or other disasters and accidents) are designated as targeted risks.
Conducting BCP Drills to Prepare for an Earthquake Directly Beneath the Greater Tokyo Area
As the types of natural disasters become more varied and increase in duration and intensity, we must consider responses to risks that were not foreseen in conventional business continuity planning (BCP). Shimizu also revised its BCP to respond to such new risks, and conducted a company-wide BCP emergency drill on March 11, 2019 based on the scenario of an earthquake directly beneath the Greater Tokyo Area. The scenario of the drill was a magnitude 8 earthquake with a seismic intensity of 7 occurring at 2:00 am under the northern part of Tokyo Bay. In the scenario, the area surrounding the head office suffered catastrophic damage and headquarter functions had become inoperable.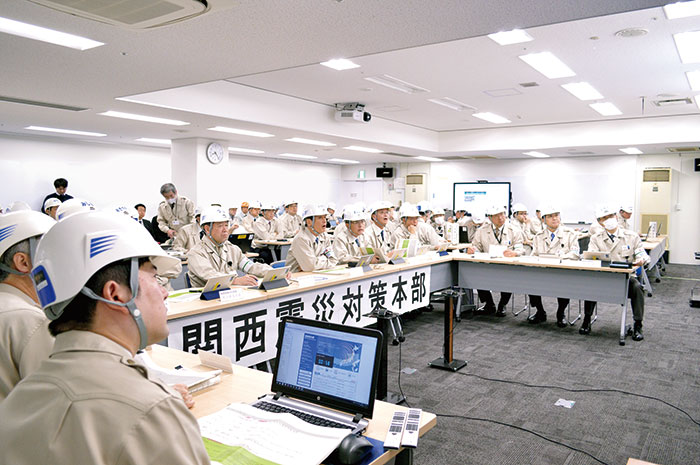 It was determined that establishing an emergency response headquarters at the head office would be impossible in such conditions, so an alternate headquarters was temporarily established at the Kansai Branch in Chuo-ku, Osaka, and directed company-wide response activities until head office functions were restored. As was the case in previous drills, the safety of employees was confirmed and information on damage to Shimizu facilities, job sites, and customer facilities was collected as part of the drill response. A new part of the drill in which the Kansai Branch took over the head office functions of wage payment and processing of customer payments was also conducted until it was handed back to a functioning Tokyo office three days later. We will continue these drills in the future to strengthen our ability to respond in an emergency.
Promoting Disaster Prevention Activities Together with the Community
At the request of Chuo-ku authorities, Shimizu's main office building has been designated as a regional disaster center and will provide space to temporarily shelter people who cannot return home.
We have established a system to manage the center. Shimizu is helping to build a disaster prevention system based on mutual assistance, in cooperation with Chuo-ku and other companies.
Serving as a regional disaster center is at the core of our contribution to the community.