Policy on Quality
Policy on Quality in the Building Construction Business
Shimizu provides technology and services customers trust and are satisfied with by accurately ascertaining the value customers expect, and maintaining a dedication to quality by all employees through the entire process from sales to maintenance and preservation.
To achieve the policy stated above, we set quality goals for each project and division, implement and maintain a quality management system, and strive for continuous improvement through management reviews.
Policy on Quality in the Civil Engineering Business
All employees approach monozukuri (craftsmanship) with an attitude of humility and sincerity. They actively take personal responsibility for providing buildings and structures of outstanding quality that exceed the expectations of customers and society. This earns trust in and satisfaction with Shimizu as the continuing partner of choice and contributes to society.
To achieve the policy on quality described above, we employ quality management in each division, area, and project effectively and strive to enhance and achieve ongoing improvement in workplace skills, technical skills, and personal character.
Policy on Quality in the Engineering Business
By carefully integrating Shimizu's expert technical skills into the process of fulfilling our customers' needs, we build environments and buildings that offer exceptional value in terms of business potential, functionality, longevity, and regulatory compliance. We comply with the ISO 9001 standard, the international standard for quality management systems, in accomplishing this and work to increase customer satisfaction and earn the trust of our customers.
Actions Taken to Ensure Quality
Work to develop technology that ensures quality and can respond to a change in social environment in terms of the globalization of the industry and the economy, protecting the earth's environment, and maintaining international quality standards.
Develop an accurate understanding of the customer's business plans, and provide optimal quality from the perspective of the entity ordering the work and the users by building a facility that satisfies quality requirements.
Work to provide comprehensive quality assurance, shorten the construction period, and reduce costs, and ensure optimal quality. Achieve this by making specialization and the acquisition and use of an increasingly diverse range of advanced technology the central focus of engineering services.
Target care throughout a structure's lifecycle and systematically develop perpetual maintenance activities through analysis of operating data and feedback.
Build a quality management system based on the measures listed above, maintain it, and strive for continuous improvement reviewing progress on activities.
Appoint a quality management supervisor, and make sure that all business headquarters employees are aware of and understand the quality management system to fulfill this policy on quality and achieve its goals.
Quality Management System
Providing Definitive Quality through a Comprehensive Quality Management System Rooted in the Development of People
Shimizu is working on processes and activities aimed at providing optimal quality by focusing on developing people capable of supporting first-class craftsmanship at each stage of the process from planning and sales to design, construction, maintenance, and preservation, and building a quality management system that provides an integrated framework for ensuring quality to support that.
Planning & Sales
Design
Construction
Maintenance & Preservation
Quality Process

Consulting
Ascertaining customer needs
Presenting proposals

Determining requirements
Drawing up design and quality plans
Verifying designs
Confirming suitability

Planning construction
Examining blueprints
Holding various review meetings
Construction management & in-process inspection
Construction supervision (by design division)

Post construction service
Regular inspections
Response to claims
Maintenance agreements

Description of Activity

Proposals and support for reducing use of and saving energy
Proposals and support for disaster prevention and mitigation
Proposals and support for increasing real estate value
Proposals and support for the latest environmental technology

Use of BIM*
DR (Design review)
Training design personnel (overseas training system)

Pre-construction quality review
Guidance from an independent internal supervisor for projects involving both design and construction
Specialty/specialized construction system (architectural construction)
Designated construction system
Inspection and supervision by internal independent technical staff
Technical guidance by personnel in charge of education, instructors, and quality control managers

BM (Building Management) services
Promotion of total building diagnostics and comprehensive renovation proposals
Customer satisfaction surveys
BIM: The abbreviation for Building Information Modeling. A system of modeling that integrates information from design and construction to maintenance and management into a three-dimensional building model created on a computer.
Examples of Initiatives in Providing Optimal Quality and Customer Satisfaction
Architectural construction: Exceeding the expectations of the customer by "producing masterpieces"
The buildings we provide to customers are produced one at a time. They encompass an infinite variety in terms of the premises, construction periods, and other conditions, and the functions and performance demanded. We satisfy our customers and earn their trust by using the collective strengths of our entire company to drill down into the individual requirements, accurately ascertain the value the customer expects, and provide construction that shows our dedication to quality. This is what we mean by " producing masterpieces".
Our Policy on Quality Begins with the Customer's Needs
We proceed with construction based on a Quality Policy Development Chart designed for each project. The job site manager is central to this process and the collective strengths of sales, design, branch management, and technical support personnel are marshalled to ascertain the customer's needs, identify risks. We follow up on initiatives and their results through physical site tours to confirm progress and provide guidance and through internal inspections and audits.
Improving Quality Through Use of BIM in Design and Construction
Shimizu is now pursuing construction that uses BIM to link the design and build stages, with the goal of linking BIM design data from the construction diagrams and other plans produced by the designer to all stages of the process, from project creation (ordering) through operation.
We also use the latest computational design on the Shimz DDE platform to produce design proposals, which is the upstream process. This enables us to link the 3D data to BIM.
Incorporating BIM into design and construction from the early stages of a project and entering that information into BIM makes integrated management of building information and technology possible, and enables us to create a blueprint that ensures compatibility of the design, structure, and equipment. Using BIM makes it easy to identify problems by verifying performance on a wide variety of aspects, prevents human error in producing the blueprint, and eliminates the need to rework things. This leads to quality assurance. Moreover, this enables the customer to visualize a three-dimensional image of the completed project and understand it better and leads to a consensus early in the process.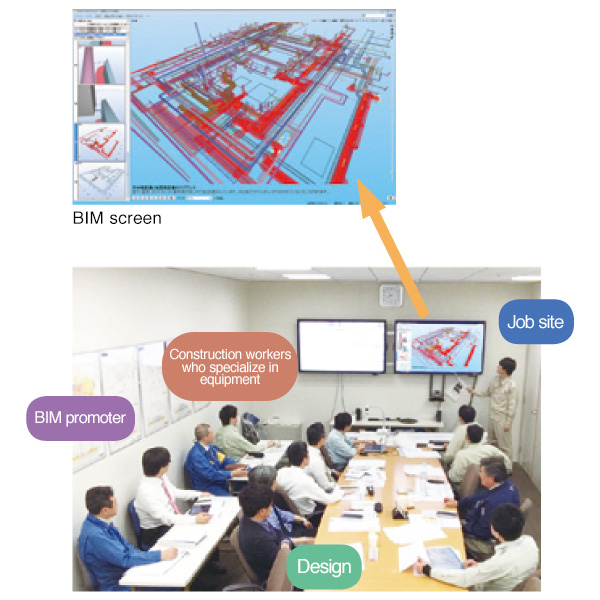 Pursuing Research and Development of Construction Robots Equipped with the Latest Technology
The dramatic decline in the number of highly skilled technicians in the near future is a concern for the construction industry. This will require improvements in productivity and the working environment to recruit the next generation of workers. In response to these conditions, in 2016 Shimizu began development of Shimz Smart Site, a next-generation construction production system that enables collaboration between human workers and robots. The Robotics Laboratory in the Institute of Technology developed autonomous control technology and will apply the learnings from the high-rise hotel job site in Shin Osaka to new job sites.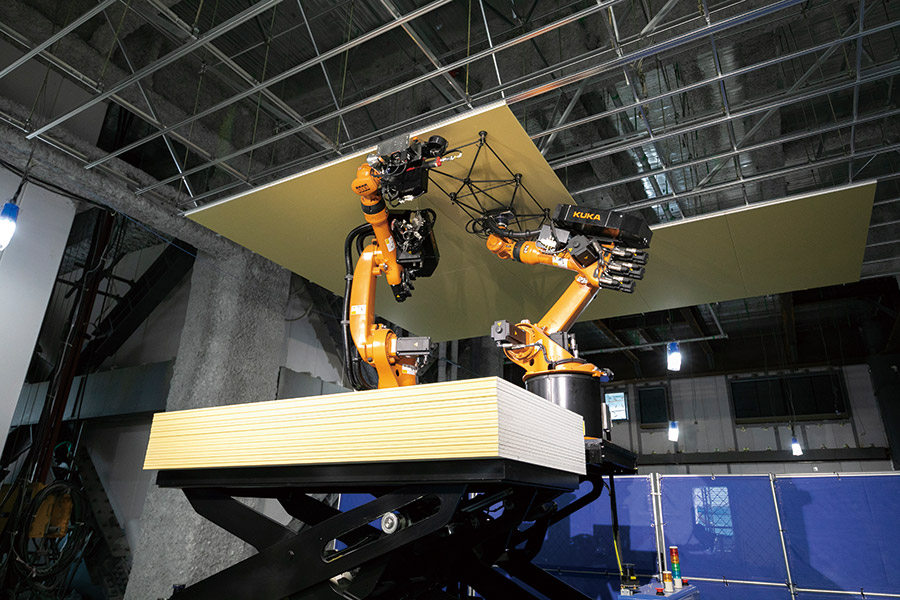 Business Topics: A Production System for a New Era The Shimizu Smart Site autonomous robots can transform a job site!
Improving Services Through the Customer Satisfaction Surveys
The customer satisfaction survey team at the branch meets directly with the customer immediately after completion and again after two years to hear what they have to say. A surveyor who was not responsible for the project conducts the interview and asks questions about the quality of the building, work, and maintenance and preservation to obtain the customer's opinions and degree of satisfaction rating.
Analysis of the interview and feedback leads to improvement in our work.
Civil Engineering: Increasing Customer Satisfaction with Both Quality and Process
There are two aspects to quality in construction work: Quality of the structure being built and quality of the process. Shimizu strives to improve these two aspects of quality in its civil engineering business, to provide optimal quality that can meet the expectations of the customer through various means, and to increase the degree of customer satisfaction with the process as well.
Monozukuri (Craftsmanship) Through Organization
Site general managers play the main role in working to create a good organization in which the PDCA cycle operates consistently, also fulfilling the responsibility of craftsmanship through teamwork, and taking care to deliver buildings and structures of superior quality.We gather engineers who specialize in each aspect of the work and hold a review meeting before construction begins based on concept of having many pairs of eyes on the project. We then have multiple people tour the project and hold review meetings to ensure that many people have an eye on all aspects, improve efficiency through initiatives in innovation, and conduct as satisfaction survey after completion. Employing integrated QMS (quality management system) from ordering through delivery enables us to provide superb craftsmanship.
Comprehensive Training System
Through the human resources development plan formulated each year, we work to develop strong human resources who are equipped with advanced skills. In addition to on-the-job training and training by years of experience in the company, we provide timely training according to the circumstances, including training on groundwater, retention and reinforcement, and concrete. We publish Lessons Learned, a collection of past mishaps to pass on previous experience and provide Q&A on things that can go wrong in an e-learning format, among other types of education to improve the knowledge and technical and management skills of each employee through a broad range of training.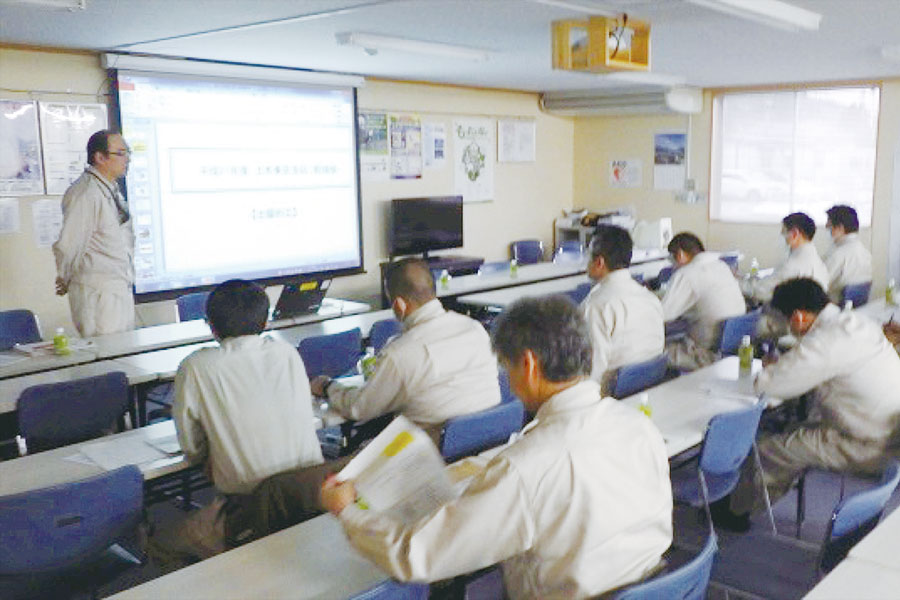 Initiatives Aimed at Practical Implementation of a Next-generation Construction Management System
We invest in the development of revolutionary and differentiating technology into our production and management systems, as well as implementing i-Construction. Examples are the introduction of automated and robotic construction of shield tunnels, mountain tunnels, and dams. We are also working on practical implementation of a next-generation construction management system that integrates CIM/BIM and uses sensors, IoT, and AI technology to acquire data. We have begun development of the Shimizu Smart Tunnel and automated dam concrete pouring systems.
Automated Dam Concrete Pouring System
We developed an automated dam concrete pouring system to improve productivity and offset the projected retirement of a large number of skilled technicians in the coming years. The system automates all processes from producing the concrete to transporting and pouring it. The chief characteristic of this system is that it is capable of performing automated and continuous work and only requires the construction foreman to input the pouring plan created beforehand.