Employees Active in Shimizu Who are Foreign Nationals
Interview
This content is in Japanese only
Shimizu employees who are active in many fields.

Achieving Daily Job Satisfaction through Good Teamwork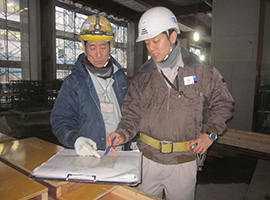 I am from South Korea and joined Shimizu in 2010. After being in charge of rebar work for six months, I am now in charge of basement finishing work at my current construction site, which is my second large office building. I felt a bit disoriented since it was the first time I have been charged with finishing, but I worked with strong passion and a positive attitude and became skilled in finishing even the finest details. I also feel that I was able to gain an understanding of the overall flow of construction and was able to improve my communication with subcontractors.
There are still many things I don't know, but consulting with others and engaging in good teamwork gives me satisfaction with my job on a daily basis. (Story from 2012)

Feeling the Significance of My Design Work Even More Deeply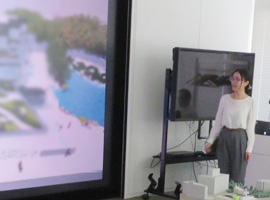 I am from China and this is my second year with Shimizu. I work in the Design Division.
In the project I have been in charge of since April 2017, I am coordinating the requirements of the client and am proposing plans and designs for a facility located on a premises which is complicated, both in terms of the planar and the cross-sectional profile, while making sure that it blends in well with the surrounding environment. I also considered the plans in 3D, using ArchiCAD. Because it is a facility that will be used by many women, I have endeavored to propose a plan with bright, open hallways, stairs, and other common areas, and to create an entrance hall and lounge that promotes person-to-person interaction.
The project I had been in charge of was completed in August. I was really impressed when I first saw the entrance hall that I had designed myself. It deepened my recognition of the significance of imagining the people who will actually visit and use a facility when working on a design.
I am currently undergoing three months of training at a construction job site and am managing execution.
This training has enabled me to see how the plans I have drawn up are interpreted and how to communicate them to the people performing the work. My goal is to become a designer who drafts plans that puts the ideas and needs of the clients to practice in an actual building.

Utilizing the Viewpoint and Individual Color that Only a Foreigner Can Provide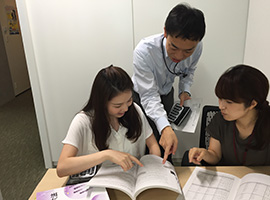 I am from South Korea and joined Shimizu in April 2015.
After gaining experience in site administrative work, I transferred to the Accounting Department at the head office in August 2016 and have worked there for one year. I am currently in charge of producing the quarterly financial statements and materials for disclosure that show company's financial status and business results. Because I compile reports from all branches, I feel a great sense of responsibility and satisfaction in working hard.
There are many things to learn about accounting standards and bookkeeping, and I would like to continue my work as a team member with my superior and co-workers.
I also want to utilize the unique perspective and individual color I bring as someone from another country.

Serving as a Mediator for Japanese and Local Staff Members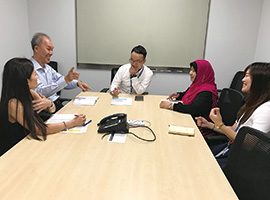 I am from China and joined Shimizu in April 2012.
I realized my wish of joining the International Division during my fifth year at Shimizu and am currently in charge of all administrative work for the Singapore office, which is the largest office in the International Division. During the four and a half years I worked in Japan, I sometimes felt ill at ease with my work, and confused and anxious, but I somehow overcame these feelings with the guidance and support of my superior and coworkers.
I now use those experiences in my daily work and serve as a mediator between Japanese and local staff members to ensure that the daily work of the sales office is executed smoothly.