Basic CSR Concepts
Shimizu has adopted the Analects and the Abacus (Ethics and Economics) as its basic management principles. As we consider these basic principles, we believe it is important to practice corporate social responsibility (CSR) in a manner that utilizes the special characteristics of the construction industry to meet the needs of society in the future, amid changes in the social environment in which our company and the construction industry exist.
Shimizu pursues CSR as an integral part of our business and continually pursues innovation to meet the needs of a changing society. The company has adopted the following three concepts as the cornerstones that provide a stable foundation for working to resolve the problems of society as a good corporate citizen.
Fairness and Transparency in Business
Creating Value Surpassing the Expectations of Customers and Society
The Pursuit of Business Activities that Coexist with Society
Conceptual Diagram of CSR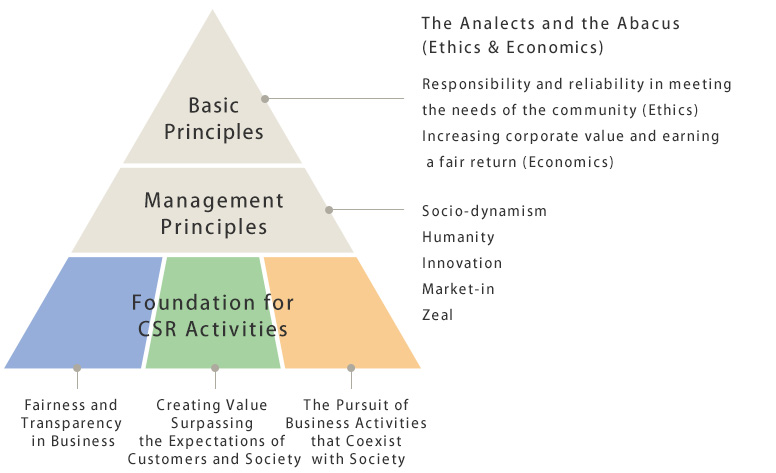 CSR Promotion Structure
Shimizu carries out CSR activities through business activities to meet the needs and expectations of the community.
Matters Explored in Working Groups
Shimizu has four working groups (WG) comprised of members from divisions involved with the CSR Promotion Subcommittee. These working groups consider and make proposals on the following matters in regard to CSR activities. These are then deliberated decided on by the CSR & Global Environment Committee.
Decisions on importance
Key strategies
Medium- and long-term plans
Fiscal year plans
Indicators (quantitative and qualitative) and goals
Corporate Report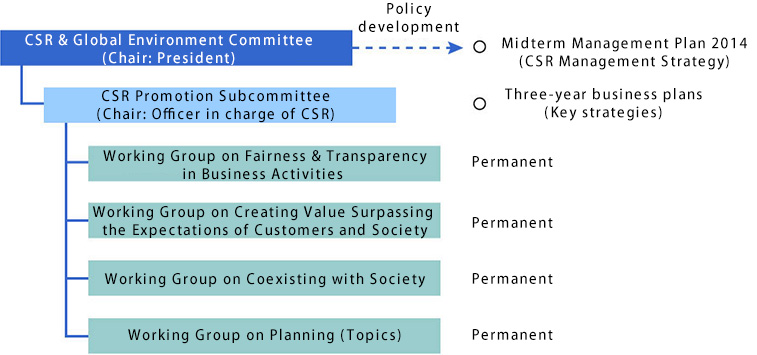 Key CSR Topics & KPI
Process for Selecting Key CSR Topics and Determining KPI
Shimizu specifies key CSR topics and establishes KPI (Key Performance Indicators) that align with our business policies as we continually assess the changing needs and expectations of society. We implement these through our business activities. We disclose information on the degree to which we have attained our goals and solicit input from a broad range of stakeholders and reflect their feedback in our business activities. This enables us to make ongoing contributions to the sustainable development of society.
Step 1:

Key CSR Topics

Key CSR topics are selected from the social issues and the Midterm Management Plan 2014 currently in progress. An analysis of materiality is simultaneously performed based on GRI standards, and the response on Key CSR Topics and Material Topics is coordinated. ISO 26000 (Guidance on Social Responsibility) and the general principles of the United Nations Global Compact (Shimizu joined in 2013) are referenced in the course of selection.

Step 2:

Selecting KPIs and other Performance Indicators

KPIs and other quantifiable performance indicators are then chosen for the Key CSR Topics selected in Step 1. Internal cross-organizational working groups are formed for the selection process. They hold workshops with relevant divisions to verify the appropriateness of the indicators.

Step 3:

Approval by the CSR & Global Environment Committee

The KPIs and other performance indicators are selected and approved in the CSR & Global Environment Committee, which is chaired by the president, and the committee also discusses indicators that the company should evaluate in the future.

Step 4:

Implementation of and Revisions to CSR Activities

The company carries out its CSR activities while considering the results from analysis of KPIs and other performance indicators approved by the CSR & Global Environment Committee.

Step 5:

Ongoing Revisions

The Key CSR Topics and performance indicators are revised as social conditions and the business environment change. New KPIs are also considered.
The Three Cornerstones of CSR Activities
For Fair and Transparent Business Activities
Midterm Management Plan 2014
Social Issues
Key CSR Topics
KPI
(Key Performance Indicators)
Other Performance Indicators

Strengthening the corporate culture
Increasing shareholder value

Corporate Governance
Human rights issues & eradication of poverty
Preventing corruption & collusion
Fair marketing

Corporate Governance
Risk Management
Compliance

Number of serious information security incidents
Number of serious violations of laws, regulations, and government notifications
Number of serious environmental deficiencies

Attendance rate for information security training
Participation rate in BCP drills
Attendance rate for compliance training
Corporate Ethics Help-Line
For Creating Value that Surpasses the Expectations of Society and Customers
Midterm Management Plan 2014
Social Issues
Key CSR Topics
KPI
(Key Performance Indicators)
Other Performance Indicators

Enhancing sales and solutions
Technological innovation
Innovations in frontline management
Steady growth in three key businesses

Support for disaster-stricken areas
Disaster/accident risk mitigation
Extending life span of infrastructure
Customer satisfaction
Sustainable society
Renewable energy
Building stock management
Regional revitalization
Global warming
Preserving biodiversity
Resource depletion
Water problems

Safe, secure construction and social infrastructure
Optimal quality and customer satisfaction
Health & safety in the construction process
Energy conservation and renewable energy
Global warming countermeasures
Biodiversity
Waste reduction and recycling and preventing environmental pollution

Amount invested in R&D
Number of patent applications
Number of people obtaining new qualifications (Ph.D.s, engineers, First Class architects, First Class construction management engineers, First Class civil management engineers)
LTI (Lost Time Injury) frequency rate
Reduction in CO2 emissions compared to 1990 levels (during construction, home offices, energy-saving design)
Final disposal rate of construction byproducts
Total construction byproducts per unit

Number of comprehensive disaster prevention assessments
Number of key external awards (BCS, BELCA, Japan Society of Civil Engineers)
Number of media announcements about R&D
Number of Rank A or higher CASBBE certifications
Number of LEED certifications acquired
Volume of power generated from renewable energy
Amount offset by carbon credits
CDP performance score
CDP disclosure score
For Co-existence with Society
Midterm Management Plan 2014
Social Issues
Key CSR Topics
KPI
(Key Performance Indicators)
Other Performance Indicators

Advancement of human resources
Human resource management
Contribution to creating value for society and customers

Diversity
Aging society with fewer children
Regional revitalization
Corporate citizenship
Sports sponsorship

Diversity
Work-life balance
Human resource development
Securing future leaders
Social contributions

Number of women in management
Number of people with disabilities employed
Percentage of annual vacation taken
Amount spent on social contribution activities as a percentage of ordinary income

Percentage of women taking childcare leave
Number of women engineers
GRI Materiality Analysis
Shimizu performed an analysis of materiality based on GRI standards to extract key CSR topics. The analysis was performed from two perspectives: The impact on stakeholder evaluation and decision-making, and the degree of economic, environmental, and social impact the organization has.
Results of materiality analysis as follows: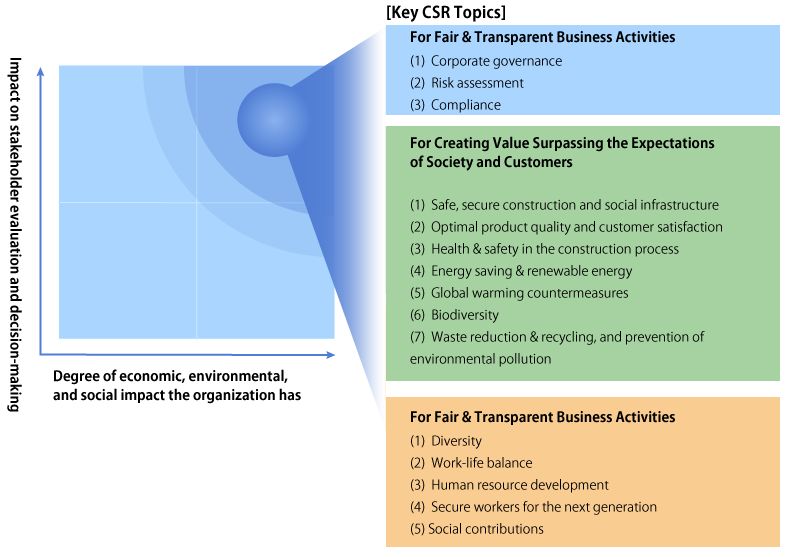 The impact on stakeholder evaluation and decision-making on the vertical axis shows the impact on shareholders and investors, recruits, and customers. The degree of economic, environmental, and social impact the organization has on the horizontal axis shows the impact on employee motivation (corporate culture), economic aspects, and medium- to long-term risks.
Management Approach
At Shimizu, the initiatives on each key CSR topic are undertaken by the division in charge of each of the functions. The contents of the policies, goals, responsibilities, specific measures, and other information for each key CSR topic is provided at the respective link destinations in the Corporate Report and on the website (ESG Data and Disclosures(Reference for the GRI Standards)See the Management Approach of Material Topics ). These divisions also implement the activities aimed at achieving the specific numerical goals of the KPI (Key Performance Indicators) and other performance indicators for each respective topic.
Stakeholder Relations
Shimizu believes that it is important to engage in dialog with customers and all other stakeholders and build a relationship of trust in order to ensure high standards in ESG (Economic, Social, and Governance) performance in our business. We work to ascertain the problems of the company through customer feedback, shareholder and investor engagement, dialog with subcontractors, and communication with employees. We also take care to communicate key information to shareholders and stakeholders and issue press releases to disclose sufficient information to all stakeholders in a timely manner.
Stakeholder
Main Activities
Description
Customers
Business activities
Provide value that exceeds the customer's expectations, rather than simply accurately assessing the customer's needs
Customer satisfaction survey
Meet directly with the customer three months and again two years after construction has been completed and listen to what they have to say
Website
Provide information on a timely basis
Shareholders and Investors
General Meeting of Shareholders
Held annually in June
Financial results meetings
Future forecasts, etc. explained to analysts
IR events
Offer tours of job sites, the Institute of Technology, and other locations in Japan and overseas
Meetings for overseas institutional investors
Hold meetings with institutional investors in Europe, U.S., and Asia (23 times in 2016)
Employees
Internal reports
Published monthly
Informal social gatherings with the president
Direct dialog between the president and employees nationwide every year
Union activities
Discuss labor relations and work environment
Family Day event
An event held for the family members of employees
Subcontractors
Kaneki-kai
A conference for Shimizu subcontractors in 12 regions nationwide
Successor education & training
An initiative to develop the next generation of leaders
Members of the Local Community
Briefings to explain construction projects to local residents
Held to explain construction projects before construction begins
Job site tours
To report the status of progress on construction
Social contribution activities
Local events and active volunteer participation
Government and Administrative Agencies
BCP response
Rapid response to government requests during an emergency
External Organizations
Activities in collaboration with NPOs and NGOs
Work together to solve social problems
Participation in the United Nations Global Compact
Shimizu became a member of the United Nations Global Compact in March 2013.
Simizu Corporetion is a member of the Global Compact Network Japan and is actively involved in the Human Rights Education Subcommittee (as Administrative Agent) and the Women's Empowerment Principles (WEPs) Subcommittee.
See the United Nations website for further details.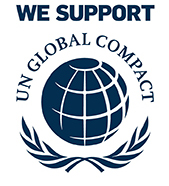 Reference for the ISO 26000(Guidance on Social Responsibility)
This index lists the main requirements of the ISO 26000 (Guidance on Social Responsibility) Standard and the initiatives of Shimizu Corporation that relate to these requirements.