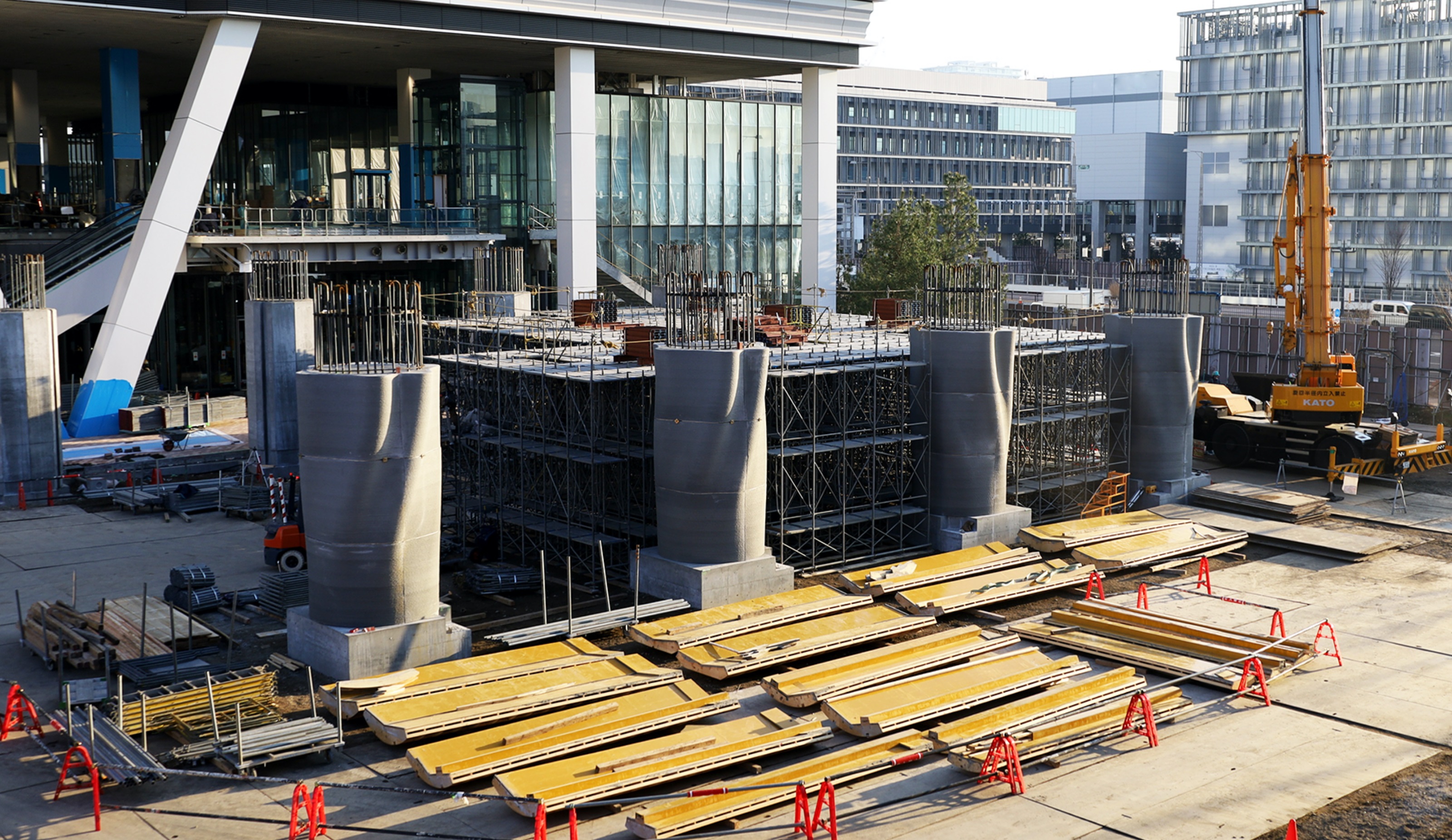 Columns with a curved surface created using LACTM
Shimizu has succeeded in developing proprietary technology for 3D concrete printing that extrudes ribbon-shaped concrete from a nozzle to build up layers, an area that is drawing interest. The key to that success is LACTM(Laminatable Cement-based Tough Material), a fiber-reinforced cement composite that is optimized for 3D printing.
Shimizu applied this technology in the Blocks 4-2 and 4-3 Toyosu 6-chome project (tentative name) that Shimizu is developing on its own, and constructed components having a free-form, curved surface for columns that are 4.2 m high.
Strong, Ductile Mortar that Achieves Substantial Workforce Reduction
LACTM is a strong, ductile, fiber-reinforced cement composite used for 3D printing. Hiroki Ogura, the person in charge of developing it at the Shimizu Institute of Technology, says that it was mainly developed for printing permanent formwork for columns and walls.
Permanent formwork is formwork that is not removed after it is filled with concrete. It is used as part of the structure.
Development of 3D printing to build actual structures is advancing in Europe, the U.S., China, and other countries. However, in earthquake-prone Japan, permanent formwork that makes reinforcement with rebar is one practical application method at present.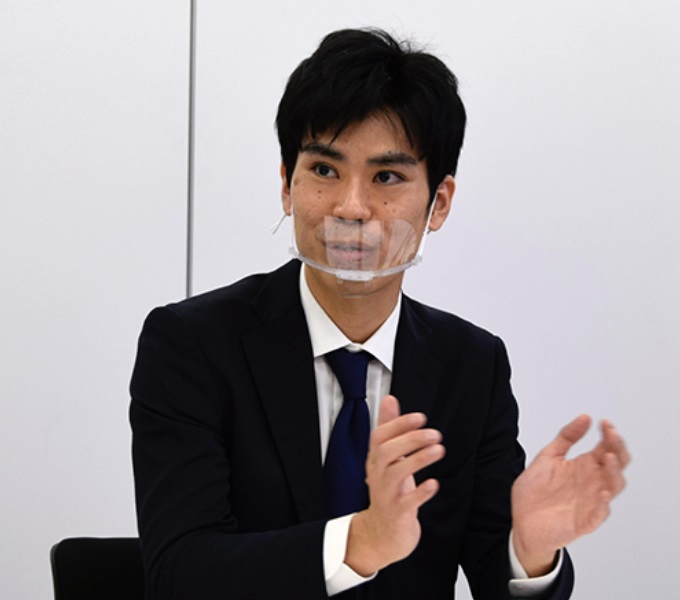 Shimizu began developing 3D concrete printing for two purposes. The first was to respond to the chronic labor shortages in the construction industry, and the second was for building structures having unusual shapes and designs that are difficult to create using conventional methods. The labor shortage in particular is expected to worsen in the next ten years and the labor savings and workforce reduction needed to build reinforced concrete structures are urgent issues.
The use of precast components produced in a plant in advance was considered effective until now. However, this posed the problems of mounting costs for transport from the plant to the job site and the work needed to joint the precast components at the job site. In response to this, Ogura commented, "If automated construction using a 3D printer at job sites becomes possible, this could reduce transport costs, eliminate restrictions on the size of components due to the need to transport them, and achieve a substantial reduction in the workforce."
The Spotlight is Once Again on 'FRCC' Rejected in Other Development
However, the development of LACTM did not proceed smoothly. When the usual mortar was used to create thin structures such as formwork using a 3D printer, the shape would collapse when the layers reached about 10 cm high. It also took time for the mortar to set and we were concerned that it would not produce improvement in work efficiency we desired.
We then established a new Concrete DX Lab dedicated to experimental construction in the Institute of Technology. We developed a large 3D printer and used experiment and numerical simulation to explore the optimal mix proportion, pumping method, and printing speed.
"The difficult part of material design was the fact that the material must be highly fluid when extruded from the printer nozzle and it must maintain the shape after extrusion. It was a matter of reconciling conflicting properties," Ogura reflected.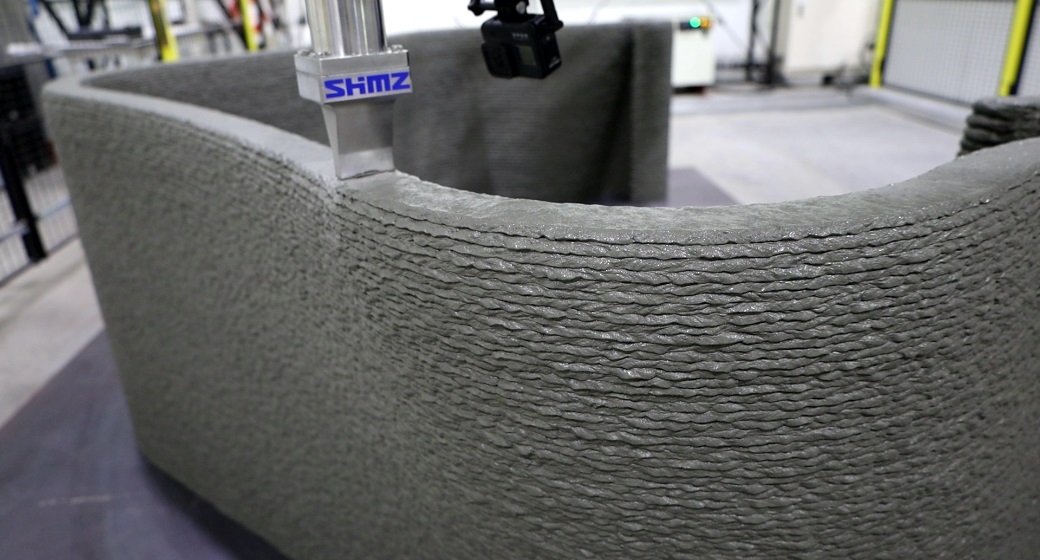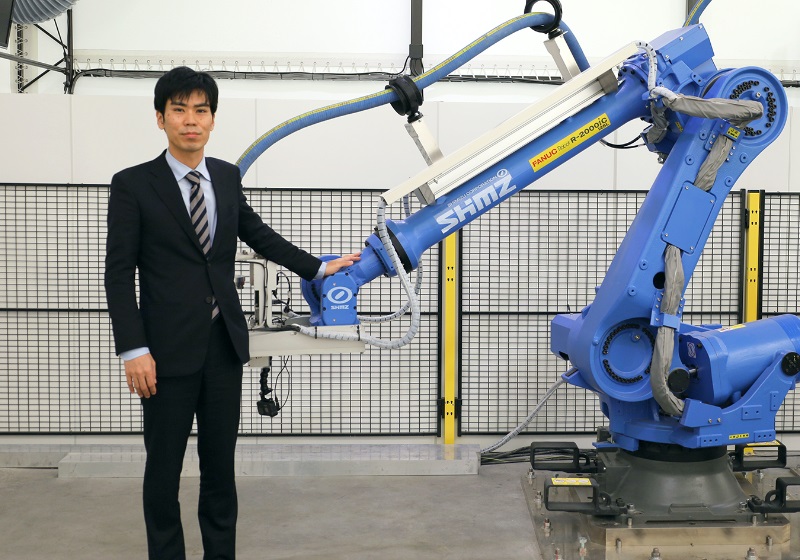 As he engaged in a process of trial-and-error, Ogura remembered FRCC, a Fiber Reinforced Cement Composite that had been eliminated as a candidate previously in the development of high-strength fiber-reinforced concrete because it was unable to fill the formwork well. He commented, "It occurred to me that it might be a good fit for 3D printing instead. When we verified this through experiment and numerical analysis, we found that it was a suitable material for layering." He used this FRCC as a starting point, optimized the mix proportion of composite, and successfully created LACTM.

Workforce Reduction, Improvement in Design Freedom, and High Durability
There are three advantages in using LACTM in permanent formwork.
The first is workforce reduction and resource conservation. In experiment, we were able to create the formwork for a 2.1-meter-high column in about two hours, and learned that substantial labor-savings were possible. Formwork assembly and disassembly are unnecessary so this contributes to workforce reduction. Because the formwork is not disposable, it also has the advantages of reducing industrial waste and contributing to a reduction in CO2 emissions.
The second advantage is freedom in design. Unlike the formwork for planks, this makes complex 3D curved-surface molding possible, dramatically increasing freedom in component design. If we have a 3D model, we can immediately print a shaped object. This therefore makes it possible to reduce costs even on low-volume diversified production.
The third advantage is high structure performance and durability. The experiments verified that the structural stress resistance and strength of columns built by filling this formwork with concrete is equal to or greater than that of conventional concrete columns. Moreover, the seams of the layers built up through printing are tight, so water and air do not penetrate to the interior of columns or other structures and this maintains high durability.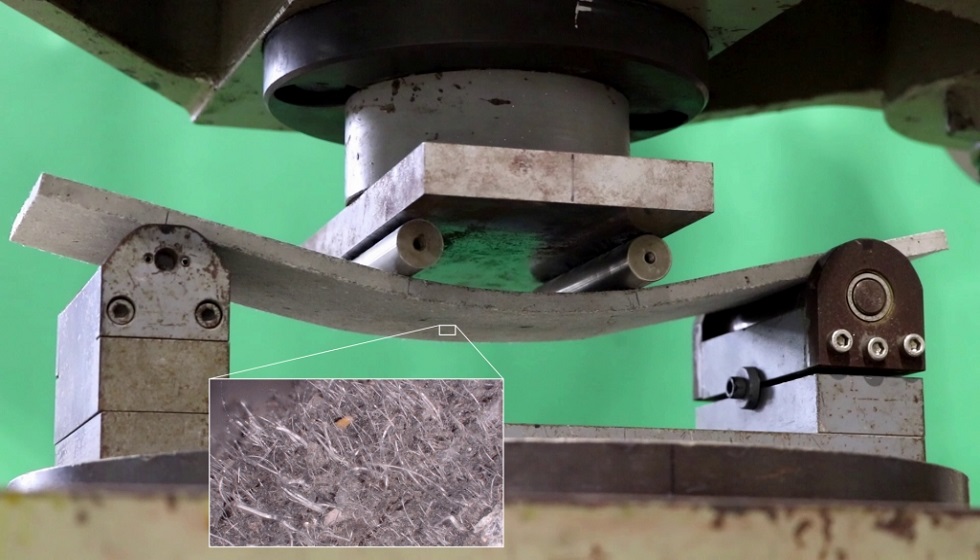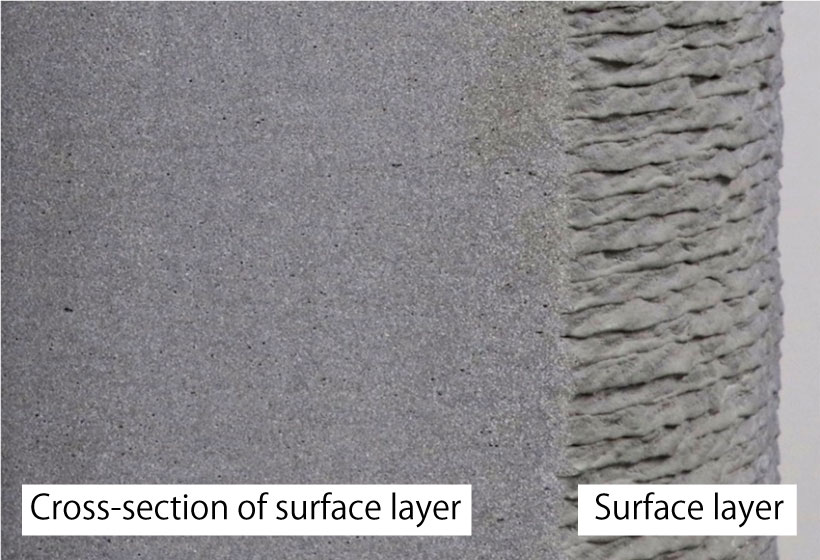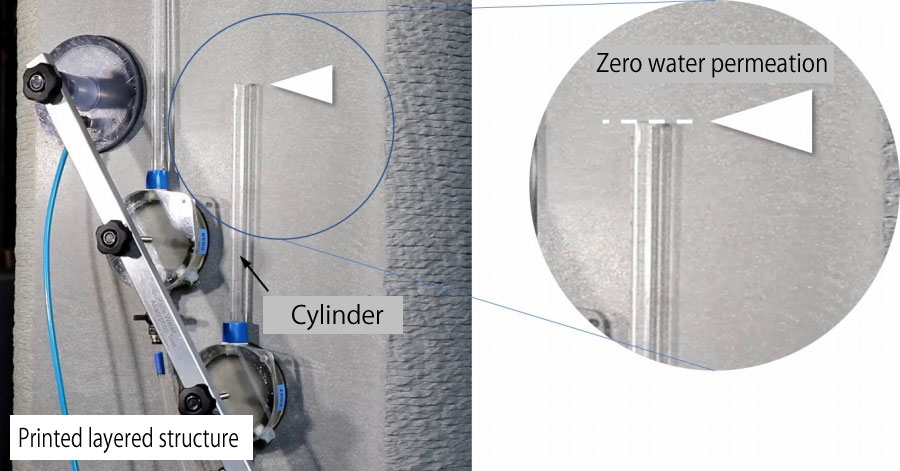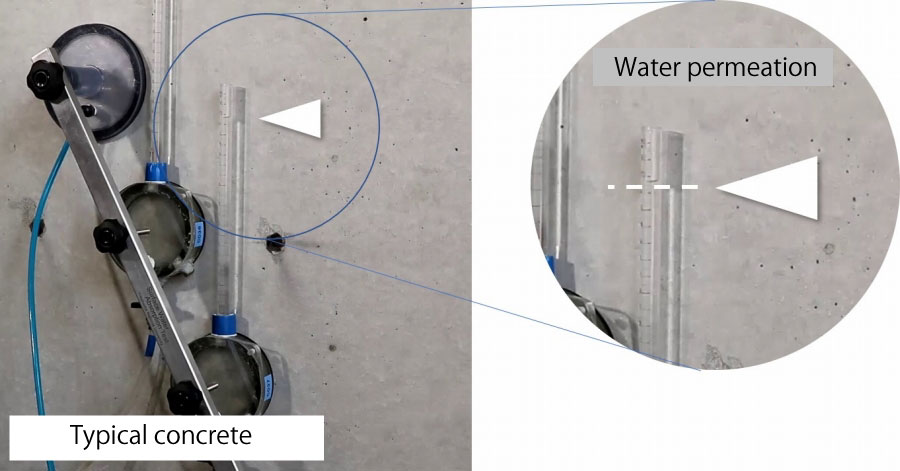 From an experiment to investigate the speed of water absorption from the surface of the concrete by the change in the water volume in a glass cylinder
First Application of Column Formwork Specially Shaped Like a Blooming Flower
Shimizu recently applied this technology to the Blocks 4-2 and 4-3 Toyosu 6-chome project (tentative name) that Shimizu is developing on its own. Shimizu used a 3D printer to "print" the permanent formwork for the special design it is using for the concrete columns to support a large deck.
These columns have a complex shape, beginning with a round base that twists upward to the top in the shape of flower petals. We initially planned a straight column shape and boldly decided to switch to use of a curved shape that has never been attempted after the decision to use LACTM was made. The entire company took on the challenge of investment and development, design, and construction.
To construct a 4.2-meter-high column, we first divided the permanent formwork for the column into three horizontal sections and two vertical sections, and printed these with a 3D printer in the Concrete DX Lab. After assembling these at the job site, we filled them with concrete and completed four columns. Ogura added, "We successfully printed 24 sections in total with a zero-defect rate."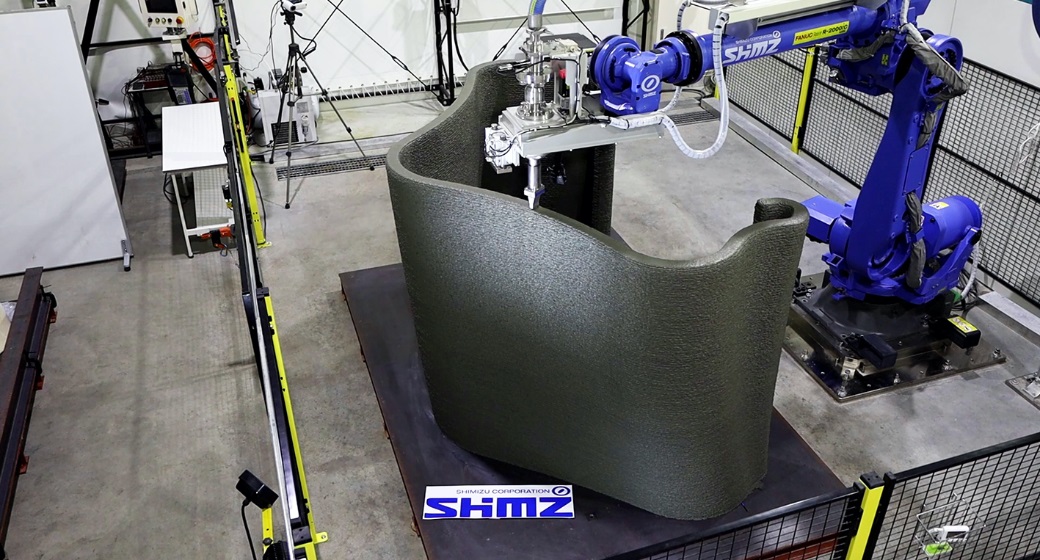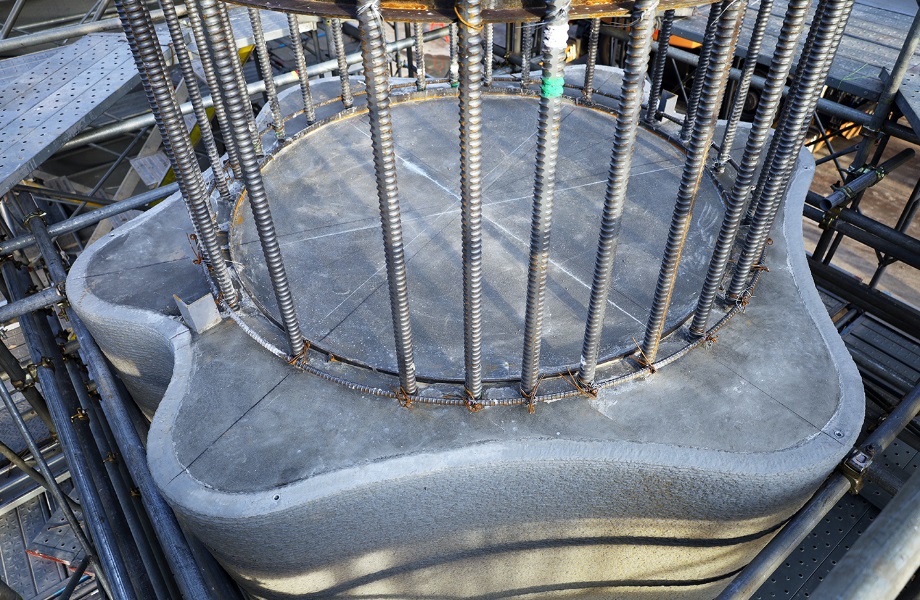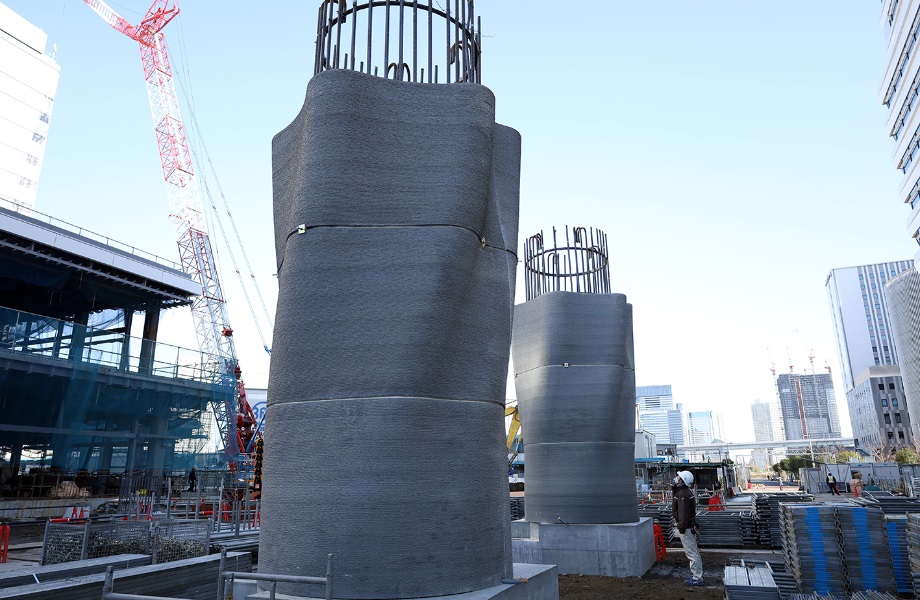 The cross-section of the column base is round and the shape gradually changes to a petal shape that twists around toward to the top. The creation of such a complex mold could only be achieved by 3D printing using LACTM.
The Blocks 4-2 and 4-3 Toyosu 6-chome project (tentative name) consists of an office building and hotel equipped with a transportation plaza used for the express buses and other modes of transportation. It is the largest development project Shimizu has undertaken on its own thus far (scheduled for completion in August 2021). The specially designed columns were installed in this transportation plaza. Our goal was to create a centerpiece that will create a vibrant atmosphere in a location many people pass through by using columns with a beautiful, curved surface which cannot be produced with concrete construction methods using conventional formwork.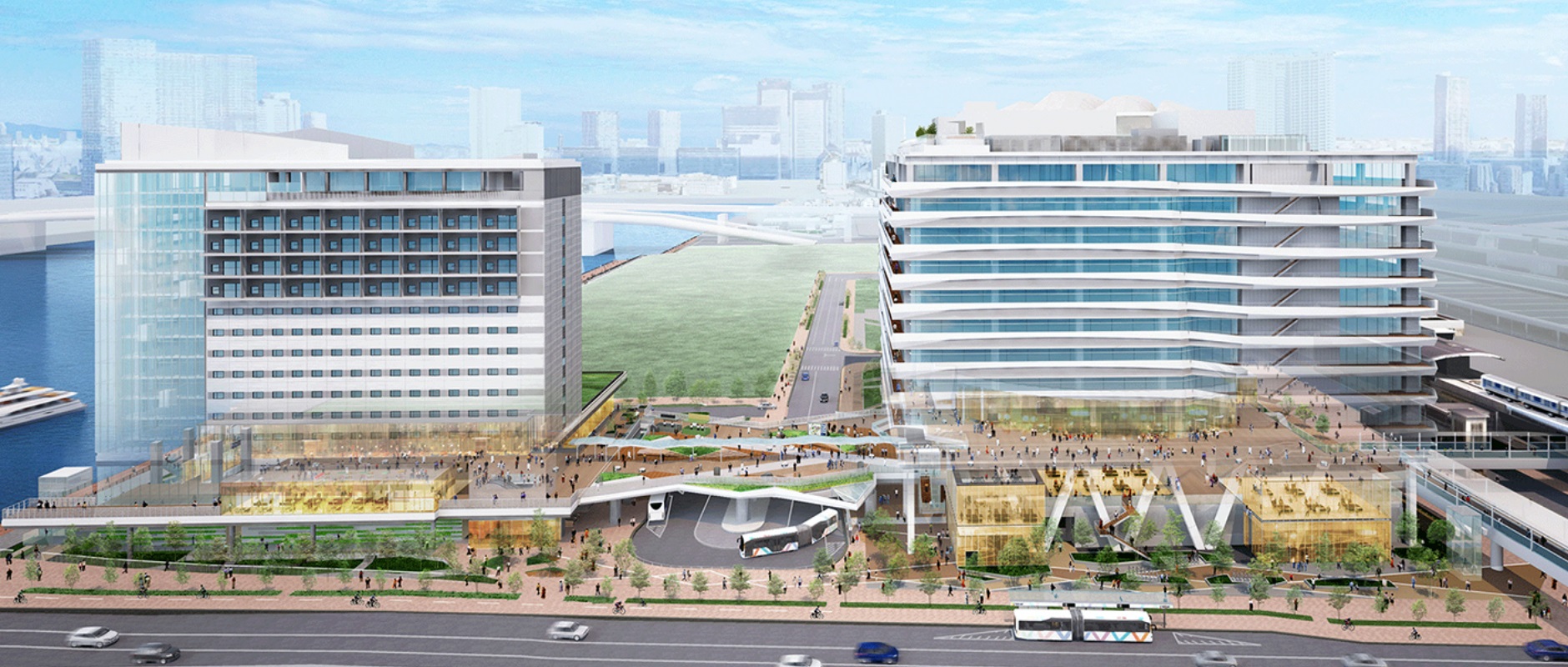 As Shimizu pursues the application of permanent formwork using LACTM at job sites near future, we will continue R&D on achieving 3D printing that prints formwork directly at the construction site. "We should be able to apply this technology to building facades, bridges, and other public works structures in addition to columns and walls. In the future, I would like to use it in structural components themselves, not just the formwork." Having developed a real sense of the possibilities of LACTM by using it at this job site, Ogura is quickly turning to the next goal.
The information posted here is the current information on the date of posting. Please be aware that this information may have changed by the time you view it.