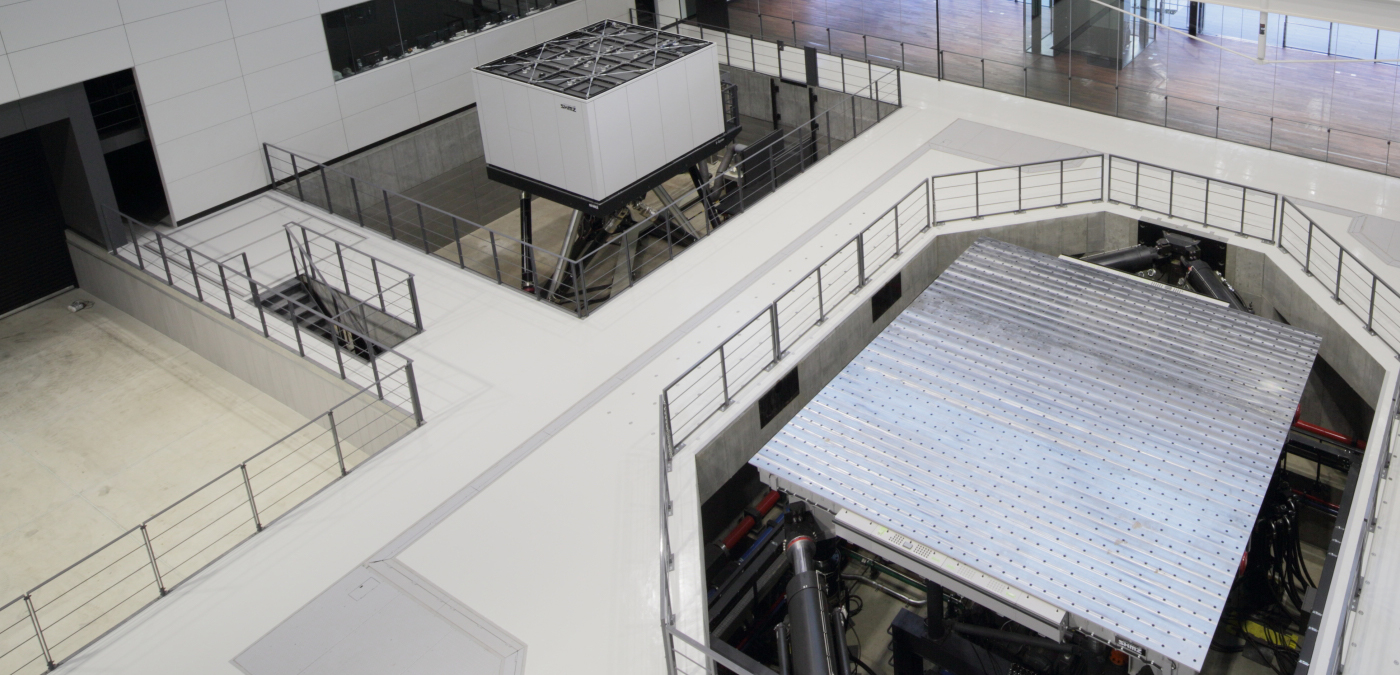 Structures in Japan are always exposed to the risk of earthquakes.
Minimizing that risk as much as possible is also an important part of Shimizu's work.
An example of this is Shimizu's research on the latest in earthquake disaster mitigation engineering to safely protect the lives of people and businesses in the event of a stronger than expected earthquake.
Aiming to Add Preparation for Earthquakes
to the Basic Function of Buildings
Japan is one of the most earthquake-prone countries in the world. Occupying only 0.25% of earth's surface area, Japan experiences roughly 20% of all earthquakes of magnitude 6 or above in the world. We view it as the social mission of the construction industry in Japan to work to improve the seismic performance of buildings and create communities that stand strong during earthquakes to protect the homes and lives of people and to support economic activity.
To fulfill this mission, we must first gain extensive knowledge of earthquakes and the behavior of buildings during an earthquake and then develop the technology to minimize the damage. The Advanced Earthquake Engineering Laboratory in the Institute of Technology is the location where such development occurs.
Pragmatic Research Characteristic of a Private-sector Company
Shimizu uses the status of buildings affected by earthquakes and the results of basic research on earthquakes in developing disaster mitigation technology. We propose practical measures for earthquake disaster mitigation from the customer's perspective by applying the new products and construction methods generated from that development.
Making use of the latest earthquake engineering technology as quickly as possible contributes to the safety and security of our customers. In other words, our goal is to equip buildings for earthquakes as a means of providing basic structural performance.
In the Advanced Earthquake Engineering Laboratory, we have installed the most advanced large-scale shaking equipment in the world. This enables us to replicate actual earthquakes and observe the behavior of structures.
We concentrate on reality. Detailed investigation of how a large mock-up collapses when the shaking of a major earthquake is replicated clearly reveals the mechanisms of real earthquake damage that we cannot understand through computer simulations or by using small-scale shaking equipment.
Another important role of the Advanced Earthquake Engineering Laboratory is to give customers a realistic experience of the shaking that occurs during an earthquake, so they understand the importance of preparing for an earthquake.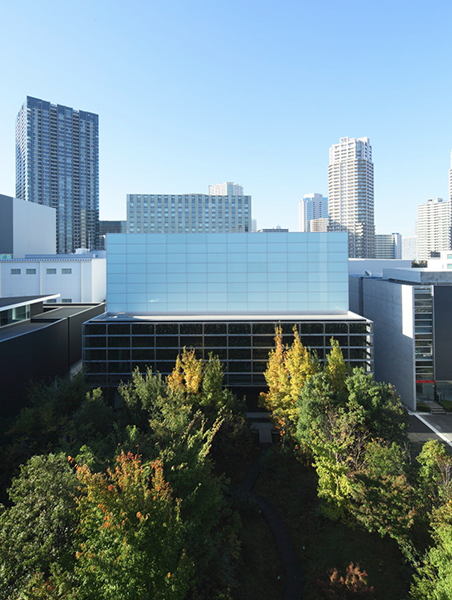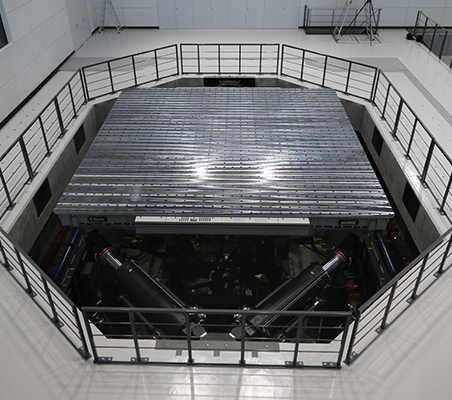 E-Beetle
A large-scale shaking table that replicates the ground motion of earthquakes around the world
E-Beetle is a high performance shaking table that can replicate the ground motion of earthquakes around the world that were observed in the past. It is capable of shaking a specimen at 2.7 G (horizontally), the largest acceleration observed during the Great East Japan Earthquake. The maximum payload capacity of massive table, which measures 7 meters long and 7 meters wide, is 70 tons, so it can realistically verify seismic performance of a building during a major earthquake, including how a building behaves up to the point of collapse, as well as the interior and exterior wall facings and equipment inside the building.
Seismic test of a high-rise building model
(Input wave: record on Sendai regional
metrological observatory on March 11, 2011)
Ultimate performance test of a 2-story reinforced concrete building model
(Input wave: Japanese design-base ground motion x400%)
E-Spider
A large-stroke shaking table
that can replicate the shaking on the top floor of an ultra-high-rise building
E-Spider is the world's largest stroke shaking table with a maximum displacement of ±150 cm. Because it is capable of simulating rotation in addition to vertical and horizontal motions, it can realistically replicate the characteristic shaking of ultra-high-rise buildings caused by long-period ground motion.
If a specially designed cabin is mounted on the table, it verifies the conditions inside the cabin via computer-generated imaging, and enables people to experience the shaking that occurs during an earthquake. Shimizu is not only seeking to elucidate the structural damage; it is also seeking to make it clear what the impact of long-period motion is on people as well.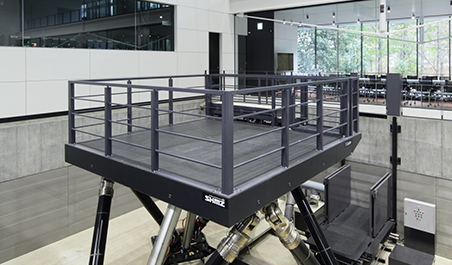 Assembly of Experts in Earthquake Science and Engineering
In the Center for Safety and Reliability Engineering of the Institute of Technology, roughly 30 researchers conduct various kinds of research on countermeasures to disaster caused by earthquakes and meteorological events. In the earthquake engineering section, researchers conduct research on many things, from technology to predict and evaluate seismic motion to development and verification of seismic isolation and vibration control, damage detection, and other types of technology, as well as overall aseismic performance of structures, including the ceilings and equipment, furniture, and other fixtures. Each researcher is working on a wide variety of research topics and these researchers are also highly commended by many academic associations.
Tomorrow's Earthquake Response Measures Begin Here
We are now required to engage in more sophisticated research and development in the field of earthquake disaster mitigation as a result of the Great Hanshin and Awaji Earthquake in 1995, the Great East Japan Earthquake in 2011, and the Kumamoto earthquake in 2016.
The Advanced Earthquake Engineering Laboratory is pursuing more sophisticated research on earthquake engineering and development of disaster mitigation technology from three perspectives. This not only includes "hard" countermeasures such as construction of buildings that stand strong in earthquakes; it also includes "soft" countermeasures such as earthquake risk assessment and monitoring the shaking during an earthquake, and "skill-based preparedness" measures that improve an individual's ability to respond when a disaster occurs by providing people the opportunity to experience realistically replicated shaking that occurs during an earthquake.
Shimizu will continue its research to provide unshakeable safety and security no matter what shaking occurs during an earthquake.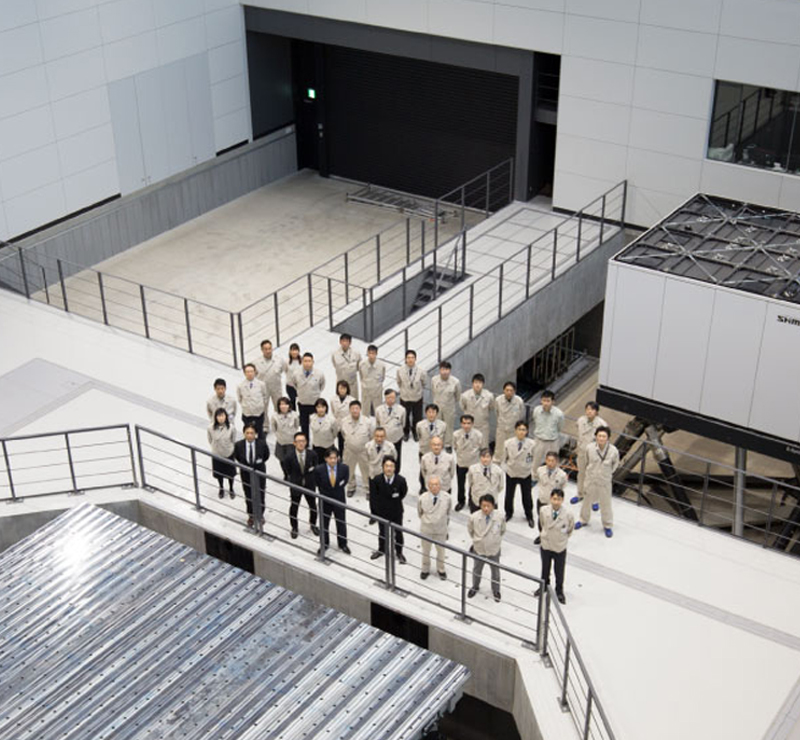 Column
Shimizu Seismic Isolation Floor Can Easily Achieve Seismic Isolation in Hospital Operating Rooms
How do you handle an earthquake that occurs during an operation and how do you protect precision medical equipment from the severe shaking of an earthquake? The Seismic Isolation Floor (Shimizu ANSHIN FLOOR) solved the problem that has worried many hospitals. We verified the performance in the Advanced Earthquake Engineering Laboratory.
It is possible to obtain a high degree of seismic isolation without a great deal of time and money by installing a simple seismic isolation floor system consisting of two thin steel plates. The system can be adapted to both renovation and new construction.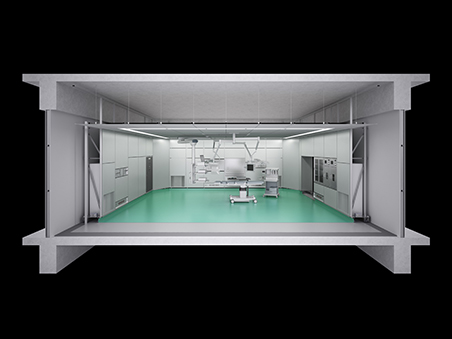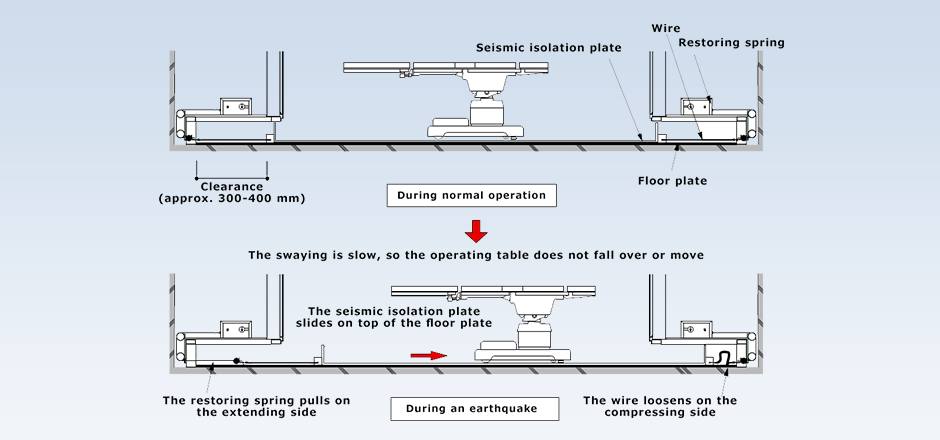 SD Clipless Ceiling System Reduces Damage from a Falling Ceiling
During the Great East Japan Earthquake, there were numerous cases of injury to people caused by the collapse of suspended ceilings, even though the buildings themselves withstood the earthquake. A solution to this problem emerged from research on the overall aseismic performance of buildings. The SD (Shimizu Direct-framing) Clipless Ceiling System made a suspended ceiling with superior earthquake resistance and ease of construction a reality by drastically changing the structural form of the suspended ceiling.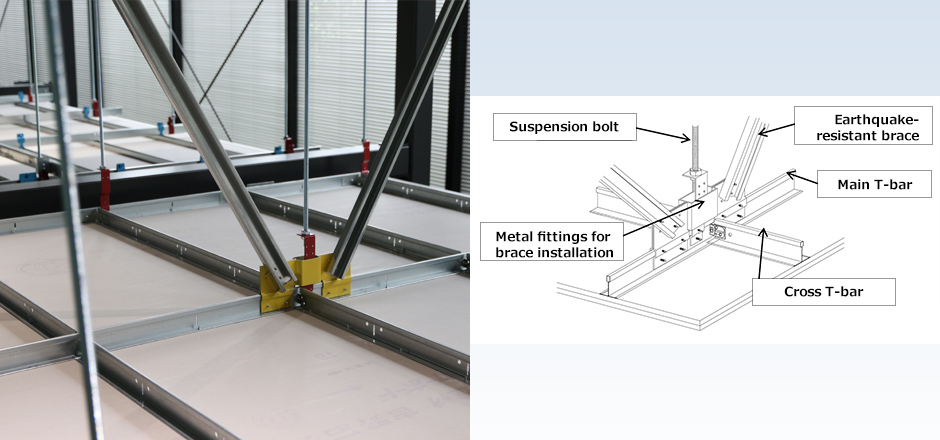 The information posted here is the current information on the date of posting.
Please be aware that this information may have changed by the time you view it.