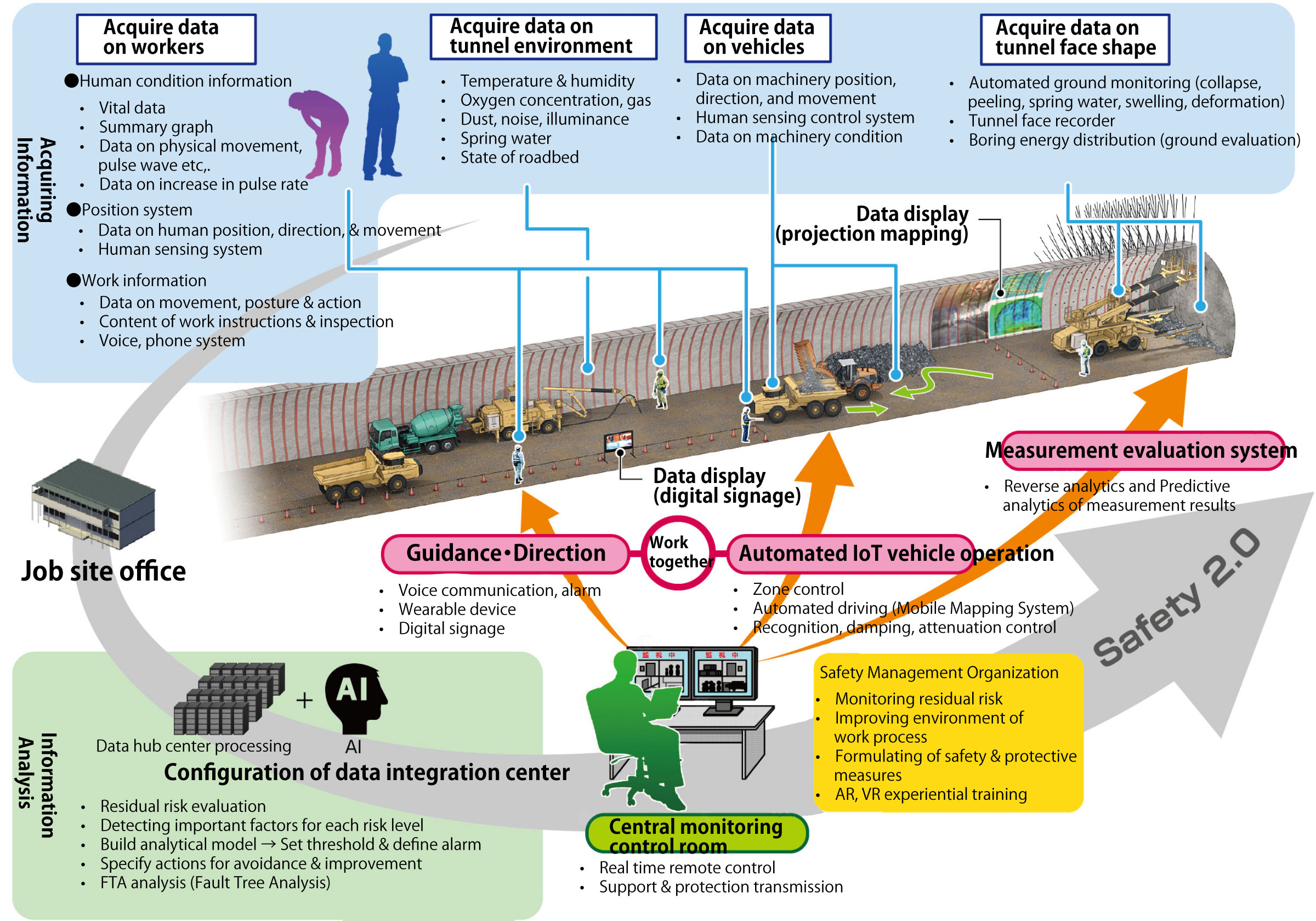 The first tunnel excavated in Japan is said to be Aonodomon (Oita Prefecture), which opened in 1764. Numerous tunnels were subsequently built as infrastructure was established throughout the country from the latter 1800s through the 1980s. Boring technology was honed during this time. Tunnel technology has improved dramatically in the past 50 years, and the increase in the size of the machinery to match the size of the structure has now nearly reached the ultimate limit. Shimizu embarked on the development of Shimizu Smart Tunnel amid that. It is a next-generation tunnel construction system that uses the optimal technologies, which include ICT, IoT, and AI. We are currently working to develop the basic technology that makes up the system and will complete the entire system in fiscal year 2020.
Combining Various Basic Technologies
Shimizu Smart Tunnel is a digital twin integrated management system that gathers all sorts of information about the workers and construction machinery performing, the tunnel construction work, the work environment, the natural environment of surrounding the construction site as well as other aspects and uses AI-based analysis to provide feedback providing guidance to the job site in real time. The goal of this is to improve productivity and safety of construction at the tunnel site.
This system is an integrated management system that consists of basic technologies.
Individual Examples of Shimizu Smart Site Tunnel Basic Technology
Blast Master, a system that reduces the amount of overbreak*
This technology reduces the wasteful overbreak that occurs from excavation by blasting. It can be reducing overbreak by 40% compared to conventional methods and expected to increase productivity.
overbreak: the amount of rock or earth in excess excavation beyond planned extent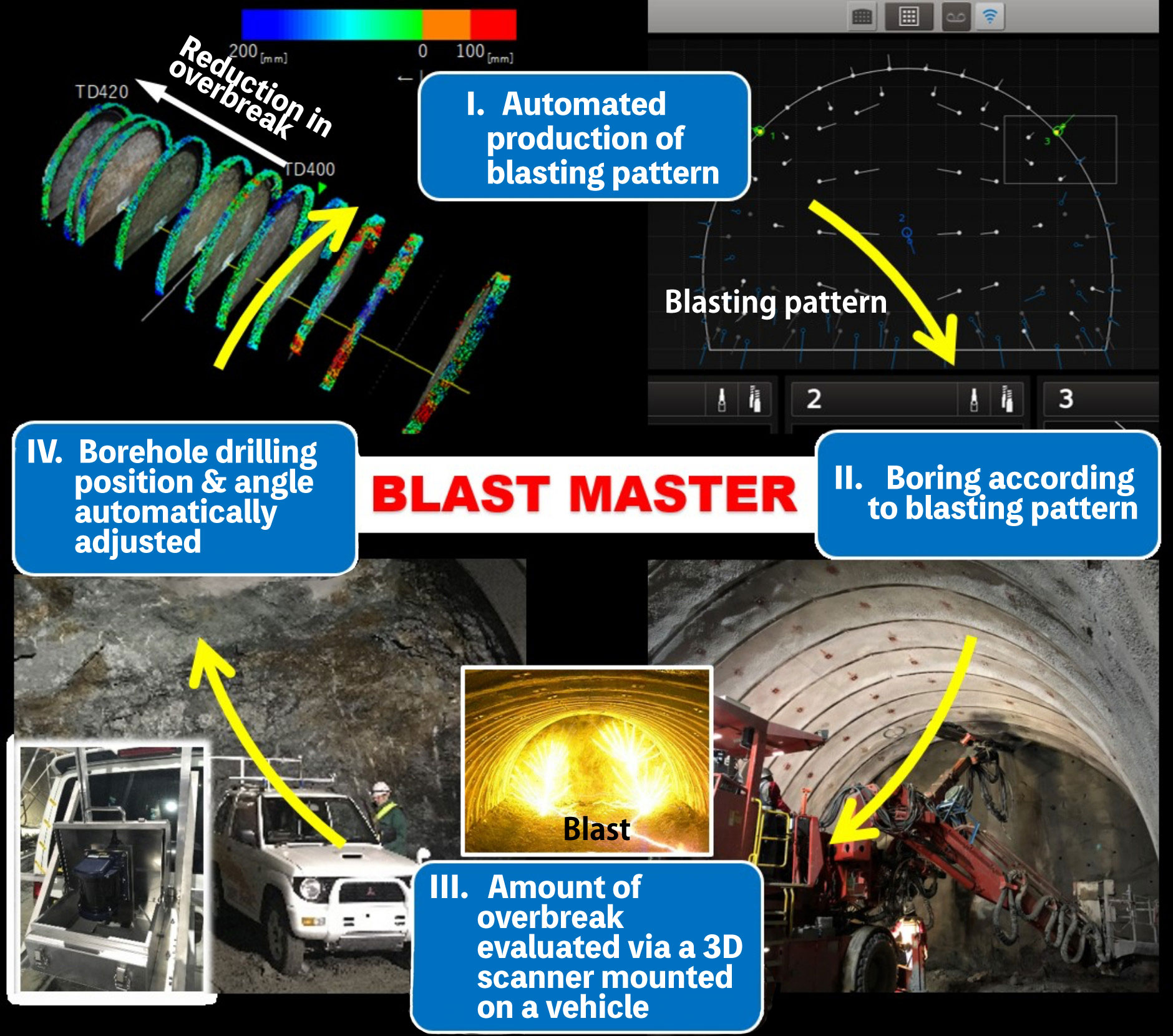 Radar system to monitor vibration of tunnel face collapse
This system uses vibration visualization radar technology to monitor vibration of the tunnel face cross-section. When signs of a tunnel face collapse are detected, an alarm urging evacuation. We aim to eradicate disaster from tunnel face collapse in mountain tunnels with this system.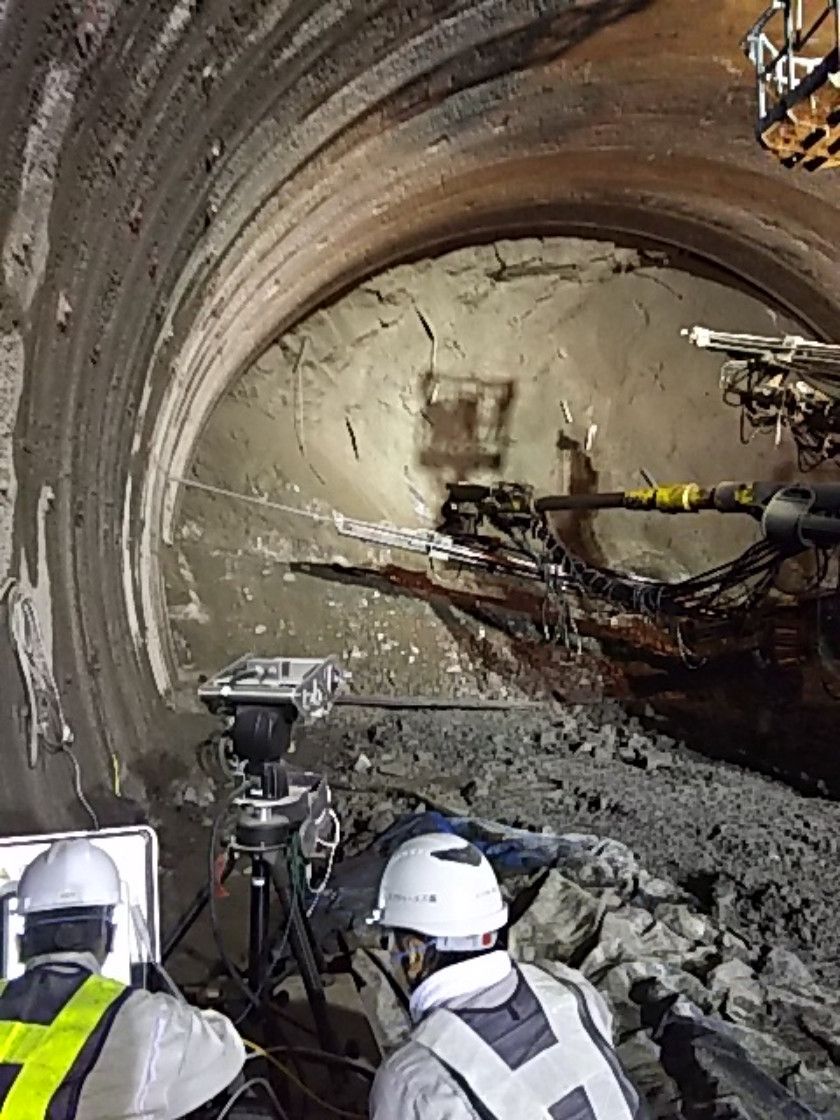 Movement monitoring system
A special camera is used to obtain 3D data that provides information on the positioning and movement flow of machinery and workers inside a narrow tunnel. This is used to evaluate and analyze work methods and the working environment. It contributes to increase safety.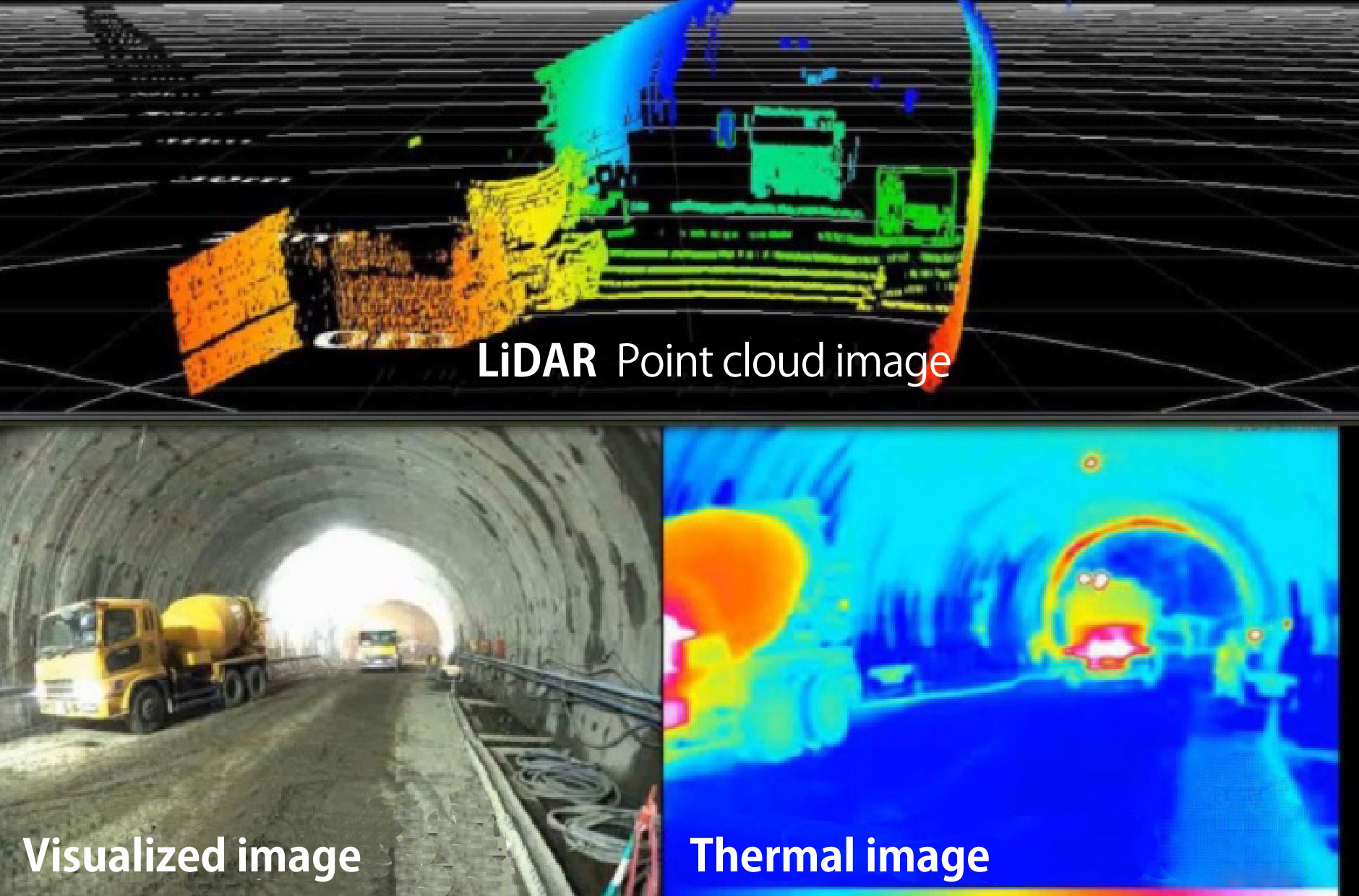 Automated application of concrete lining
This technology is used to compact concrete. Sixty vibrators in total are positioned in a moving form called a "center" and the vibrators are automatically controlled to determine the height of the concrete that is poured in.
Conventional methods of concrete compaction impose a heavy work load since there is a lot of movement in the narrow tunnel space. This has caused reduced awareness that accompanies falls and stumbling and fatigue. Development of this technology has enabled the use of fewer workers and improvement in safety.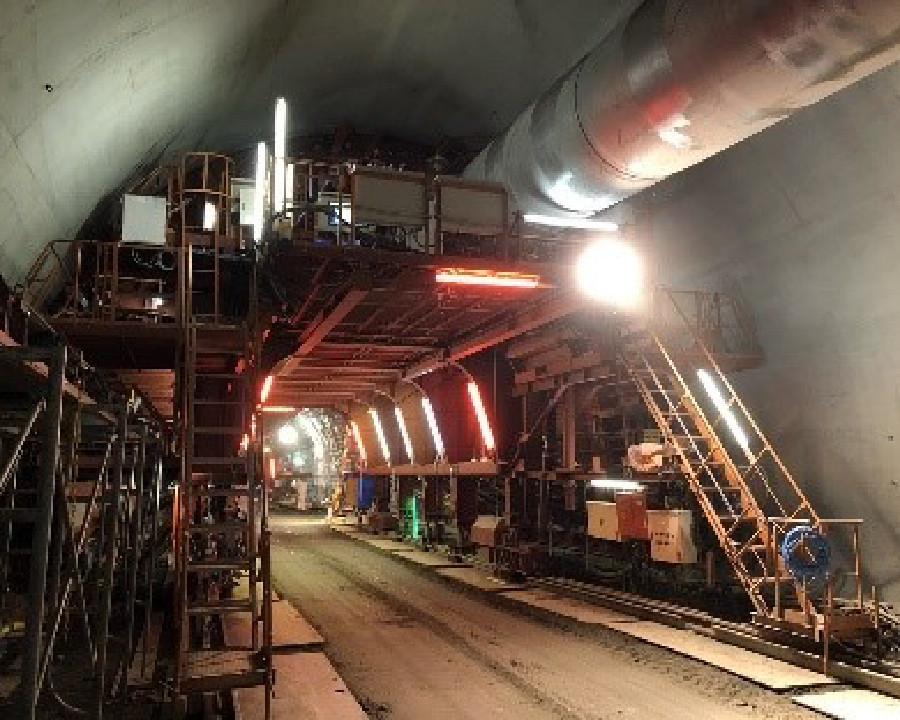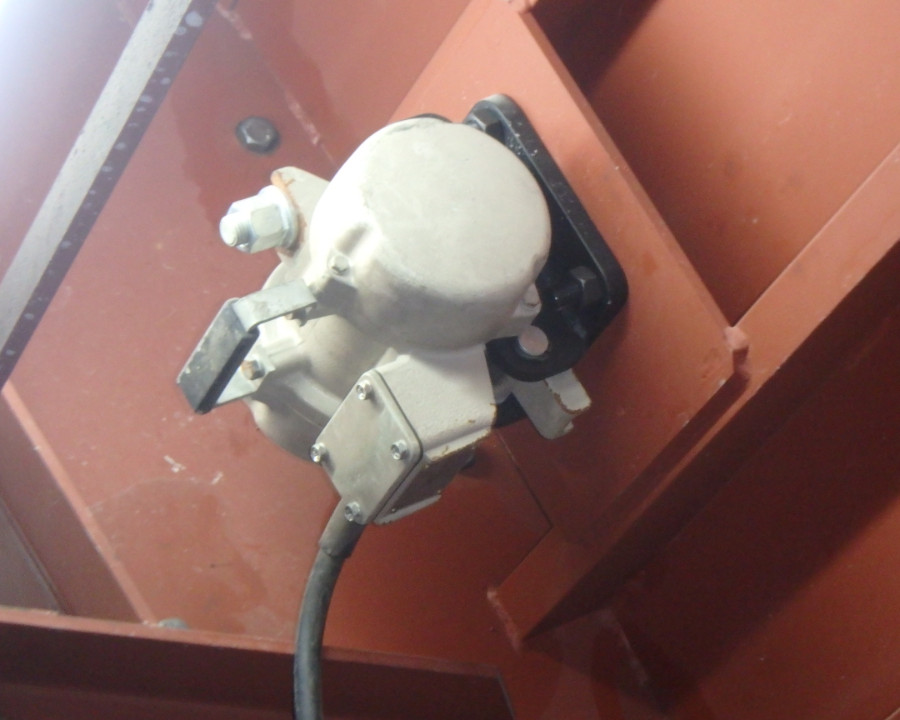 Applying the concrete lining using the moving formwork ("center") (on left) and form vibrator (on right)
Real time remote inspection system
This technology uses tablet devices to enable people involved in construction who are in a remote location to confirm live images and inspection data in real time as they inspect the quality and finished form.
The development of this technology enables the customer's inspectors to inspect quality and finished form without spending long hours traveling to the job site. They can also confirm and approve inspection results from the computer on their own desk.
We are currently testing operation of this system in part of the quality and finished form inspections in construction of a mountain tunnel in Wakayama Prefecture, in a joint project with NEXCO.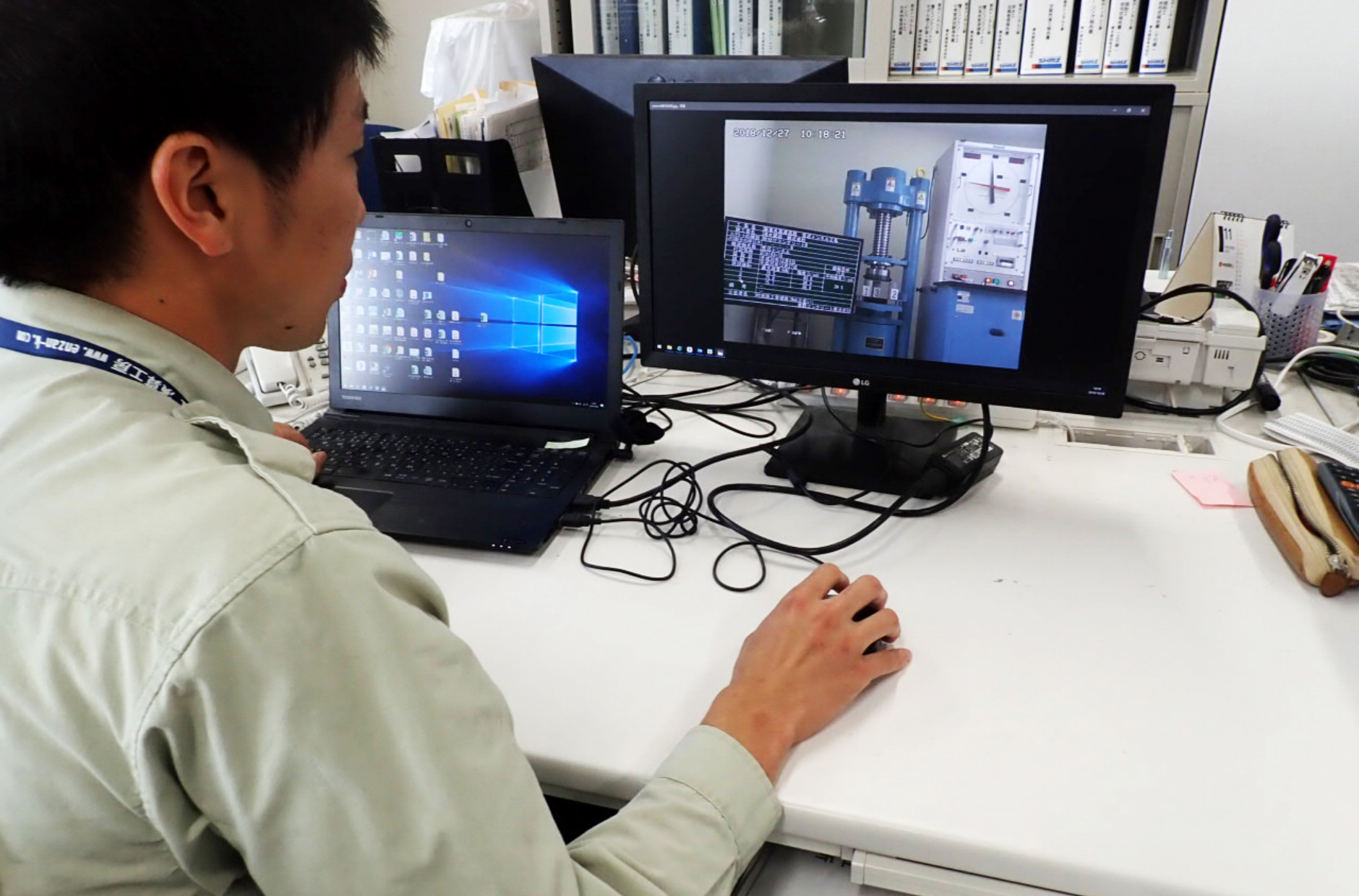 Bone conduction headset
This is a communication system that enables smooth communication in conditions inside a tunnel where people inside the tunnel are wearing face masks to prevent dust inhalation and ear plugs for hearing protection. When the user says the name of another person while wearing a mask, the AI voice recognition app automatically functions and selects one or more people to enable them to communicate with them.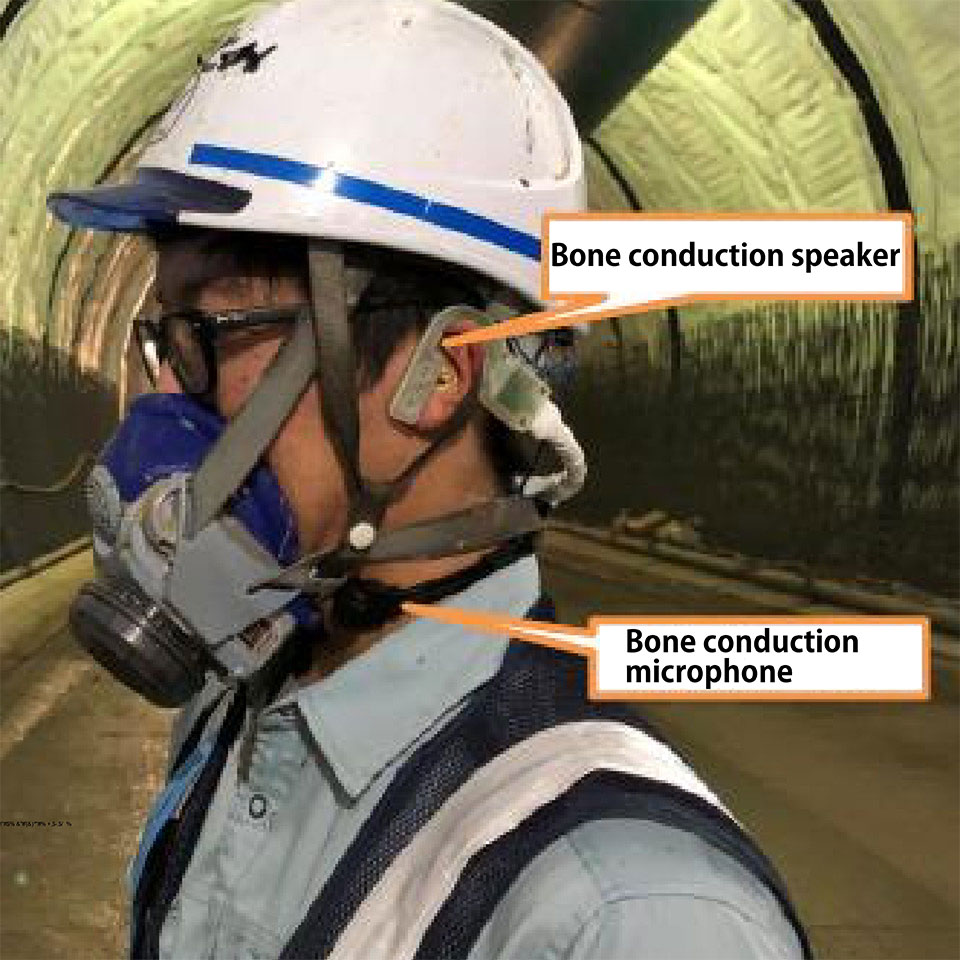 Shimizu is pursuing development of these basic technologies through active participation in the PRISM program*, in addition to conducting verification trials at tunnel construction sites nationwide.
PRISM: Public/Private R&D Investment Strategic Expansion PrograM
Contributing to the Establishment of Sound Social Infrastructure
Shimizu is working to develop Shimizu Smart Tunnel in view of the anticipated retirement of large numbers of highly skilled construction workers in the future.
We are contributing to the establishment of sound social infrastructure by increasing construction site productivity and safety through the introduction of advanced digital technology.
The information posted here is the current information on the date of posting. Please be aware that this information may have changed by the time you view it.