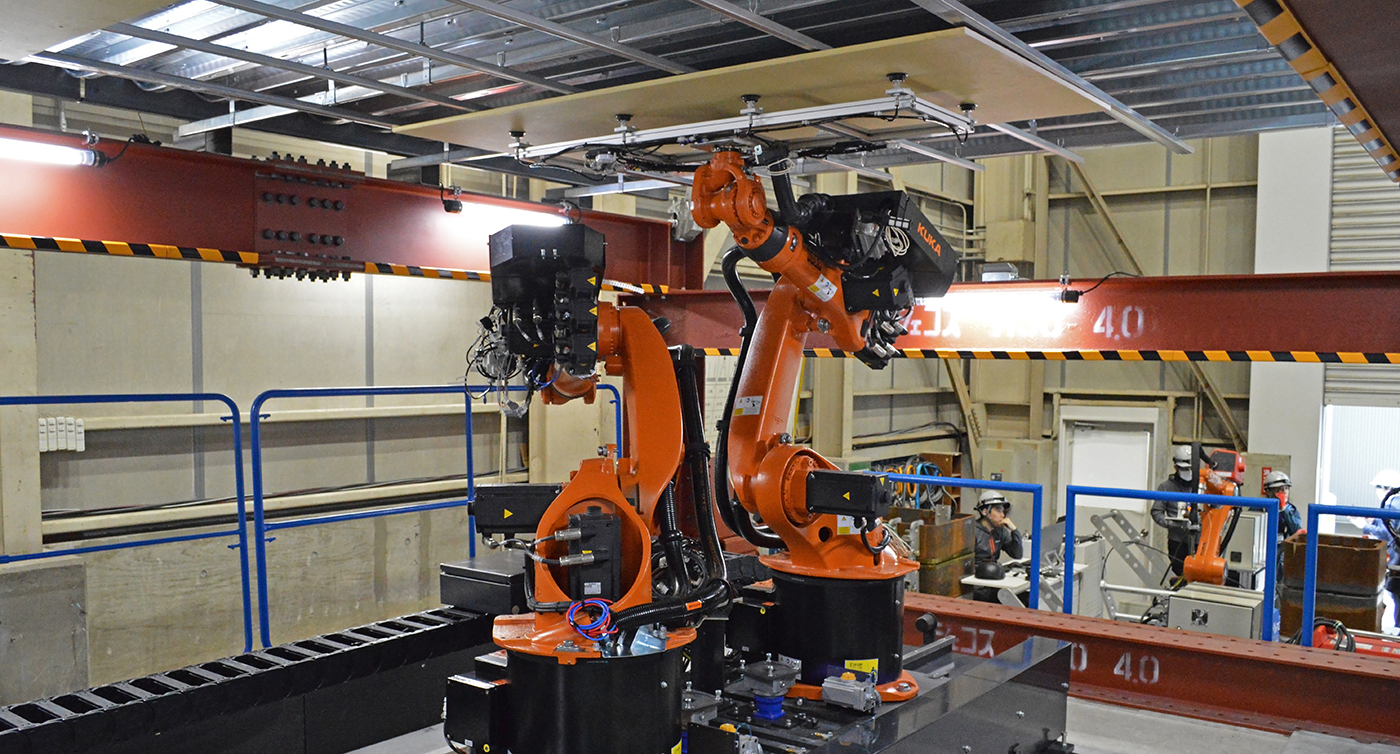 Robo-Buddy multipurpose robot
Efforts to improve productivity and secure human resources in the future have become issues in the construction industry as companies are being called upon to implement workstyle reform.
Shimizu is taking new steps to reduce the need for human labor with full-scale introduction of the Shimizu Smart Site system at job sites, a system linked to robots equipped with the latest technology.
As a "Buddy," Not a Robot
Shimizu Smart Site connects autonomous robots equipped with AI (artificial intelligence) and BIM (building information modeling) for creating three-dimensional models of buildings, and these robots work alongside human workers at a job site. Our goal is to reduce strenuous, repetitive work as much as possible and improve productivity while creating a job site that attracts younger people and makes them want to work there.
Shinichi Sakamoto, the Deputy General Manager of the Construction Technology Division and one of the key developers of the Shimizu Smart Site system, says that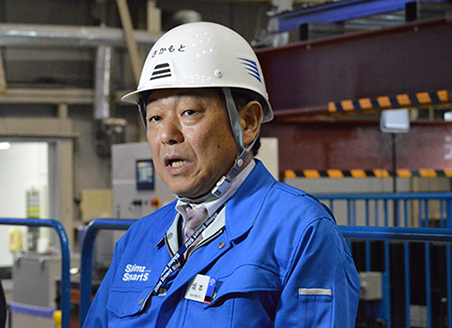 "The greatest feature of Shimizu Smart Site is the autonomous robots. I think these robots, which are designed to operate autonomously and make their own decisions at a construction job site, are a completely new phenomenon. We have developed robots for construction job sites in the past at Shimizu, but those robots required human supports to move. The quality of the construction tasks they performed needed a lot of adjustments and reworking, so many said that a person could do it faster with less reworking, and none of these robots still exist today."
Based on the lessons learned from the past, we based the current robots on the concept of robots that work as "buddies" alongside their human counterparts. We developed these robots by combining the construction expertise that Shimizu has accumulated with technology used in other industries such as AI and IoT, deep learning, sensing, and high-speed CPU processing capacity (from 10 companies and one university). Linking these robots to BIM enables them to work based on the building conditions.
Buddies for Welding, Ceilings, and Transport
We have developed three robots in total so far and will introduce them. Their features are as below.
1. Robo-Welder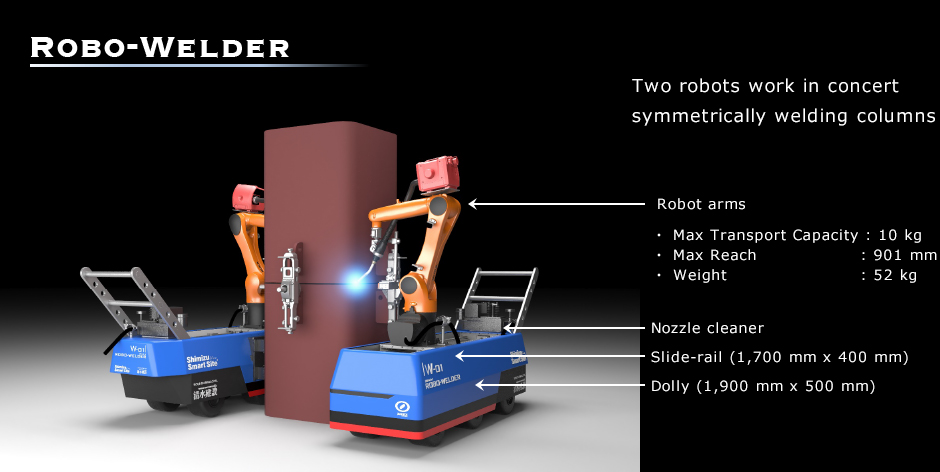 Once the specialized mobile dolly that the robots sit on is brought to the designated location, the robot can handle all welding automatically, without any human support. Shimizu developed these robot jointly with Professor Satoru Asai, from the Research Lab at the Osaka University Graduate School of Engineering.
Video of the Robo-Welder in action
2. Robo-Buddy: Multipurpose Robot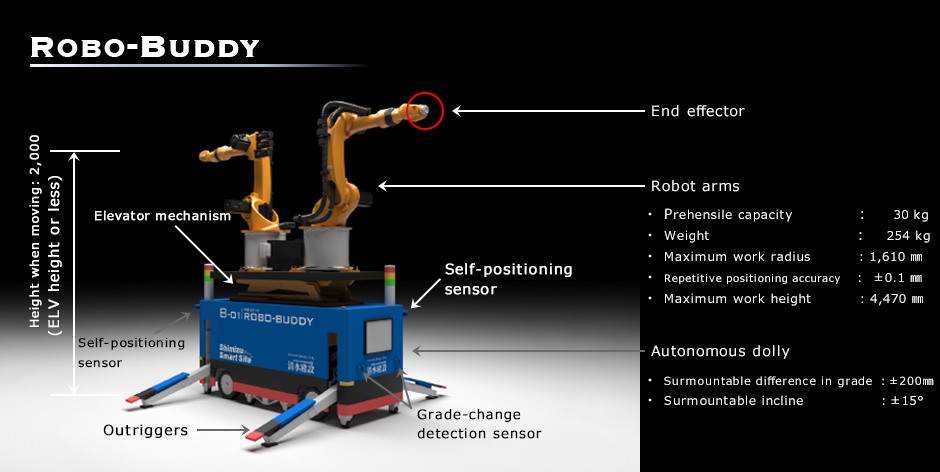 After detecting the location to work through the imaging and laser sensors, the two robotic arms are used to insert ceiling hanger bolts, backing member, hold ceiling boards in place, and screw them in. or, install the raised floor system pedestals and panels. Robo-Buddy is multi-purpose and can also perform other works.
Robo-Buddy detects its own location with the laser sensor by referencing BIM information with the actual ceiling frame location. and is able to move to the designated work location automatically.
Lifting up the boards up to the ceiling frame (video)
Screwing in required location (video). Robo-Buddy uses advanced technology to sense the board coordinates, determine the screw location for itself, and screw it in.
3. Robo-Carrier: Automatic Conveyor System
Robo-Carrier is a system designed to transport materials delivered to the job site to the location where the work will be performed. It detects the dimensions of the materials on its own and moves without running into other people and materials. It stops and waits when it encounters an obstacle, and if the obstacle does not move after a certain period, it recalculates the route on its own and proceeds forward while avoiding the obstacle. It can also get on elevators for itself for moving to other floors.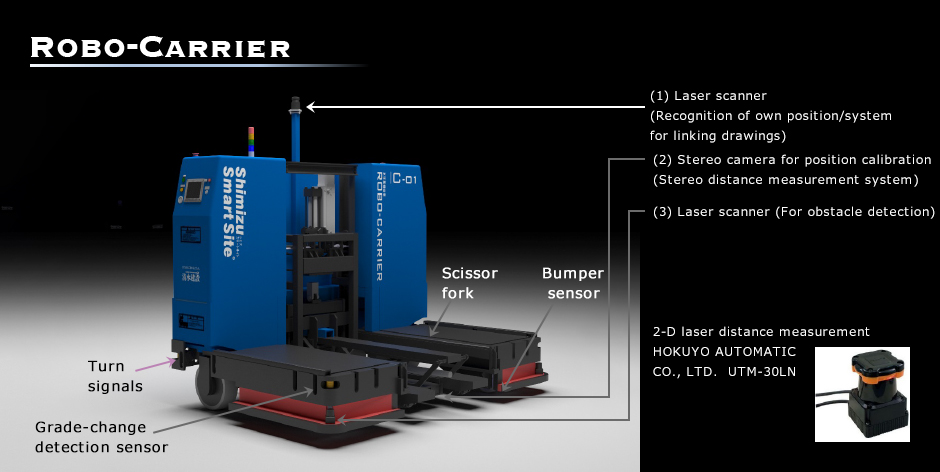 Carrying materials (video)
"We Want to Change the Image of Job Sites"
Assuming the Shimizu Smart Site system is used for a building with 30-story size of typical floor area of 3,000 m2, trial calculations indicate labor-saving benefits of 75% (2,700 man days) on lifting and carrying work, 78% (2,100 man days) on ceiling and floor installation, and 79% (1,150 man days) on column welding, for a total savings of neary 6,000 man days. However, a job site of this size would require 540,000 workers in total, so the labor-savings only amount to around 1.1%.
Shinichi Sakamoto tells his aspirations: "The robots we are currently developing are designed for three types of work (welding, ceiling installation, and transport), but I think they are the platform for many other types of work." "First, Shimizu Smart Site system will be introduced at a high-rise building jobsite in Osaka city in the fall of 2018. From fiscal year 2019 onward, the system will be operated mainly at large job sites in the Tokyo area. I want to create an environment where people and robots can work together and change the image of construction job sites."
Shimizu is taking on the challenge of developing a production system for a new age with the goal of improving productivity and securing sufficient workers.
The information posted here is the current information on the date of posting.
Please be aware that this information may have changed by the time you view it.