Nihonbashi has a long historical background.
We are restoring the vitality of this community, which at some point veered away from being the center of activity, according to the Nihonbashi Revitalization Plan.
Shimizu contributed to community planning by staying involved in the whole process of the Nihonbashi East Muromachi Area Redevelopment Project, which was completed in 2014, from the community planning stage, through the design and construction.
Calling People Back to Nihonbashi through Community Planning
Nihonbashi flourished in the Edo Period (1603-1868) as the starting point of the five main highways. From the Meiji Period (1868-1912) onward, Nihonbashi prospered as a hub for finance, commerce, and an office district.
However, the Metropolitan Expressway was built over the Nihonbashi Bridge in preparation for the Tokyo Olympics in 1964. After it lost its scenic attractiveness, the bustling activity as a commercial district gradually declined.
It was based on such circumstances that the general developer, Mitsui Fudosan Co., Ltd., created a revitalization plan for Nihonbashi. The new initiative in community planning began with the government, the private sector, and the local community working as one team, based on the concept of "keeping, restoring, and creating."
The Nihonbashi East Muromachi Area Redevelopment Project that Shimizu participated in was the project that kicked this off.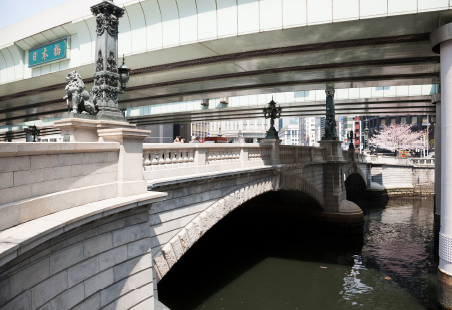 Designing, Not Just Buildings, but the Flow of People
The main feature of this community plan was the integrated development of four blocks, including the construction of three high-rise complexes and a shrine. Shimizu also played a role in implementing this plan.
Rather than developing the four blocks as one uninterrupted area, the continuity of the neighboring small commercial area including long-established shops was maintained by keeping existing sections of the town. Arranging small shops along each street had the benefit of spreading out the crowds that congregate primarily on the streets into surrounding areas. Moreover, the line of foot traffic through each block was planned to run through buildings, creating a new flow of people.
Four-block composition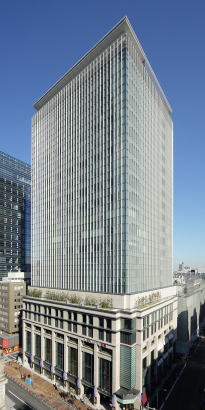 Muromachi Higashi Mitsui Building
(COREDO Muromachi 1)
Construction Period

February 2009 to September 2010

Structure and Scale

SRC + S construction (CFT columns)
B4-22F-PH2
Building area: 2,325 m2
Total floor area: 41,066 m2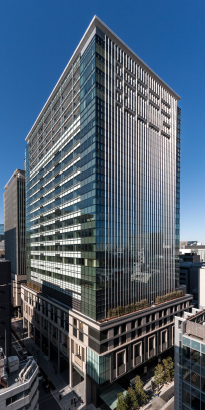 Muromachi Furukawa Mitsui Building
(COREDO Muromachi 2)
Construction Period

November 2011 to February 2014

Structure and Scale

S construction, partial SRC construction, RC construction
B4-22F
Building area: 3,723 m2
Total floor area: 62,472 m2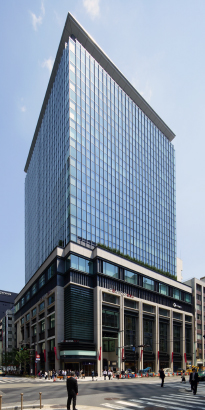 Muromachi Chibagin Mitsui Building
(COREDO Muromachi 3)
Construction Period

August 2012 to February 2014

Structure and Scale

S construction, partial SRC construction, RC construction
B4-17F
Building area: 1,771 m2
Total floor area: 29,238 m2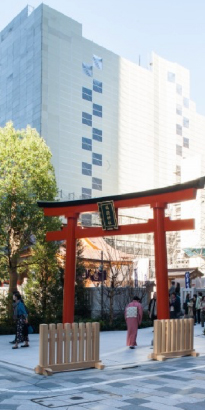 Construction Period

March 2014 to October 2014

Structure and Scale

RC construction, partial S construction, RC construction
B2-1F
Building area: 84 m2
Total floor area: 889 m2
Exterior Designed to Maintain Historical Character
The area surrounding the development sites contains numerous buildings that are symbols of the historical development of Nihonbashi. The development sites border Chuo-dori and face Mitsui Main Building and Mitsukoshi main store, which are important cultural properties. We aligned the height of the lower sections to achieve an attractive street landscape while maintaining harmony with these historical buildings.
We also aimed for a modern exterior design while matching the composition with accentuated columns, horizontal lines, and other details. We achieved a softer presence on the high-rise sections by using a glass curtain wall.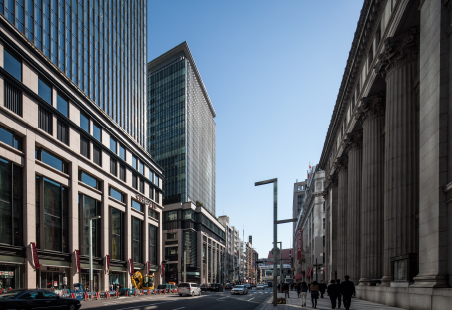 Creating the Appeal of a New Town
In addition to offices and commercial facilities, the high-rise complex also contains a multipurpose hall, a cinema complex, and upscale residential housing, which are firsts for this area.
The plan was to create a new gathering place and a lively community where all sorts of people gather, work and live.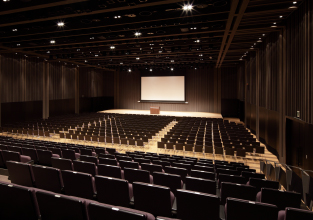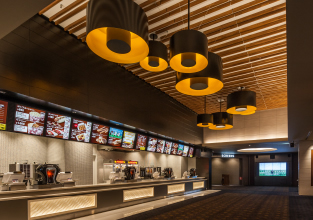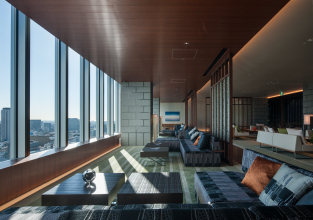 Fusing Modern Technology and Traditional Techniques
We redeveloped Fukutoku Shrine, which has a history extending back more than 1,000 years, in the shrine block. Since the period of high growth, it had been transferred to the rooftop of a building, inside a store, and other places.
The traditional architecture for the sanctuary called for unvarnished wood appropriate to Nihonbashi, which conveys the culture of the Edo Period. However, there were regulations on fire resistance since it is located in the middle of a city, so we could not build it of wood. We therefore devoted effort to devising a way to make it look like traditional wooden architecture using traditional joint and coupling woodworking techniques, while building a fire-resistant structure from steel frame. This shrine fuses the modern technology that Shimizu possesses with the traditional techniques of the master shrine carpenters.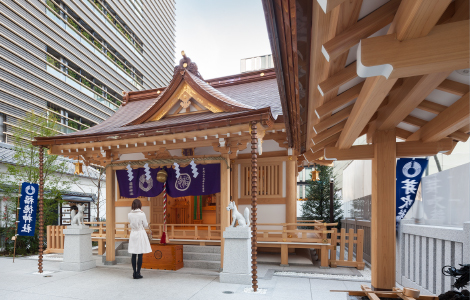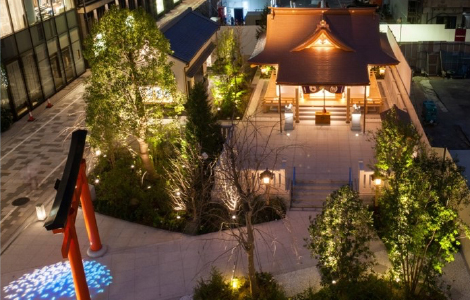 Project Design that Continues Until the Project Takes Shape
Shimizu performed many different tasks, including community planning, detailed designs and construction through completion of buildings for approximately 10 years.
The work on detailed designs must fulfill the role of linking the content specified in the initial community plan for a project to the construction. We contributed to making the community plan a reality by serving as the middleman for the project. In this role, we collaborated with architects and designers while also responding to the desires of the entities that placed the order as well as the resident companies.
Throughout the whole process from design to construction, we responded to the changing needs of the entities that placed the order, integrated various proposals, and developing these into an implementable "shape" one by one, through discussion. We worked to make the community more attractive while working to achieve a consensus among those involved. We believe that the whole project process lies within the field of design.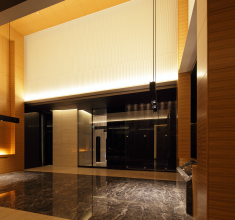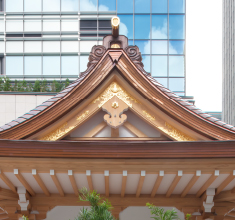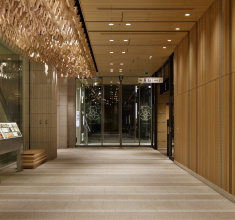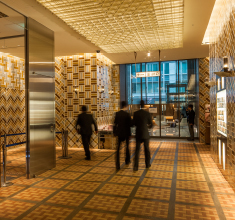 What Community Planning Means to Shimizu
To Shimizu, community planning means to develop an understanding of a community from a cultural perspective, establish an environment in which all of the people who live there can lead happy lives, and link this to the future.
Community planning and design based on the unique characteristics of the area does not stop with simply designing a building. The planning is materialized through many different processes, such as resolving the problems that client has, fulfilling its needs, etc. We believe that all of those processes fall within the purview of design.
Developing a sense of the passion of the people involved in creating a community, and passing down the community that is reflected the passion and that will bring joy to future generations to the children of the next generation.
That is what we strive for in community planning and design.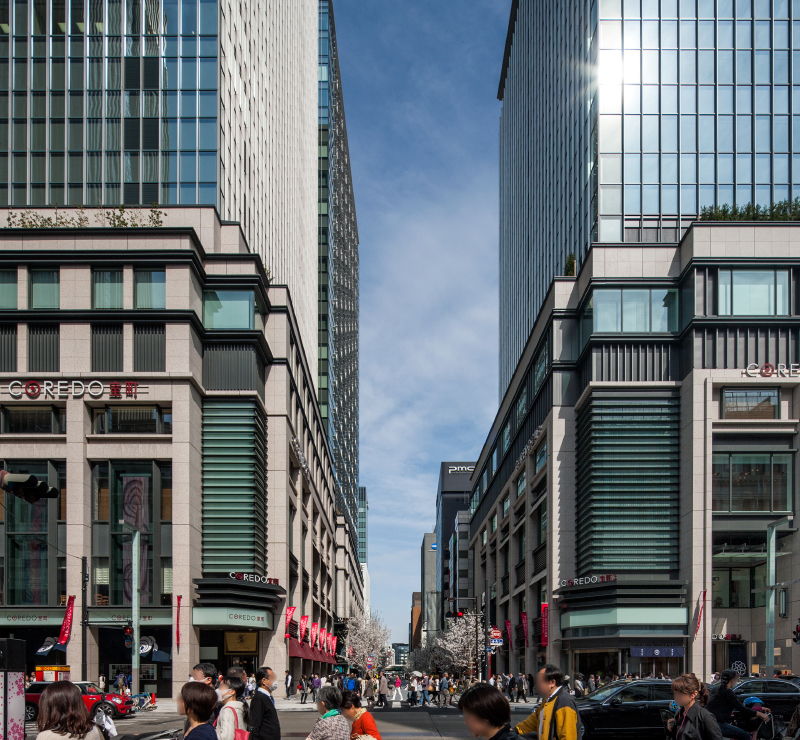 Overview of the Nihonbashi East Muromachi Area Redevelopment Project
| | |
| --- | --- |
| Entities placing the order | Mitsui Fudosan Co., Ltd.; Furukawa Co., Ltd.; NINBEN; Nichibutsu; Hosoi Chemical Industry Co., Ltd.; The Chiba Bank, Ltd.; Sobu; WAKAMOTO Co., Ltd.; Isetan Mitsukoshi Holdings; and Kiya Building |
| Oversight, basic design, and management | Nihon Sekkei, Inc. |
| Detailed design and management | Shimizu Corporation |
| Master Design Architect | Norihiko Dan and Associates |
| Commercial Interior Design | Super Potato, A.N.D. |
| Office and hall interior design | Field Four Design Office |
| Hall supervision | architectural and urban design, inc. |
| Cinema complexes and interior design | R&K International |
| Residential interior design | AXUA Senior Registered Architects, Tsujimura Hisanobu Design Office, TONERIKO |
| Signage design | Rian Ihara Design Office, Hiromura Design Office |
| Lighting design | ICE Illumination of City Environment, Uchihara Creative Lighting Design, Inc. |
| External tile art | Yamada Shuji Awaji Ibushi Tile |
| Construction | Shimizu Corporation, The Zenitaka Corporation |
| Reference materials | Archives of the Nihonbashi Muromachi East District (Shinkenchiku-sha Co., Ltd.) |
| Photos | SS Tokyo Co., Ltd., Kawasumi & Kobayashi Kenji Photograph Office |
Column
Underground Space that Offers Convenience and Disaster Prevention
New plazas and underpasses have been built for the area roads Edo Sakura-dori, Naka-dori, and Ukiyo-koji, forming a new pedestrian network.
The underground plazas under the national highway and local roads, which were constructed by a public-private partnership, can function as evacuation sites for 3,000 people at a time who cannot return home during a disaster. Electricity can be supplied from within the building for 72 hours during a power outage, and they are equipped with lighting, public toilets, and digital signage to display disaster prevention information. The Fukutoku Shrine, and the emergency supply storage on B2 underground, are always stocked with supplies, enabling them to help surrounding areas.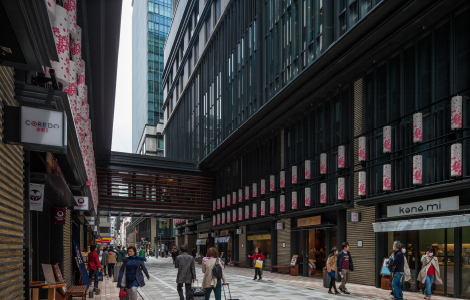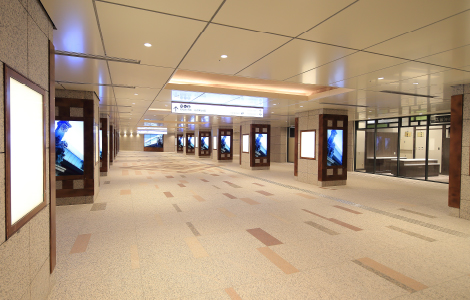 For barrier-free, stress-free community planning
The three companies of Shimizu Corporation, IBM Japan Ltd., and Mitsui Fudosan Co., Ltd. worked together on verification testing of a smartphone app that uses a high-precision indoor-outdoor voice navigation system in the Nihonbashi Muromachi District for a three-week period from February 8 to February 28, 2017.
The goal was for visitors, including shoppers in wheelchairs and those with visual impairment, to navigate easily to the target destination by a method of guidance suitable for each person. We tested guidance in both Japanese and English.
In the future, the results of the survey sent out to participants will be reflected in the system. We will transmit barrier-free, stress-free community planning technology to the world by 2020.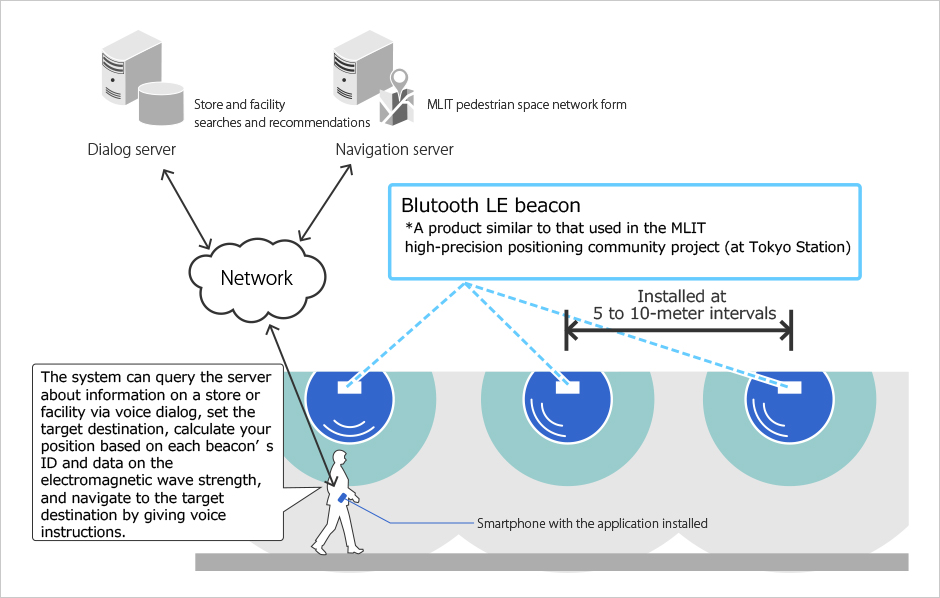 The information posted here is the current information on the date of posting.
Please be aware that this information may have changed by the time you view it.