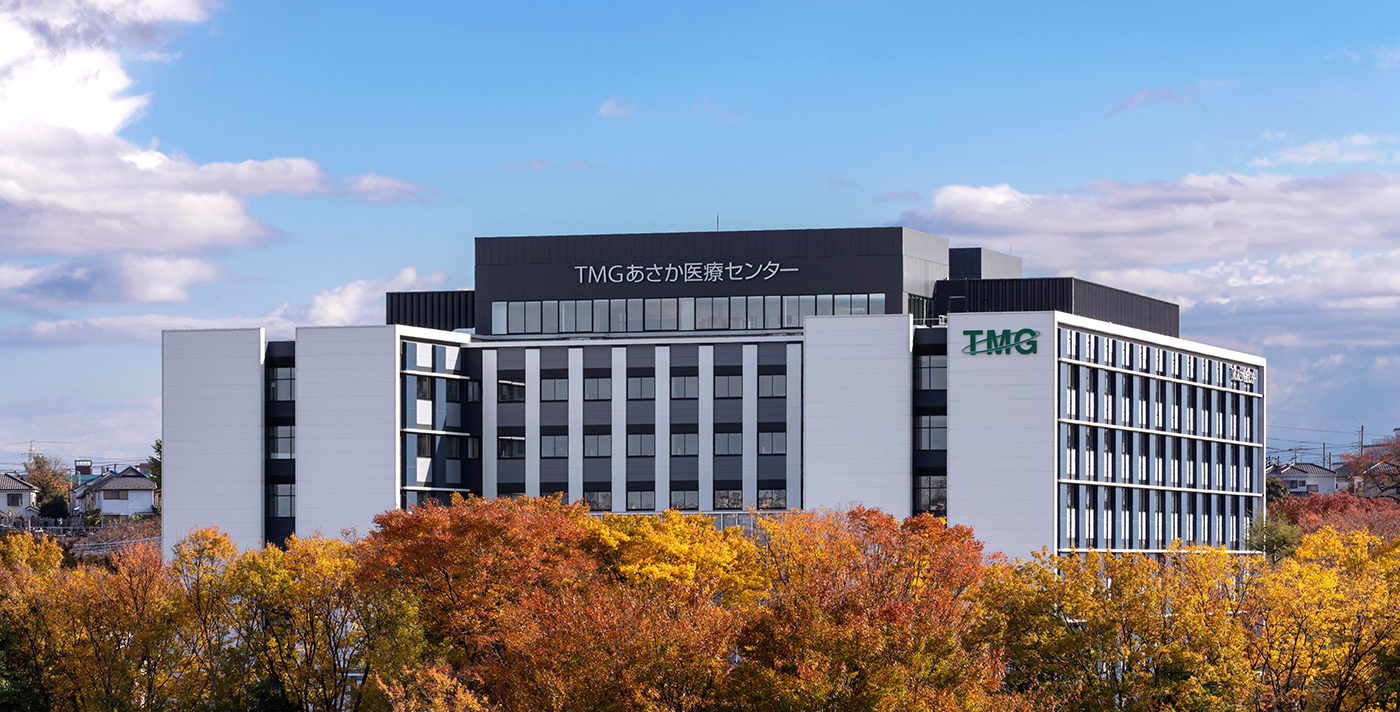 The TMG Asaka Medical Center, a 446-bed acute care hospital, was relocated to the site of a former university campus that is lush with greenery in Asaka City, Saitama Prefecture. It opened for business early in 2018. A typical acute care hospital requires around 80 m2 of space per bed. However, we were able to achieve high space efficiency of 57 m2 per bed at the medical center by incorporating as many functions as possible within the limited budget.
Using ICT in Practical Planning
We used Supply-kun at the TMG Asaka Medical Center to build a practical plan. Supply-kun (patent pending) is a planning support system for mapping the logistical paths of movement in a hospital, that Shimizu developed using ICT. A survey to monitor the flow of various goods was completed and a simulation was then run to create an easy, functional plan that shortens the path distance that hospital staff have to travel.
ICT devices called beacons were first installed in the hospital facilities to investigate how staff members moved about in the course of performing actual work. This was then visualized in a 3D diagram. The diagram was used in discussions with hospital staff to evaluate the plan and improve it by collecting rooms staff go to frequently closer and making other adjustments. We also proposed operational improvements such as changing the type of work performed by staff who carry pharmaceuticals to the hospital wards.
We verified that we were able to shorten the paths of movement in the new medical center by a maximum of 60%, compared to the existing hospital.
3D Animated Diagram of the New Medical Center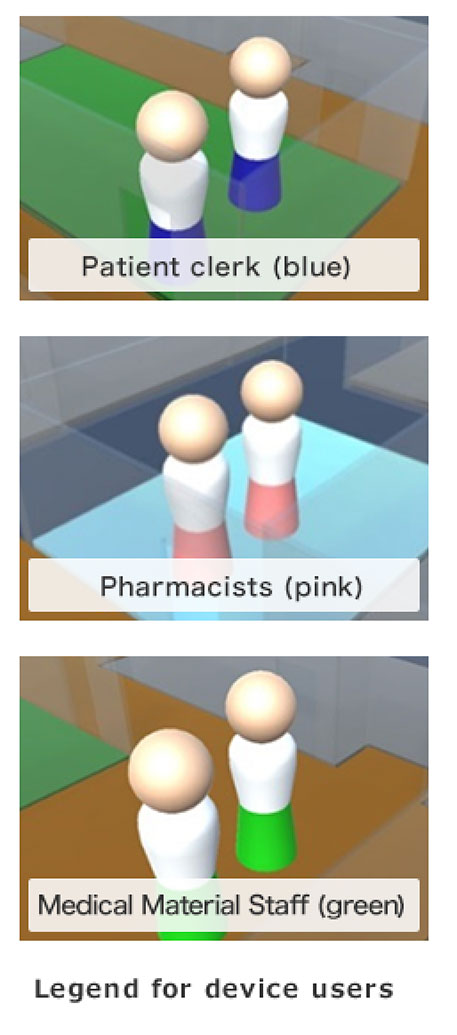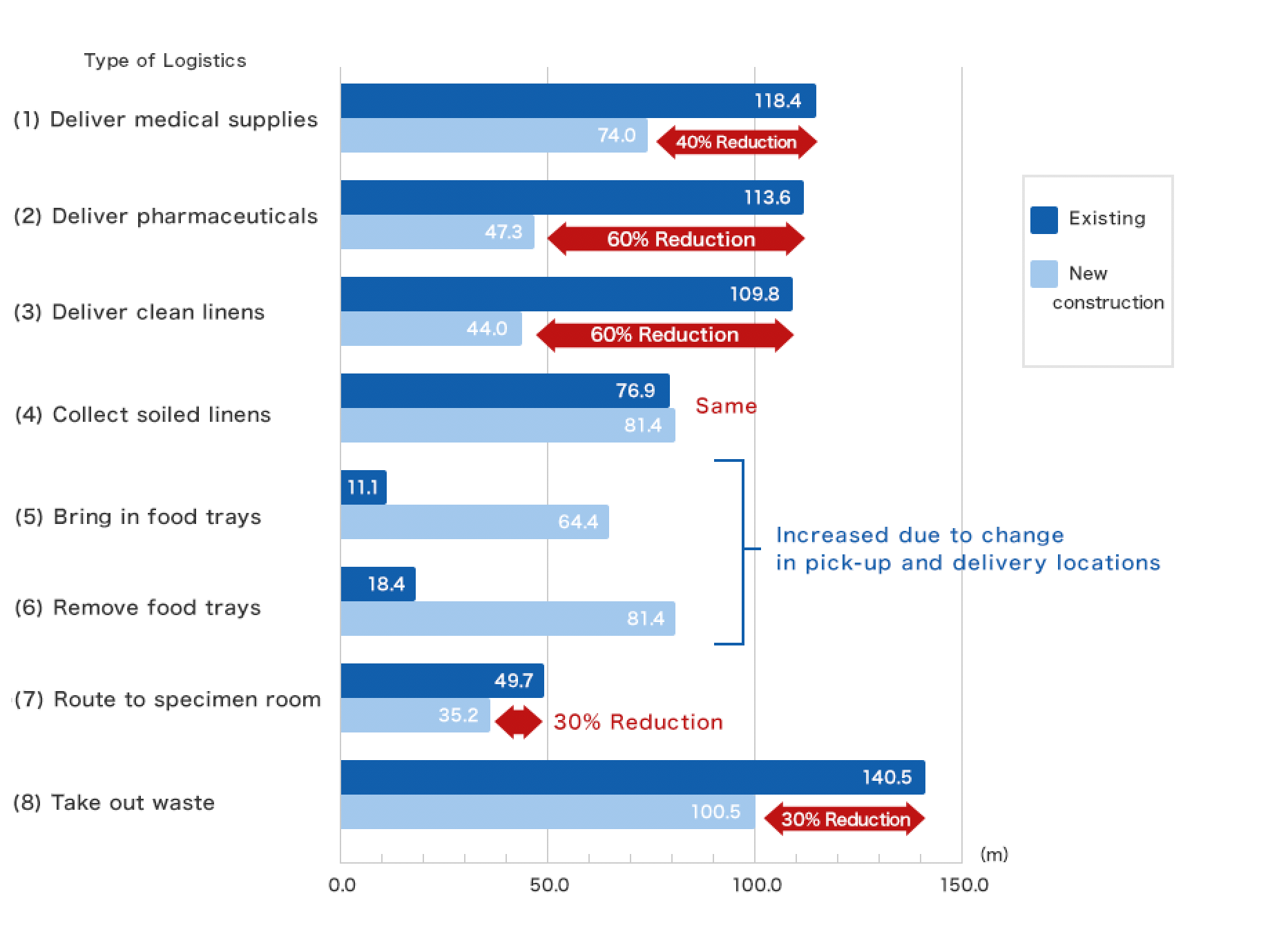 Supporting Acute Medical Care with Various Shimizu Technologies
We also introduced various Shimizu technologies to improve comfort and increase safety to support high-level medical care. For example, we installed a new air conditioning system in eight operating rooms to ensure the comfort of the surgeons and medical staff. In the existing operating rooms, the proximity of the surgeons to the surgical lighting caused them to sweat, while the surrounding staff members felt cold, and there were other problems as well. We resolved these.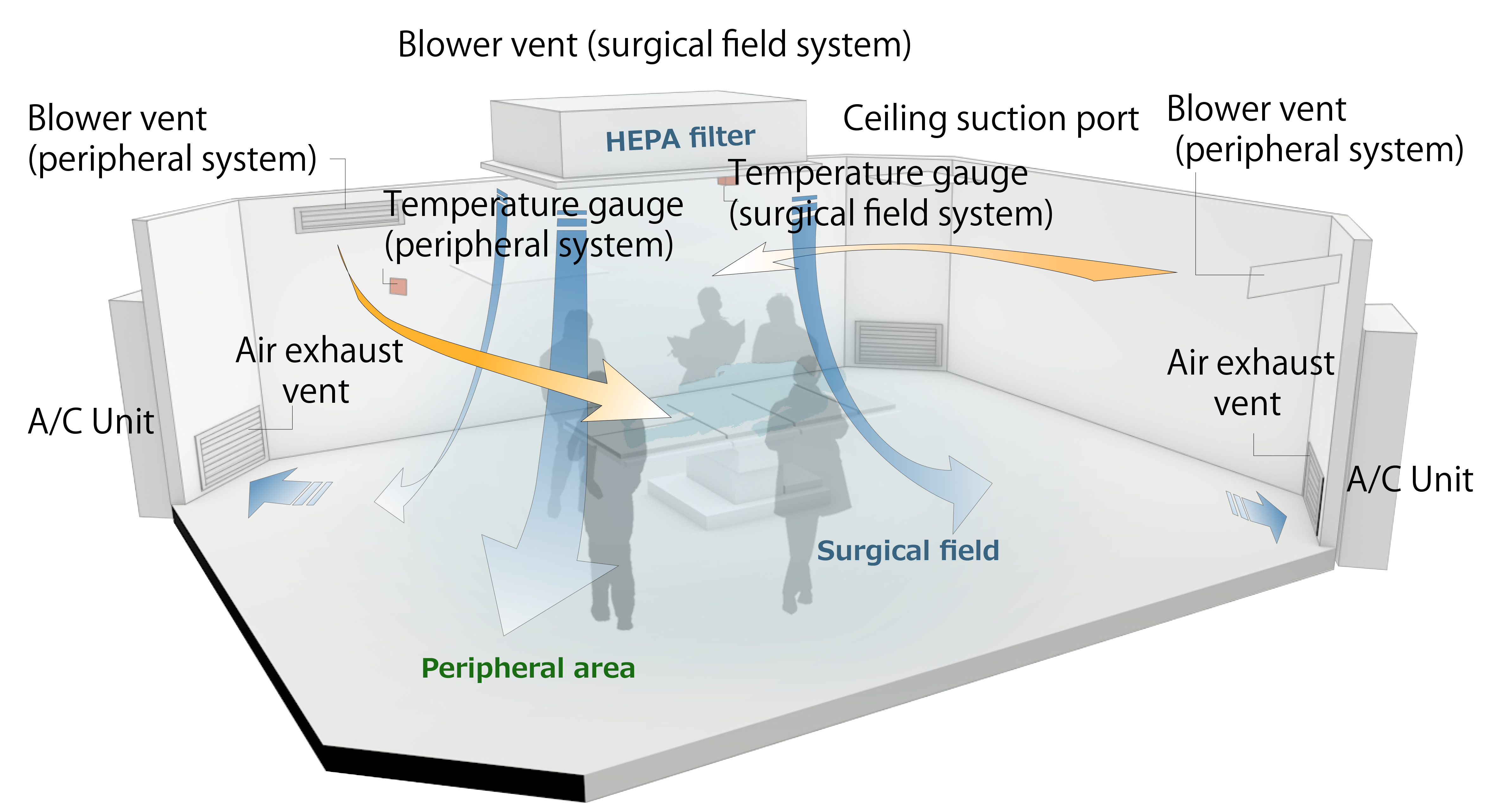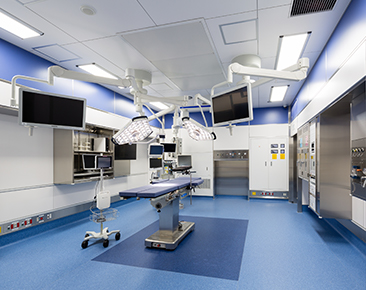 We installed a combination of air conditioning system in the hemodialysis room with a radiant air conditioning system to ease the problem that patients have with cold hands and feet when lying down and a convection air conditioning system appropriate for staff working in the area. We also incorporated a fire evacuation safety system to enable safe evacuation of bedridden patients in their beds during a fire.
A Full Range of Amenities
Functions that will support advanced medical care are not the only things that the hospital demanded of Shimizu. We were also asked to create a "hospital that loves and is loved," based on the hospital's philosophy.
We therefore installed a large window in the general reception waiting hall, and created a bright, open space. We took care to create a space where people can relax and feel comfortable while gazing at the lush greenery outside.
When we rebuilt the hospital, we built a new palliative care hospital ward for patients at the end of their lives. We sought to create an environment that was considerate of the patients and their family members by building a day room with a warm interior, and building a special adjacent terrace that allows patients to feel the breeze, among other special features.
We also installed a lounge with a good view on the top floor for staff members. It encourages communication across among staff members with different types of jobs, and provides a space where they can get away from work and relax.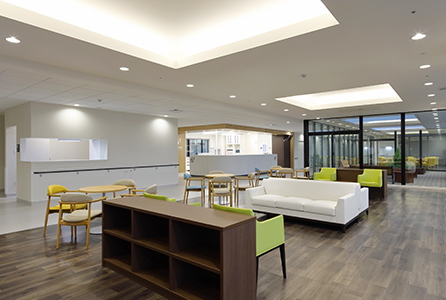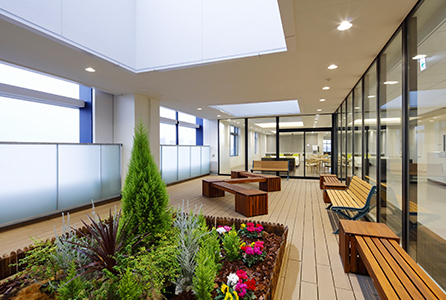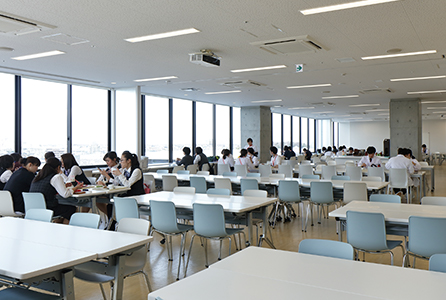 Aiming to be a Hospital that is Loved by the Community
The area in front of the entrance to the new medical center is also a local bus stop, so people who are waiting for the bus can easily come into the hospital for a bit.
The roof of the room in the waiting hall that shelters people from drafts is swept by a vacuuming robot ridden by a teddy bear. It is set to begin cleaning at the same time each day. This greatly delights the visitors and helps people in the community feel re-energized.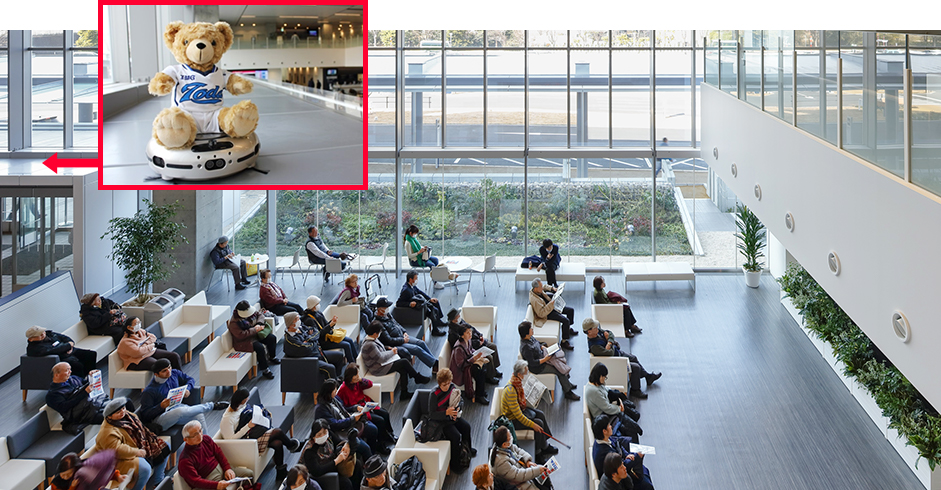 The number of patients admitted to the new medical center is also increasing. We got it off to a steady start as a hospital that is trusted and loved by the community.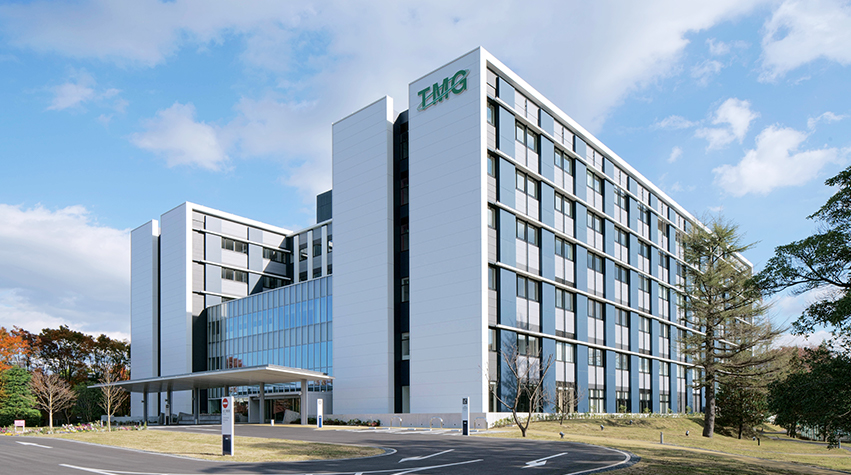 The information posted here is the current information on the date of posting.
Please be aware that this information may have changed by the time you view it.