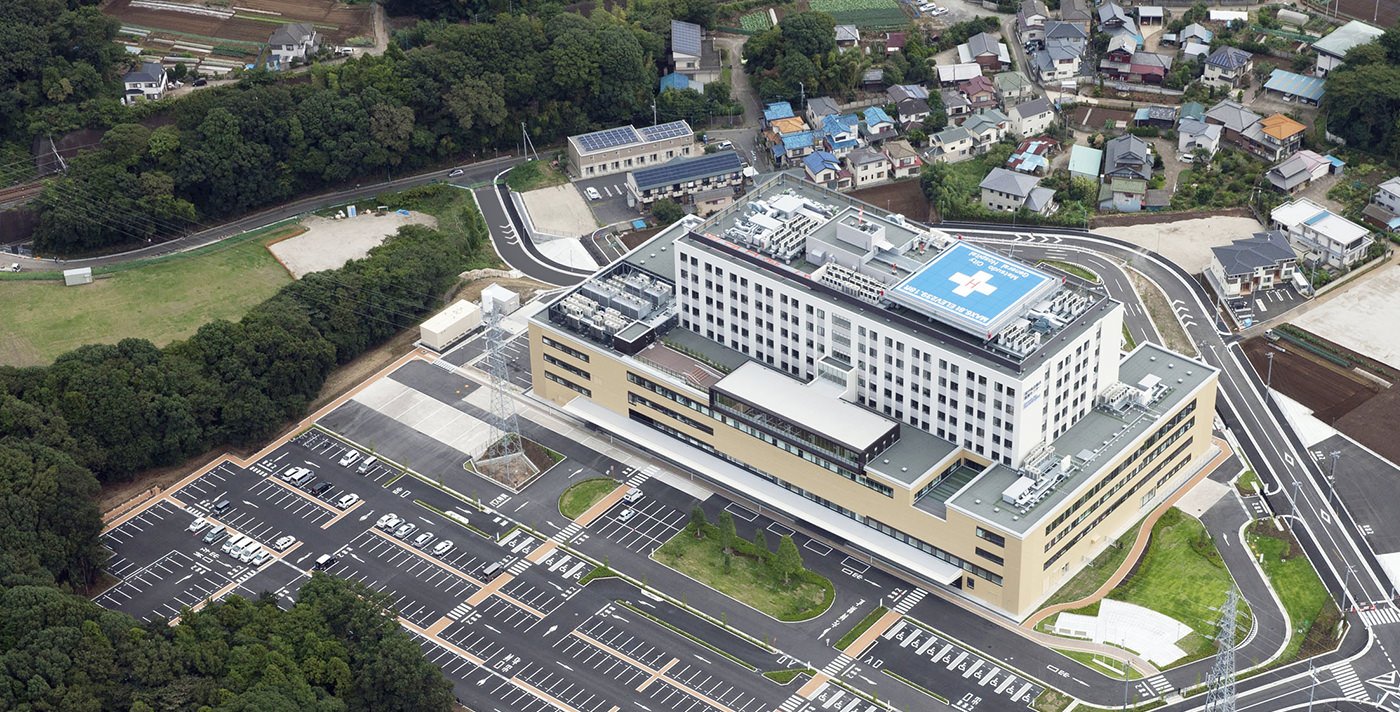 On December 27, 2017, Matsudo City General Hospital in Chiba Prefecture (former Kokuho Matsudo City Hospital) was relocated and reopened at a new location. Under the design and build process used to build this public hospital, Shimizu was involved in all stages from design through construction.
Design and Build Process Increasingly Used in Public Construction Works
It was previously customary to place separate orders for the design and construction of public works. In recent years, however the so-called design and build process in which one contractor performs all work from design through construction has been used more frequently. The design and build process has the following advantages. The general contractor is responsible for everything
from design through construction so various kinds of technology and expertise that will be used in construction can be incorporated
during the design process. This enables the general contractor to work to shorten the construction period and reduce costs.
This process also has the disadvantage of being a source of concern for the company placing the order because the designer and general contractor, which would serve as mutual checks on each other, are now one.
Shimizu flawlessly demonstrated its strengths as the No. 1 contractor in the industry in hospital construction during the open bidding process for both the design and building of Matsudo City General Hospital. We decisively reduced costs by improving construction efficiency through such means as revising the plan to enable reduction in the cost of heavy lifting equipment and materials.
This enabled us to present a proposal offering improved function and a better design, and led to receipt of the order.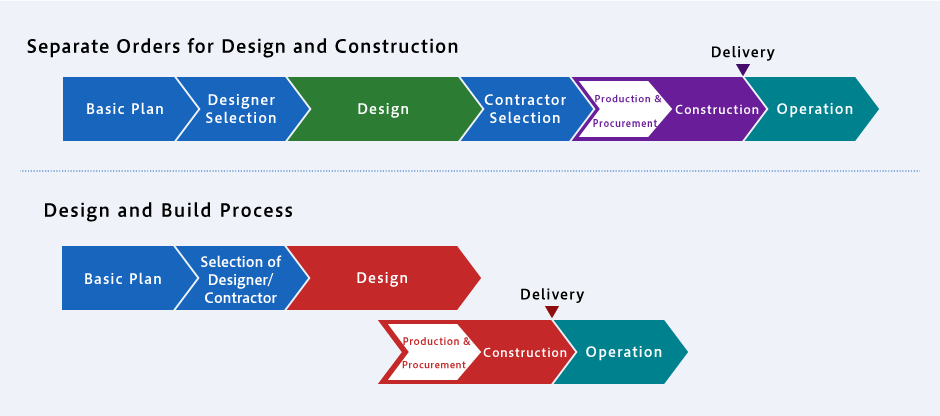 Two Issues Raised
This hospital is a tertiary emergency medical center that provides 24-hour care to critical patients. It is also a disaster base hospital that will provide medical care during an earthquake or other disaster. It is also a fully equipped medical center that provides pediatric care and perinatal care for mothers and children before and after birth. Shimizu raised two issues during construction. The first was ensuring the high level of safety and functions required of a hospital that is responsible for advanced medical care for the region.
The other was the comfort felt by visitors and creating spaces where people can seek emotional comfort.
Meeting the Requirements for a Regional Medical Facility
First, in regard to safety and function, it was necessary to ensure that hospital functions and the safety of the people who work there are maintained so that they will be able to provide medical care even during a major disaster. We therefore revised the requirements in our proposal that called for aseismic structure in part of the facility for the power supply plant and staff area and proposed a seismic isolation structure for the entire building. Controlling the shaking that is propagated to the building interior will prevent equipment and furniture inside the building from falling over, and will enable the hospital to function steadily as a disaster base hospital
even in the event of a disaster.

We also used the Shimizu Reinforced-Concrete & Steel System , a hybrid construction system that uses reinforced-concreted columns and steel beams, to achieve a large span. This structure enabled us to minimize structural plan limitations and create
a functional layout that met the hospital's needs, such as an ICU (Intensive Care Unit) with few columns and good visibility,
and a wide-open reception area, and other desired features.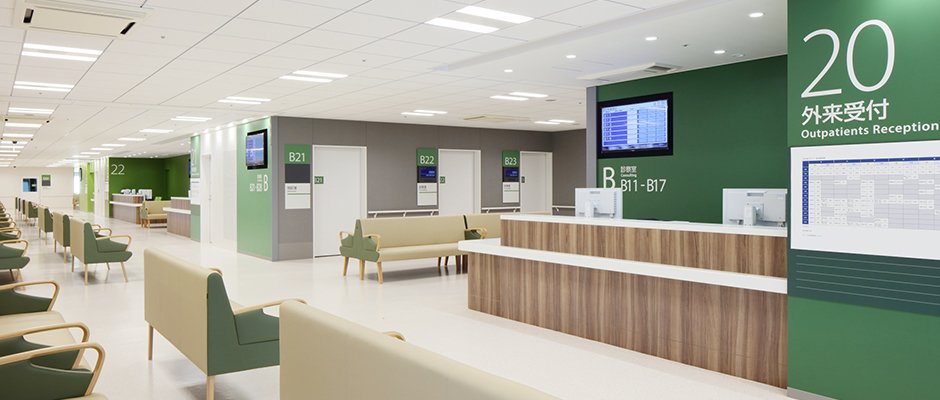 Designing a relaxing space for family members and others
Next, we considered a comfortable space where visitors would feel comfortable and could relax. We utilized the concept of family-centered design to create a space that patients and their families would find emotionally comforting and ease worry and stress over an illness or injury. For example, we built a family visiting room in the pediatric ward. Some pediatric patients with weak immune systems are restricted from visits, even by family members. So we built a family visiting room that has a glass window
framed by a colorful green border in the wall. We installed microphones and speakers on each side of the window, so that children can see family and play together with friends.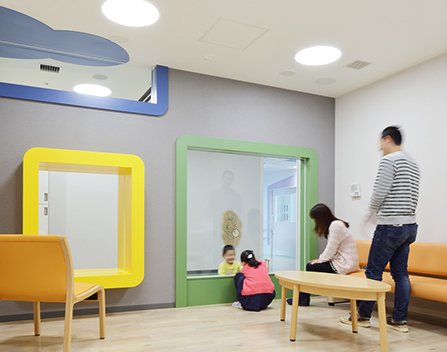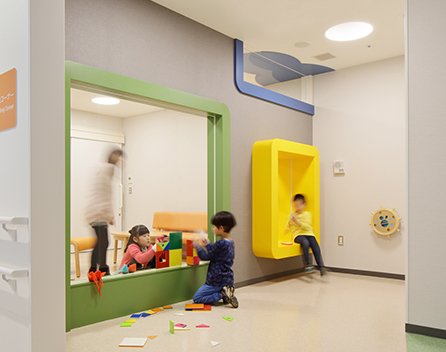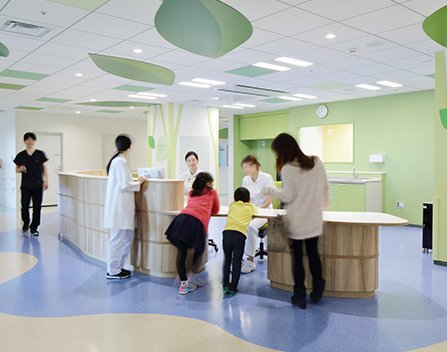 We also designed an innovative lighting environment in the NICU (Neonatal Intensive Care Unit). An NICU usually has subdued lighting so that it does not interfere with the babies' sleep. However, just making it less bright creates a somber atmosphere, so we installed special blinds in the upper part of the windows. This prevented light from reaching the babies' beds while enabling natural sunlight to light the ceiling and create a sense of the 24-hour rhythm of natural light. We also used wood finish to give the interior warmth, and created a space where people can feel the joy of mothers welcoming their children into the world.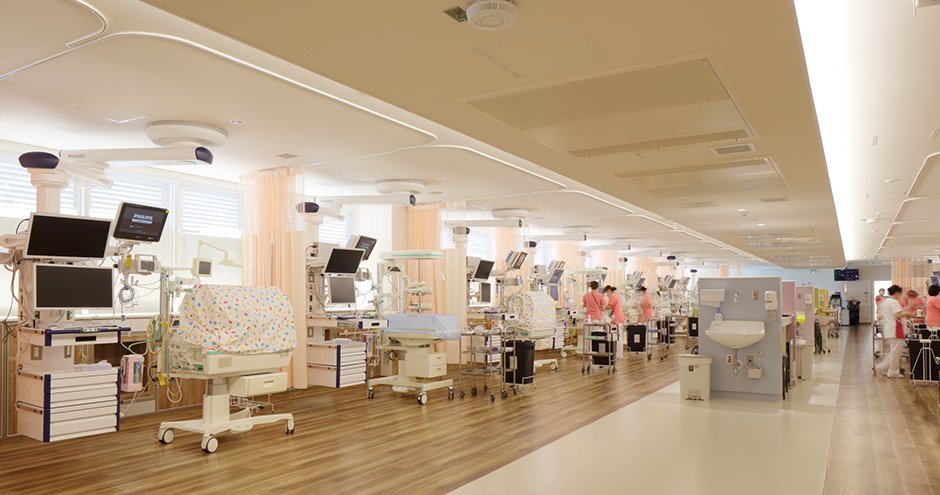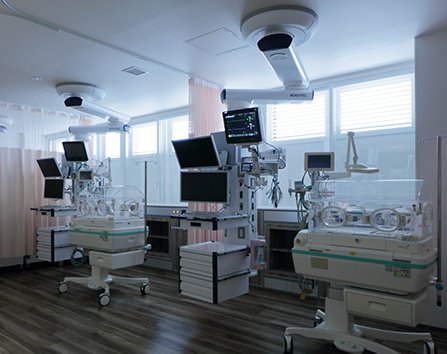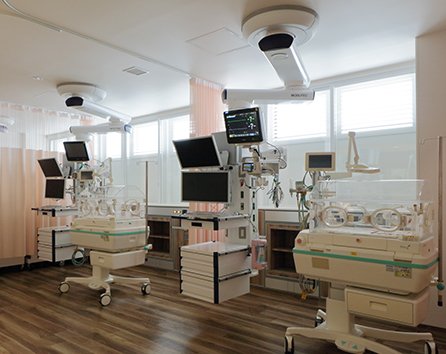 To Make Children Smile
On the wall of the pediatric ward are original wooden toys designed and built in cooperation with Shimizu's Tokyo Mokkoujou Arts & Crafts Furnishings. There is the Guruguru Tree (turning tree). Its leaves change color when you turn the handle, and insects from the forest in Matsudo peek out from the spaces. The Ocean Bottom Drive has a round wooden frame shaped like a ship's wheel.
When you turn it, you see small fish swimming. These toys were created out of the wish to bring even a hint of a smile to the faces
of hospitalized children.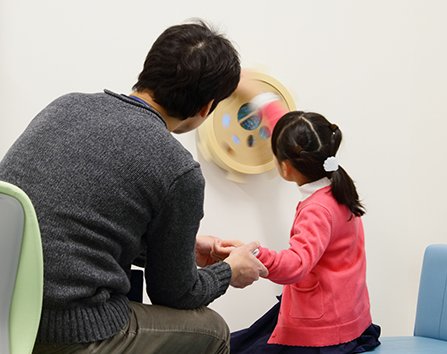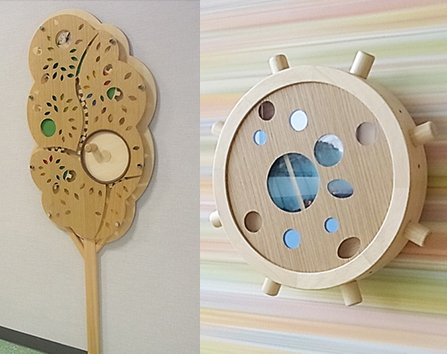 Combination of Hospital Construction Technology and Experience
Matsudo City General Hospital is a combination of Shimizu's hospital construction technology and experience. We hope that the people
in the community are able to enjoy it as a hospital that offers both safe, secure structure in the event of a disaster and relaxing spaces
for patients and their families.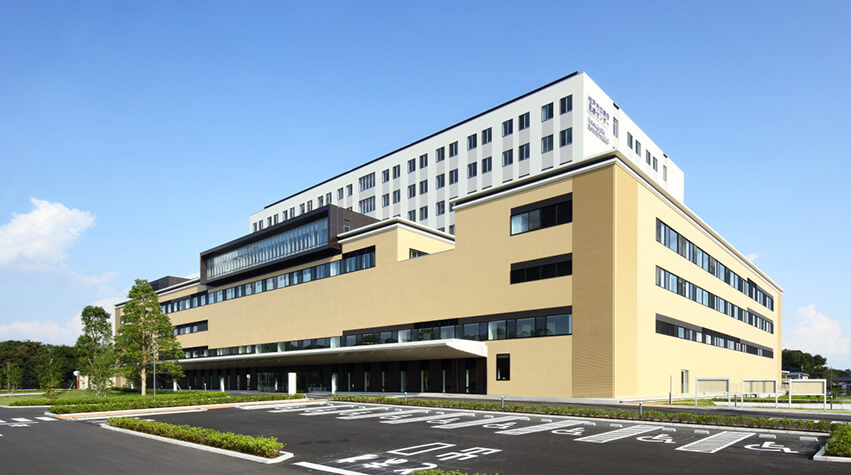 The information posted here is the current information on the date of posting.
Please be aware that this information may have changed by the time you view it.