Shimizu Swing Mass Damper, Rooftop Damping Device
The Shimizu Swing Mass Damper (SMD) is a control device that is installed on the rooftop to control the complex shaking of ultra high-rise buildings due to long-period earthquake motion.
When the planar shape of a building is not perfectly square, the natural period of vibration for longer and shorter sides of the building differ. The conventional rooftop control devices can only match the period of the shaking in one direction, so they cannot sufficiently control the shaking.
Shimizu's SMD incorporates dynamic screws inside the device. The dynamic screws convert the shaking to a rotational motion which produces a powerful counterweight effect. Because one device can control shaking in two directions with differing periods without increasing counterweight mass, it is lighter and uses less space than a conventional rooftop control device. This also makes it easier to install on the rooftops of narrow buildings.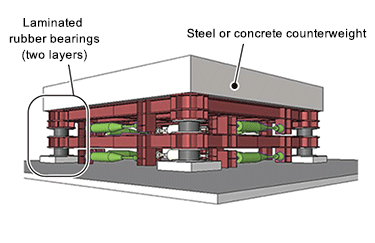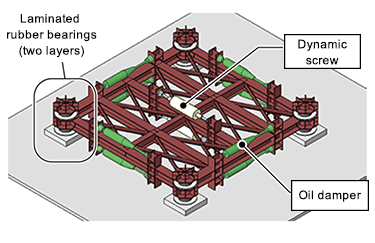 Exterior view of the Shimizu Swing Mass Damper (on left) and device interior (on right)
The SMD structure consists of a steel or concrete counterweight* that is supported by a steel frame equipped with two layers of laminated rubber bearings. Oil dampers and dynamic screws are installed in the interior. The number of SMDs installed ranges from two to four devices, depending on the size of the building.
*Exterior dimensions: 7 m x 7 m; Weight: Around 400 tons
During development of the SMD, we performed a shaking experiment using a reduced scale model (equipped with a 30-ton counterweight) mounted on the large shaking table at the Institute of Technology. This verified the ability of the device to control shaking in two different directions.
Sloped Sliding Isolation Bearing (ANSHIN Slider)
The ANSHIN Slider is a partial seismic isolation system that isolates important equipment from shaking and improves safety during an earthquake.
Installation of the ANSHIN Slider, a special seismic isolation device, between the floor of a structure and the equipment to be protected substantially reduces the acceleration generated in the equipment and prevents objects stored inside from falling over, even in a large earthquake with a seismic intensity greater than 6. Because this enables seismic isolation of the equipment to be protected without seismically isolating the entire building, it is a system that can also be installed at a reasonable cost when equipment is renovated. The seismic isolation device has a low height and offers the superior feature of controlling torsional vibration even when the load is unevenly distributed. It is used to seismically isolate automated racks in warehouses, servers, and other important equipment.