Responds to issues from energy efficiency in buildings to renewable energy power generation
Social concern about global warming is surging due to severe rain or extreme heat all over the world. Shimizu is developing, verifying, and rolling out technologies and solutions to meet our customers' needs, from energy efficiency in buildings and areas, to the promotion of renewable energy power on the supply side.
ZEB (Zero Energy Building) Initiative
Shimizu is pursuing research and development on technologies that will provide comfortable control of air-conditioning and lighting in the entire room; local control as you like based on the concept of task ambient conditioning. Energy savings in offices and cleanrooms, brushing up systems, equipment and devices, is our key technology to achieve comfortable indoor environment.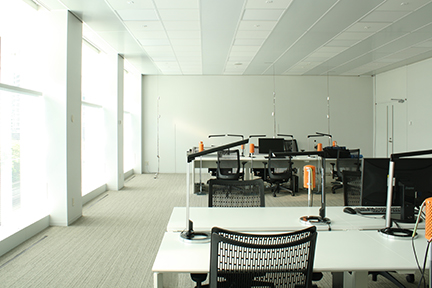 Energy Management System (EMS)
Shimizu developed Smart BEMS in 2010, a system to optimize power and heat control automatically in buildings using a precise demand forecast. It has realized sufficient energy saving in buildings, building complexes and areas. To achieve carbon neutrality and improving BCP functions in communities, we are focusing on the development of state-of-the-art EMS to manage renewable energy power efficiently using batteries and generators.

Renewable Energy Power Generation
Joint research under public, private, and academic partnership has been launched in Fukushima prefecture with the goal of creating a model for realizing the new energy society. That is a cornerstone of Fukushima recovery efforts. Surplus renewable energy can be utilized by producing CO2-free hydrogen, which will be an effective potential solution for achieving net zero energy buildings (ZEB) by storing, transporting, and using it.
The center has also promoted Shimizu's challenge to participate in Fukushima Floating Offshore Wind Farm Demonstration Project, funded by the Ministry of Economy, Trade and Industry, and is supporting growing demand for the introduction of renewable energy by employing various expert technologies such as metocean condition analysis and floating structure motion analysis, which Shimizu has developed.
Radiation Analysis and Radioactive Waste Response
Shimizu is pursuing research and development on decontamination/volume reduction, and intermediate storage aimed at the recovery and restoration of Fukushima, which is the starting point for restoring trust in the use of nuclear power. We are working to refine our technology for evaluating the amount of radioactivity and groundwater flow so that we can contribute to decommissioning and disposal of radioactive waste from nuclear power plants in the future. Moreover, with the greatest expertise in radiation analysis, we provide technical support to medical facilities and high energy accelerator facilities.