June 17, 2021
Shimizu Corporation (President: Kazuyuki Inoue) will begin development of S.LOGi Fukuoka Airport as an international logistics base for an investment of around 3 billion yen. The facility is part of an investment and development project of land near the airport owned by Shimizu (5,575 m2 at Hakata, Fukuoka Prefecture). The ground-breaking ceremony will be held tomorrow on June 18. The entire facility will be leased to Nishi-Nippon Railroad Co., Ltd. after it is completed in August 2022.
Fukuoka Airport plans to increase the number of flights to and from Southeast Asia and various cities in China and airfreight forwarders* want a logistics facility near the airport. The intentions of the freight-forwarding division of Nishi-Nippon Railroad Co., Ltd., a major player Japan, aligned with the planned redevelopment of the site Shimizu owns near the airport, in light of this environment. Shimizu will therefore develop a Built-to-Suit warehouse the specifications desired by Nishi-Nippon Railroad and lease the entire facility to the company.
The construction site is in a perfect location for forwarders, located about 850 m from the airport and around 500 m from the Hanmichibashi Inter-Change on the Fukuoka Urban Expressway loop, in direct distance. S.LOGi Fukuoka Airport, which we are beginning construction on, will be a four-floor facility with a total floor area of 11,558 m2 and maximum storage space of 2,500 m2 on each floor. Half of the third floor will also be equipped with temperature control functions that will make it possible to stock perishable items. We think this will contribute to the business of Nishi-Nippon Railroad since it will fulfill the three major conditions desired by airfreight forwarders: 1) proximity to the airport, 2) capable of 24-hour operation, and 3) BTS warehouse (including a bonded warehouse function). In a comment on leasing the entire facility of S.LOGi Fukuoka Airport, Nishi-Nippon Railroad Co., Ltd. commented, "We want to expand our freight forwarding business and contribute to the growth of Kyushu by establishing an international logistics base located close to Fukuoka Airport."
Shimizu has operated a logistics facility leasing business focused on multi-purpose use and flexible design capable of meeting the needs of tenant companies in the Greater Tokyo Area since it named the S.LOGi series in 2007. We have developed seven logistics facilities having close to 300,000 m2 in total space in five locations along the Metropolitan Intercity Expressway Network and the Outer Ring Expressway thus far and all of the properties are occupied full. The current changes in Japanese consumer purchasing styles and increase in the number of companies targeting 3PL (third-party logistics) has resulted in strong demand for logistics facilities in major Japanese cities, in addition to the Greater Tokyo Area. Shimizu will continue to invest in and develop logistics facilities in Japan, in light of this demand.
≪For Reference≫
Freight Forwarders
Freight forwarders provide freight transport under direct contracts with freight owners, using ships, aircraft, trucks, railroads, and other means of transportation that they do not own themselves. Transporters who own their own means of transport are called freight carriers.
Overview of the S.LOGi Fukuoka Airport Facility
| | |
| --- | --- |
| Location | Hakata, Fukuoka Prefecture |
| Scale | Site area: 5,575 m2, Total floor area: 11,558 m2, 4 floors above ground |
| Structure | Reinforced concrete (columns) and steel frame (beams) hybrid construction (RCSS), plus partial steel frame |
| Development, design & build | Shimizu Corporation |
| Purpose of use | Warehouse, offices |
| Construction period | June 28, 2021 to August 31, 2022 |
Perspective drawing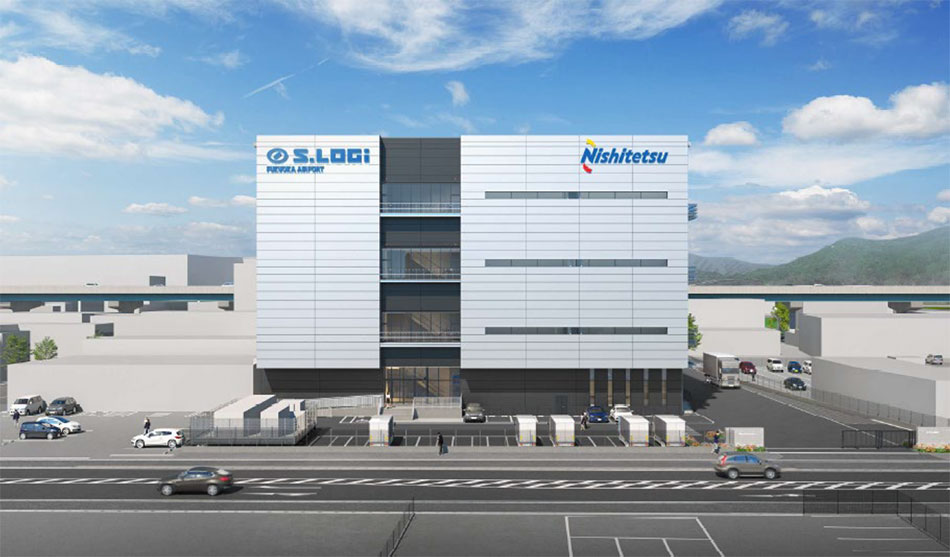 The information contained in this news release is the current information on the date of publication. Please be aware that this information may have changed by the time you view it. Please contact the company to inquire for further details.