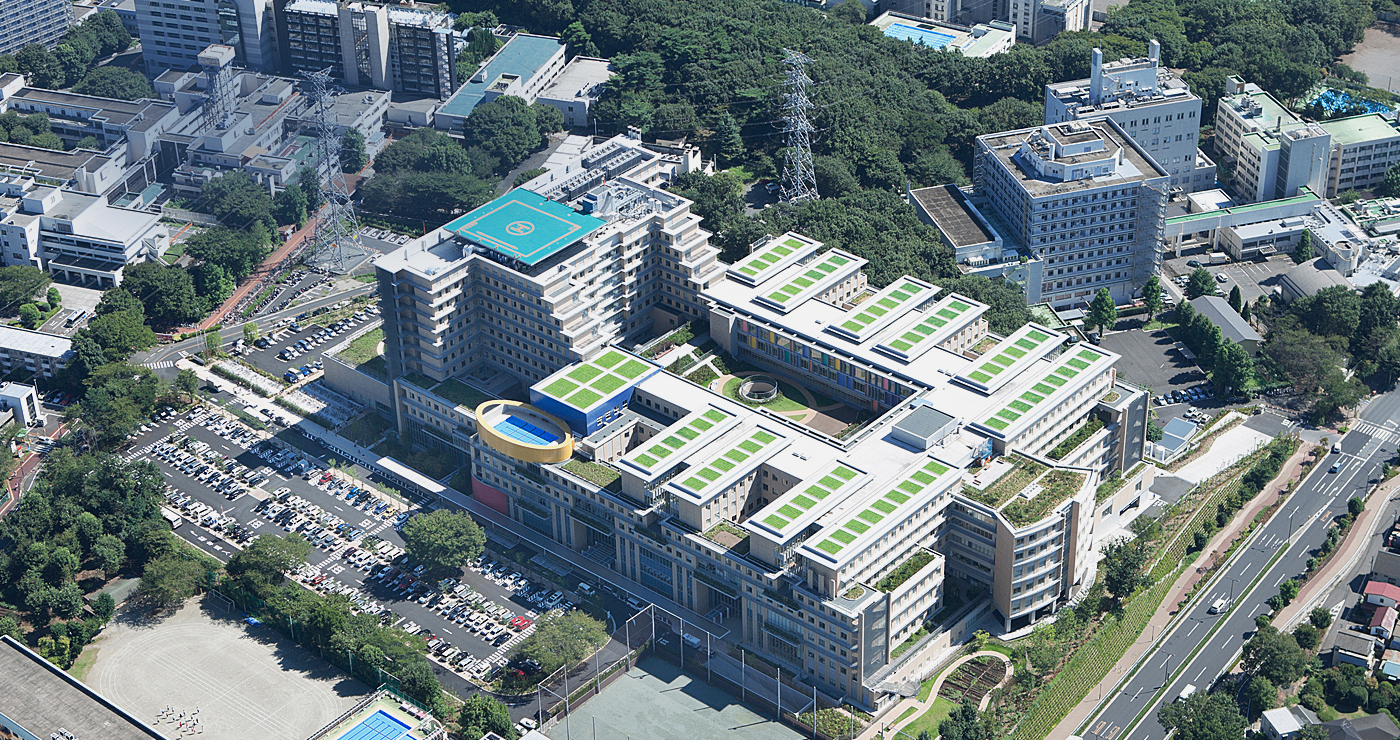 The high-rise annex is Tama Medical Center, and the low-rise annex is the Children's Medical Center.
A New Form of Healthcare Facility, Created from the Integration of Four Hospitals
The Tokyo Metropolitan Tama Medical Center and Children's Medical Center which opened in 2010 was created by reorganizing four metropolitan hospitals (Fuchu Hospital, Kiyose Children's Hospital, Hachioji Children's Hospital, and Umegaoka Hospital) into two hospitals housed in one building. The healthcare facility has 1,350 beds.
It is an important healthcare facility for the Tama area, offering advanced medical care for adults (Tama Medical Center) and physical and psychological healthcare for children (Children's Medical Center).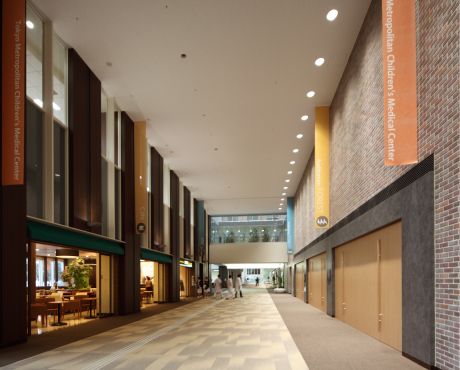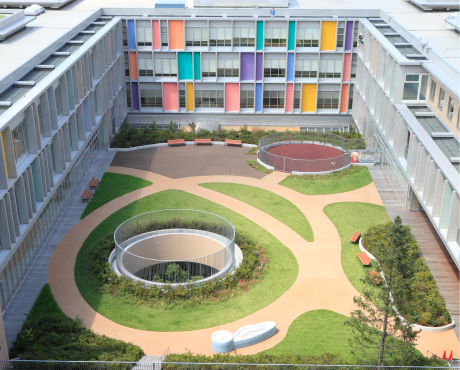 Participating in Operations as Hospital Staff
The hospital is operated according to the new PFI*1 business model. The Tokyo Metropolitan Government handles parts that are directly related to healthcare, and nearly all other facility maintenance and management, security, reception, meal service, inspections, and other services involved in hospital operation are handled by a special purpose company*2 (SPC) set up by Shimizu. Shimizu's participation involves the assignment of 10 employees from Shimizu to Japan's largest PFI-run hospital business, together with 1,300 staff members from 40 partner companies.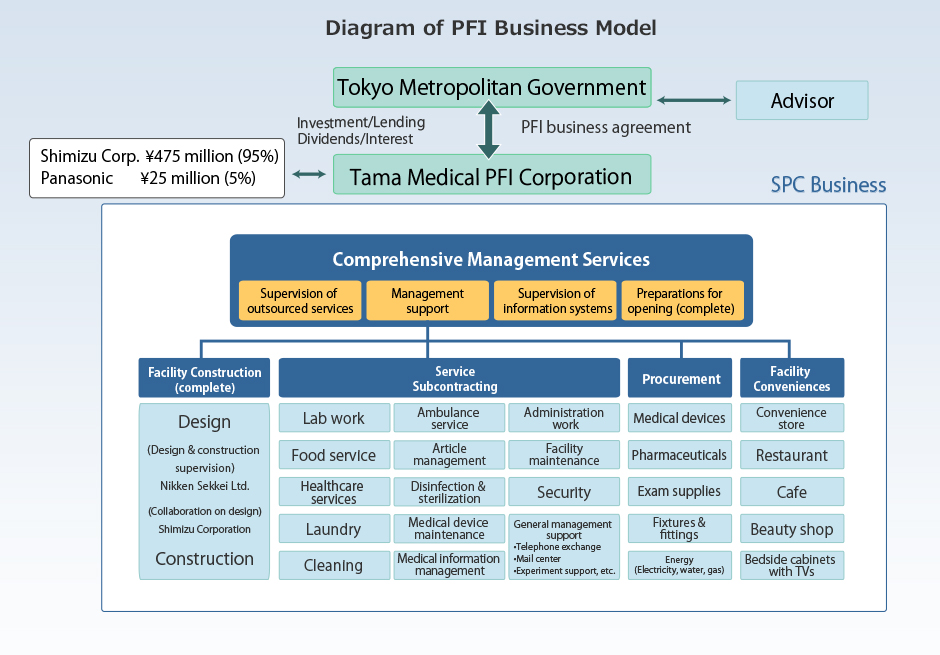 The SPC*3 set up by Shimizu handles everything from design and construction to business operations.
Private Finance Initiative: a method entailing the use of private funds, management capabilities, technical capabilities, and other skills in the construction, maintenance, management, operation, and other aspects of a public facility
Tama Medical PFI Corporation
Special Purpose Company
Both medical centers provide emergency healthcare 365 days a year, 24 hours a day. They also offer advanced medical care such as treatment of cancer, cerebrovascular disease, and heart disease, making this a hospital that supports the well-being of people in the Tama area. As a PFI business provider, Shimizu provides broad support for the advanced healthcare services provided by the hospital. Involved from the design stage, Shimizu created an entire plan that enables efficient operation of medical functions and peripheral services. We maximized the advantages of having two hospitals in one building as much as possible by locating related functions near to each other, making it easy to establish links between different services, etc., thereby creating an environment that is easy to work in. We have continued to provide high quality service as an SPC since the hospital opened in 2010.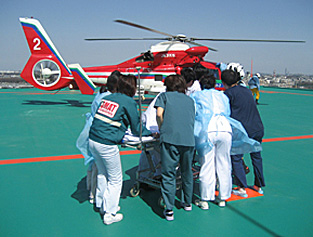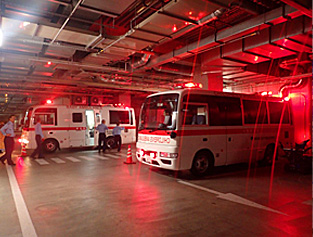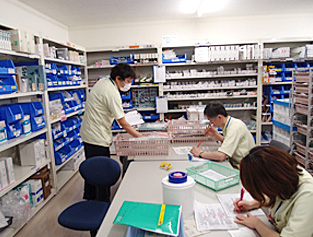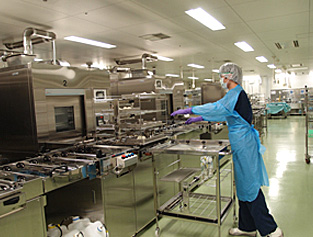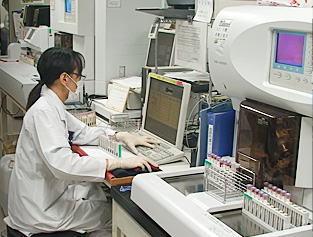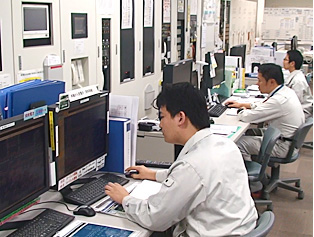 Based on our experiences with planned power outages in the wake of the Great East Japan Earthquake in 2011, we worked as a team with the hospital to develop onsite response measures for future earthquakes or other disasters. A highly detailed BCP*3 was formulated for power outage scenarios, and this was rehearsed by all hospital and PFI staff.
4 Business Continuity Planning: Development of a plan to maintain business continuity in an emergency such as an earthquake or other type of natural disaster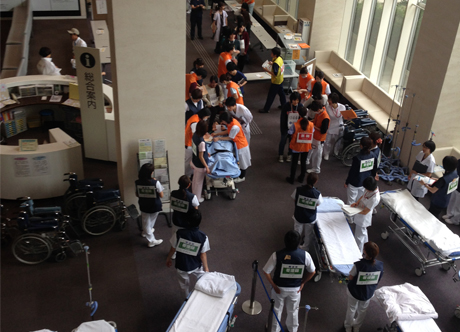 Operational Expertise is one of Shimizu's Strengths
Our 10-year long experience in managing this hospital, including the 5-year preparation period before opening, is a great asset for Shimizu in building hospitals. We have accumulated extensive experience that can be used for other hospitals, and are using this expertise in routine consulting services. Most of all, understanding hospital operation from the inside as a partner with the customer is one of Shimizu's strengths.
The information posted here is the current information on the date of posting.
Please be aware that this information may have changed by the time you view it.