Social awareness of biodiversity is increasing, with major movements such as the third National Biodiversity Strategy of Japan being established in 2007, the Basic Act on Biodiversity being enacted in 2008, and the COP 10 Convention on Biological Diversity being held in Nagoya in Aichi Prefecture, Japan in 2010 being key market drivers. For us, this means that preservation of biodiversity at our construction sites is an important theme in our business.
Recognizing that the construction industry has a large impact on natural ecosystems and biodiversity, Shimizu established the Shimizu Biodiversity Guidelines in April 2009 and the Shimizu Biodiversity Action Plan in June 2010. Based on these two guidelines, we implement environmentally friendly construction activities through biodiversity related research and planning prior to our projects, as well as incorporation of biodiversity elements into our space designs.
Policy on Nature Conservation and Biodiversity
Shimizu Biodiversity Guidelines
The Shimizu Biodiversity Guidelines were established in April 2009 to continue and further develop biodiversity-conscious activities that Shimizu had engaged in thus far in design, construction, R&D, environmental education, social contributions, and other activities, and to fulfill our social responsibilities.
Shimizu Biodiversity Guidelines (PDF: 19.2 KB)
Shimizu Biodiversity Action Plan
The Shimizu Biodiversity Action Plan was established in June 2010. It consists of actions that should be promoted and implemented by each sales, design, and construction staff member along with expressing the vision that Shimizu should aim for and awareness of actual conditions in activities, in accordance with the Shimizu Biodiversity Guidelines.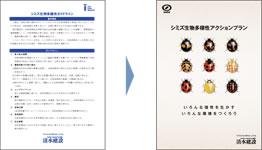 Typical activities in line with the action plan are pursued within the ISO 14001 framework for promoting the spread of biodiversity certification systems, research and planning of business activities with consideration for biodiversity, biodiversity-conscious space design, construction with consideration for the biodiversity of local plants and animals, collaboration with stakeholders and social contribution activities, etc., which are described below, by each related division and section. The action plan is also revised on a regular basis (the action plan itself is not disclosed publicly).
Promoting the Spread of Biodiversity Certification Systems
As a member corporation of the Association for Business Innovation in Harmony with Nature and Community (ABINC), Shimizu participates in various working groups, and contributes to education on and spread of the ABINC Certification.
The system certifies plants, office buildings, commercial facilities, housing complexes, and other types of buildings which engage in efforts to preserve biodiversity as a business establishment in harmony with nature. The Shimizu Institute of Technology located in Koto City, Tokyo is a Shimizu facility that obtained certification in February 2015. The Saisei-no-Mori Urban Biotope, which was built at the Institute of Technology in 2006, is praised for its 2,000 m22 biotope that is visited by more than 300 varieties of wildlife, despite the fact that it is located only 3 km from Ginza. As described in the section entitled Research and Planning of Business Activities with Consideration for Biodiversity, below, Shimizu works to spread ABINC certification through proposals to customers.
Initiatives that Consider Biodiversity in Business Activities
Research and Planning and Construction of Business Activities with Consideration for Biodiversity
At the planning and design stage, we require the mandatory drafting of an "architectural and civil engineering design eco map". This mandatory eco map requires team members to identify and evaluate the biodiversity related key issues such as risks and opportunities and relevant laws and regulations. Moreover, where necessary team members are expected to conduct site-visits for the evaluation of ecosystems and conducting of relevant simulations, as well as consider policies and guidelines for the preservation of biodiversity and the creation of greener infrastructure that can be incorporated into the biodiversity preservation and enhancement plans. Draft biodiversity preservation and enhancement plans will be subject to a design review by the relevant executive design manager, and if approved, will be incorporated into the "design transfer sheet", and passed on to the person in charge of construction.
Shimizu requires the mandatory drafting of a "key environmental area management chart" when beginning construction. This management chart explicitly incorporates items such as impact on ecosystem due to water pollution and issues identified regarding the ecosystem as environmental management indicators. Based on opinions obtained from relevant stakeholders – the client, the designer, the government and municipal offices, the local neighborhood, and academics – if there are any material concerns regarding impact on biodiversity, these concerns are deliberated on at the pre-construction committee meeting, where approval must be provided to proceed with the project.
Furthermore, during and after construction, project teams are expected to cooperate with relevant internal divisions to conduct monitoring over the local ecosystem. Project teams are also expected to recommend obtaining green certifications such as ABINC, SEGES, and SITES to those responsible for the construction. If those responsible for the construction agree to the recommendation, we will provide assistance to obtain the certification and enhance public visibility of the project's greening efforts.
Association for Bussiness Inovation In harmony with Nature and Community
Social and Environment Green Evaluation System
Sustainable SITES Initiative
UE-Net Evaluation of the Ecosystem Network in an Area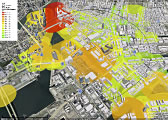 The 3rd National Biodiversity Strategy was established in 2007, the Basic Act on Biodiversity was enacted in 2008, and the 10th Conference of the Parties (COP 10) to the Convention on Biological Diversity was held in Nagoya in Aichi Prefecture in 2010. In 2009, when interest in biodiversity increased in the community, Shimizu developed the UE-Net (Urban Ecological Network), a practical simulation system to assist in the formulation of development plans that consider biodiversity in urban development. UE-Net uses satellite images and data to analyze the natural environment of an area, and visually shows the ripple effect of greening plans on the premises of a business on the surrounding ecosystem network from the perspective of appropriate habitats for wildlife. It proposes greening plans that can contribute to the biodiversity in an area.
In 2011, we expanded the UE-Net biodiversity database in the area along path of wind currents from Uminomori Park to the Imperial Palace in the Tokyo in 10 Years Plan, which contained plans for much urban development. This enabled the input of just the greening plans for development projects, and enabled application of this system in the conceptualization stage of development business, which requires the consideration of different types of greening plans in a short period of time. It could also display the ecosystem network for a broad area and could also be used to consider offset preservation plans prior to development. Shimizu intends to apply UE-Net, with its expanded database, to the evaluation and proposal of urban development plans in an area ranging from the Tokyo waterfront to the city subcenters. This will contribute to the creation of an ecosystem network.
[Main Uses of UE-Net to Date]

| Year | Planned Site | Purpose |
| --- | --- | --- |
| 2009 | Koto City, Tokyo | Government office building |
| 2010 | Shinjuku City, Tokyo | Commercial facility |
| 2010 | Chuo City, Tokyo | Office |
| 2011 | Koto City, Tokyo | Housing complex |
| 2011 | Saitama Prefecture | Educational facility |
| 2011 | Chuo City, Tokyo | Office |
| 2011 | Shinjuku City, Tokyo | Office, factory |
| 2011 | Shinjuku City, Tokyo | Office |
| 2012 | Nakano City, Tokyo | Complex |
| 2012 | Shibuya City, Tokyo | Office |
| 2012 | Minato City, Tokyo | Office |
| 2015 | Kanagawa Prefecture | Complex |
| 2016 | Kanagawa Prefecture | Government office building |
Note: Includes proposals that did not make it the construction order stage.
Shimizu also sets a quantitative goal under ISO 14001 for the number of proposals to customers on biodiversity in projects, including the use of UE-Net, and these proposals are pursued company-wide.
[Number of Proposals to Clients on Biodiversity in Projects]

| Year | Results | (Goal) |
| --- | --- | --- |
| 2015 | 23 proposals | (14 proposals or more) |
| 2016 | 12 proposals | (14 proposals or more) |
| 2017 | - | (14 proposals or more) |
Japan Society of Civil Engineers FY 2012 Environmental Award, Engineering Advancement Association of Japan
Shimizu registers trademark on UE-Net.
Biodiversity Projection Mapping in Urban Areas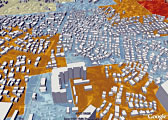 Projection Mapping of Suitable Habitats for Environmental Indicator Species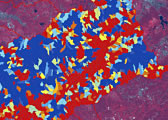 Information on the distribution of indicator species in an area is accumulated at the watershed or city block level, and a quantitative forecast of suitable habitats for the species is created from a statistical model. It is possible to use the map to confirm which areas indicator species are highly likely to inhabit.
Designing Biodiversity-conscious Spaces
Ecological Landscapes Draw on the Hidden Potential of Nature in Designing Spaces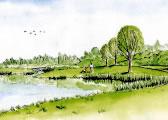 This design method attempts to satisfy the demands of both people and nature by coordinating the ecosystem, engineering, and design in the same dimension. Doing so enables a dam or school, medical facility, or housing complex to be incorporated into the ecosystem, and enables the creation of spaces that take the biodiversity that should normally exist there into consideration.
BioNavi, the Biotope Planning Navigator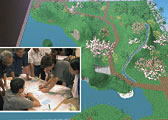 BioNavi is a simulation system that shows a biotope concept clearly as a consensus among stakeholders is worked out, and visually shows the changes over time after completion.
Construction with Consideration for the Biodiversity of Local Plants and Animals
Measures to Protect Plants and Animals During Construction of a Dam or Tunnel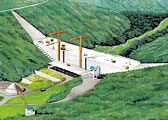 Dam construction is done in the abundant natural environment of mountainous areas, and is accompanied by major changes in the terrain and removal of trees. This has a major impact on the ecosystem, so we take various steps, depending on the particular characteristics of the natural environment, or the status of rare species living in the area.
Tunnel and dam construction is done in the abundant natural environment of mountainous areas, and is accompanied by major changes in the terrain and removal of trees. This has a major impact on the ecosystem, so we take various steps, depending on the particular characteristics of the natural environment, or the status of rare species living in the area. We also rely on the research and advice of a committee or other body consisting mainly of academic experts established to ensure protection of rare species as we proceed with construction.
Examples of Biodiversity Preservation
Preserving Biodiversity in Urban Areas
Yokohama Nomura Building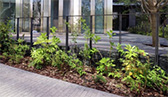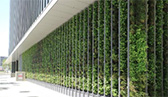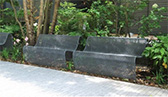 In the Yokohama Nomura Building in Minatomirai, Yokohama, which was completed in 2017, the client and the city of Yokohama set the goal of environmentally-friendly development that incorporated new greening technology.
We employed a team that consisted of all divisions of the Shimizu Group that are involved in ecosystems and the environment and met the needs of the client and the city of Yokohama by successfully employing the following five greening and environmental technologies in the project.
The UE-Net biological habitat suitability simulation technology was used to evaluate the ecological network of the area before and after establishment to provide comparative verification and visualize it.
The introduction of local plant varieties (genetic analysis technology) enables us to consider an ecosystem that is intrinsic to the area, without genetic disturbance.
A depressed planting zone (rain garden) to collect rainwater was created, to promote the natural collection of rainwater and biodiversity in a marsh environment.
A vertical louvered "green radiator" full of greenery was installed on the exterior walls with a wide variety of species intrinsic to Japan, including rare species.
Green benches that would not obstruct the green area were installed, and an urban environment was created to provide a cool spot in summer and where people can experience the biodiversity.
These types of initiatives in preserving biodiversity in urban areas has enabled Shimizu to acquire certification under several environmental assessment systems such as the Organization for Landscape and Urban Green Infrastructure SEGES (Social and Environmental Green Evaluation System), LEED (Leadership in Energy and Environmental Design), and CASBEE (Comprehensive Assessment System for Built Environment Efficiency) certifications.
Advantest Gunma R&D Center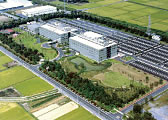 The client who ordered construction of the second building of the Advantest Gunma R&D Center in Meiwa, Gunma Prefecture asked us to install a large biotope on the premises.
We received advice from Associate Professor Shinichi Ishikawa from Gunma University (who had been a professor since 2008 at the time) from the initial stage of design and carefully considered the biotope from the perspective of its intrinsic purpose as a habitat for wildlife. Our goal was to create a complete biotope based on ecology. We proceeded with the design and construction and completed it in April 2001. The biotope has a total area 17,000 m2 and was the largest biotope for a private-sector company at the time.
We were also asked to monitor the biotope after completion, and we confirmed that many small animals lived there and that the biotope was functioning normally. Among the wildlife sighted was the Usuirosasakiri grasshopper which is listed on the Gunma Prefecture endangered wildlife list, and the chicks bred by the Oyoshikiri (Great Reed Warbler) leaving their nest. The biotope is also a place where the employees who work at the leading IT firm can relax and commune with nature.
New Natural Area Creation and Verification through Monitoring (PDF: 1.4 MB)(only in Japanese)
Shimizu Institute of Technology Saisei-no-Mori Urban Biotope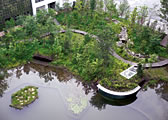 The Saisei-no-Mori urban biotope was created in 2006 as a place to express and communicate the technology used to restore nature. Located at the Shimizu Institute of Technology in Koto City, Tokyo, it serves as a field for research and development on nature restoration technology aimed at improving biodiversity in urban areas. It also enables us to reaffirm the relationship between people and nature that must not be lost, even in an urban area.
The biotope is used for experimental verification on the three themes of restoring natural ecosystems, resources and habitats. It also serves as a venue for environmental education.
Area: 1,940 m2(land area: 1,060 m2 ; water area: 650 m2 )
Wildlife introduced when the biotope was first created in 2006
Plants: 106 tree species, 94 flowering plant species
Wildlife: 7 fish species, 3 shellfish species, 2 crustacean species, and 3 amphibian species
Results of monitoring 10 years after creation in 2016:
Plants: The 200 species of trees and flowering plants that were initially planted had increased to 296 species.
Wildlife: The number of fish increased by 2.5 times compared to when first released.
Insects: Since the biotope was first created, around 160 species dragonflies, butterflies and other insects have made the biotope their habitat and are propagating.
Birds: A total of 13-16 species have flown into the biotope, including herons, spot-billed ducks, and kingfishers.
Shimizu Institute of Technology Biotope
Results of monitoring 10 years after creation(only in Japanese)
Pal Town Josai-no-Mori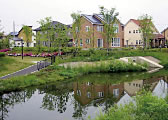 In the Pal Town Josai-no-Mori residential development project in Ota, Gunma Prefecture which we completed in 2005, we used the ecological landscape method to design a space that preserves an ecosystem native to the area.
The high groundwater level is one of the basic elements of this unique local ecosystem. We designed the landscape to provide water retention capacity by creating detention ponds in natural forms.
We also created variation in water depth against the banks without using waterproof sheeting. The gently sloping banks of the regulating ponds were also used as a water garden.
The hydrophilic plants we planted when building the detention pond found the most appropriate water depth on their own and are growing. The banks are now lush with greenery five years after they were built, and the townscape is reflected at the water's edge.
CSR Report 2008: Eco Town Creation Using Unique Local Characteristics (PDF: 4.9 MB)
Preserving Biodiversity in Rural Areas and Mountainous Areas
Mito New Town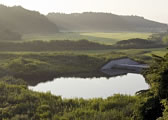 In the Mito New Town Jumanbara Development Project, a residential redevelopment project planned in the city of Mito in Ibaraki Prefecture in 2001, there are many species of rare wildlife and plants such as the Genjibotaru firefly and the Takonoashi (Oriental penthorum). We designed some structural improvements in response to the challenge of maintaining the detention pond function and preserving the local ecosystem, and succeeded in creating a natural detention pond that harbors many different species of wildlife and plants based on the ecological landscaping concept of creating half artificially and allowing nature to create the other half, while securing a sufficient detention pond function.
Creation of a Natural Detention Pond Suited to the Local Ecosystem (PDF: 1.4 MB)(only in Japanese)
Collaboration with Stakeholders and Social Contribution Activities
Ferris University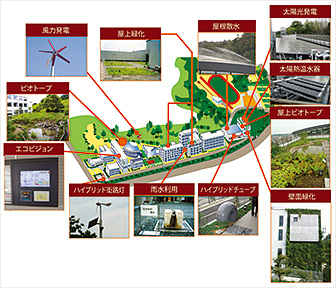 On the Ferris University Ryokuen Campus, we worked with students and staff members of the university to create a sustainable eco campus aimed at creating venue for environmental education that is open to the community. Students who would also be users of the facility participated from the planning stage, and an integrated package of environmental technologies was introduced. These technologies included biotopes (ground level and rooftop), wall greening, wind power, solar power, a solar water heater, rainwater collection equipment, and hybrid street lights, among other technologies.
A participatory program was employed that enabled students and local citizens to participate in all stages of biotope creation, from the research and design to construction, cultivation, and management.
The energy-efficient and renewable energy equipment installed in the gymnasium and other facilities completed in 2005 is also being used for education and student research.
Initiative that Values the Connection between People and the Ecosystem (PDF: 848 KB)(only in Japanese)
Animal Pathway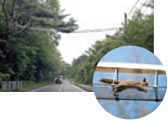 Shimizu worked with an NGO to create an animal pathway for small animals that live in the trees to cross the street without getting hit by a car. The animals that use it include the Yamane (Japanese dormouse), the Nihonrisu (Japanese squirrel), and the Himenezumi (Japanese field mouse).
Building a Roost for the Hooded Crane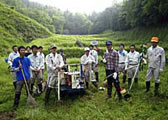 The Hiroshima Branch has participated in crane protection activities in Yashiro, Shunan City, a migration destination for the Hooded Crane, continuously since 1997. We work with the members of the Yashiro Crane Lover's Club, a local volunteer group, in cutting the grass and rice plants on the nesting grounds, preparing the feeding grounds, etc.
Forest Management and Ecosystem Survey at the Foot of Mt. Fuji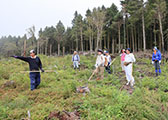 Shimizu supports of the research program run by Earthwatch Institute Japan (NGO), "Working together with the forestry industry to create habitats for endangered species: Endangered butterflies and plants of Mt. Fuji," with several Shimizu employees having volunteered for the program for five days between August and October 2018. Working under the guidance of specialists, the volunteers participated in activities such as mowing the afforestation area and researching the endangered wild butterflies that habitat the area by tracking and recording their locations using GPS. This provided a valuable opportunity for our employees to contribute in the regeneration and restoration of the natural environment and reflect upon the relationship between nature and mankind.
Collaborating with National and Local Governments
Participating in a Ministry of the Environment Exploratory Committee

Geothermal power plants are increasingly gathering public attention as it is becoming a key component of the renewable energy market. On the other hand, roughly 80% of geothermal resources are said to lie within national and nationally designated parks, which presents a challenge for the mainstreaming of geothermal power plants, as preservation of the natural environment and the scenery are key issues that must be considered in these circumstances. Given these emerging issues, the Ministry of the Environment put together an exploratory committee from FY2014 through to FY2015, and Shimizu participated as a committee member. Results from this exploratory committee are disclosed on the Ministry of the Environment website.
Handling of Geothermal Development in National and Nationally Designated Parks (PDF 140 KB)(only in Japanese)
Creating a Healthy Hometown in Kawaba Village, Gunma Prefecture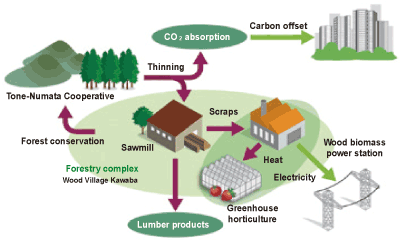 As one of its agriculture and forestry projects, Shimizu is currently working on a project that aims to enhance local production and consumption of forest resources in Kawaba Village, Gunma Prefecture. The Wood Village Kawaba project, a project involving joint investment and collaboration with Kawaba Village the Tone-Numata Forestry Union, and other entities, mainly revolves around the processing and selling of wood products consisting of timber from thinning of 27,200 ha of privately owned forests. The wood waste created from processing is used as fuel for biomass power generation, and the waste heat from power generation is used in greenhouses for growing agricultural produce. The increase in CO2 absorption and fixation achieved by forest thinning is being used to generate carbon credits.
By leveraging waste created from timber in this way, we are able to recover the value that forests can provide. At Shimizu, we refer to these activities as Green Value Programs®. These programs allow us to contribute to the preservation of biodiversity by maintaining forests in a healthy condition. Furthermore, by building small, locally appropriate facilities to minimize disruption of the ecosystem network and mitigate impact on biodiversity.