2023.08.21
In preparation for enactment of the amended Labor Standards Act in April 2024, Shimizu Corporation (President: Kazuyuki Inoue) is striving toward the seemingly contradictory goals of making design operations simultaneously more efficient and more advanced, by steadily adopting AI in design of net zero-energy buildings (ZEBs). The ZEB SEEKER AI solution developed by Shimizu makes it possible to propose ZEBs that fit client needs from the initial planning stage, in which clients decide on the directions for their decarbonization policies and business plans.
ZEBs employ extremely energy-efficient designs. Since planning a ZEB involves integrated building design on aspects including architecture and facilities, it requires advanced know-how and considerable labor. This leads to a reluctance to consider a ZEB design from the initial planning stage, which can involve frequent changes in plans. In addition, it is said that while architecture contributes about 20% to the performance of a ZEB, facilities contribute about 80%. The extremely complex, labor-intensive nature of studying facility specifications serves as a bottleneck in proposing ZEBs, and as growing numbers of projects demand ZEB proposals to help achieve carbon neutrality, designers face ever-increasing workloads. ZEB SEEKER solves both of these challenges simultaneously.
During its development process, ZEB SEEKER learned the design processes related to building energy performance—particularly the processes that determine the capabilities of individual facilities, which require advanced know-how. This enables automation of facility capacity design and assessment of building energy-conservation performance, tasks that place heavy burdens on designers. Based on this feature, ZEB SEEKER explores various design proposals to achieve ZEB status. Information that needs to be entered includes simple 3D data on the building; variable architectural specifications such as types of windowpanes and thermal insulation performance; air-conditioning methods and heat sources; lighting, ventilation, hot water, elevators, energy creation, and other facility specifications; construction costs and running costs reflecting these architectural and facility specifications; clients' needs such as ease of use; and target energy-conservation rate.
Based on this entered information, ZEB SEEKER optimizes more than 50 specifications to identify multiple ZEB proposals best suited to the client's needs, from hundreds of millions of combinations, in the single day. While it depends on the size of the facility, until now it has taken more than one month for designs to study ZEB solutions. ZEB SEEKER increases the efficiency of this process by more than 100 times, while also greatly improving the content of proposals. For example, in a ZEB-ready proposal for a large hospital of about 150 beds, it was able in three days to generate three types of proposals to meet different client needs: proposals with emphases on maintenance, on running cost, and on comfort.
By deploying ZEB SEEKER in its organization Shimizu will aim both to prepare in advance for enactment of the amended Labor Standards Act in 2024 and to improve customer satisfaction even more through more advanced proposal of extremely energy-efficient ZEBs.
≪For Reference≫
ZEB SEEKER schematic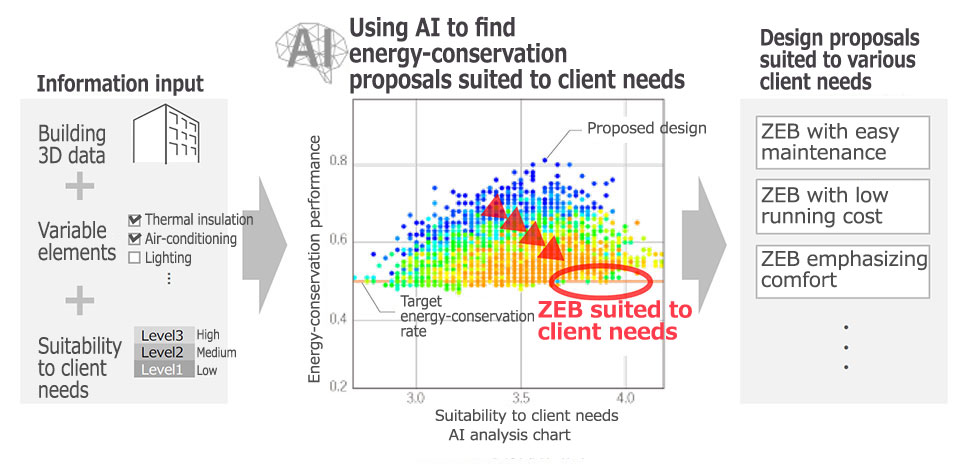 The information contained in this news release is the current information on the date of publication. Please be aware that this information may have changed by the time you view it. Please contact the company to inquire for further details.