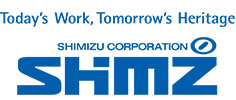 May 23, 2022
Shimizu Corporation (President: Kazuyuki Inoue) commenced major renovations to Dai-ichi Life Hibiya First (formerly DN Tower 21) to apply the Pandemic Ready transmission risk assessment method that was jointly developed with Juntendo University (Professor Satoshi Hori, Department of Infection Control Science, Graduate School of Medicine). Shimizu received the contract design and build after The Dai-ichi Life Insurance Co., Ltd. obtained full ownership of DN Tower 21. The project is slated for completion during fiscal 2023.
Construction of DN Tower 21 completed in 1993, nearly 30 years ago. Considering the floor space occupied per person (5 to 7 m2), the amount of ventilated air (20 m3/hour/person under the Building Standards Act), and the surfaces such as doors and water faucets that designed people touch from that time, the majority of office buildings in the current real estate stock that were constructed 30 years ago or earlier typically pose numerous transmission risk issues in terms of airborne droplets and microparticles and places that people touch.
To design this major renovation project plan with specifications that fit the concept of "an office building that elevates well-being in the post-pandemic era," Shimizu proposed comprehensive measures that reduce transmission risk along four avenues of infection (air, aerosols, airborne droplets, and contact). They include tangible measures in the form of construction and building systems and intangible measures in the building operation and fixtures. This will be Shimizu's first time to apply the Pandemic Ready standards. The result is Pandemic Ready Upgrades that incorporate new working lifestyles and operational methods in the new normal.
These Pandemic Ready Upgrades are premised on about 60% of workers coming to the office, a figure Shimizu reached in discussions with the client, Dai-chi Life Insurance. Floor space per person will increase by 80% to 9 m2, even in normal times, while building operations will increase air ventilation to more than 30 m3/hour, which is 50% higher than that required under the Building Standards Act. In addition, to accommodate diverse approaches to working in an office, 40% of tables will be movable. All tables, including those fixed in place, will ensure 1.8 m of distance between seats. The intent of this design is to reduce the risk of transmission via aerosols and airborne droplets.
Furthermore, to lower the risk of transmission from physical contact, security gates will receive visitors with contactless systems employing IC cards and QR codes, main entrances and bathroom entrances will have automatic doors, and buttons on elevators and elsewhere will have antibacterial and antiviral treatment. And of course, hand sanitizer will be placed throughout the building. These comprehensive efforts resulted in an excellent overall Pandemic Ready score for Dai-ichi Life Hibiya First. A 5 on the five-grade assessment indicates approximately zero transmission risk. The building design scores 3.17 for contact, 3.83 for airborne droplets, 3.56 for aerosol transmission, and 3.44 for airborne transmission. These scores well exceed grade 3, the level considered adequate for preventing transmission. Moreover, the building did not receive a 1 for any of the assessment criteria. This means its design covers every weak point. Juntendo University Professor Satoshi Hori provided his assessment of the Pandemic Ready Upgrades: "They incorporate a good balance of tangible and intangible measures to reduce transmission risk by addressing specified transmission countermeasure vulnerabilities. It's also an excellent plan in terms of cost-effectiveness."
Regardless of a building's purpose, or whether a project is a new construction or upgrade, Shimizu intends to continue proposing designs that score well in Pandemic Ready transmission risk assessments and constructing buildings suited to the post-pandemic era in which we live with COVID.
≪For Reference≫
Pandemic Ready assessment of Dai-ichi Life Hibiya First after upgrades
| | | |
| --- | --- | --- |
| | Current score | Target(3.00) |
| Risk of transmission via contact | 3.17 | 3 |
| Risk of airborne droplet transmission | 3.83 | 3 |
| Risk of airborne microparticle transmission | 3.56 | 3 |
| Risk of airborne transmission | 3.44 | 3 |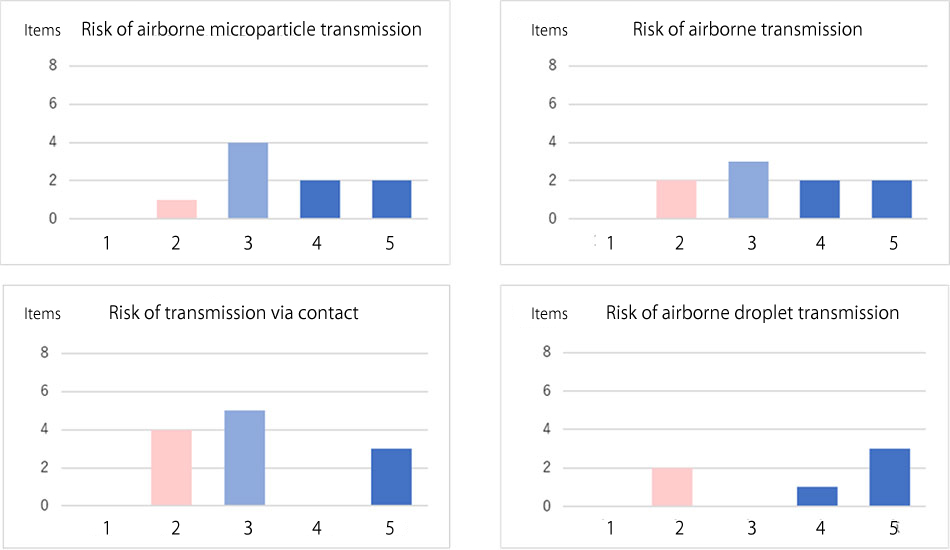 An overall Pandemic Ready score of 5 means nearly zero risk of transmission, but this is only possible in cases where no employees come into the office, all meetings are online, etc. If a building's employees come to the office and attend meetings in-person, an overall score of 4 is extremely good.
Placement and use of fixed and movable tables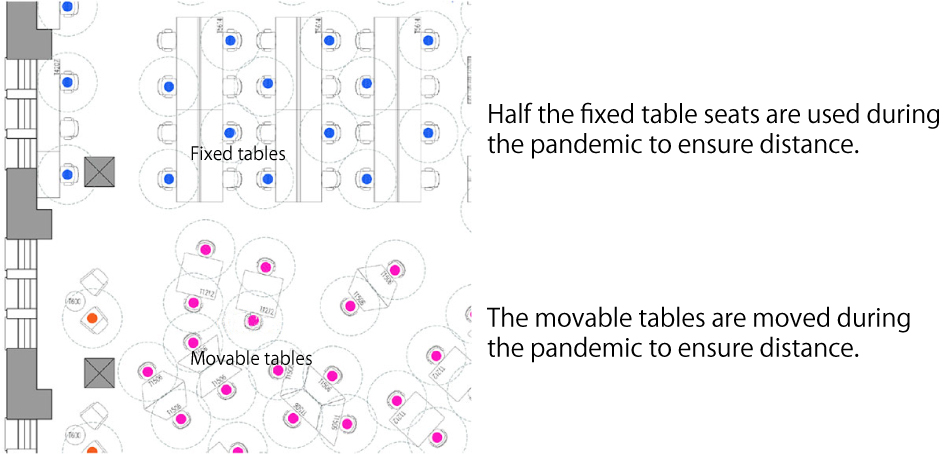 Pandemic Ready
Consulting tools jointly developed by Shimizu and Professor Satoshi Hori of the Juntendo University Graduate School of Medicine's Department of Infection Control Science. The tools comprise the Transmission Risk Assessment Tool (Office Ver. 1.0) that assesses transmission-preventing functions within buildings and the Solution Matrix list of transmission countermeasures.
Overview of Dai-ichi Life Hibiya First
Location

Yurakucho, Chiyoda-ku, Tokyo

Owner

The Dai-ichi Life Insurance Company, Ltd.

Size and structure

24 above-ground floors, 5 basement floors
Building area:6,094m2
Total Floor area:97,966m2
Steel structure and steel-reinforced concrete

Design and build

Shimizu Corporation

Year built

1993
(former Dai-ichi Life Insurance Main Building completed in 1938)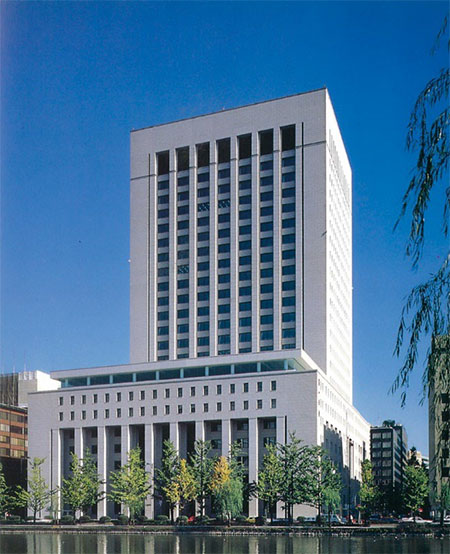 The information contained in this news release is the current information on the date of publication. Please be aware that this information may have changed by the time you view it. Please contact the company to inquire for further details.