March 4, 2022
Shimizu Corporation (President: Kazuyuki Inoue) has developed the Robo-Carrier Fork. The forklift is an autonomous conveyor robot designed to labor-saving and operational efficiency when conveying materials at construction sites.
As the aging skilled construction workers labor-saving in on-site works has become a common issue in Japanese construction industry. Based on the Shimz Smart Site concept of digitalizing construction sites, Shimizu has been implementing Robot Work, in which humans work alongside autonomous robots. The Automatic Conveyor System, a combination of the Robo-Carrier autonomous conveyor robot for horizontal transport of palletized materials and the Autonomous-ELV vertical conveyance elevator, is already in operation. Meanwhile, to further labor-saving when conveying materials, there is a need to develop new forklift robots capable of unloading from delivery trucks. The addition of the Robo-Carrier Fork to the Automatic Conveyor System lineup allows robots to handle all tasks from unloading to placing materials at their designated locations on site.
The Robo-Carrier Fork is an autonomous guided forklift (AGF). It uses simultaneous localization and mapping (SLAM) to determine its location and autonomously travel to a designated location. The lift height is three meters and can carry a maximum load of one ton. When unloading a truck, it autonomously searches for materials and detects pallet notches and openings. If materials are stacked in a yard, the forklift will examine how they are placed, then target the top pallet when inserting the forks into notches and openings. When dropping off materials at the destination, the forklift will first examine the yard's conditions. If materials have already been conveyed, the forklift will stack its cargo on top of them. If there are no other materials, it will find a flat location on the ground. These are some of the ways the Robo-Carrier Fork can flexibly adapt to the work environment.
The operator uses a tablet app to send conveyance instructions to the robot by selecting the desired materials and destination on the screen. The robot then performs everything autonomously, from moving to the loading area to searching for and loading materials and conveying them for unloading at their destination. Cloud-based coordination between the forklift robot, Robo-Carrier, and Autonomous-ELV allows robots to handle all conveyance process tasks, from truck unloading to placing materials at their individual locations. This arrangement should achieve further gains in labor-saving and operational efficiency when conveying materials.
The Robo-Carrier Fork is an autonomous conveyor robot that can help streamline loading and unloading at distribution centers in addition to construction sites. To put the Robo-Carrier Fork into widespread use, Shimizu is exploring rentals and sales to logistics companies in addition to deploying the robot to construction sites.
≪For Reference≫
Robo-Carrier Fork Specifications
Maximum load
1000 kg
Traveling speed
3.6 km/h forward (maximum)
7.2 km/h reverse (maximum)
1.8 km/h Lateral (maximum)
Lift Height
3000 mm
Reach
585 mm
Maximum gradability
1/10
Dimensions
Length 2,450 mm
Width 1,290 mm
Height 2,530 mm
Weight
2,550 kg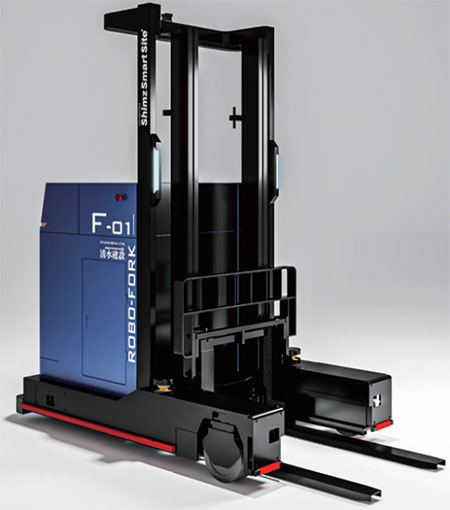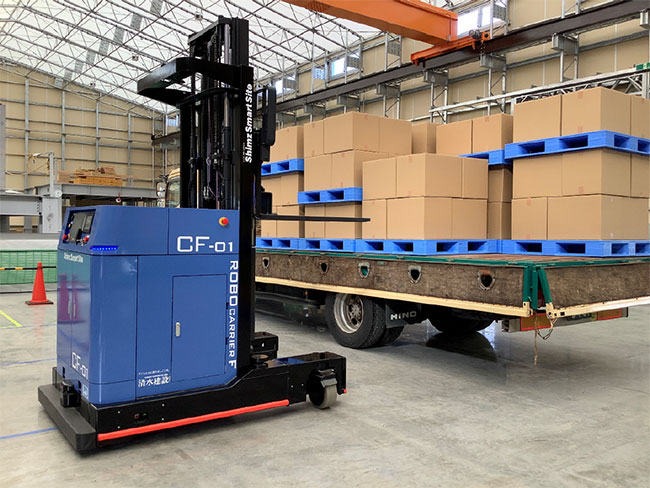 Shimz Smart Site Conceptual Diagram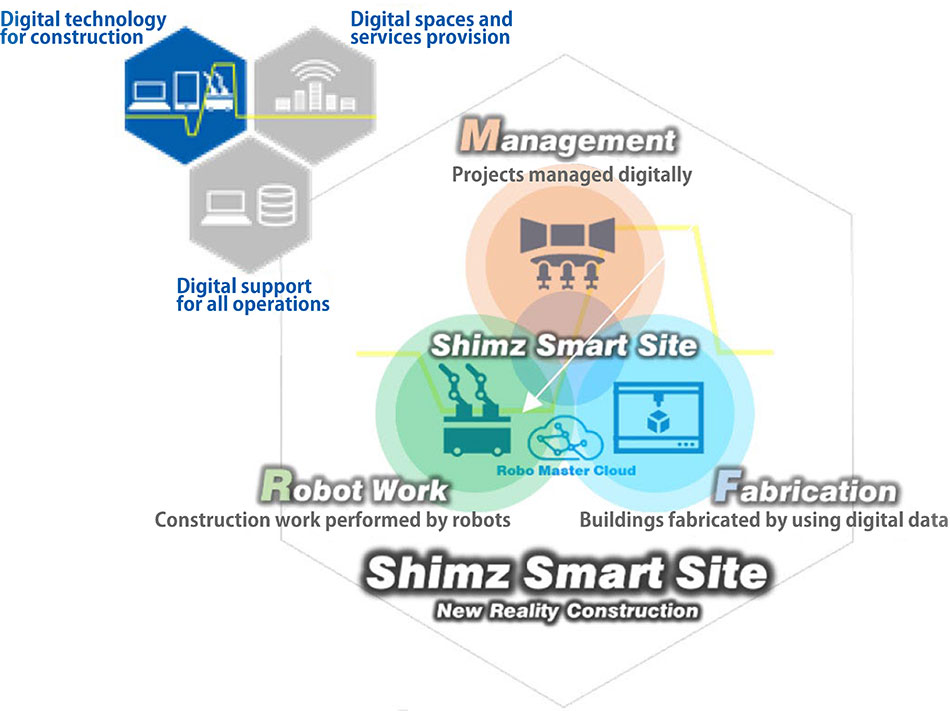 The Shimz Smart Site places Robot Work, Management, and Fabrication at the center of digital technology for constructions.
The information contained in this news release is the current information on the date of publication. Please be aware that this information may have changed by the time you view it. Please contact the company to inquire for further details.