September 21, 2021
Shimizu Corporation(President: Kazuyuki Inoue)has deployed its construction robot, Robo-Buddy Floor, to assist craftsmen in installing raised floor in SHIN-OSAKA DOI BLDG. No5, an ongoing high-rise project near Shin-Osaka Station(client: Doi Fudosan). Following deployment, Robo-Buddy Floor soon achieved the accuracy and efficiency of craftsman. Shimizu is the first company to develop a robot that works on raised floor while Japanese major construction companies have invested in robotics.
With a lack of young craftsmen, the Japanese construction industry is heading for a severe labor shortage. Against this backdrop, the major construction companies assist their sub-contractors to secure new employees, and invest in robotics and digital technology to improve productivity. Our development policy is "collaboration between robots and craftsmen," with robots taking over painstaking and repetitive tasks and craftsmen filling in the gaps where robots cannot.
Robo-Buddy Floor is a multipurpose construction robot with two robotic arms that operate on a four-wheel vehicle. When installing raised floor, Robo-Buddy Floor works and travels autonomously and in sync with a robot that carries the flooring materials. It uses one arm to install the adjustable pedestals that hold up the panels, and the other arm to lay the panels. The manual installation of raised floors panels is a repetitive work: workers have to stoop down and laying panels weighing more than 10 kg each is a painful process. Shimizu developed the raised floor installation function as a new feature of Robo-Buddy. Along with this development, Nichias Corporation and Shimizu jointly developed raised floors with easier assembly. Shimizu hopes to see this system widely adopted in construction sites.
Robo-Buddy Floor can install raised floor when 1)setting laser oscillators necessary to adjust the height of adjustable pedestals, 2)marking on the concrete slab to indicate the locations for the adjustable pedestals, and 3)commanding the robot to start work. Issuing the command is simple. Using a tablet, the user accesses a cloud-based building information model, selects the target area in the floor plan, and then touches the start button. Once it receives the command via the cloud server, Robo-Buddy and the carrying robot travel to the target area using simultaneous localization and mapping(SLAM). Upon arrival, Robo-Buddy identifies the inked adjustable pedestal locations using a camera mounted on the arm that is used to install the adjustable pedestals. With the same arm, Robo-Buddy Floor lifts an adjustable pedestal from the carrying robot and aligns the adjustable pedestal onto the concrete slab with a bonding agent. During this operation, the robot adjusts the height of adjustable pedestal to the level of the lasers. After installing all the adjustable pedestals, Robo-Buddy identifies the locations for the panels using a camera mounted on the arm setting pedestals and then the other arm lifts a panel from the carrying robot and attaches it onto the adjustable pedestals.
In SHIN-OSAKA DOI BLDG. No5, Robo-Buddy has been working efficiently with craftsmen. In a typical floor of this project, around 700 square meters of raised floor is required. Robo-Buddy Floor handles the inner 350 square meters, leaving human workers to handle the outer 350 square meters, which require detail and cut size panels work. Robo-Buddy Floor remains in a probation period; it is set to operate for the duration of September and only on two floors. However, it has so far demonstrated strong performance. It matches craftsmen in speed and in accuracy, installing panels to within 1 mm of the target. These results suggest that Robo-Buddy could reduce labor by around 70 percent. The labor-saving rate increases in proportion to floor space.
Shimizu will continue to develop construction robotics based on Shimz Smart Site, its concept for digital construction. In this way, the corporation will create more opportunities for human–robot collaboration, leading to better productivity.
≪For Reference≫
SHIN-OSAKA DOI BLDG. No5: Project Overview
| | |
| --- | --- |
| Location | 1-2-2 Miyahara, Yodogawa-ku, Osaka-shi |
| Client | Doi Fudosan |
| Scale | Building area:1,107m2, Total floor area:13,402m2, Stories: 13, Penthouse: 1 |
| Structure | Steel structure |
| Construction period | October 15, 2020, to February 28, 2022 |
| Design & build | Shimizu Corporation |
Robo-Buddy Floor in action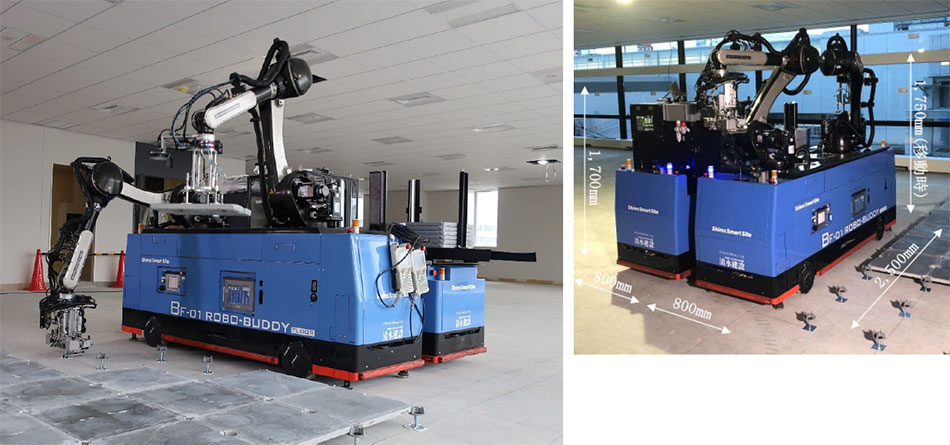 Shimz Smart Site: Concept map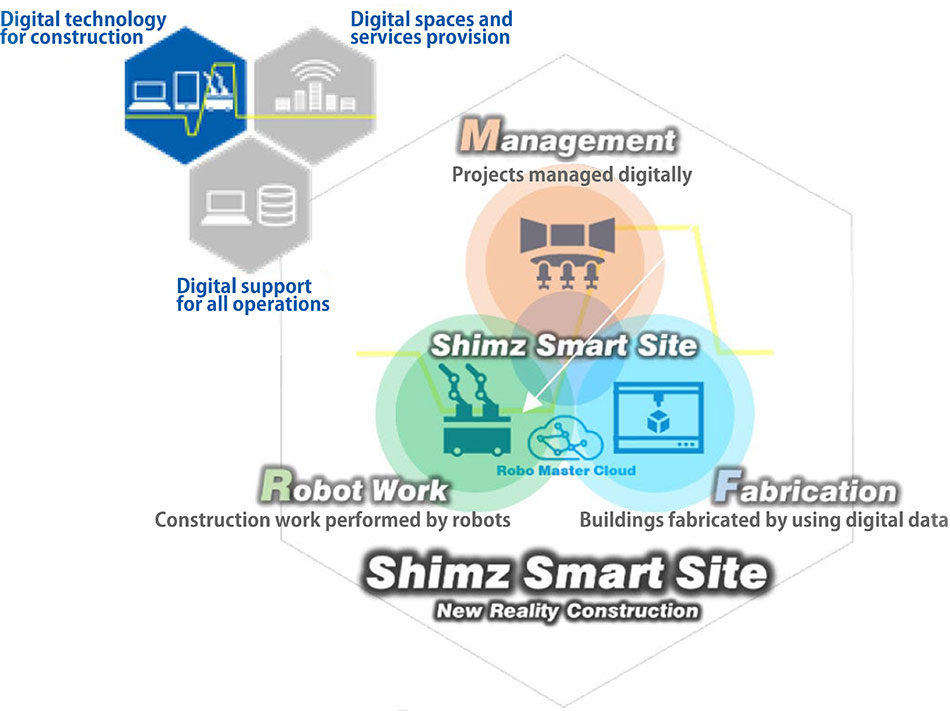 Shimz Smart Site is Shimizu's core concept of Digital technology for construction. The concept combines three elements: robot work(construction work performed by robots), management(projects managed digitally), and fabrication(buildings fabricated by using digital data).
The information contained in this news release is the current information on the date of publication. Please be aware that this information may have changed by the time you view it. Please contact the company to inquire for further details.