July 29, 2021
Shimizu Corporation(President: Kazuyuki Inoue)is putting our "Shimz Smart Site" building construction site digitalization concept into practice as part of the new construction at the A district of the Toranomon-Azabudai District Category 1 Urban Redevelopment Project in Minato- ku, Tokyo. We take on the challenge of construction at very large-scale sites by fusing our cutting-edge digital construction technology with our construction knowledge. As part of this effort, we are currently deploying a newly-developed device, "SmartStation," that digitalizes aspects of construction management such as transmissions, communication, and information sharing within the site. At the same time, we are starting to centrally monitor various types of digital information from a Smart Control Center that anticipates site offices near future.
The main tower being newly constructed in District A, will be a huge structure with a total floor area of 460 thousand square meters, 64 floors above ground(with a 2-story penthouse), and five floors below ground. The many curves in the building's design, and the large quantity of materials corresponding to its scale, make the construction of this building extremely difficult. So, digital technology is indispensable for improving productivity. The newly- developed Smart Station is a digital device that optimizes construction management, and incorporates the functions of a distribution board. There are two types; the base type is called a "Smart Distribution Board," and the multi-function type with a touch-panel display is called a "SmartStation". There are a total of 127 units throughout the entire site of building complex, with a Smart Station installed on every fifth floor.
Common functions include monitoring by 360 degree camera, creating Wi-Fi network, operating remote breaker, and monitoring electric power and trip(fault). Meanwhile, functions unique to the SmartStation include, Web conferencing, the ability to view drawings and reports such as work schedules, decentralized morning assembly guide, and the ability to check work details for that day's worksite and materials delivery / heavy load lifting status. Because of this, our construction supervisors and workers can arrive at the site empty-handed, and communicate among one another when needed, or obtain necessary information related to construction, via SmartStations. In addition, the Wi-Fi network formed around the entire site of building enables the autonomous operation such as transport robots and sending/receiving high-definition photos and videos at low latency in the high floor area. This allows construction management utilizing digital resources to be carried out smoothly.
The digitalization efforts being taken in the A district, are based on the "Shimz Smart Site" concept. This concept puts "Digital technology for construction" one of the cornerstones of our Mid-Term Digital Strategy 2020, into practice in the construction site. We are deploying digital management, robot work, and digital fabrication on a data platform built on a BIM model.
Management using digital technology is already being employed and making operational efficiency such as workers(which includes worker entry/exit and health status), vehicle entry/exit, site safety management(such as ground water levels and excavation linings), construction management of factors such as quality and output, and analysis of video data transmitted from surveillance cameras installed in various locations around the site. The "Smart Control Center" also enables centralized monitoring of digital data across thirty-three 55-inch displays.
Robotic construction, following our welding robots, we plan to introduce autonomous robots to automatically transport materials, finish floors, and patrol the site. Robotic assistants, which operate when given work instructions, are expected to perform tasks such as cutting drywall, spraying rockwool insulation, and cleaning. Moreover, digital fabrication allows design data created by designers to be linked to BIM data. This optimizes all kinds of tasks from providing an estimate, through ordering, to construction. For example, BIM data can be used in various work such as, estimating /ordering steel frames, designing to install and construction methods for parts with complex shapes, digital approval, and 3-D printing of curved members.
We will expand the digital technology for construction know-how put into practice in the A district to other work sites in Japan and overseas. We believe this will lead to improved productivity, and work-style reform on site.
≪For Reference≫
Smart Distribution Board(left)and Smart Station(right)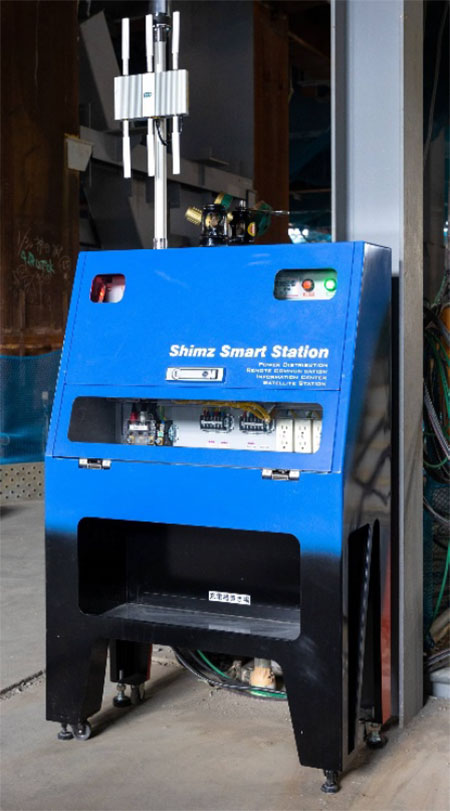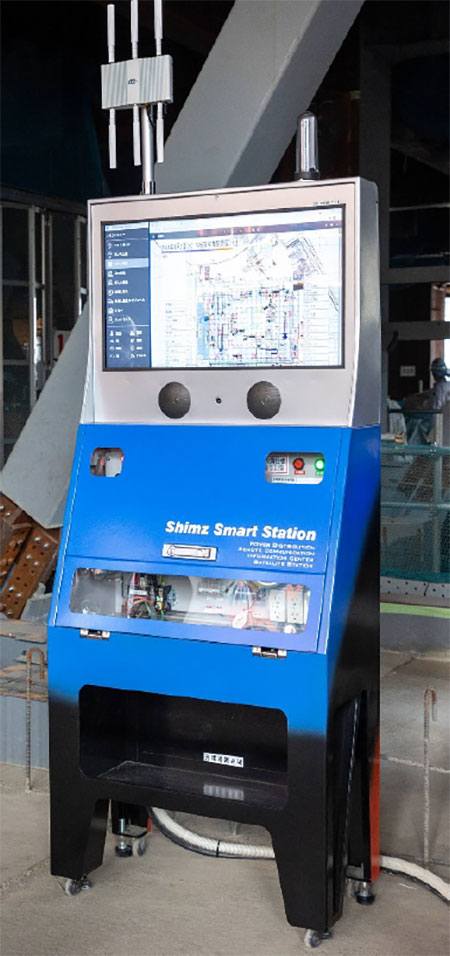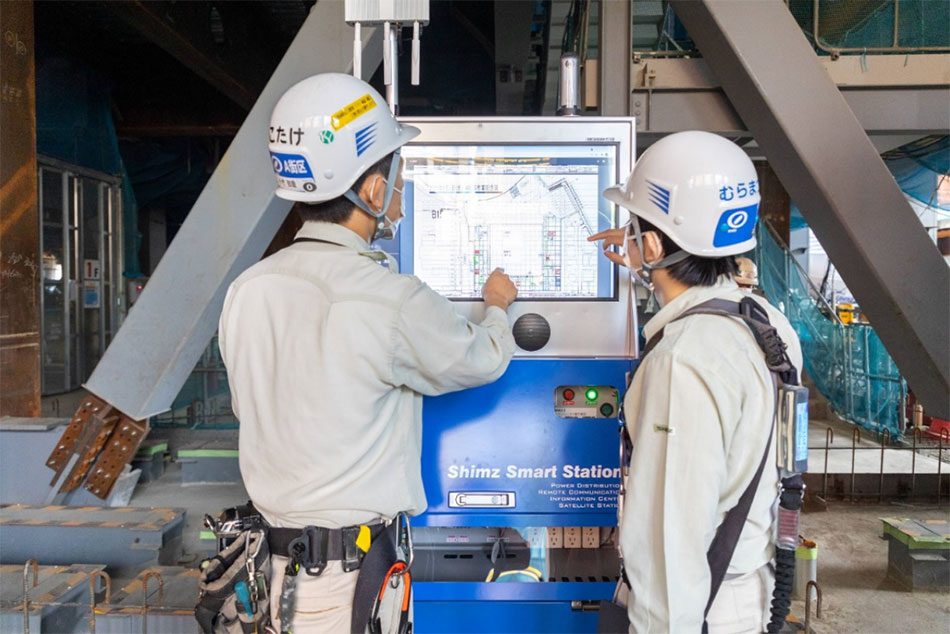 Smart Control Center

Concept map of Shimz Smart Site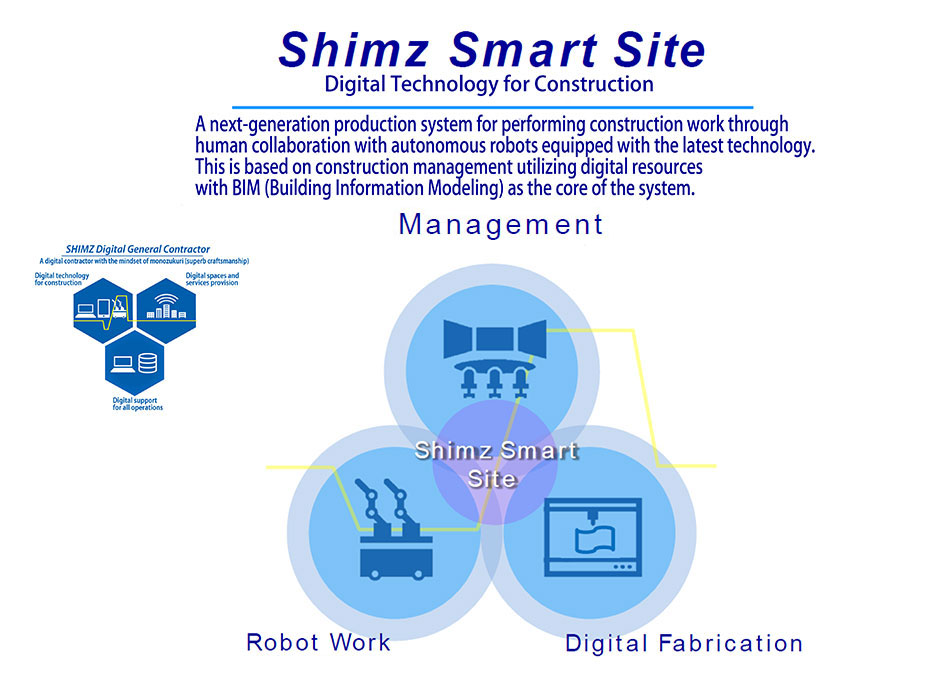 Our Mid-Term Digital Strategy 2020 identifies three cornerstones of the "Shimz Digital General Contractor." These are the concepts of, "Digital technology for construction," "Digital spaces and services provision," and "Digital support for all operations." Shimz Smart Site is a concept that realizes, "Digital technology for construction" in the building construction site(see upper left of diagram).
Web-Magazine Launch
We have begun publishing a Web-Magazine, "Shimz Human & Tech Magazine HITOWAZA!," which shines a spotlight on people and technology. The first issue, published on July 29, features the Toranomon-Azabudai District Category 1 Urban Redevelopment(A District, B-2 District, and Civil Engineering Works)Construction Project. Click on the banner below to find out more.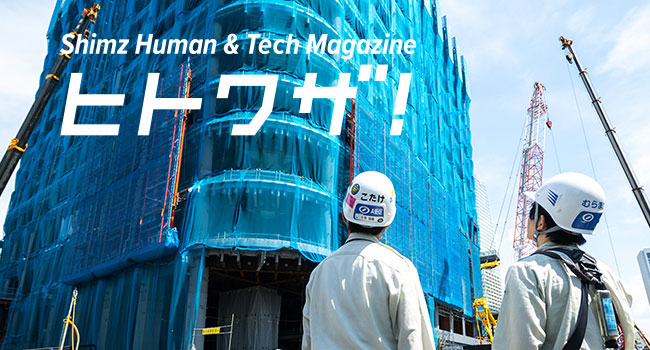 The information contained in this news release is the current information on the date of publication. Please be aware that this information may have changed by the time you view it. Please contact the company to inquire for further details.