June 11, 2021
Shimizu Corporation (President: Kazuyuki Inoue) reached an agreement with OpenSpace, a start-up firm that provides site management software in Silicon Valley. The two companies agreed to work together on promoting sales of the company's OpenSpace site management software, which uses 360°images. MILX CORPORATION (President: Masaki Yamaguchi), a wholly owned subsidiary of Shimizu, and PD System Corporation (President: Hirofumi Fukazawa) concluded the first referral agreement with OpenSpace for the Japanese domestic market.
Shimizu will support the domestic expansion of OpenSpace from now on using nationwide sales channel of MILX, which mainly involved in leasing temporary equipment and materials for construction site, and customer base of PD System, which mainly involved in building design and also sells software for the construction industry.
Through supporting sales, Shimizu aims to create the environment using OpenSpace to be able to participate in digital transformation (DX) from customer, designer, contractor, subcontractor and a wide range of other involved people, from upstream to downstream, involved in construction project. Furthermore, we will expand sales promotion activities to users in industries other than the construction industry.
OpenSpace is an image management tool that builds a virtual space in which people can confirm job site conditions through a 360°view, based on 360°imaging data collected from within the job site. Collection of the imaging data is completed simply by walking through the job site with a camera. Imaging data linked to locations on a drawing are saved on the cloud. This not only enables confirmation of current site conditions; it makes it possible to display and compare with past images and BIM data. This makes it easy to ascertain the degree of progress on construction and discrepancies from the plan.
Shimizu began trial run of OpenSpace at job sites in March 2020, and has operated it on an experiment more than 30 building construction and civil engineering sites in Japan and overseas. We have confirmed its usefulness as a DX platform for site management and concluded a partnership agreement with OpenSpace in October 2020 aimed at expanding software functions. The conclusion of the referral agreement was the result of discussions as part of this partnership agreement.
Shimizu intends to strengthen collaboration with OpenSpace in the future by introducing new functions to the market. We will also look for technical partnerships with other start-up companies in Silicon Valley and other locations overseas and in Japan with the intention of linking this to digital transformation of site management.
≪For Reference≫
OpenSpace Profile
| | |
| --- | --- |
| Location | San Francisco., California, U.S.A. |
| CEO | Jeevan Kalanithihas |
| Capital | USD 87.7 million |
| Date established | 2017 |
| Business description | Developing and selling site management software using 360°photos and videos |
MILX CORPORATION Profile
| | |
| --- | --- |
| Location | Kyobashi, Chuo-ku, Tokyo |
| President | Masaki Yamaguchi |
| Capital | JPY 372 million |
| Date established | August 1946 |
| Business description | Mainly, leasing temporary equipment and materials for construction |
PD System Corporation Profile
| | |
| --- | --- |
| Location | Kyobashi, Chuo-ku, Tokyo |
| President | Hirofumi Fukazawa |
| Capital | JPY 50 million |
| Date established | April 1989 |
| Business description | Mainly, Design, production design and construction support |
OpenSpace Site Management Functions (Comparison with BIM data and past images)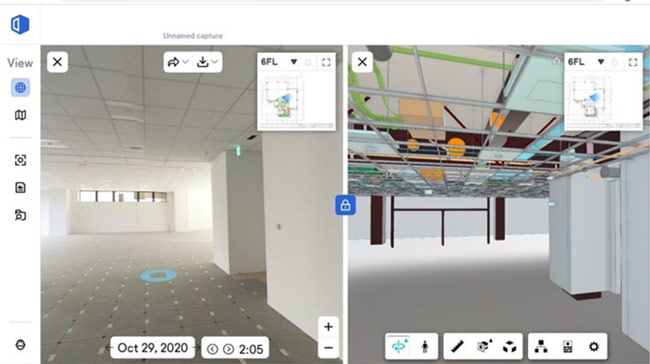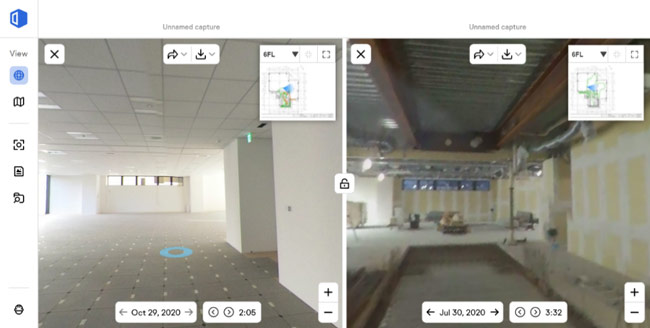 The information contained in this news release is the current information on the date of publication. Please be aware that this information may have changed by the time you view it. Please contact the company to inquire for further details.