May 7, 2021
Shimizu Corporation(President: Kazuyuki Inoue)and wholly-owned subsidiary of Shimizu, SC Machinery Corporation(President: Katsuro Sugihara), IHI Transport Machinery Co., Ltd.,(President: Atsushi Kuwata)jointly commenced work on design and build S-Movable Towercrane, the largest and most dynamic movable tower crane in Japan, to be built for the construction of extra-large facilities. The building of the S-Movable Towercrane renders an extensive advantage in of making the company more competitive in securing the top spot for bids the market forecasted to be worth 5 trillion yen, and acquiring the highest contract share in the onshore wind power facilities in the construction industry. Shimizu will invest it about 1.1 billion yen, and scheduled to be completed by June 2023.
Taking part in the Japanese government's aim of carbon neutrality by 2050, interest in the renewable energy industry greatly increased, particularly the wind power generation, gaining numerous construction projects, offshore and onshore alike. Involving the use of movable cranes, a roaring demand for the construction of onshore wind power facilities is currently being experienced despite having limited land availability. Additionally, various power generating facilities that have passed useful life when the Feed-In Tariff(FIT)system was implemented exhibited the need for equipment replacement and plant rebuilding, further fueling the demand. Since the end of the FIT program, larger and more efficient power-generating facilities have shown to be vital considering the falling prices of electricity and streamlining of construction.
Currently, the available movable cranes in the market are limited to constructing mid-sized(100 meters in height and generating 4 megawatts)power generation facilities. Constructing a larger facility will require a larger crane, a special assembly proving to be inefficient and impractical. Addressing this concern, Shimizu launched the design and build of the S-Movable Towercrane, Japan's largest and most dynamic tower crane, capable of constructing extra-large onshore facilities up to 150 meters tall and generating 5 megawatts.
The S-Movable Towercrane will have a maximum working height of 152 meters, a maximum load of 145 tons, and a 12.5 meter radius(≒1,800 t-m). The S-Movable Towercrane's capacity and mobility present an immense advantage in crane-based construction, establishing its essence in building onshore wind power facilities. Through simple and straightforward disassembly of its mast and base, the S-Movable Towercrane can easily relocate to the next construction yard on a self-propelled, wheeled transport vehicle called a dolly, thereby significantly reducing the construction period. Power producers will reap huge benefits in terms of scheduling and costs.
The design and build of the S-Movable Towercrane takes a key part of Investment Plan of Shimizu's Mid-Term Management Plan(2019-2023)for investments in infrastructure, renewable energy, and new businesses.
Using Japan's largest movable tower crane for onshore and world's largest SEP vessel for offshore, Shimizu aspires to be the frontrunner in the wind power facility construction.
≪For Reference≫
Dolly
A self-propelled, wheeled transport vehicle used to carry containers and other cargo, primarily at airports and distribution warehouses
SC Machinery Corp.
Address
25-9 Kitamachi, Seya-ku, Yokohama-shi, Kanagawa
President
Katsuro Sugihara
Established
April 1988
Capital
200 million yen(100% stake held by Shimizu Corporation)
Business

Construction machinery rentals
Production of temporary structures
Machinery modification, enhancement, and development
Construction support (mechanized construction, temporary electrical equipment construction)
IHI Transport Machinery Co., Ltd.
| | |
| --- | --- |
| Address | St. Luke's Tower, 8-1 Akashi-cho, Chuo-ku, Tokyo |
| President | Atsushi Kuwata |
| Established | April 1973 |
| Capital | 2,647,490,000 yen |
| Business | parking systems and transport machinery planning, development, design, manufacture, sales, leasing, installation, maintenance, remodeling, operating, and management |
The S-Movable Towercrane constructing an onshore wind power generation facility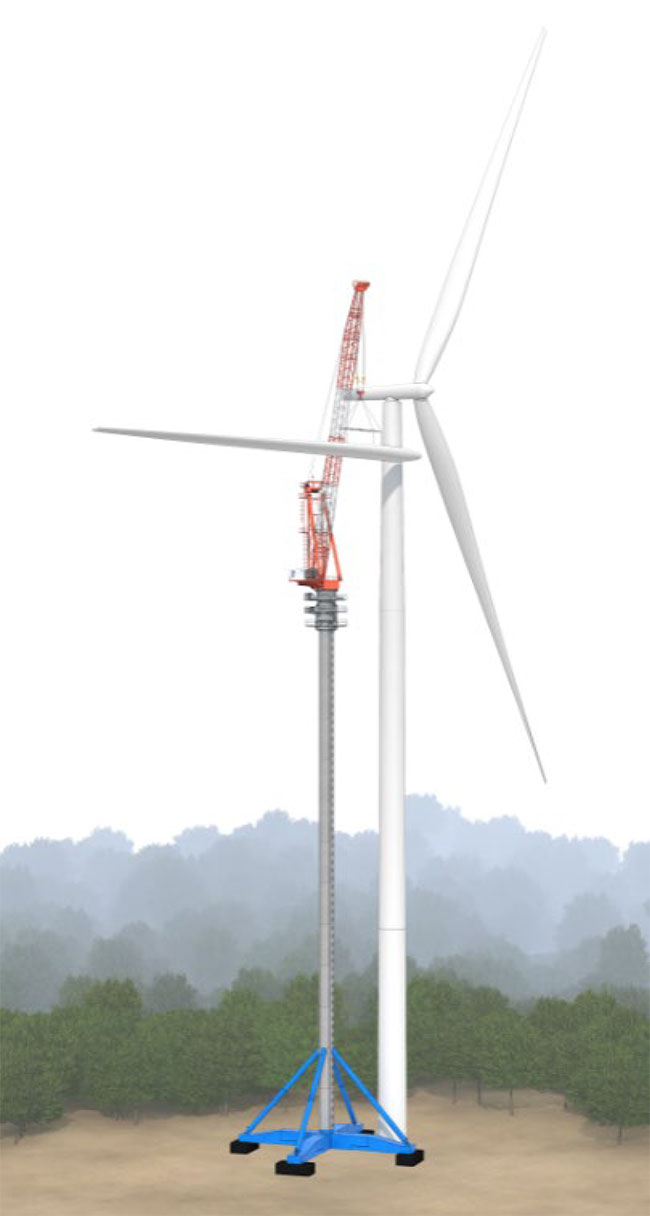 The S-Movable Towercrane moving on a dolly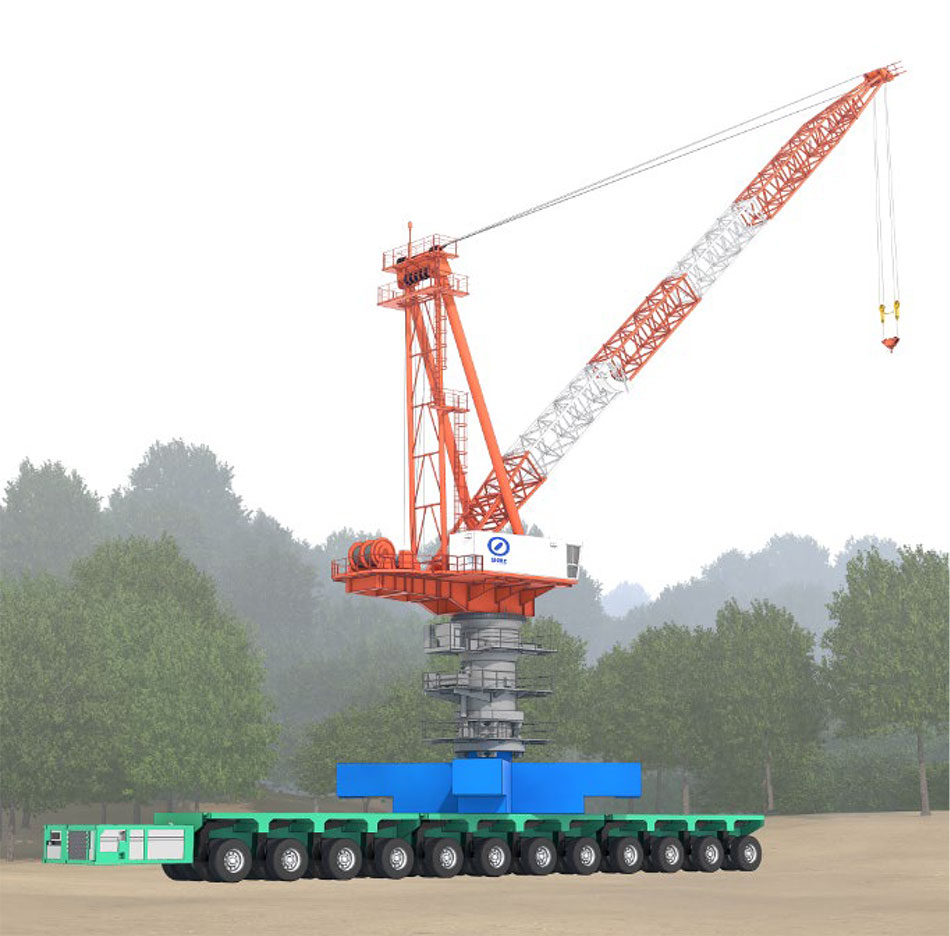 Steps to relocate the S-Movable Towercrane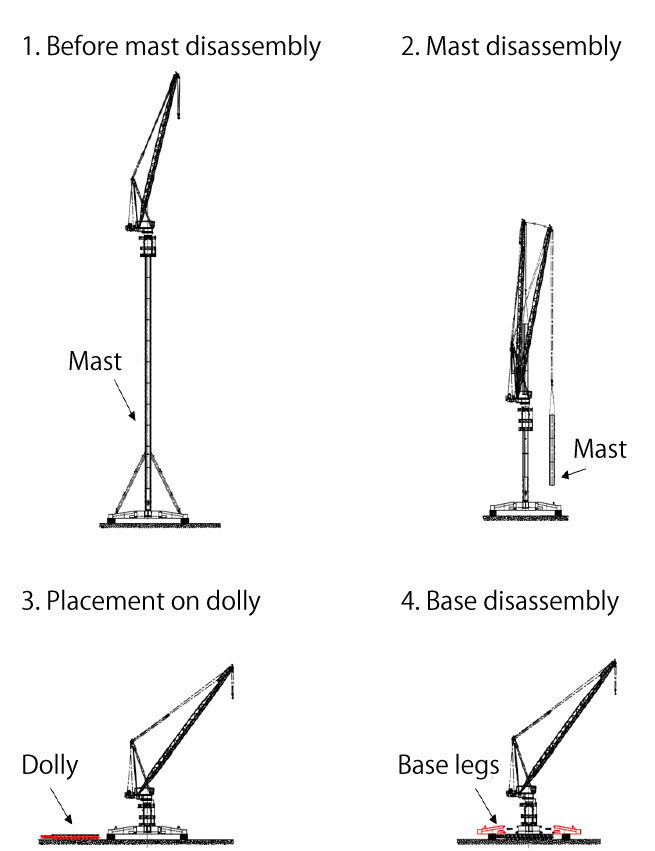 The information contained in this news release is the current information on the date of publication. Please be aware that this information may have changed by the time you view it. Please contact the company to inquire for further details.