February 24, 2021
Shimizu Corporation (President: Kazuyuki Inoue) developed the commercially viable Shizuka Vent ("quiet vent"), a new slit- shaped ventilation that provides infection prevention and energy-efficient fresh air ventilation. It supplies outdoor air without allowing noise to penetrate indoors. The development of slit- shaped ventilation equipped with such noise mitigation for office buildings is a first. The Shizuka Vent is incorporated into the exterior facade as an integrated unit with the opening and closing mechanism. Oiles ECO Corporation, a building equipment manufacturer, will produce the unit and supply it exclusively to Shimizu first, then sell it on the open market.
It is growing demand of buildings installing natural ventilations that are effective use of prevent COVID-19 infections and to zero energy buildings (ZEB). Buildings normally have air supply vents on the exterior walls to bring outdoor air to indoors. However, traffic and other types of noise also penetrate, causing the indoor sound environment to deteriorate. Many buildings can therefore be seen closing off vents even though they bring in fresh air. Shimizu solved the problem of the trade-off between opening vents to let outdoor air in and closing them to prevent noise by incorporating sound absorption and resonance functions in the vent.
The cross-sectional shape of the Shizuka Vent is L-shaped like conventional fresh air supply vents. The vent opening is 30 mm wide. The outdoor air that enters from the bottom of the vent enters the room after passing through sound absorbing material integrated into the side walls, the resonators on both sides, and the opening/closing mechanism. The sound absorbing material is made of noncombustible polyester fiber that offers superior weather resistant and water resistance. It mainly absorbs noise in the mid to high frequencies. The resonators reduce noise in the mid to low frequency ranges that the sound absorbing material cannot absorb. These resonators consist of an aperture facing the vent and cavity. The air inside the cavity functions like a spring and blocks noise. The resonators can be customized for the noise frequencies a customer wants to reduce by adjusting the aperture width and the cavity volume.
Demonstration experiments confirmed the ability of this device to reduce noise entering the room in the 500-2,000 Hz range, main component of noise from main streets and railroads, by 5 to 9 decibels. This effectively results in one-third to one-eighth the amount of noise energy or less, which means a level of noise mitigation that can be clearly experienced.
Since such sound mitigation benefits have been confirmed, the Shizuka Vent has been used in two design proposals for large offices. Shimizu will propose use of the Shizuka Vent in buildings used for various purposes and will pursue development of an integrated version suited for curtain walls in the future.
≪For Reference≫
Shizuka Vent mechanism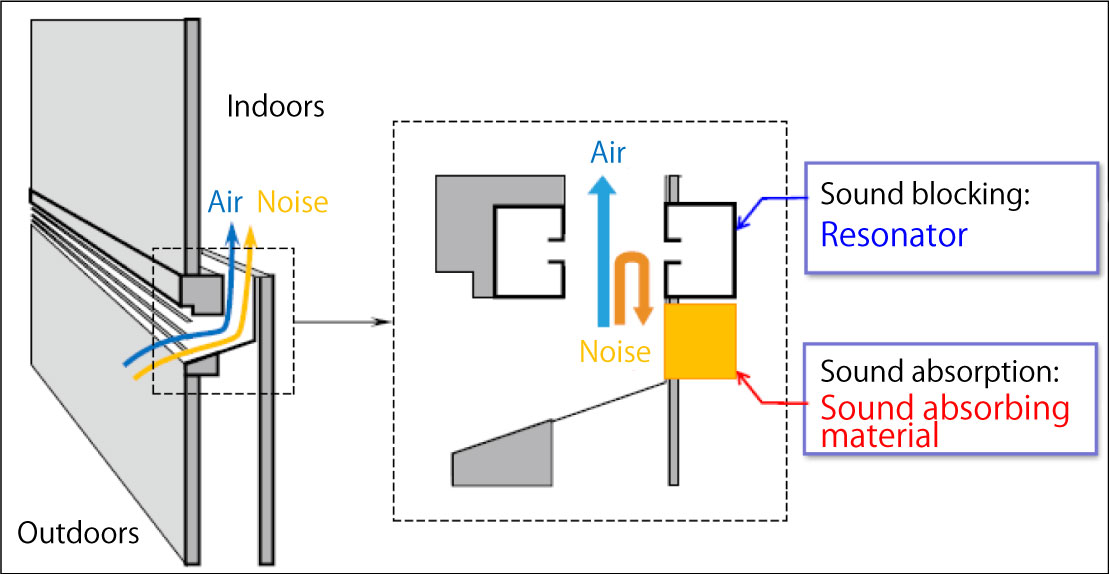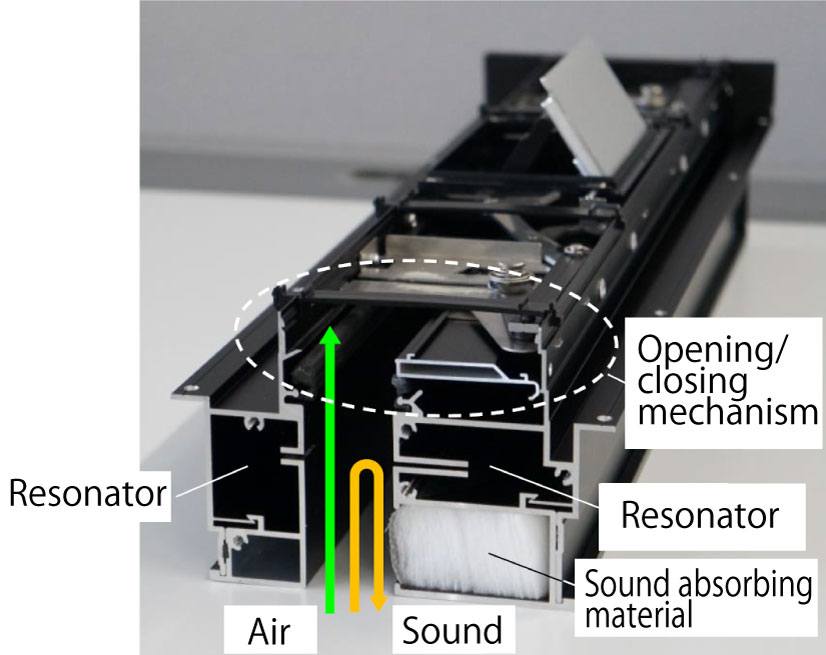 Unit specifications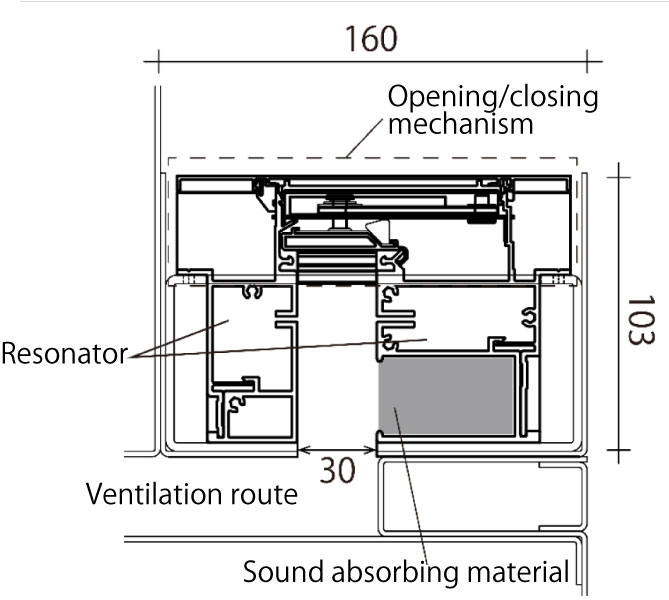 Oiles ECO Corporation
Location
5th TOC Bldg., 21-1, Nishi-Gotanda 7 chome, Shinagawa-ku, Tokyo
President
Takashi Maeda
Date established
December 20, 1973
Capital
200 million yen(wholly owned subsidiary of Oiles Corporation)
Business description

Production, sales, inspection and maintenance work on window opening/closing mechanisms, equipment and parts used in houses and buildings
Installation and construction of building-related energy-saving devices, disaster-prevention equipment, fixtures, seismic isolation devices, automatic control equipment, and other related construction
Civil engineering construction, scaffolding construction, paving construction
Process steel frame and rebar, contract work
Other related or supplementary services
The information contained in this news release is the current information on the date of publication. Please be aware that this information may have changed by the time you view it. Please contact the company to inquire for further details.