February 1, 2021
Shimizu Corporation
Fukoku Mutual Life Insurance Company
Shimizu Comprehensive Development Corporation
Shimizu Corporation (President: Kazuyuki Inoue), Fukoku Mutual Life Insurance Company (President: Yoshiteru Yoneyama), and Shimizu Comprehensive Development Corporation (President: Michio Hoshino) will embark on joint development of a large rental office building having 46,000 m2 in total floor area at the site of Nagoya Fukoku Seimei Building and a parking lot owned by Shimizu group in Marunouchi 1-chome, Naka-ku, Nagoya.
Fukoku Mutual Life Insurance Company is currently working on dismantling the Nagoya Fukoku Seimei Building located on the planned site and Shimizu Corporation will be responsible for the design and build of the new building. The Construction will begin in October 2021 and scheduled to complete January 2024 which 100th anniversary of the founding of Fukoku Mutual Life Insurance Company.
≪Reference≫
Perspective drawing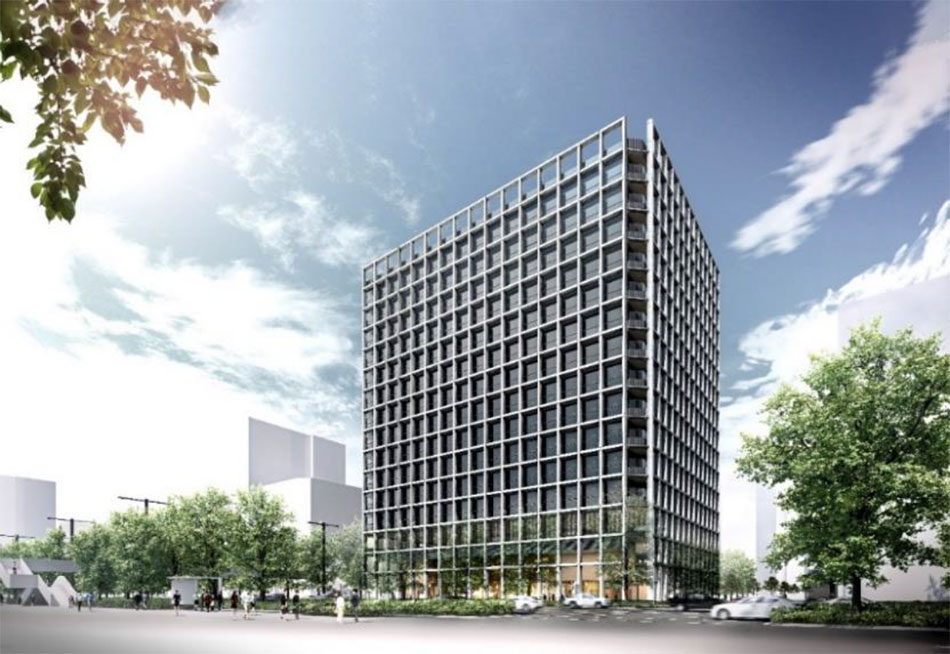 Project Concept
Shimizu Corporation, Fukoku Mutual Life Insurance Company and Shimizu Comprehensive Development Corporation will be based on the development concept of "an office that accommodates diverse workstyles." Office space will be created looking ahead to the new normal by introducing AI, IoT, and other technologies to support people and the building. We will also develop an office building equipped with advanced environmental functions that meet or exceed ZEB Ready* certification, key role to a next-generation office building achieving a sustainable society.
Moreover, we will also focus on BCP measures using a seismic base isolation structure, and infection prevention measures installing non-contact technology and a high- performance ventilation system to create an advanced office building emblematic of Nagoya.
A ZEB(Net Zero Energy Building)is a building that targets achievement of net zero usage of primary energy(oil or coal, solar power, and other types of energy derived from the natural world without conversion and processing)in one year when energy generated is netted against energy used, while creating a comfortable room environment. ZEB Ready refers to a building that meets the standard of a 50% or higher reduction in the use of primary energy in a typical building, excluding renewable energy.
Location Characteristics of Planned Site
The planned site is facing roads with 3 sides and one of them faces Sakura-dori, the main road that starts at Nagoya Station and runs east-west across the city. It is within a 1.2 km walk along Sakura-dori from Nagoya Station, where offices and shopping complex are concentrated. It is also conveniently located near three stations on three train lines, including the Marunouchi Station on the Nagoya Metro Subway Sakura-dori and Tsurumai Lines, and Fushimi on the Higashiyama Line.
The planned site is situated on the western end of the Atsuta Upland. This region is not easily affected by the flood damage that has frequently occurred throughout Japan in recent years, so the site can also contribute to the business continuity of tenant companies.
Building Characteristics
The exterior appearance will have an ageless clean-cut form with a mutually supporting vertical and horizontal frame structure design inspired by the traditional grid pattern townscape of Nagoya.
The first to the third floor will have a parking garage and will support the business activities of tenant companies that use cars as the main means of transportation.
The building will provide approximately 2,350 m2 exclusively owned area of each standard floor, among the largest available in Nagoya and also provide column-less space for tenants with the flexibility to change the layout and purpose. It will also be equipped with an air conditioning system capable of fine adjustments in the thermal environment, and will provide working space that incorporates nature. Furthermore, it will accommodate diverse workstyles to have meeting rooms ranging from small to large and co-working spaces.
Plan Overview
Name
(tentative)Nagoya Marunouchi 1-Chome Project
Location
16, Marunouchi 1-chome, Naka-ku, Nagoya-shi, Aichi Prefecture
Site area
Approx. 4,819 m2
Total floor area
Approx. 46,000 m2
(Exclusively owned area of each standard floor: Approx. 2,350 m2)
Purpose
Office, parking
Scale
No basement, 16 floors above ground
Structure
Reinforced concrete, partial steel frame, seismic base isolation
Project Owners
Shimizu Corporation, Fukoku Mutual Life Insurance Company, Shimizu Comprehensive Development Corporation
Design & build
Shimizu Corporation
Construction period
From October 2021 to January 2024(scheduled)
Map of surrounding area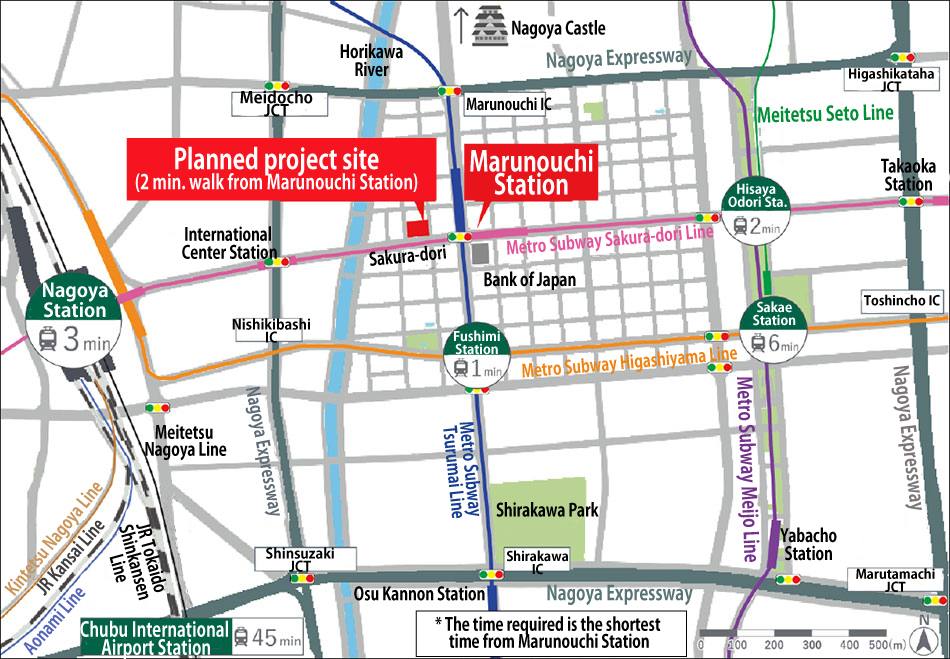 The information contained in this news release is the current information on the date of publication. Please be aware that this information may have changed by the time you view it. Please contact the company to inquire for further details.