November 2, 2020
Shimizu Corporation(President: Kazuyuki Inoue)has acquired 100% of the shares in Perigon International Inc.(hereafter, Perigon)to strengthen its engineering business in North America. Perigon is an engineering company with its headquarters in North Carolina and was made a subsidiary of Shimizu's regional headquarters in North America. The shares were acquired for approximately 500 million yen.
In April 2020, Shimizu reorganized its business in North America, placing its finance subsidiary and regional headquarters(Shimizu America Inc.)under Shimizu USA Holdings Inc., a newly established holding company. This created an organizational structure with multiple operating companies under Shimizu America Inc. Shimizu America Inc. operates construction, engineering, and real estate businesses through these operating subsidiaries. Perigon is one of the operating subsidiaries of Shimizu America Inc.
Perigon is an engineering company that was established in 1964. The company specializes in manufacturing process engineering and has chemical and automotive-related manufacturers as customers. Perigon has annual net sales of around 500 million yen. The company also has a experience of collaboration with Shimizu's operating companies in the U.S. and has a good relationship with Shimizu.
Demand from Japanese and global companies for construction of manufacturing facilities is strong in North America. The acquisition of Perigon will enable Shimizu to effectively expand its business through the company's talented professional engineers. Shimizu plans to obtain around 2 billion yen a year for processing engineering EPC(full turnkey)project orders through this. Shimizu also intends to further enhance its engineering capabilities through human resource exchanges with Perigon.
While most of Shimizu's previous business expansion has been in Asia, it will expand its business in North America hereafter with the aim of achieving a business structure of 25% overseas and 75% domestic business, in terms of gross profit on consolidated net sales, a goal set in the Company's 10-year plan, SHIMZ VISION 2030.
≪Reference≫
Profile of Perigon International Inc.
Representative
Harvey Mason
State of registration
North Carolina(NC)
Location
931 Industrial Drive
Matthews, NC 28105
Business description
Engineering services for chemical and automotive-related manufacturing, etc.
Date established
1964
U.S. Business Organization of Shimizu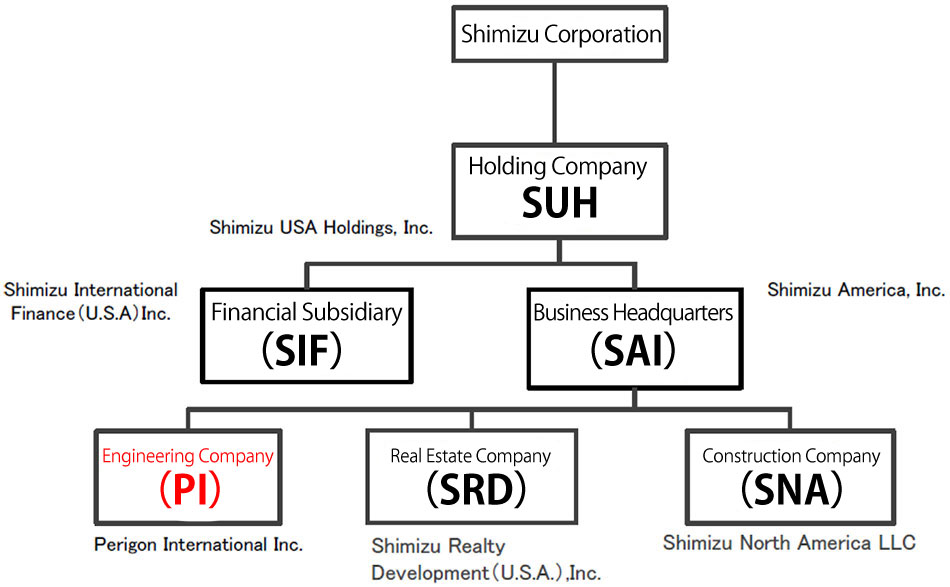 The information contained in this news release is the current information on the date of publication. Please be aware that this information may have changed by the time you view it. Please contact the company to inquire for further details.