August 5, 2020
Shimizu Corporation (President: Kazuyuki Inoue) established the new Takumi Training Center to educate and train skilled construction workers in Funabashi-Shi, Chiba Prefecture. The center began operating on July 27, 2020.
This facility was opened as one part of the measures implemented to secure and train skilled workers, who are essential to construction sites. Shimizu is operating the center together with the Kanekikai, an organization of Shimizu's suppliers and subcontractors. Course participants will mainly be recruited from Kanekikai member companies. In addition to training for new employees, the center will provide skills development training, cross-training to develop multiple skills, and training in operating productivity improvements tools, among other types of training. It will provide an education and training curriculum according to work experience and skill level. Shimizu expects the center to be used by 950 people a year.
As skilled construction workers age, it is essential to secure new workers on sites and provide continuing education and training to apply the proper skills and ensure that they are work-ready in order to maintain the production structure at construction sites. Shimizu has been collaborating with Kanekikai on promoting skilled workers to join them, and providing education and training after joined them, and decided to build and operate a specialized facility to strengthen and expand these initiatives.
The Takumi Training Center consists of two buildings, a Training Building and a Lecture Building, and has a total floor space of 1,010 m2. The Training Building has a 720 m2 work space equipped with various kinds of equipment and materials for training and provides practical skills training according to the educational and training curriculum. The training also develops operators who have mastered the use of construction robots and various other assistive tools to improve productivity and is also used as a place for exploring improvements in productivity improvement tools. The large and medium-sized lecture rooms in the Lecture Building are used to provide introductory training to new employees and for special education to obtain qualifications.
The cross-training to develop multiple skills that forms the core of the curriculum offers an established educational curriculum focused mainly on fire-resistant coating material (MAKIBEE™), raised floors, plaster boards, ALC, floor finishing, wallpaper hanging, and other types of interior finishing. Developing multiple skills provides the advantages such as supplementing the labor force during busy seasons and higher wages from an increase in work opportunities. Moreover, older skilled workers can specialize in types of work that impose a low physical burden to compensate for decreased physical strength, thereby enabling them to work for a longer period of time.
Shimizu envisions use of the center, not only by skilled workers who work at job sites, but also by high school students hoping to enter the construction industry and their guardians, and teachers as well. By providing a place for future job candidates to tour construction and experience hands- on learning, Shimizu intends to show the appeal of the construction industry and actively demonstrate the Company's attitude toward human resource development, and thinks that this will lead to an increase in new employees.
Securing and training new employees in cooperation with suppliers and subcontractors in this center is directly connected to strengthening and expanding the supply chain for the Shimizu Group. For this reason, Shimizu pays the salaries of course participants during training and also compensates the instructors sent by subcontractors. Shimizu and the Kanekikai intend to develop the human resources who will be responsible for Shimizu Group construction business in this center, to fulfill the social mission of the construction industry.
≪For Reference≫
Center Overview
Name
Takumi Training Center
Location
37-2 Shiomicho, Funabashi-shi, Chiba Prefecture
Scale
<Lecture Building> 2 floors above ground, total floor space of 290m2
<Training Building> Single story, total floor space of 720m2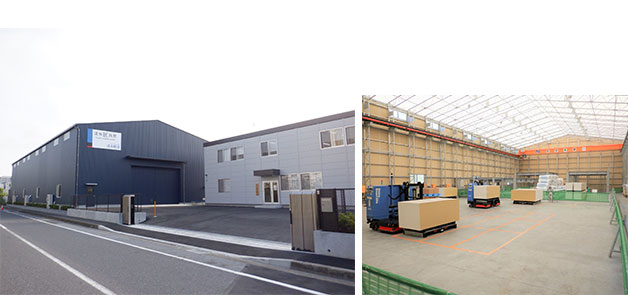 The information contained in this news release is the current information on the date of publication. Please be aware that this information may have changed by the time you view it. Please contact the company to inquire for further details.