July 4, 2018
A joint venture between Shimizu Corporation (President: Kazuyuki Inoue) and Maeda Corporation recently completed the shield tunnel boring works for Package CP-1B of Ho Chi Minh City (HCMC) Metro Line 1, which is under construction in Ho Chi Minh City, Vietnam. The shield tunnel boring machine completed excavation of a 1,562-meter-long tunnel and emerged at its destination at the Opera House Station building.
HCMC Metro Line 1 is Vietnam's first urban railway, and connects Ben Thanh in the center of the city to Suoi Tien in the northeast section of the city. At a total length of 19.7 km, the line consists of a 2.5-kilometer underground section on the west side of Ho Chi Minh from Ben Thanh Station which adjoins a 17.2-kilometer elevated section. The construction work is financed by a yen loan from Japan and was ordered in three packages: Two underground packages and a third package aboveground. Construction of each of the packages is being performed by a joint venture of well-known Japanese companies. The CP-1B section that Shimizu is responsible for is a 1.74-kilometer-long underground section that encompasses Opera House Station and Ba Son Station. Construction began in August 2014.
The underground structure of package CP-1B consists of Opera House Station (190 m) on the western end, twin shield tunnels (781 m long x 2 shield tunnels), Ba Son Station (240 m), and a cut-and-cover tunnel (534 m long). The shield tunnels, which have inbound and outbound tunnels for the two lines connecting Opera House Station with Ba Son Station, were excavated with one shield tunnel boring machine. The first shield excavation began from the Ba Son Station side on May 25, 2017, and the shield tunnel boring machine arrived at the east end of Opera House Station on October 18, 2017. The shield tunnel boring machine was then disassembled in the station. The parts were then reassembled at Ba Son Station and the second stage of excavation began on January 27, 2018 and was recently completed.
Highly sophisticated and careful management of the shield excavation was required due to the proximity of construction work to the historical structure of the Opera House Building which has a shallow foundation, among other factors. However, the joint venture was able to complete the excavation without incident by paying exacting attention to the work while also working to transfer our knowledge of the technology to local engineers and workers.
Construction on the project is now over 70% complete and is nearing the final stages. The next steps are to lay the invert concrete in the shield tunnel, finish construction of the cut-and-cover tunnel, and complete installation of the interior facilities for the subway stations. Shimizu and the joint venture intend to proceed safely and steadily with the construction work and contribute to the development of Vietnam by providing high quality infrastructure.
<< For Reference >>
Overview of Construction
Project name
HCMC Metro Line 1 Project, Package CP-1B
Construction location
Ho Chi Minh City, Socialist Republic of Vietnam
Customer
Ho Chi Minh City Management Authority for Urban Railways (MAUR)
Contract type
Design and Build
Scale
Section length: 1.74 km
・Shield tunnel (781 m x 2 tunnels, inbound and outbound)
・Cut-and-cover tunnel: 400 m; Cut-and-cover U-shaped
 culvert: 134 m
・Underground station house
 Opera House Station: 190 m long,
 4 levels below ground, depth of 27.35 m
 Ba Son Station: 240 m long,
 2 levels below ground, depth of 17.29 m
Contract value
Approx. 24.6 billion yen (upon order)
Contract term
54 months (August 2014 to February 2019)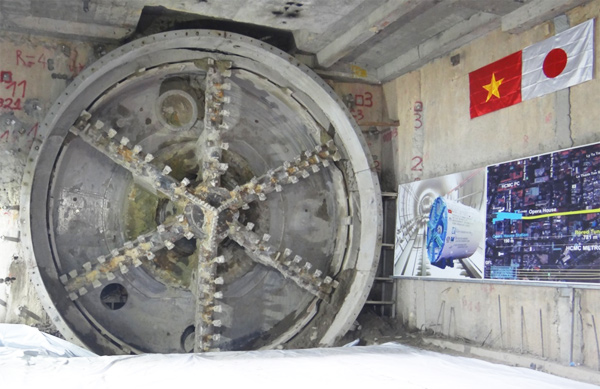 The information contained in this news release is the current information on the date of publication. Please be aware that this information may have changed by the time you view it. Please contact the company to inquire for further details.