June 18, 2018
Shimizu Corporation (President: Kazuyuki Inoue) has launched plans for integrated complex development of a project with total floor space of 116,000 m2. The core of the project will be a large office building for lease and the largest hotel in the Toyosu area. The project is located in Block 4-2 and Block 4-3 of Toyosu 6-chome, in Koto-ku, Tokyo. Shimizu will handle the development, design, and construction. The decision on urban plan by Tokyo Metropolitan Government was made on June 18, 2018. Construction will begin around the spring of 2019 with the goal of completion in fiscal year 2020. At an investment of roughly 60 billion yen, this will be the largest project Shimizu has developed on its own.
This urban district is located within 4 km of Tokyo Station. It is adjacent to Shijo-mae Station on the Yurikamome Tokyo Waterfront New Transit Waterfront Line, and close to the Toyosu Interchange of the Metropolitan Expressway. The project plans include construction of a transportation plaza between the office building and hotel to enable arrival and departure of express buses and route buses and utilize the highly convenient transportation. We also plan to contribute to community development in the Toyosu area by building facilities for transportation and festivities, a pedestrian network, and other amenities.
We will pursue diversity, multifunctionality, and comfort in the 11-story office building (in Block 4-2), which will have a total floor space of 84,000 m2, and will provide an environment in which tenant companies can create their own new workplaces. The approximately 6,612 m2 per floor will provide spaces for a spacious heavy-duty zone*1 and plumbing and enable a flexible layout. The building will also have floors with high ceilings that will enable use for a wide range of purposes such as studios, research facilities, and showrooms. We will also construct an office environment that adds a high degree of value by utilizing the greenery and waterfront in the surrounding environment and considering the health and comfort of office workers, and aim to obtain WELL certification*2 for the building.
We will build the largest hotel in the area with over 500 guest rooms to accommodate the anticipated growth in demand for lodging of tourists and business people around the Toyosu area. The hotel (in Block 4-3) will have 14 floors and a total floor space of 32,000 m2. We also intend to create an urban resort that takes advantage of the waterfront scenery and will build a spacious communal bath on the top floor. Kyoritsu Maintenance Co., Ltd. will manage the hotel.
Both the office and hotel will utilize the heat from the Tokyo Gas Toyosu Smart Energy Center located in the adjacent block, and we will also aim to achieve ZEB Ready*3 status by saving energy and reducing CO2 emissions through integrated management by a co-generation system installed on the building side.
*1 Heavy-duty zone
A reinforced zone capable of withstanding heavy floor loads
*2 WELL (The WELL Building Standard) certification system
This is the world's first system for evaluating buildings and their interior environments from the perspective of wellness (health and comfort). It was established by Delos Living, LLC. The building and interior environment are evaluated on approximately 100 features covering the seven core concepts of Air, Water, Nourishment, Light, Fitness, Comfort, and Mind. Platinum, Gold, and Silver certifications are awarded depending on the level.
*3 ZEB Ready
A building which achieves energy savings of 50% or more in primary energy consumption compared to the primary energy consumption level, excluding renewable energy.
<< For Reference >>
Plan Overview
Name
Toyosu 6-chome, Block 4-2 and Block 4-3 Project (tentative name)
Location
Toyosu 6-chome, Koto-ku, Tokyo
Office Building (Block 4-2)
Hotel (Block 4-3)
Plot area
Approx. 16,170 m2
Approx. 8,300m2
Purpose
Offices, shops, transportation plaza, parking
Hotel, shops, parking
Structure/Scale
Steel (seismic isolation)
11 floors above ground, 1-story penthouse
Steel
14 floors above ground, 1-story penthouse
Total Floor Space
Approx. 84,000 m2
Approx. 32,000 m2
Project Operator
Shimizu Corporation
Design & construction
Shimizu Corporation
* About the area being developed
Part of the development land in Toyosu 6-chome owned by Tokyo Gas Site Development
Tokyo Gas Site Development is pursuing development that will improve the attractiveness of the area and increase its value. Shimizu intends to lease the land and carry out the development project.
Diagram of Area Surrounding the Planned Location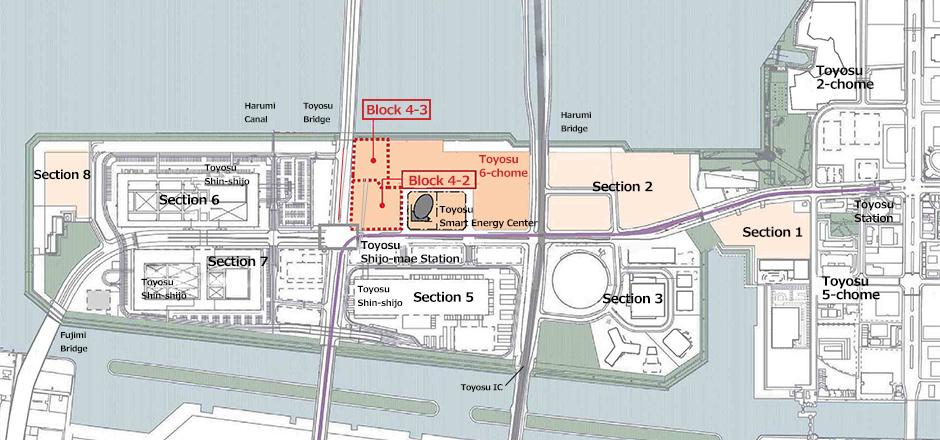 Conceptual Drawing of External View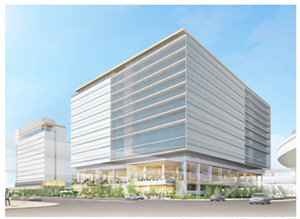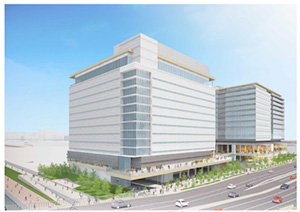 The information contained in this news release is the current information on the date of publication. Please be aware that this information may have changed by the time you view it. Please contact the company to inquire for further details.