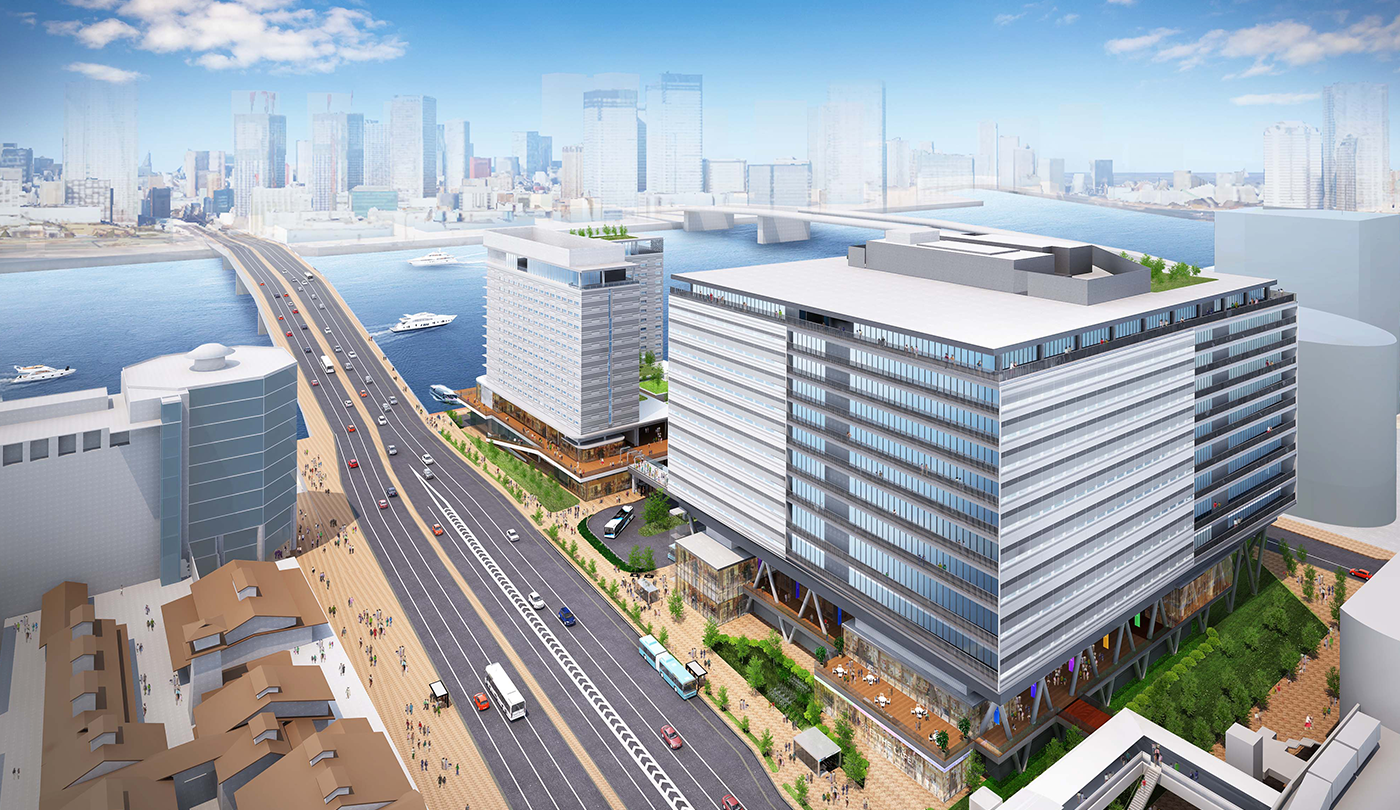 Conceptual Drawing of completed project. The office building (Block 4-2) is on the right; the hotel (Block 4-3) is on the left.
Toyosu in Koto-ku, Tokyo is a town that is filled with rows of condominium towers. It will soon have Shin-shijo, a new market.
Shimizu has focused effort on the development of this area for more than 30 years, since 1985.
Then in June of 2018, Tokyo Metropolitan Goverment decided on urban development plans for Toyosu 6-chome, Blocks 4-2 and 4-3, an integrated complex development with a large office building and urban resort hotel at its core. This project could be called the culmination of all of Shimizu's work thus far. Work on the project will begin in the spring of 2019, and we are targeting completion by the end of fiscal 2020 .
New Urban Development in Toyosu, which Continues to Evolve
Toyosu was named with a prayer for prosperity in the future, to become an "abundant land." Shimizu contributed to the urban development that enabled it to stay on that path. In recent years, Shimizu has worked on a number of construction projects in the Toyosu 6-chome area, including Toyosu new Market, which will open for business in October 2018, and the 44-story SKYZ TOWER & GARDEN high-rise condominium.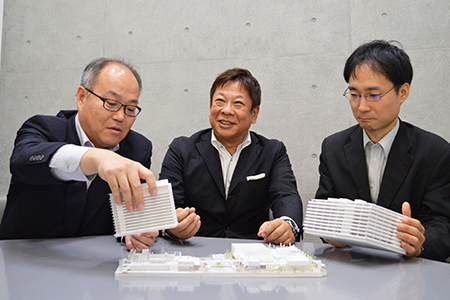 The attraction of this land is its proximity to Tokyo Station, just about 4 km in straight distance. It also has space left for an expansive view of Tokyo Bay. Keiichi Morishita, Hiroki Ishikawa, and Hiroshi Nishikawa from the Investment and Development Division say that every division in Shimizu is collaborating on propelling the Toyosu 6-chome, Blocks 4-2 and 4-3 project forward, under the slogan of "new urban development in Toyosu, which continues to evolve."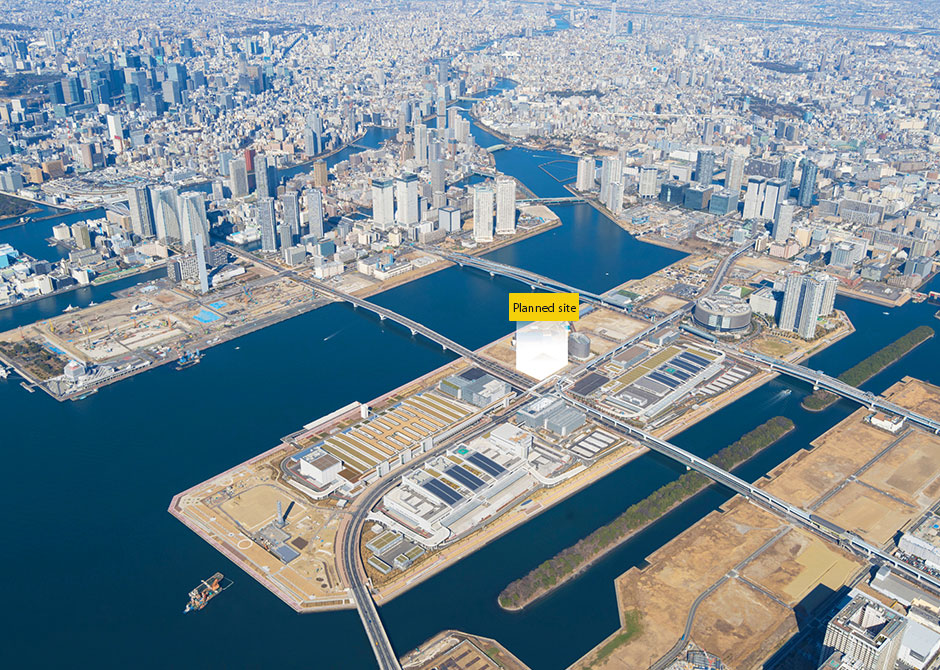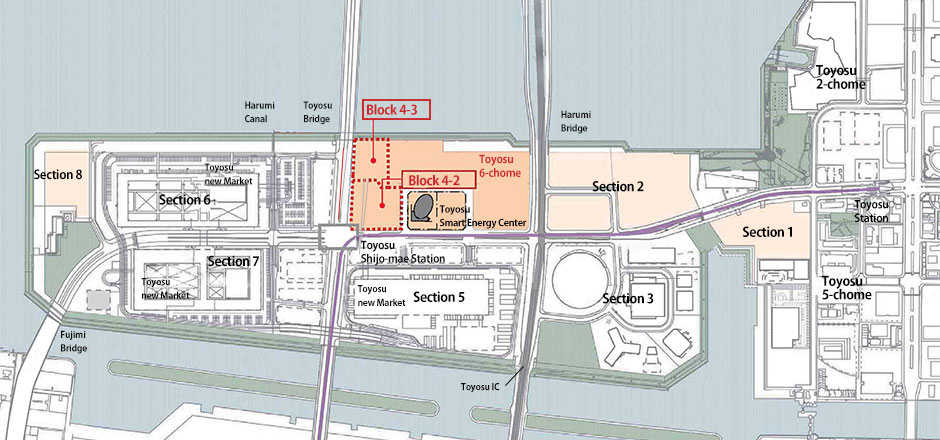 Plan Overview
Location
Toyosu 6-chome, Koto-ku, Tokyo
Office Building (Block 4-2)
Hotel (Block 4-3)
Site area
Approx. 16,170m2
Approx. 8,300m2
Purpose
Offices, shops, transportation plaza, parking
Hotel, shops, parking
Structure, scale
Steel structure (seismically isolated structure), 11 floors and one penthouse
Steel structure, 14 floors and one penthouse
Total floor area
Approx. 84,000m2
Approx. 32,000m2
Project owner
Shimizu Corporation
Design & construction
Shimizu Corporation
Creative Office that Utilizes one of the Largest Space in the City
There are now a multitude of things that companies look for in an office building. The office building we are developing right now has 11 floors and has expansive space of around 6,612 m2 per floor. A high degree of freedom is possible in the floor layout, and it is equipped with flexibility suitable for many different kinds of companies.
It also has balconies that offer a fabulous view, and has ample common areas that can be equipped with pantries for food and beverages, and other amenities. There is a staircase in the center of the floors that is open all the way to the ceiling of the top floor, providing natural lighting and a sense of spaciousness. We also have our sights set on obtaining WELL certification*1, which few office buildings in Japan have obtained. The type of easy-to-work-in environment we have created will also help companies who move into the building to attract human resources.
The third, ninth, and eleventh floors also have large spaces with 3.5-meter-high ceilings, and the eleventh floor has a ceiling height of 6.0 m in one section. This can be used for a variety of purposes, such as an R&D lab, test kitchen, showroom, or studio.
The people in charge of this project say that they can also anticipate unforeseen innovation that surpasses corporate boundaries from co-location of many types of companies.
This office building, which offers a full range of diversity, functionality, and comfort, is definitely a highly attractive workplace for companies that prefer new work styles.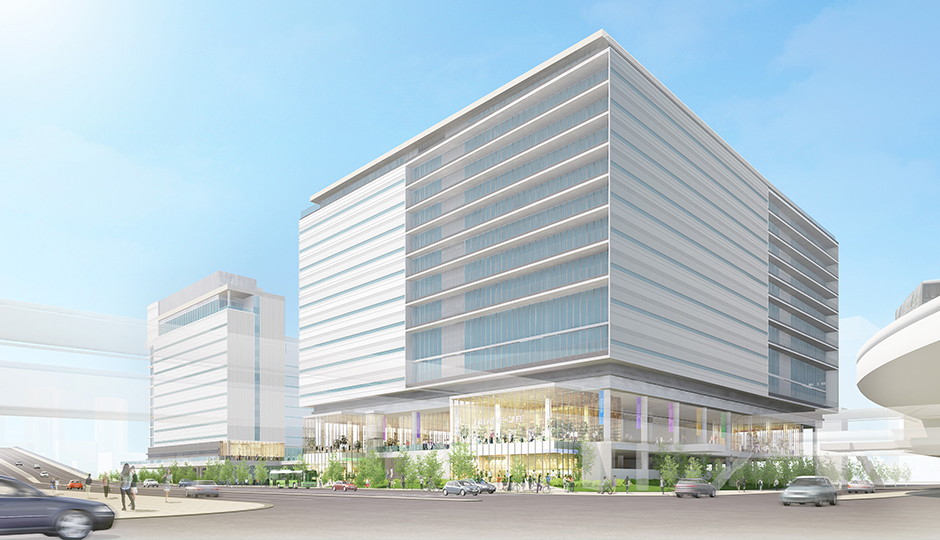 *1

The WELL (The WELL Building Standard) certification system : The world's first system for evaluating a building and its interior environment with a primary focus on well-being (health and comfort).
The system was established by Delos Living, LLC in the U.S.
Buildings and their interior environments are evaluated on around 100 different features in the seven concept categories of air, water, nourishment, light, fitness, comfort, and mind, and innovation . Platinum, gold, and silver certifications are awarded, depending on the score level.
An Urban Resort Hotel That Offers the Attractions of Both the City and Nature
Meanwhile the hotel, which is the area's largest hotel with over 500 rooms, offers the best attractions possible: The natural scenery of Toyosu, which is surrounded by greenery and at the water's edge; and the enjoyable views of the city, which include Kachidoki and Ginza.
Standard guest rooms are 20 m2 or larger in size, and suite rooms have 40 to 50 m2, offering expansive room to relax in. We are also planning to install a large bath on the top floor. This is an urban resort hotel that can accommodate both demand for business trips and tourists, and it fulfills the concept of urban planning to create a place alive with many different kinds of people.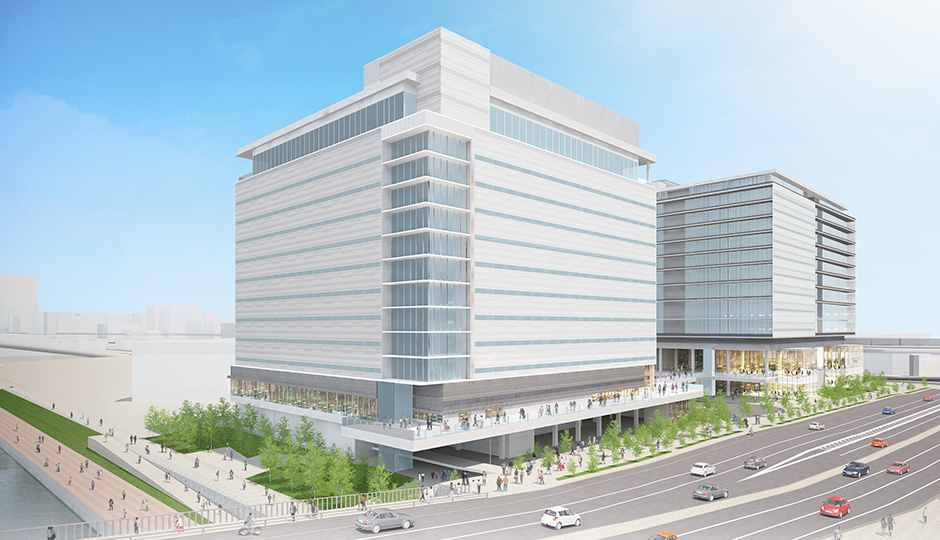 A city that everyone can rest assured they will enjoy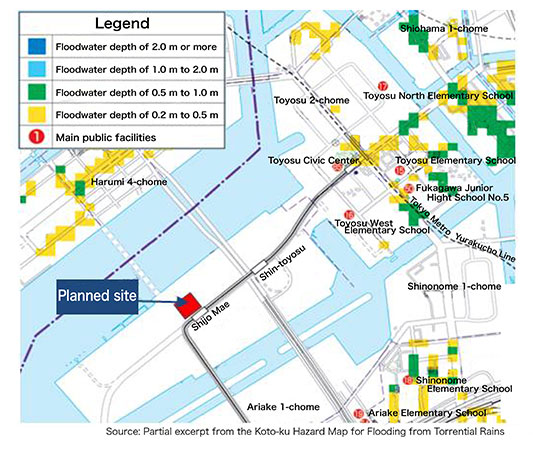 We are employing a universal design for the area as a whole so that it creates a city that all types of people can freely enjoy. There is also no need to worry about safety. The Toyosu area has actually been designated as an evacuation location and is equipped with a sturdy seawall, so there is no need to worry about high tides or tsunami. A look at the hazard map also shows that it is located in an area that is not at risk of flooding during torrential rains.
The office building and hotel also use heat supplied by the neighboring Tokyo Gas Toyosu Smart Energy Center. Together with the co-generation system installed inside the office building, this equips the buildings for ecoBCP, both in terms of energy savings in routine operation and business continuity in the event of a disaster.
A Diverse Range of Transportation Infrastructure Aimed at Further Development
The transportation infrastructure to accommodate a larger number of visitors to this area has also been planned.
One part of this development project is the bus terminal that will be built between the office building and the hotel. There will of course be routes from Central Tokyo and the suburbs. The plans also call for airport bus service from Narita and Haneda in the future.
There are also plans for a subway that will pass through Toyosu. There will certainly convenient perfectly once the subway that connects the growing population in the Tokyo Waterfront area to Ginza begins operation.
Toyosu is also in the process of using its location along a canal to attract a pier. If this is realized, there will presumably be various water routes for tourism and business use.
We can envision Toyosu bustling in the future as a place where many different people come together from airports, train and bus stations, and the port.
Shimizu believes in the potential of Toyosu and has been working to develop the city for around 30 years. We are getting ready for start toward the grand plan: Creating a new face for Tokyo.
The information posted here is the current information on the date of posting.
Please be aware that this information may have changed by the time you view it.