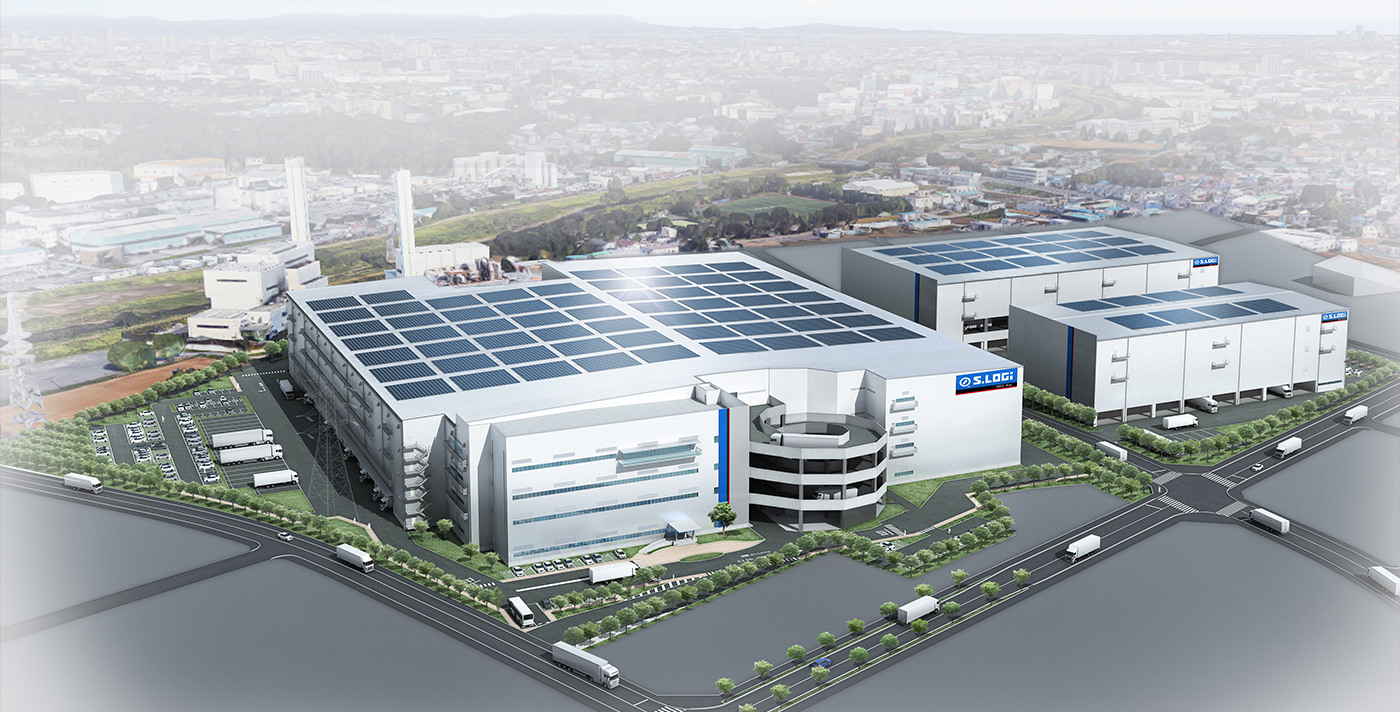 Demand for functional distribution facilities equipped with the latest technology is rising with the popularity of the online shopping market and work on the metropolitan road network in preparation for the Tokyo Olympics.
Shimizu will begin construction on S・LOGI Niiza on March 30, 2018, the fourth phase of the S・LOGI distribution facilitiy that Shimizu is building, amid this demand.
Shimizu Brand Distribution Facilities
S・LOGI refers to Shimizu brand distribution facilities that embody the full spectrum of Shimizu's integrative capabilities as a general contractor. These facilities meet the needs of the times by offering safety and security (ecoBCP and integrated management and operation by the Shimizu Group) and comfort and convenience (versatility, IoT capability, and a full range of amenities). Three S・LOGI facilities are already operating: S・LOGI Yokohama, S・LOGI Ichikawa, and S・LOGI Kuki. The S・LOGI Yokohama and S・LOGI Kuki facilities were awarded DBJ Green Building by the Development Bank of Japan certification in 2016 as properties with the best class environmental & social awareness.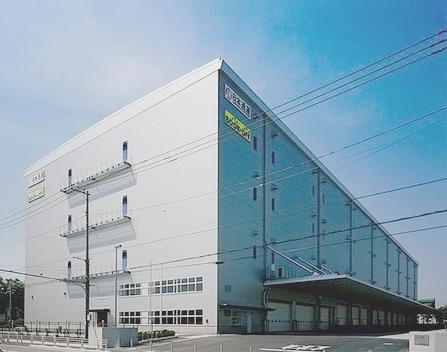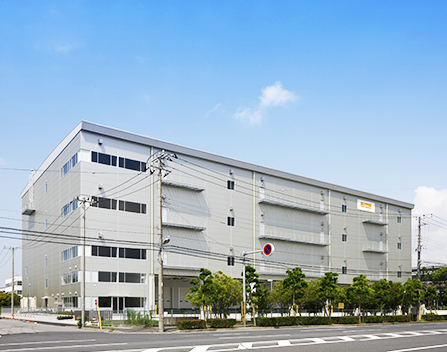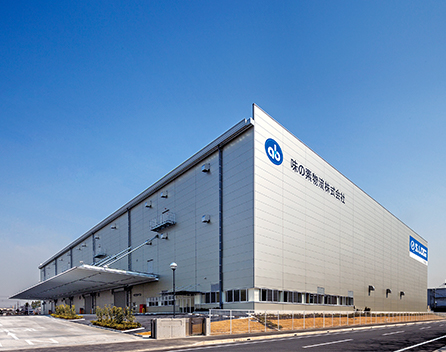 Tetsuro Watanabe and Hideki Hashimoto, who are members of the Investment and Development Division in charge of S・LOGI development, had this to say:
"The project began in 2005, when we were presented with the proposition of effectively using property held by Shimizu as part of its fixed assets. The logistics leasing market was in its infancy at the time, and there weren't many competitors in the logistics real estate market. We planned a facility for a specific tenant (BTS*1) and limited our risk as we waded into the business. The office rental market subsequently tanked under the impact of the Lehman Brothers bankruptcy and ensuing financial crisis, but the rental rates for distribution facilities were hardly affected. Investors developed a new appreciation of distribution facilities as stable assets that were not affected by economic fluctuations, and it became an investment category on par with office buildings."
*1 BTS:

The abbreviation for Build To Suit. It refers to a facility that is built according to the prospective tenant's specifications.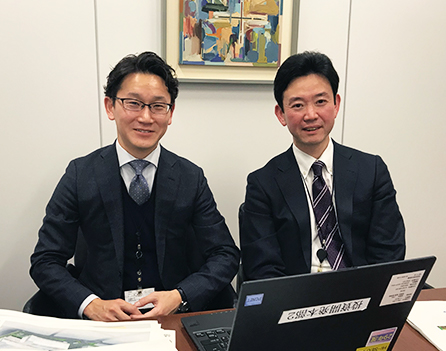 For S・LOGI Kuki, the third phase, Shimizu obtained reclaimed land that was part of a rezoning project. Shimizu has also attracted customers and is providing services as a distribution facility that is built to order to meet the needs of those customers.
S・LOGI Niiza, the Culmination of All of Our Capabilities
S・LOGI Niiza, the fourth phase of the project on which construction will bigin in March 2018, is located on land that has been rezoned for business by the city of Niiza in Saitama Prefecture. This is a large project involving total floor space of 190,000 m2, and Shimizu is handling all aspects of civil engineering construction, building construction, design, and investment and development.
"What must be noted is how outstandingly convenient this land is," Watanabe and Hashimoto continued. "The construction site is within 25 km from the center of Tokyo and is nearby the Tokorozawa Interchange and other transportation hubs. It is also close to the Niiza Kamotsu cargo terminal station, making it suitable for a modal shift*2 to railway transport. This can help tenant companies to resolve problems such as driver shortages and responding to environmental issues. The surrounding area is also highly populated, and it is a 15-minute walk from Niiza Station on the JR Musashino Line, so it is convenient for securing new employees and part-time workers.
*2 Modal shift:

Refers to a policy of working to shift from transporting cargo by truck to railway or coastal shipping.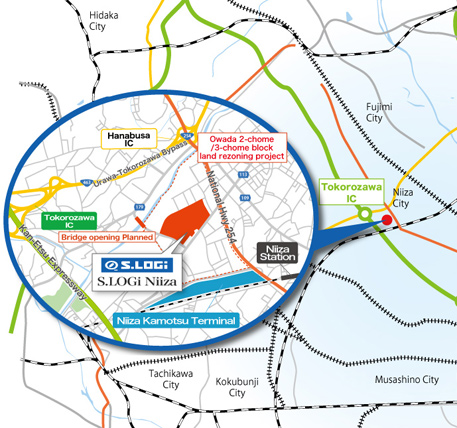 The facility plan also represents a culmination of Shimizu's expertise. The plan is highly versatile and incorporates various loads and ceiling heights, creating a vehicle roadway through the warehouse, and berths with space for docking trucks, among other features. The amenities such as a cafeteria, retail shop, and free Wi-Fi within the facility provide an environment that is comfortable to work in.
The facility is naturally also equipped with solar power generation, LED lights, an emergency generator, and disaster supplies, and the entire Shimizu Group is working as a team on operation and management to make sure that the facility is safe and secure. It is a facility that embodies the full range of Shimizu's capabilities.
Overview of the S・LOGI Niiza Project
Location
Niiza City planned business district, Owada 2-chome and 3-chome
Block 9 and part of Block 10 in the rezoned business district
Development area
Building W: (On left in diagram), approx. 60,703 m2
Building E1: (On upper right in diagram), approx. 18,617 m2
Building E2: (On lower right in diagram), approx. 10,000 m2
Total floor space
Building W: Approx. 130,850 m2
Building E1: Approx. 38,566 m2
Building E2: Approx. 19,228 m2
Structure and size
Building W: Steel, with part reinforced concrete
Building E1: Steel, with part reinforced concrete
Building E2: Steel
Date of Completion
Building W: Fall 2019 (tentative)
Building E1: Winter 2019 (tentative)
Building E2: Spring 2020 (tentative)
(These are the current plans and they may change.)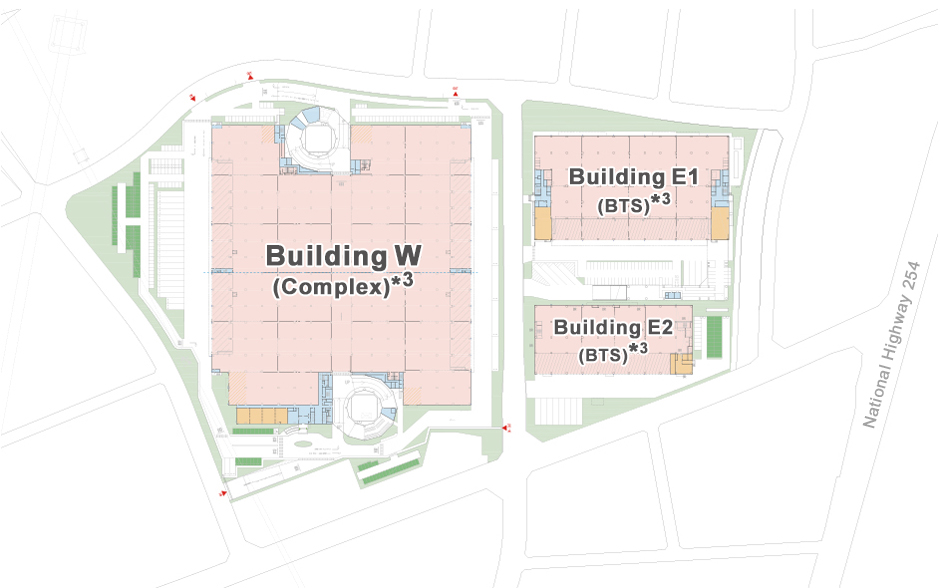 *3 Complex:

A distribution facility designed for multiple tenants
Furthermore, S・LOGI Niiza is also the first distribution facility to obtain ABINC certification for business innovation in harmony with nature and community. This certification is awarded by ABINC, the Association for Business Innovation in harmony with Nature and Community, which evaluates and certifies buildings. S・LOGI was recognized for its efforts in conserving biodiversity through projects such as restoring the variety of trees in the forests of Musashino.
Shimizu will Also Meet Future Market Needs
The logistics market in the Tokyo metropolitan area saw record supply and demand in 2017 and is projected to remain at a high level in 2018 as well. Freight related to online sales is increasing and future market growth is also projected. The need for refrigerated warehouses, hazardous materials warehouses and other specialty warehouses is also apparent. We are also seeing changes in the types of facilities specifications desired as AI and robotics in logistics become increasingly important for automation and reduction in the number of workers required.
Shimizu will continue to develop distribution facilities that meet the needs of the market by drawing on our integrated strengths in the future as well.
The information posted here is the current information on the date of posting.
Please be aware that this information may have changed by the time you view it.