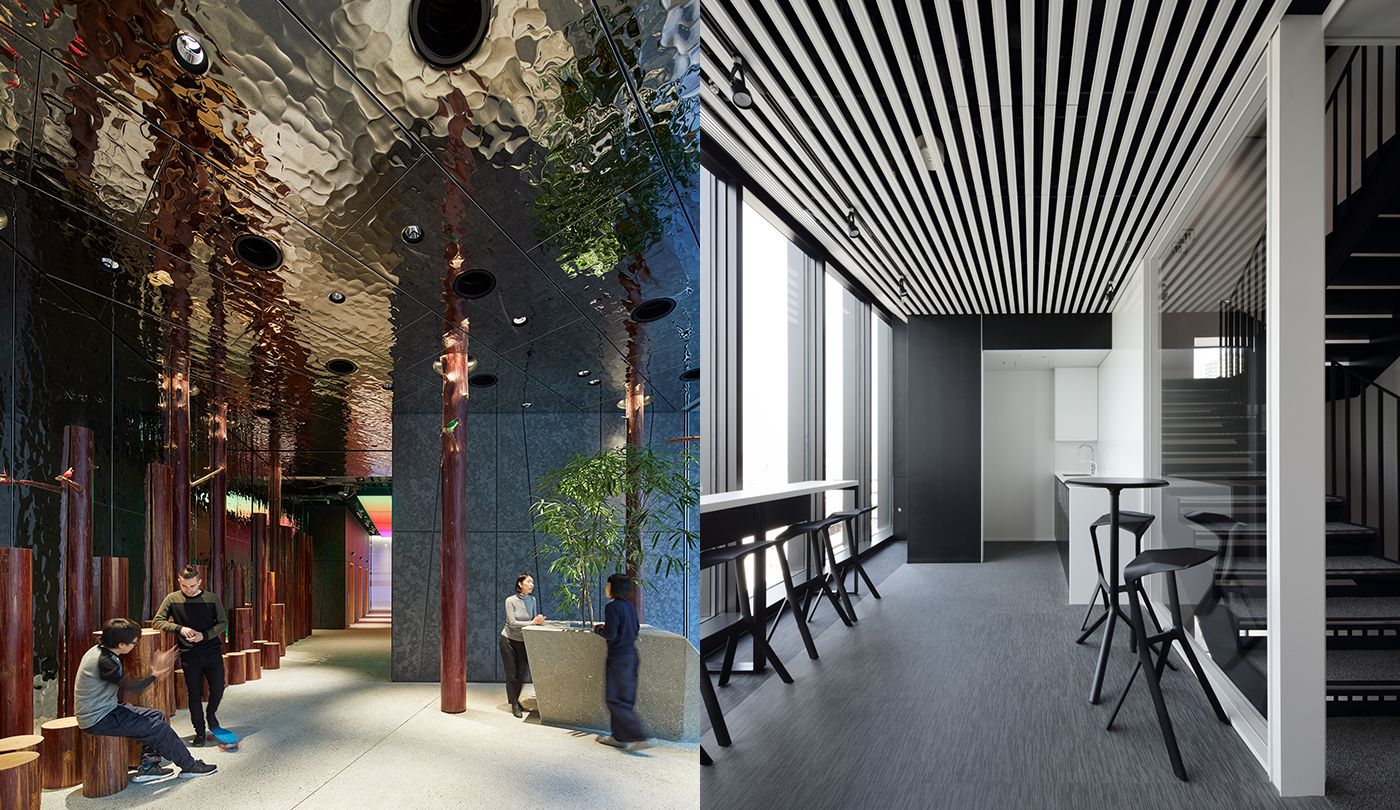 Wave-patterned stainless steel panels reflect the greenery outside of the entrance to G-BASE Tamachi (left), and space for relaxation in the AKIHABARA i-MARK Building, which incorporates an abundance of natural light (right)
Shimizu, which is intimately familiar with buildings as a general contractor, arrived at two answers to the question, what "if we were to develop medium-sized office buildings ?" One is G-BASE Tamachi, an innovative office that meets the needs of diverse workstyles. The other is AKIHABARA i-MARK Building, a Shimizu-brand office that implements high-level ecoBCP*1 specifications. Here we describe the development of these two office buildings, which are very different in nature.
*1

ecoBCP: A concept which combines routine measures aimed at energy conservation and improving energy efficiency (eco), and the functions to ensure business continuity and energy supply during an emergency (BCP)
Offering Tenant Companies the Freedom to Create Their Own Workspaces [G-BASE Tamachi]
Young growing companies have sprung up in the vicinity of JR Tamachi Station in recent years, in addition to the traditional manufacturers that have long been located here. It is an area that also offers the potential for further development when the new train station between Shinagawa and Tamachi opens. Shimizu completed G-BASE Tamachi in January 2018, a joint development with Mitsui Fudosan Co., Ltd. in this promising area.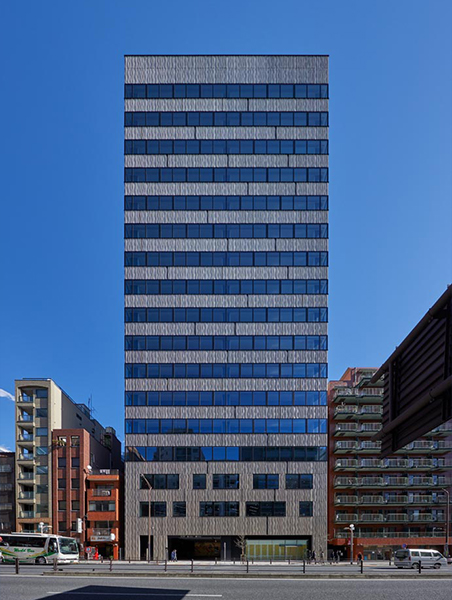 The tenants we envisioned for the building were emerging growth companies that are interested in innovative workstyles. We used skeleton specs to differentiate it from typical office buildings, built a ceiling that provides a sense of openness, and finished it with interior designs that the tenant companies liked to give the building high-level specifications with freedom in design.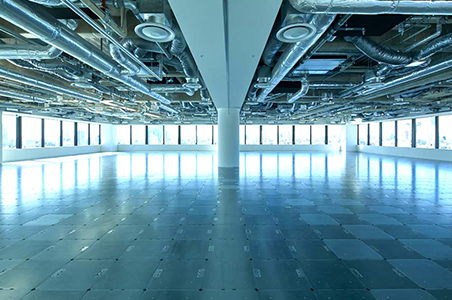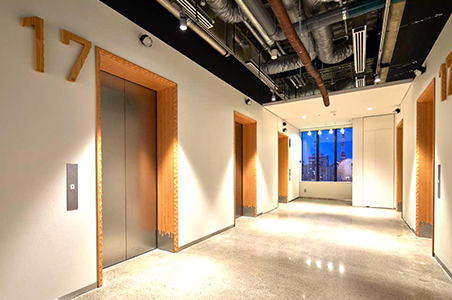 We also tried different things in various places to encourage diversity in workstyles. We provided a wide area of greenery around the exterior, installed benches and hammocks, and built a rooftop garden that offers a view of Tokyo Tower. The tenant lounge with the indoor bike parking for people who commute to work by bicycle is equipped with shower rooms and locker rooms and can also be used for relaxation time, running after work, and other purposes.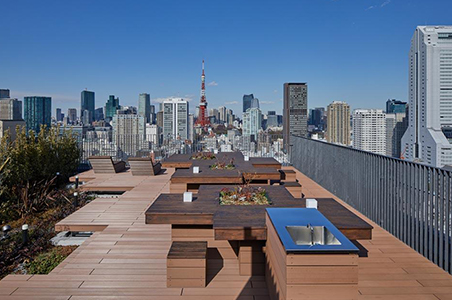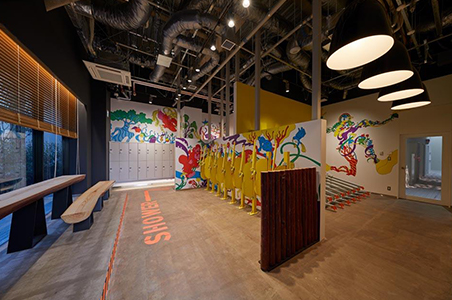 "I imagined the exterior design as a large tree and incorporated an uneven surface resembling tree bark on the exterior to signify the hope that the tenant companies will be able to grow and prosper along with the building." Those are the words of Tomoharu Nabata of the Investment and Development Division, which was in charge of building development.
The pop art designs incorporated here and there in the building interior have also been well received by tenants.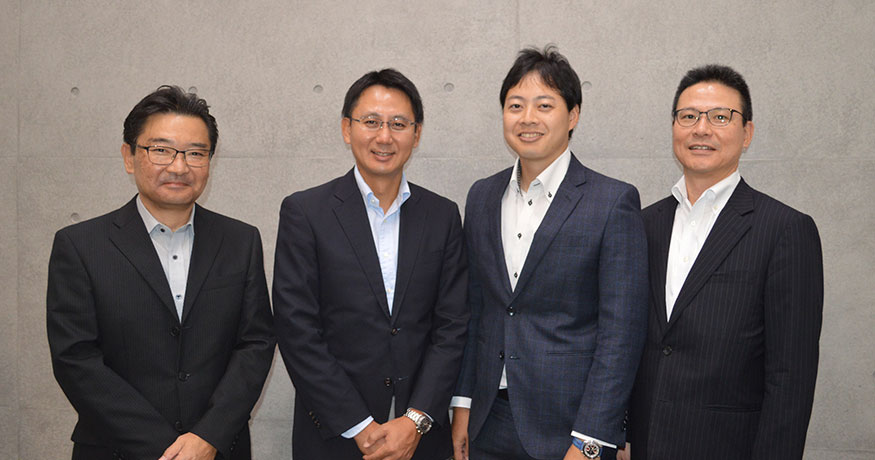 Safe, Comfortable Office Space that Integrates Advanced Technology [AKIHABARA i-MARK Building]
In contrast to G-BASE Tamachi, which incorporated soft aspects liberally, AKIHABARA i-MARK Building integrated the physical aspect of Shimizu's latest technology. It was completed in March 2018. It is located in a highly convenient area, within a 10-minute walk to six stations, including the JR and Tokyo Metro Akihabara Stations, which are the closest. It opened on April 1 at full occupancy.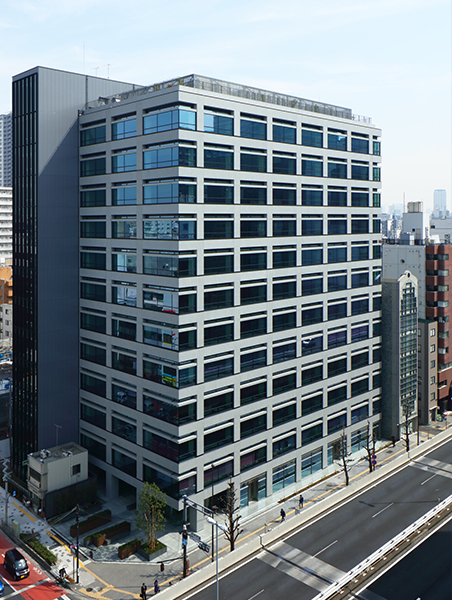 We pursued ecoBCP in every aspect of the building. To make it environmentally friendly ("eco") we achieved energy savings of more than 50% compared to a typical office building by installing a radiant air conditioning system that maintains rooms at a comfortable temperature by circulating cool and warm water through radiant panels, daylight sensors that control lighting, a light shelf that lights the room interior efficiently by using the light from small windows at the top of the walls, and other elements. This is the first multi-tenant office building in the Greater Tokyo Area to obtain ZEB Ready*2 third-party certification. The building has also obtained LEED (Leadership in Energy and Environmental Design) Gold certification, an international system for evaluating the environmental performance of buildings.*3
*2

ZEB Ready: A designation for a building that achieves energy savings of 50% or more, compared to a typical building.
*3

Operated by the Green Building Initiative in the U.S.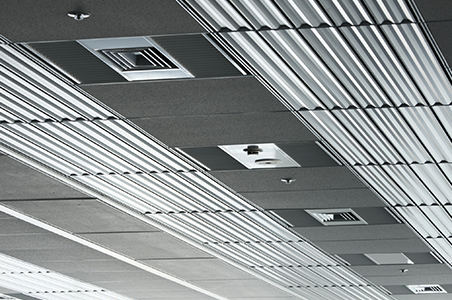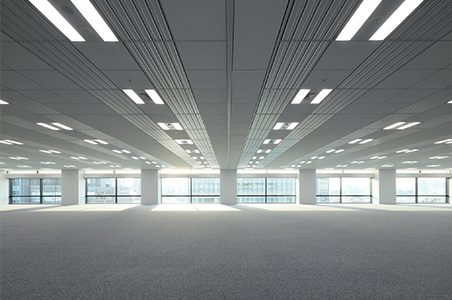 To ensure business continuity, a seismic isolation structure was used to increase safety during a massive earthquake. To respond to power outages during an emergency, electrical lines to use power from two different substations were installed and the building was equipped with an emergency generator to provide power for 72 hours. The installation of an elevated water tank and emergency drainage tank will provide water supply for flushing toilets if the water is shut off.
Arata Oshima, one of those in charge of the project, commented, "We increased the strength by using reinforced concrete for the columns and beams around the outer circumference and using Shimizu's patented PS-Hy-ECOS construction method to join the steel beams to the reinforced concrete columns. This enabled us to increase the span length for the building depth to more than 20 m and create over 1,028 m2 of column-free floor space per floor, a major feature of the building."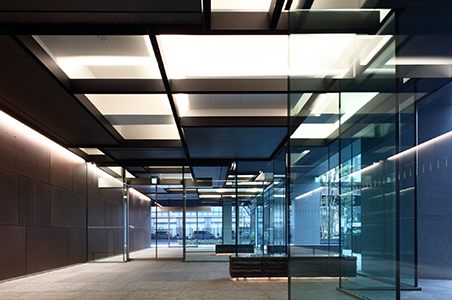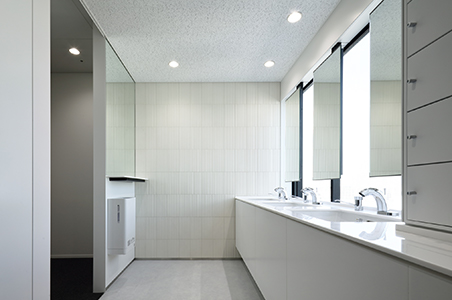 Area Revitalization with Innovative Proposals That Only Shimizu Can Provide
Shimizu's strength lies in presenting collaborative proposals on project development from the perspectives of the investment and development, sales, design, and construction teams, considering these collectively, and working them into the construction process.
Naoyuki Tanemura and Jun Kaneko commented, "We want by identifying areas likely to be developed in the future early on as business district and making innovative proposals that capitalize on the characteristics of the area. To achieve that, fully leverage ideas and technology." Shimizu will continue to take on the challenge of developing office buildings in the future as well.
Project Profiles
G-BASE Tamachi
Akihabara i-MARK Building
Location
5-29-11 Shiba, Minato-ku, Tokyo
1-30-7 Taito, Taito-ku, Tokyo
Construction period
March 2016-January 2018
June 2016-March 2018
Structure
Steel frame, 18 floors, 2-floor penthouse
Steel frame and Reinforced Concrete (partial Steel Reinforced Concrete), 12 floors, 1-floor penthouse
Site area
2,331m2
1,840m2
Total Floor area
18,242m2
16,014m2
Project lead(s)
Mitsui Fudosan Co., Ltd. & Shimizu Corporation
Shimizu Corporation
Design & Management
Shimizu Corporation
Shimizu Corporation
Supervision
Yamashita Sekkei, Inc.
Exterior design supervision
Naomi Sato Architects
Common areas
& Exterior design proposals
FIELD FOUR DESIGN OFFICE
Exterior graphics
Wakana Yamazaki
The information posted here is the current information on the date of posting.
Please be aware that this information may have changed by the time you view it.