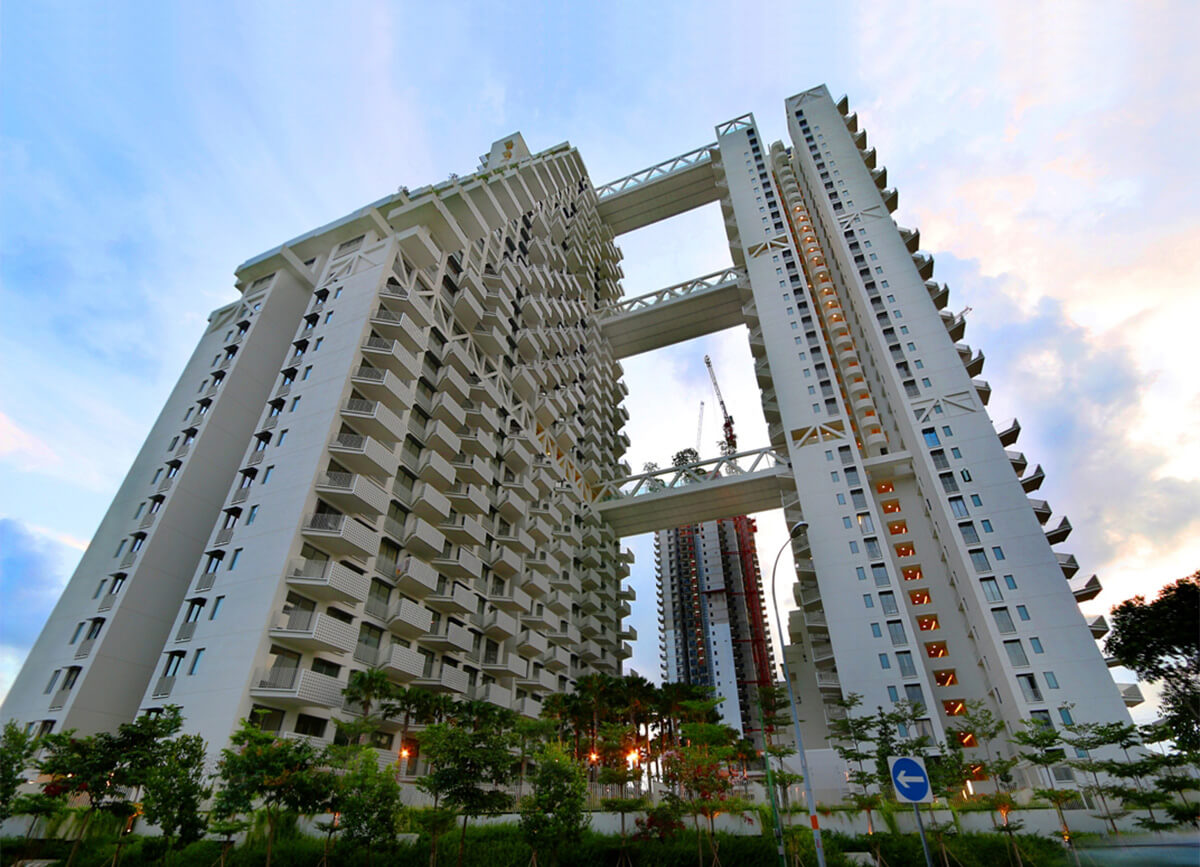 Shimizu has operated its business overseas, mainly in East Asia, since expanding operations overseas during the Meiji period(1868-1912). In recent years we have stepped up overseas expansion of our real estate development business in addition to our core construction business.
Overseas Real Estate Development Business for the First Time in 20 Years
Two buildings connected by three bridges and equipped with an open-air pool on the uppermost bridge. Sky Habitat Condominium, an ultra-high-rise condominium in Singapore is drawing interest with this adventurous design.
Completed in 2015, these buildings are the first overseas real estate development project that Shimizu has undertaken in 20 years.
This is a joint project by CapitaLand Limited, a major real estate developer in Singapore, Mitsubishi Estate Co., Ltd, and Shimizu Corporation. Shimizu established a real estate development subsidiary that participated in the project and also constructed the buildings. It is located in an area that is highly popular as a residential area and harbors the famous school that produced Lee Kuan Yew, the former prime minister of Singapore. It is also a convenient location, just five stations from Orchard Station, in the central commercial district. It attracted public interest when condominium sales began, in part because the design firm that designed the Marina Bay Sands Singapore hotel was retained to design it.
Most of the units have already been sold, and sales are in the final stage.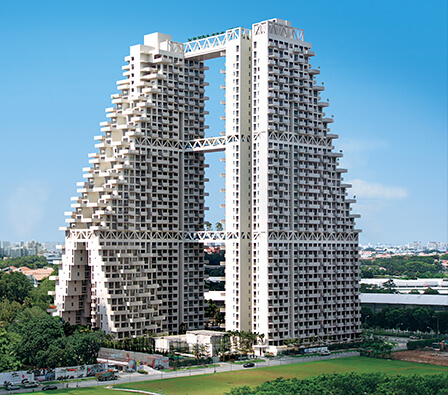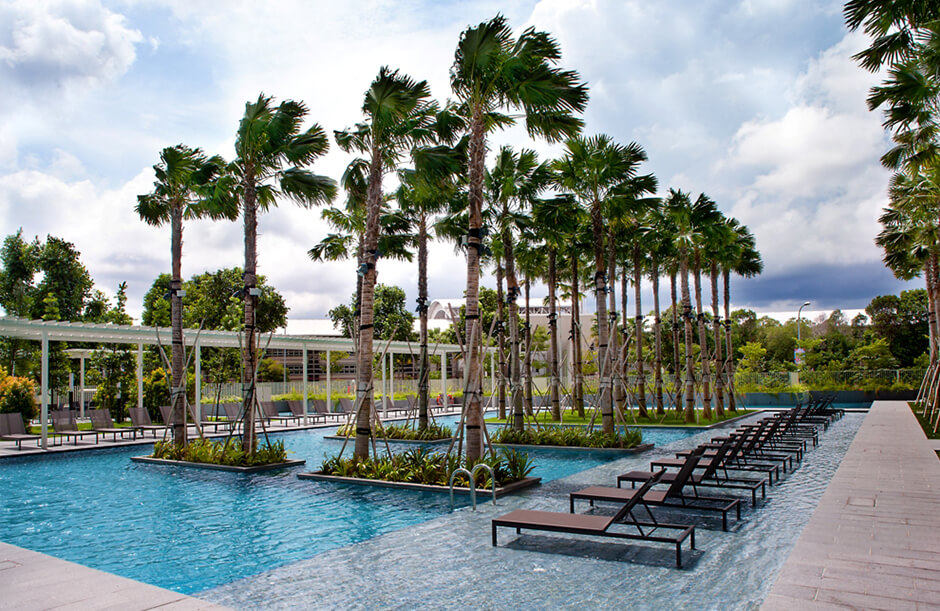 Experience and Expertise Accumulated in Japan Used to Develop a Data Center
The next project Shimizu embarked on was the Woodland Data Center in Singapore, which was completed in 2016.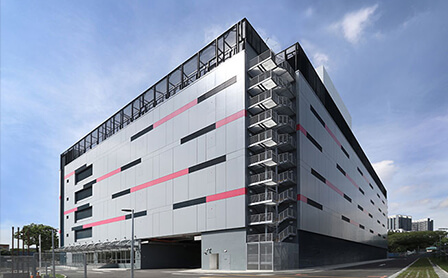 The lead on development and operation is DataCentre One, a joint venture between Shimizu Corporation and Keppel Infrastructure Trust, which is owned by the government of Singapore.
Although this is the first data center that we have developed as an investment development project, we were able to utilize our extensive experience, expertise, and knowledge in data center design and construction in Japan. The tenant, a data center operator with ties to the government of Singapore, concluded a 20-year long-term lease agreement, and is operating the data center seamlessly.
Development Projects Currently Underway in Singapore and Jakarta
We are currently working on an office building development project in Singapore and serviced apartment development project in Indonesia.
The Robinson Road Office Project in Singapore (scheduled for completion in 2020) is an office building development and leasing project in the business district. Shimizu is also working on the design and construction. The unique characteristics of the development plan are the sophisticated exterior design which includes an innovative façade, and a rentable floor space ratio (the rentable floor space as a percentage of total usable floor space) that exceeds 85%, the highest level in Singapore. We also improved energy conservation by using a cold water "chilled beam" air conditioning system, and are planning to acquire BCA Green Mark certification from the Building and Construction Authority of Singapore and the top rating in U.S. LEED (Leadership in Energy and Environmental Design) certification.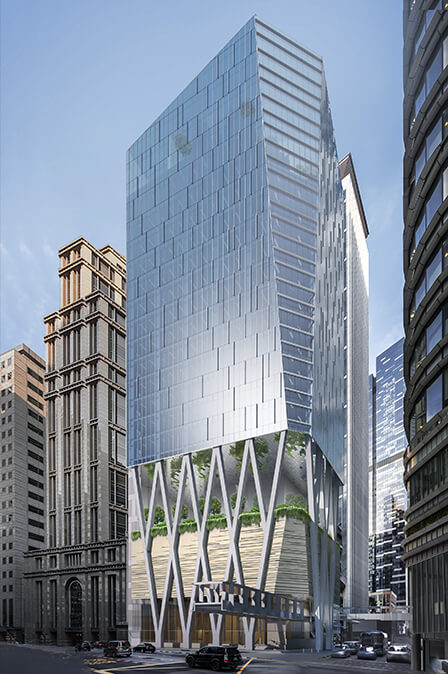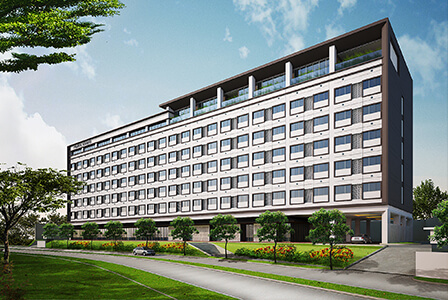 The Cikarang Serviced Apartment Project in Indonesia (scheduled for completion in 2019), is a development and leasing project consisting of serviced apartments located in the eastern industrial park about 40 kilometers from Jakarta, the capital of Indonesia.
It is the first overseas investment development project that Shimizu has pursued on its own, and a local subsidiary of the international branch is handling the design and construction. After completion, Fujita Kanko Inc. plans to lease and operate the entire building of 214 apartments under a single leasing agreement. Numerous factories of Japanese manufacturers are concentrated in the area surrounding the construction site, so there is a strong need for serviced apartments that can serve as both hotel rooms and apartments for employees living in Indonesia on assignment and those traveling to Indonesia on business.
Utilizing Our Strengths and Aiming Even Higher
Shimizu's strengths in the real estate development business are its design, construction, and engineering resources, and its global sales network.
We will aim to become even more active in the overseas real estate development business as we use the three cities of Singapore, Jakarta, and Ho Chi Minh as bases in the ASEAN region and further expand the business to North America.
The information posted here is the current information on the date of posting.
Please be aware that this information may have changed by the time you view it.