OCEAN SPIRAL, Deep Sea Future City Concept

The concept of a direct connection to the deep sea
The ocean covers roughly 70% of the earth's surface. Roughly 80% of that is deep sea.
The deep sea holds major potential for ensuring proper cycles in the global biosphere.
We have not yet taken advantage of that potential, however.
We thought that we could utilize the limitless potential of the deep sea through a vertical connection of the atmosphere, ocean surface, deep sea, and sea floor.
Now is the time for us to create a new connection with the deep sea because it is the earth's final frontier.
Our goal is to draw a clear distinction from the former strategy of development for the sake of onshore efficiency and dramatically improve the sustainability of human societies on the earth by fully utilizing the deep sea.
Five Reasons Why We are Targeting the Deep Sea
The deep sea has the potential to solve five problems 2, and resources.
we face: food, energy, water, CO
Food

The potential of deep sea fishing is boundless in quality and quantity.

Energy

The deep sea possesses limitless untapped energy.

Water

The ocean is deep, so an infinite amount of fresh water can be created from it.

CO2

The deep sea has an unlimited capacity to process CO2.

Resources

There is an infinite abundance of resources in the sea floor and in the ocean.
Humans will begin restoring the earth with the power of the deep sea, using our Deep Sea Future City as a base camp.
OCEAN SPIRAL, Deep Sea Future City Concept
Working to restore the earth with power of the deep sea

MASTER VISION A Direct Connection between the Ocean Surface and Sea Floor
BLUE GARDEN
OCEAN SPIRAL Base Camp
BLUE GARDEN, an orb that measures 500 meters in diameter, floats in the deep sea like a space ship. It is safer and more comfortable city than those on land.
A comfortable city with minimal temperature changes
A safe city with unaffected by typhoons or earthquakes
A healthy city with a higher concentration of oxygen than on land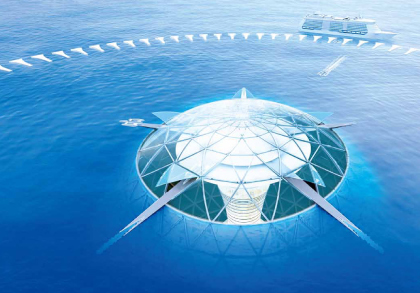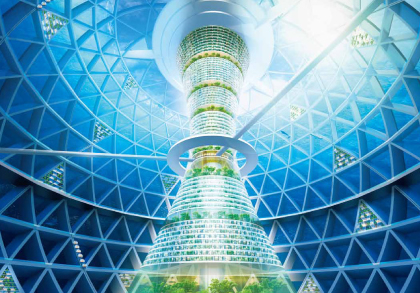 A new lifestyle
You can relax in the casual zone facing the deep sea, and enjoy it, learn from it, and communicate with others about it.
Example Activities
Deep sea sightseeing tour
Deep sea experiential learning
Health maintenance regimen with the high oxygen concentration in the deep sea environment
Comfortable, safe lifestyle and work place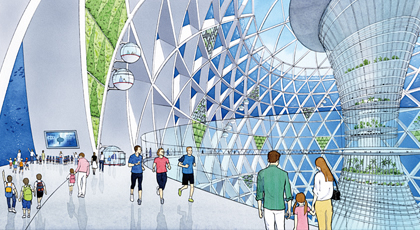 A New Business Model
New, deep sea-originated industry models are incubated in the mid-tower business zone.
Example Activities
Deep sea resource industry
Deep sea energy industry
Deep sea tourism industry
Deep sea advanced research lab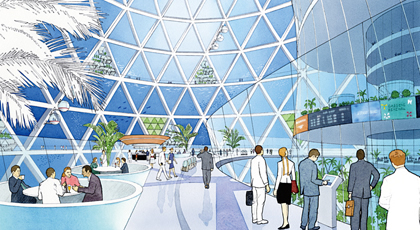 INFRA SPIRAL
The deep sea offers a convenient location where the functions that utilize the unique characteristics of the deep sea are all in one place.
Electricity: Power generation using ocean thermal energy conversion
Food: Plant cultivation using deep sea water
Fresh water: Desalinization using water pressure
Transportation: Deep sea submarine port (supply base)
Information: Deep sea monitoring site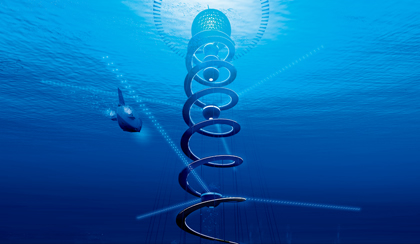 EARTH FACTORY
Current advanced deep sea research will become the advanced deep sea industries of the future
CO2:Storage and reuse of industrial CO2 emissions
Resources:Development and cultivation of deep sea resources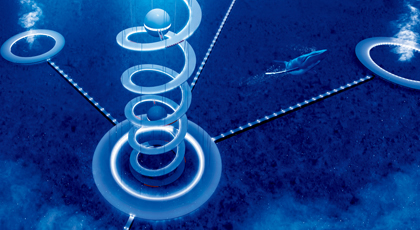 SOLUTION:Restoring the Earth with the Power of the Deep Sea
Restoring cycles on a global scale in five areas
We will use the inherent potential of the deep sea to restore cycles and improve the sustainability of human societies on a global scale in five problem areas.
Food
Food shortages are occurring due to explosive growth in global population.
Environmental destruction is being caused by expansion of farming worldwide.
The deep sea fishing industry offers limitless potential, both in quality and quantity.
Utilize the temperatures and nutrition that the deep sea offers.
(E.g.: Raise premium-brand fish)
▼
Expand offshore fish farming.
Energy
Global spread of economic development is putting pressure on power supply capacity.
A base load power source that provides a continuous, stable supply of electricity is necessary.
The deep sea offers a limitless supply of untapped energy.
Generate power from ocean temperature differentials using ocean thermal energy conversion.
▼
Energy self-sufficiency
Water
Global water shortages are being caused by abnormal weather conditions and increased consumption.
If desalinization of seawater can be done simply, this would resolve the problem.
A limitless supply of fresh water could be produced from the deep sea.
Utilize the temperature and nutrition of the deep sea
(E.g.: Raise premium-brand fish)
▼
Expand offshore fish farming.
CO2
Reducing CO2 to prevent global warming is an urgent issue.
It is difficult to form a global consensus on reducing CO2.
The deep sea has unlimited CO2 processing capacity.
Use the earth's inherent CO2 cycle.
(E.g.: Produce energy from CO2)
▼
Move from CO2 reduction to use
Resources
The global spread of economic development is putting pressure on resources.
Onshore resource development is facing depletion and is causing environmental problems.
The volume of resources in the sea floor and ocean is limitless.
Use the untapped resources in seawater and the sea floor.
(E.g.: Man-made hydrothermal deposits)
▼
Move from harvesting resources to cultivating them
TECHNOLOGY:
Future Technological Issues
Structural plan: Create an underwater city that spans 500 meters in diameter, in concrete.
1.Strength:

Water pressure is neutralized by the orb shape

2.Concrete:

Strong, resin concrete

3.Rebar layout:

Rustproof resin bars

4.Environmental friendliness:

Material from recycled PET bottles is used in resin concrete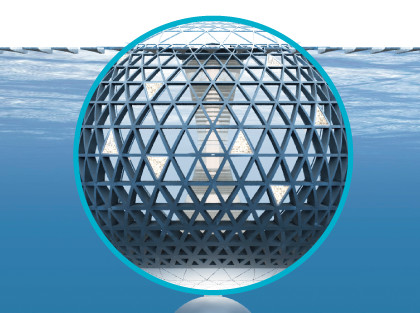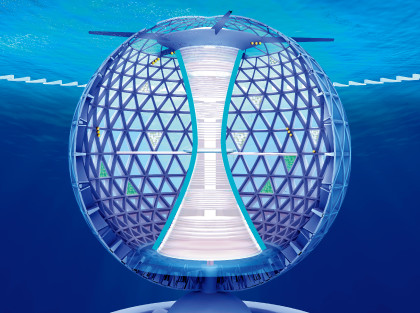 Outer wall plan: The challenge is to create a transparent orb in the deep sea with 360° panoramic views.
1.Strength:

Achieved with acrylic boards arranged in pattern of triangles measuring 50 meters per leg

2.Strength:

Reinforced with semi-transparent FRP ribs

3.Cleaning:

Use of microbubbles, etc. to prevent bio-fouling

4.Joints:

Water-sealed, displacement absorption, etc.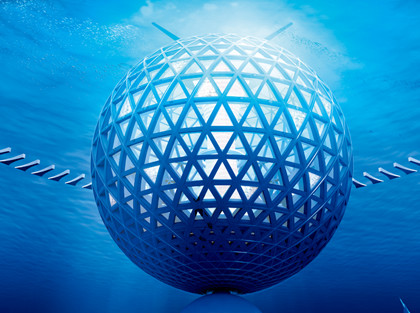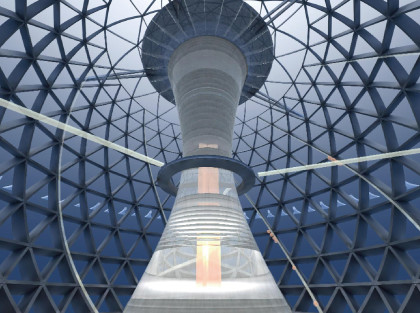 Equipment plans: The challenge is to achieve comfort unique to the deep sea environment
1.Natural convection

Natural convection that utilizes the difference in temperature between seawater and air to provide comfortable, cool air.

2.Dehumidification

Refreshing, dehumidifying air conditioning achieved with the cold energy of deep sea seawater

3.Air conditioning

Radiant air conditioning that is comfortable for people through use of the cold water after dehumidification

4.Heat insulation

A comfortable environment achieved with the heat-insulating properties of acrylic boards (3 meters thick)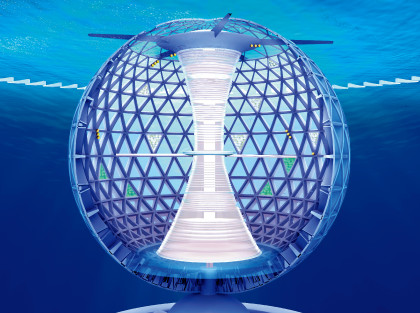 Construction plan: The challenge is to completely automate offshore construction of the orb
1.Anticipation of future technology

3-D printer method (resin concrete placing) (resin bars)

2.Integration of proven technology

Automated vertical diversion of large-scale concrete forms (Jump-up method) Balanced Cantilever DYWIDAG method

3.Construction methods specific to offshore construction

The entire structure is constructed at water surface level (the completed part of structure is submerged)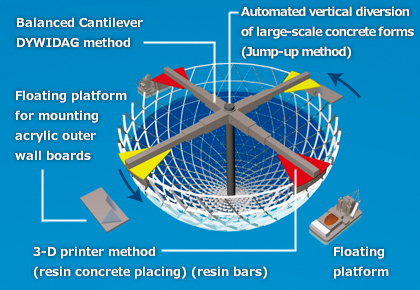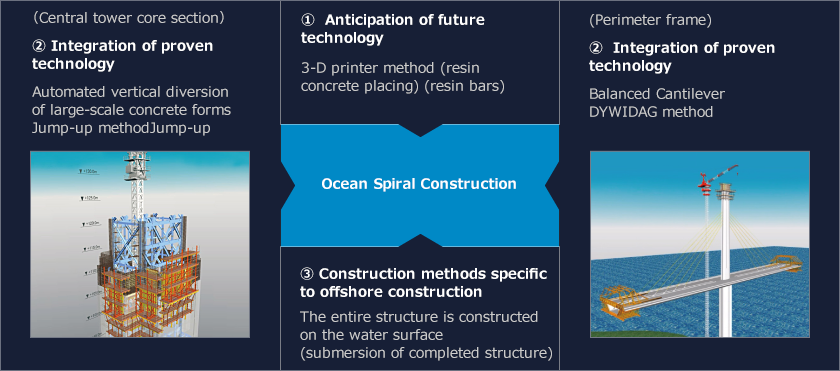 Operation and maintenance plan: Fail-safe and maintenance
1.Vertical movement control:

Sand-filled super ballast ball

2.Wave control:

Floating breakwater unit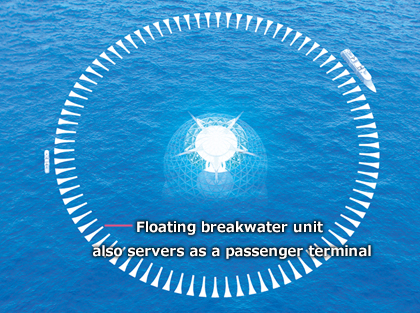 3.Routine vibration control:

Vibration damping equipment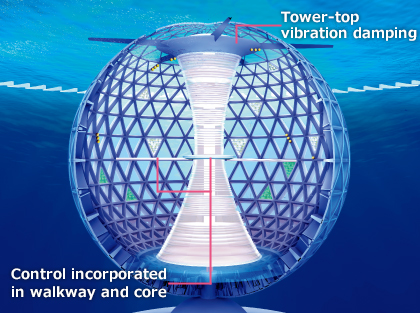 VARIATION
VARIATIONS: Accommodates Many Types of Location and Scale
Variation in location: OCEAN SPIRAL network, linking the oceans around the world
Envisioned locations based on regional characteristics
1.Ocean in coastal region:

Revitalization of outlying islands in the exclusive economic zones (EEZ) of each country

2.The ocean of an ocean island nation:

As a countermeasure to rising sea levels for ocean nations in the Pacific Ocean

3.Ocean in a desert region:

Comfortable ocean living in the Middle East or Africa
Envisioned locations based on submarine topography

Worldwide OCEAN SPIRAL network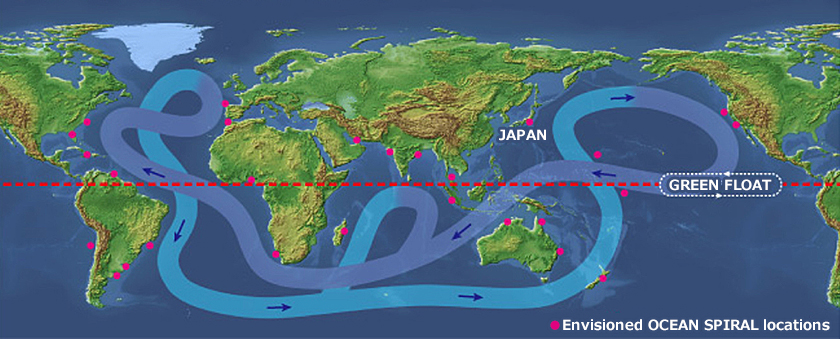 Envisioned locations based on submarine topography

Variation in scale:
In addition to the urban-scale model that spans 500 meters in diameter, we also envision an architectural-scale model of 200 meters in diameter that is more practical.
Diameter of 500 meters (Urban model)

Diameter of 200 meters (Architectural model)

ADVISERS
Those who provided technical information on the OCEAN SPIRAL Deep Sea Future City Concept
ACADEMIC ADVISORS
About marine eco systems, deep seawater:

Masayuki Takahashi, Professor Emeritus, The University of Tokyo and Kochi University

About ocean thermal energy conversion:

Yasuyuki Ikegami, Professor, Saga University

About the deep sea:

Japan Agency for Marine-Earth Science and Technology (JAMSTEC)
Specialized fields:
About marine resources, aquaculture

Fisheries Research Agency

About resin concrete, resin construction materials:

SHOWA DENKO K.K.

About large acrylic boards:

NIPPURA CO., LTD.
From the Japan Agency for Marine-Earth Science and Technology (JAMSTEC):
The Japanese archipelago is situated in one of the most active places on earth. JAMSTEC has therefore long viewed it as our mission to communicate information that will help people to gain an overall understanding of the oceans, earth, life, and human activity. In the future, we also need to vigorously pursue ocean innovations such as the use of marine resources, the development of marine life engineering, and the advancement of information on the oceans and earth.
When we heard about Shimizu Corporation's deep sea future city concept that aims for a new connection between people and the deep sea, in this context, we were confident in our decision to have Shimizu use the results of our research. The mission of JAMSTEC is to help Japan achieve the goal of becoming a fully ocean-based nation through developing new scientific and technological capabilities which contribute to the sustainable development, and responsible maintenance, of a peaceful and fulfilling global society.
We have provided information based on the results that JAMSTEC has achieved in producing the pamphlet, and would like to cooperate fully in the future to improve the technical feasibility and implementability of OCEAN SPIRAL.