The Environmental Island, GREEN FLOAT

The Botanical Future City Concept of a Plant-like City.
We live in economically developed cities, and this development has made our lives much more convenient.
When we think about what truly makes us happy, though, it would be good to have a way to measure happiness apart from having an abundance of material goods.
Being in touch with nature. Time to relax and enjoy culture. A healthy and comfortable lifestyle.
Living gently and blending in with nature and growing along with it as part of the ecosystem.
Couldn't we, for example, create a city that functions like a single "plant?"
We created our new environmental city model from that concept.
The Future Environment Island Concept
GREEN
FLOAT
—A plan for a plant-like city that floats in the Pacific right on the equator—
Changing the future and changing the nature of abundance by taking on the challenge in two areas of innovation
GREEN
Innovation
"Plant-like City"
Knowing the limits of focusing on the industrialization of civilization
And learning about systems in nature
・Going beyond CO2 reduction to CO2 negative
・Self-sufficiency in food and absolutely zero waste
・100% renewable energy
+
FLOAT
Innovation
"Floating City"
Taking on the challenge of imaging new locations
and creating a city that floats
・Will help ocean island nations that will sink with the rise in sea level
・Won't be affected by earthquakes and tsunamis
・Won't be affected by typhoons and hurricanes
Seeking out "new abundance" in the age of the global environment
An Environmental Island that Floats in the Pacific, Right on the Equator
A city that grows on the water's surface, just like a lily pad.
We focused on the potential of the equatorial region for its ultra-abundant sunlight and record of having the fewest typhoons.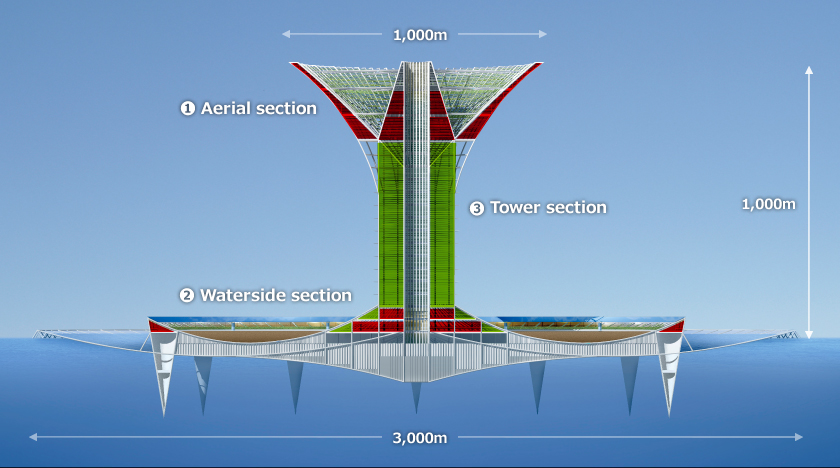 ❶ Aerial Section (home to 30,000 people)
Establishes a zone for daily life at a height of 700 meters or higher. A multifunctional complex with residential housing and service establishments, within a 500-meter radius "comfortable walking-distance."
❷ Waterside Section (home to 10,000 people)
A residential section built on the outer edge of the central lily pad. There is a beach resort and an ocean forest with a wealth of ocean life nearby.
❸ Tower Section (Plant factory)
Equipped with a plant factory with the goal of 100% self-sufficiency in food. Functions as a production site to support life.
An Aerial City Where You Can Experience the Greenery and Aerial Landscape (Residential zone in the aerial section that is home to 30,000 people)
An area that is 700 to 1,000 meters above ground, right on the equator.
There are no strong winds there and the temperature stays at 26–28ºC year-round. An energy-efficient, compact city where you can lead a peaceful, comfortable life.

A Waterside Resort where You Can Experience the Ocean and the Greenery (Residential zone of the waterside section that is home to 10,000 people)
Here, you can live in a low-profile townhome by the sea. A beach with an endless summer stretches out before your eyes, and the inland sea is home to a multitude of fish and shellfish. There you can live a life valued by how much happier you are, rather than by economic indicators.

New Industry Incubation Offices and a Plant Factory (Business zone in the tower section where 10,000 people work)
New business models are born here.
Birthplace of new trials of future-oriented business models that integrate technology and nature.

People-friendly in size, distance, and shape. An urban village that expands like a lily pad colony.
A compact urban village with a walkable 1 km radius is defined as one cell.
It expands from one cell, to one module, to one unit.
Technology to Make GREEN FLOAT a Reality
The most advanced technologies in the world are assembled here, based on the selection criterion of being "plant-like."
❶ CO2 reduction and energy efficiency
○ Carbon negative
○ Carbon chain (CO2cycle)
○ CO2 recovery and ocean sequestration
○ Solar power generation in space
○ Power generation using ocean thermal energy conversion
○ Cooling system for aerial city
○ Wave power generation
❷ Ecosystem and greening
○ Formation of diverse ecosystems
○ Creation of shallow ocean space (inland sea)
○ High-rise greening
○ Creation of a mangrove as an ecotone (buffer zone)
○ Maintenance of tropical rainforest and securing a brackish water zone
❸ Self-sufficiency and recycling
○ Plant factory to achieve self-sufficiency in food
○ Waste recycling system
○ Agriculture and livestock industry in plain zone
○ Energy resource recycling to clean-up drifting garbage islands
❹ Safety and reliability
○ Urban disaster prevention and business continuity planning (BCP)
○ Structural planning and countermeasures for fire and evacuation, strong winds, waves and tsunamis, and lightning.
❺ Offshore construction
○ Refined magnesium alloy from the ocean as a structural material
○ Construction of an offshore artificial ground (Bonded Honeycomb Structure)
○ Offshore construction of an ultra high-rise (offshore "smart" system float-over deck)
Going beyond CO2 Reduction to CO2 Negative
A city that absorbs CO2 like a plant. That is our goal and we will employ environmental technology to achieve CO2 negative.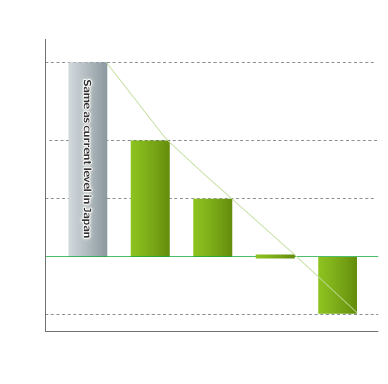 ❶ Creating compact cities and converting industrial structure
(approx.40% reduction in CO2)
Creating compact cities will make transportation and distribution more efficient, thereby reducing CO2.
❷ Achieving energy efficiency (approx.30% reduction in CO2)
At 1,000 meters above ground right on the equator, the temperature remains around a pleasant 26°C year-round. We will also incorporate the latest technologies in the future to move away from fossil fuels and improve the efficiency of heat insulation and equipment.
❸ Using natural energy sources for power generation (approx. 30% reduction in CO2)
We will make maximal use of different types of power generation, including solar power generation in space, power generation using ocean temperature differentials, wave-powered power generation, wind power generation, and terrestrial solar power generation.
❹ CO2 recovery absorption and ocean sequestration (approx. 30% reduction in CO2)
Compared to forests, the CO2 absorption capacity of the ocean is said to have incalculable surplus capacity. Large-scale CO2 reduction and ocean sequestration can be anticipated after a global accord is reached.
A plant-like city is a "city full of life" in which people and living things co-exist in well-balanced harmony.
Land-based Forest – Biodiversity in rural areas –
Having a mixture of forests, fields, waterways, reservoirs, grasslands, and other types of natural areas creates habitats in which a diverse range of living things live and grow.
We will also place importance on contact between people and nature, by preparing places to have agricultural experiences, etc. as the intersection point between an urban setting and nature.
Ocean Forest – Biodiversity in coastal areas –
In the peripheral coastal area, we will build a man-made shallow shoal while taking care to maintain harmony with the natural eco system.
We have also focused on the connection with human activities such as shellfish and seaweed harvesting, while working to improve water quality and ensure ample biodiversity in the shallows.
Recycling-based Society of the Future Learned from the Edo Period (1600s-1800s)
With the gifts of the sun and ocean, it is possible to achieve 100% self-sufficiency in food by nurturing the seafood, meat and crops, while simultaneously creating a city capable of recycling resources by converting waste into energy and other recycling methods.
Our goal is to create the urban model for a new environmental age that can be self-reliant, without imposing a burden on the environment.
(In the Edo period, waste from normal activities was used to cultivate food, and paper scraps and waste materials were reused.)
❶ Cultivating food using waste from normal activities and CO2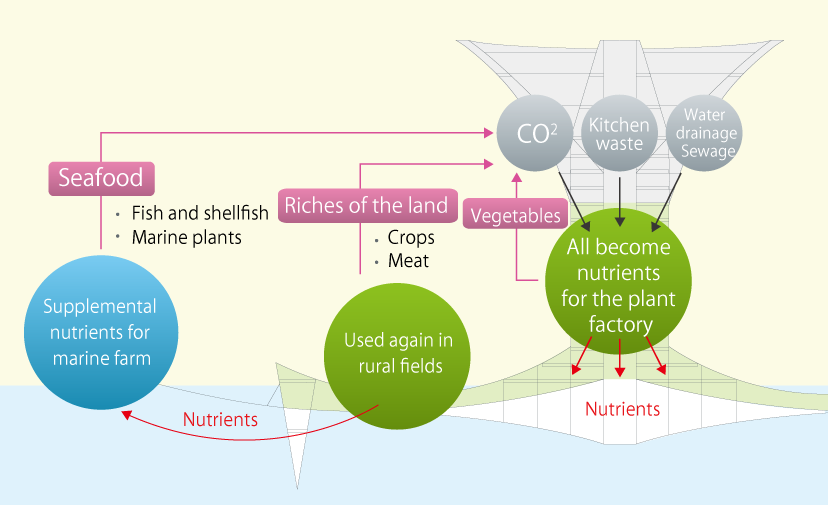 [Plant Factory]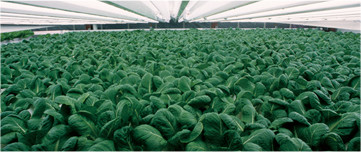 Agriculture Near Home
● Fresh vegetables year-around
● Produce and harvest only the amount needed, when it is needed
Stable and High-volume Supply
● Use equatorial sunlight and artificial light
Food Safety
● Traceability (able to track food sources)
● Complete elimination of agrochemicals
❷ Paper waste and other waste materials can be converted into energy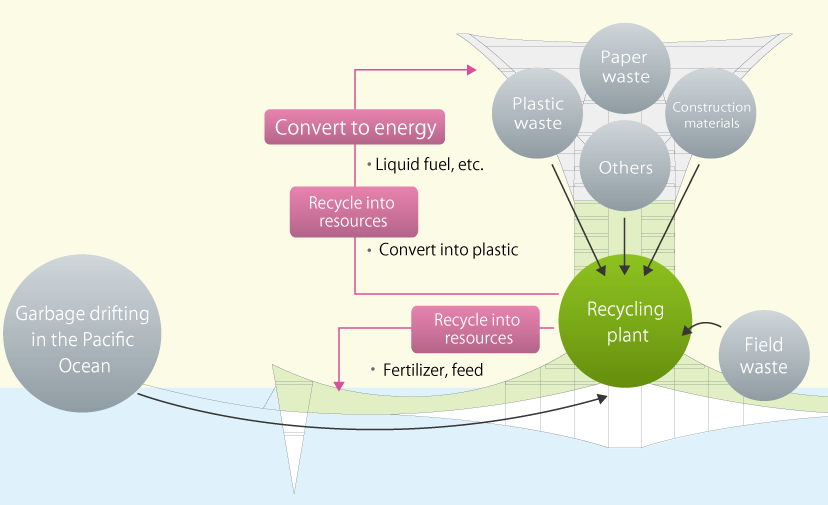 [Recycling Plant]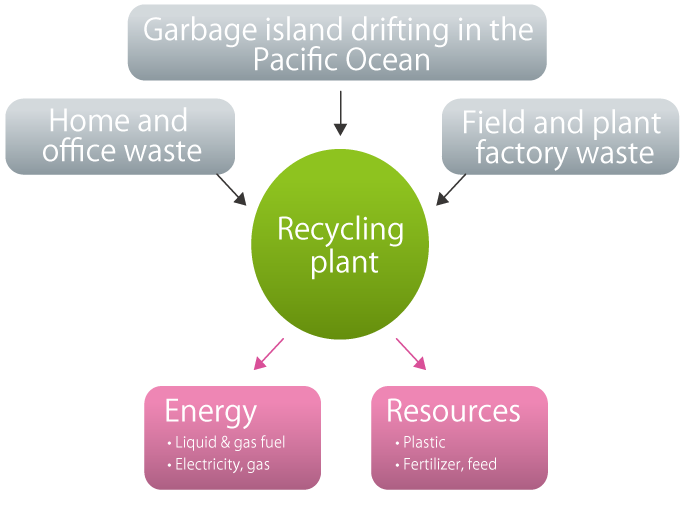 Ensuring Basic Safety of Floating Offshore Structures
For natural disasters or urban disasters, we will respond from the perspective of comprehensive urban disasters prevention and business continuity planning (BCP).
We will also introduce the active disaster prevention function of advanced prediction and control, based on data from meteorological observation and data from wind and wave sensors.
Magnesium Alloy, Structural Material Refined from Ocean Water
We will use ocean water as the raw material to refine magnesium alloy for use as a structural material. In addition to being in ore, magnesium is also a component of sea water, so there will be no concerns about depletion if it can be refined. It is also possible to remelt and recycle it, so it is attracting attention as an environmentally friendly material, compared to FRP and other light structural materials.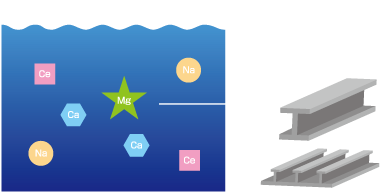 Building Offshore Artificial Ground (Bonded Honeycomb Structure)
Honeycomb describes the structure of a bee's nest, which consists of a group of hexagonal cells.
It is a structure that is widely used in the advanced aerospace sector in addition to construction. Ninety percent or more of the honeycomb structure consists of open space and it possesses the properties of being both strong and light. Offshore artificial ground is constructed by binding honeycomb structures together.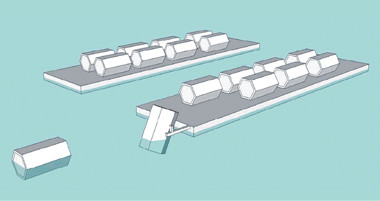 STEP 1
ndividual honeycombs are produced on special wave-resistant barges equipped with concrete plants.
Approximately 20m wide, 50m tall and weighing from 5,000 to 7,000 tons, they are turned on end and set afloat by equipment at the edges of the barges.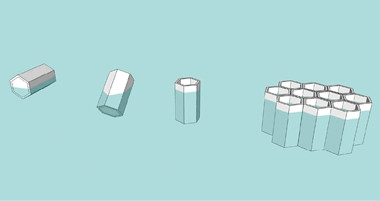 STEP 2
Water is injected into the honeycomb units, to achieve a balanced position. Units are bonded into square groups with other honeycombs with rubber gaskets on bonding surfaces, using water pressure to join them together by forcing the interstitial water out. In addition, high-strength concrete and studs are used as secondary bonding to achieve close coupling.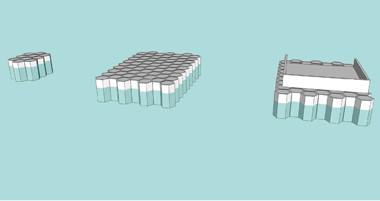 STEP 3
Once the 50m high floating substructure is coupled and expanded to create an artificial ground structure, construction work on the ground will begin.

Offshore Ultra-High-Rise Construction ("Smart"System Float-Over Dock)
The "Smart"System Float-Over Dock is a special method used for building ultra-high-rise towers offshore.
The building is not built upward off the ocean. The frame of the structure built at ground level, and the assembled structure is temporarily submerged in the ocean. When the frame assembly has been completed, the buoyancy of the ocean is used to lift it up in one motion.
This method enables construction work to always proceed at ground level without people or materials being raised, so it enables safe and efficient construction.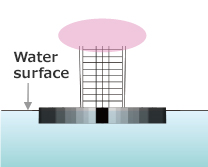 [Previous Construction Method]
Built to heights ranging from a few hundred to a thousand meters, this method requires transporting a large number of people and materials.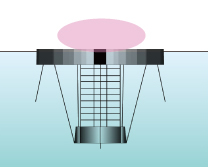 [New Construction Method]
Construction is always performed at ground level, so it minimizes the movement of people and materials.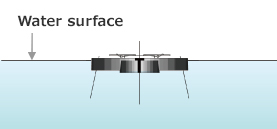 ❶ Construction begins at ground level.
(The entire main structure is subsequently constructed at ground level.)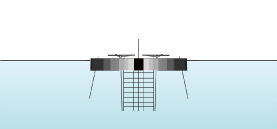 ❷ The structure built at ground level is lifted down into the ocean from the central section of the mega float.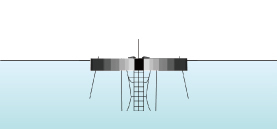 ❸ Erection of the main structure is completed. The crane above ground is dis-assembled.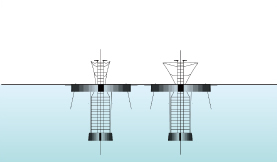 ❹ Jack-up 1
The structure is raised with temporary floats installed on the underside of the mega float and a tension cable.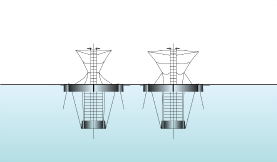 ❺ Jack-up 2
After the beams tying the upper section are removed, the section above the central joints is opened up with the cable.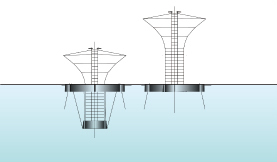 ❻ The pillars of the curved portion are extended out to the final position. The temporary scaffolding, permanent frame, and utility equipment for water, electricity, and air conditioning is lifted into place. Support beams for the circumference are then erected.