We engage in activities as part of our Ecological Mission and actively promote ecology in business as well, as an environmental leader in the construction industry.
Matsusaka Isedera Nature "AI" Land
Mie Prefecture has had a flourishing forestry industry in Owase cypress and other types of trees for many generations. In recent years, however, an aging forestry workforce, insufficient funds, and an industry slump has led to an increasing number of forests that are not being sufficiently planted and maintained, and the degradation of the forests is causing great concern.
Mie Prefecture is therefore working to create a partnership between landowners and corporations to participate in forest-restoration projects.
We agree with that objective and concluded forest preservation agreement with landowners. Shimizu is working on a forest-building project in the town of Isedera, in Matsusaka City, which is famous for its brand of beef.
Shimizu has set forth the following four guidelines as its policy on this project:
Shimizu will contribute to forest development to replenish as much of the timber we consume at our job sites as possible.
We will help to reduce CO2 through forest-building.
We will deter landslides during periods of torrential rains through forest-building.
We will deepen our ties with local residents through locally rooted activities.
This initiative was launched in 2008 and we currently aim to hold six activities a year, three in the spring and three in the fall., for a total of six times a year. To be specific, we are working to regenerate the forest by clean-cutting or thinning one hectare and planting trees each year with the goal of restoring the ancient woodlands. We also built a walkway and have made other improvements to create an environment that many people can enjoy.
Shimizu also works on activities with local residents to maintain local interaction. Among these activities are nature tours for local elementary school children and putting up nesting boxes built by pre-school children and their parents.
FY 2019 Results
Cumulative
Days held
Mar 24
Apr 21
May 26
Oct 14
Nov 9
57 times
Number of participants
42
44
35
50
31
2,726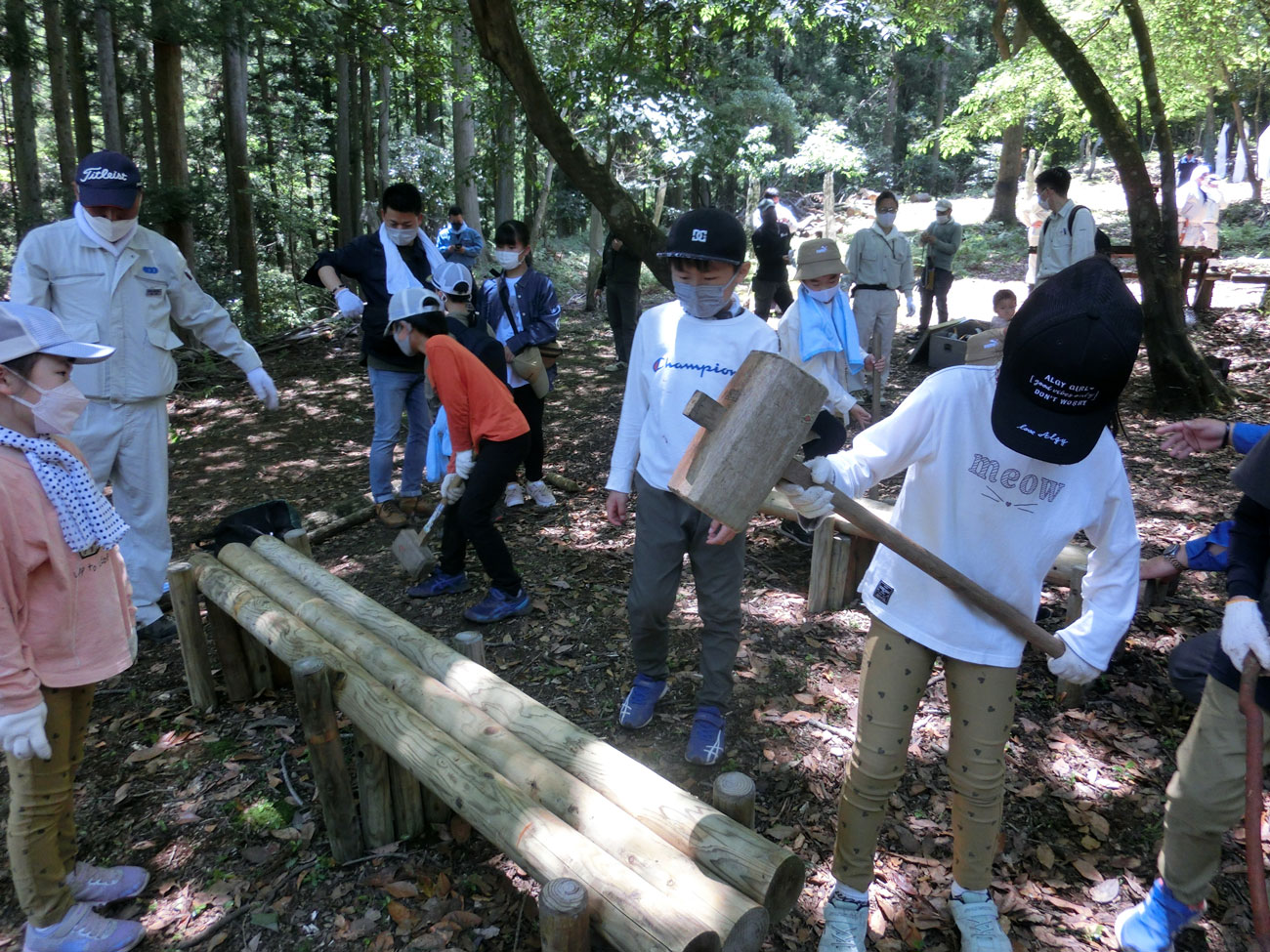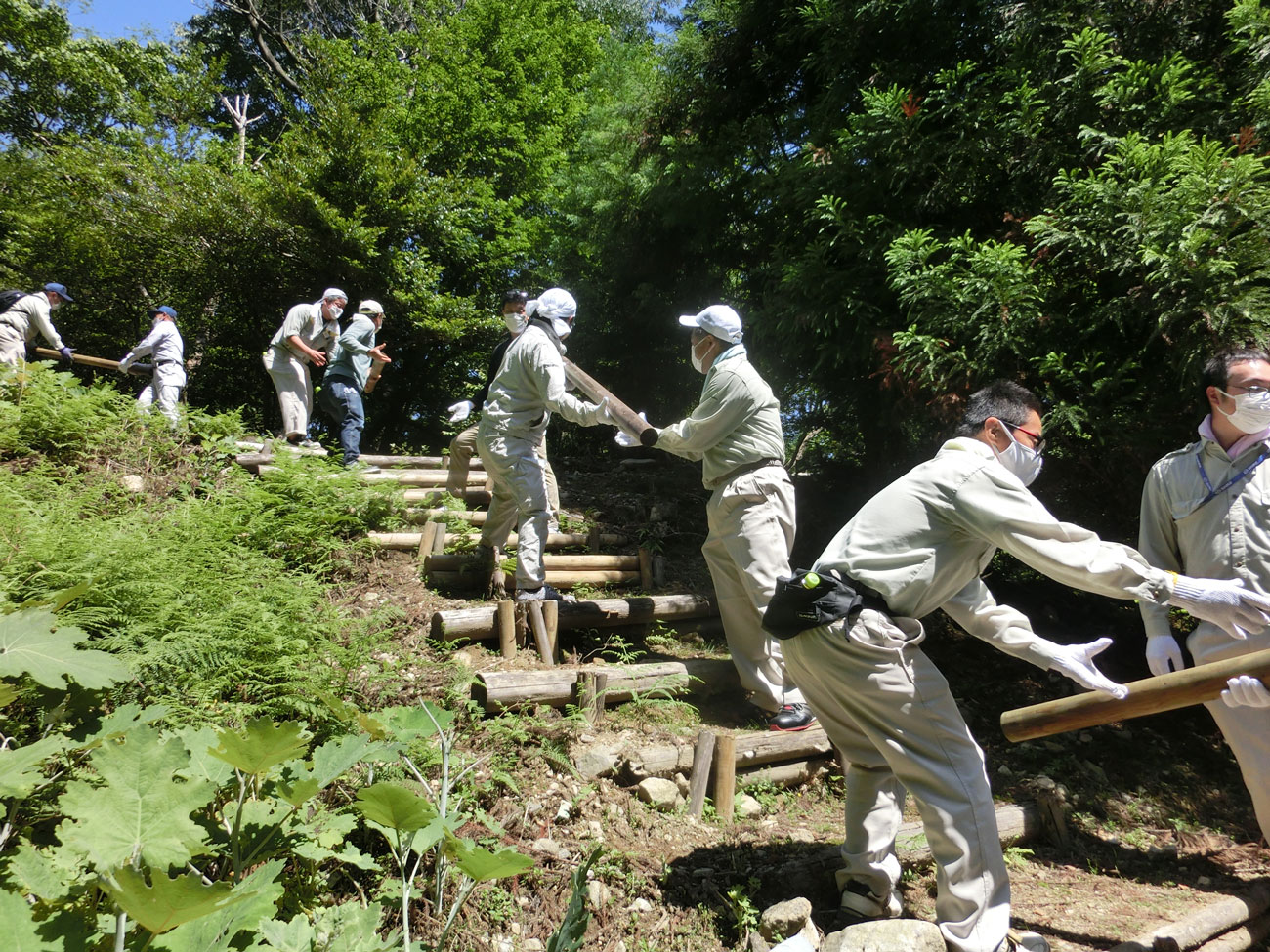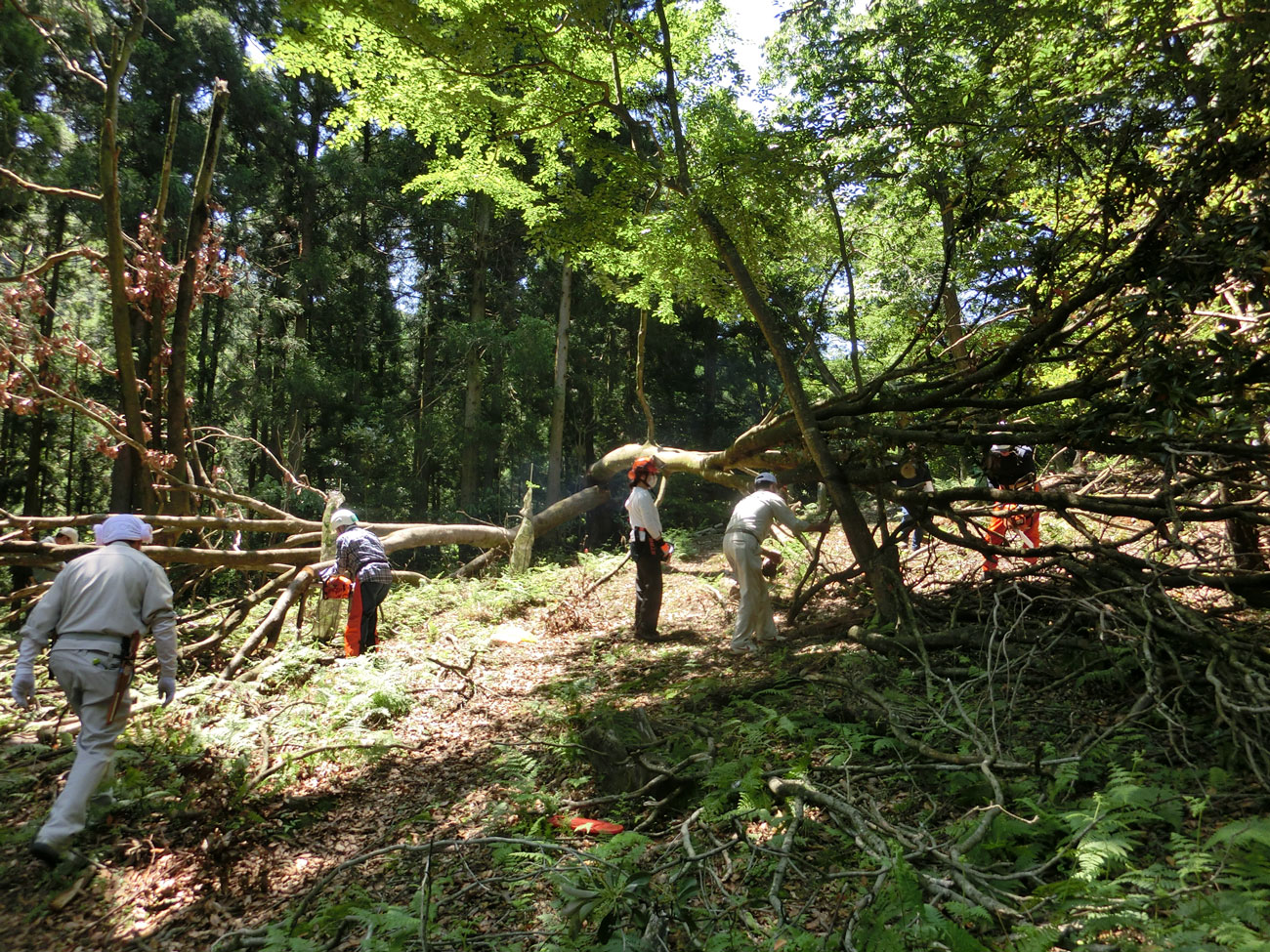 Building a Roost for the Hooded Crane
The Yashiro valley in Shunan City, Yamaguchi Prefecture is a migration destination of the Nabezuru (Hooded Crane). There are only two places in Japan that this crane migrates to. The other is in Izumi City, Kagoshima Prefecture. It is also the prefectural bird of Yamaguchi Prefecture and has been designated as a special natural treasure of Japan.
The Nabezuru is a species of crane, and breeds in the southeastern part of Siberia. It migrates across the ocean to Japan in the winter. The wintering period lasts from late October to early March. The crane spans 100 cm from the tip of its beak to the tips of its feet, and its wingspan is around 180 cm when fully spread.
Capturing the crane has been prohibited since 1868 and a conservation group was established in 1985 and has taken steps to protect it. The number of Nabezuru migrating to the Yashiro valley has been declining annually after peaking at 355 cranes in 1940, despite that.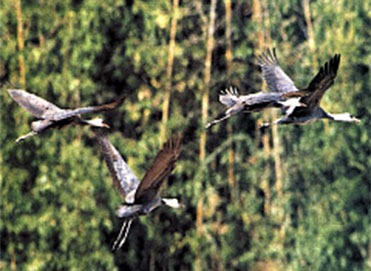 Shimizu was installing the ecological concrete it had developed in road construction that was underway near the roosting grounds at the time. Because of this work, we received an invitation to participate, and have been participating since 1997. The activity involves the participation of 10 to 20 volunteers from Shimizu twice a year, in the spring and fall. They work alongside local residents to cut the grass and prepare the feeding grounds.
The city is working to increase the number of Nabezuru that migrate to the Yashiro valley by transferring injured cranes that have migrated to Izumi City in Kagoshima and releasing them in Yashiro after treating their injuries. This activity is not just something that local people appreciate. It has become widely known and received an award from the Shunan City Board of Education. We look forward to continuing to contribute to the preparation of the Nabezuru migratory roosting grounds in the future as well.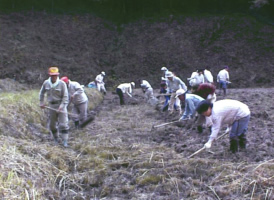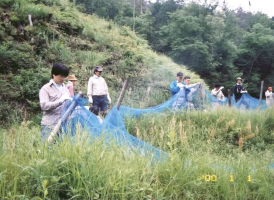 Creating an Animal Pathway
Many Animals Die from Being Hit by Cars
Wild animals die from being hit by cars at the rate of 35,000 a year, just on expressways alone. It has become relatively common practice to build tunnels and other means for badgers and other ground-based animals to cross beneath roads in order to prevent such accidents. However, there are currently very few examples of action taken to prevent traffic accidents for squirrels, dormice, and other small animals that live in the trees.
The Animal-Pathway Research Society* was formed in 2004 and Shimizu has participated in it from beginning. We promote building pathways for these small arboreal animals.
Four private-sector companies, including Shimizu, participate in this, in addition to the KEEP, Inc. Yamane Museum, the Japanese Dormouse Conservation Research Group, and others.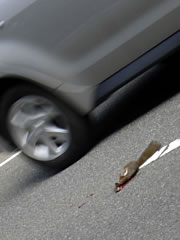 Growing Number of Animal Pathways
When the research society was first formed, we explored what type of structure would make it easy for animals to cross through repeated trial and error. After countless attempts, we found that using a triangular shaped bridge covering would make it easy for squirrels, dormice, and other small animals to use.
We have now built a total of three animal pathways in two locations in Hokuto City, Yamanashi Prefecture and in one location in Nasu Heisei-no-Mori Forest in the town of Nasu in Tochigi Prefecture (installed by the Ministry of the Environment). Each of the pathways was monitored subsequently and use by small animals such as squirrels and dormice has been confirmed.
These types of initiatives have gradually come to be recognized by the community. Our research society received an environmental award from the Japan Society of Civil Engineers in 2008, and an award from the Minister of the Environment in the Contest for Activities on Biodiversity in 2010. We will continue to work to ensure that more animal pathways are built in the future and would like to take other steps to reduce traffic accidents involving animals.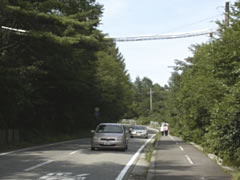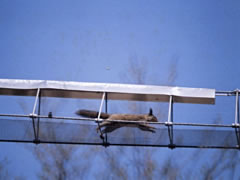 Certification as an ABINC Business Establishment®
Institute of Technology the First Research Facility to be Certified
On February 26, 2015, the Shimizu Institute of Technology was the first research facility to receive certification as an ABINC Business Establishment® from the Association for Business Innovation in Harmony with Nature and Community (ABINC).
ABINC was established in December 2013 by eight private sector companies that included Shimizu, a design firm, and a developer. The goal in establishing it was to realize the short-term goal of taking urgent and effective action to halt the loss of biodiversity by 2020 and the long-term goal of global coexistence with nature by 2050, which were adopted at the 10th Conference of Parties to the Convention on Biological Diversity (COP 10).
ABINC provides third-party certification based on the standards in the Guidelines on Promoting a Business Establishment in Harmony with Nature and the Land Use Report Card formulated by the Japan Business Initiative for Biodiversity (JBIB).
ABINC provides third-party certification based on the standards in the Guidelines on Promoting ABINC Establishments® and the Land Use Report Card® formulated by the Japan Business Initiative for Biodiversity (JBIB).
Initiatives in three areas are examined: 1) creating an environment that contributes to biodiversity, 2) maintenance and management that takes biodiversity into consideration, and 3) communication with stakeholders.
The Shimizu Institute of Technology is located in the center of Tokyo, about 3 km from Ginza. It is surrounded by an area that is full of high-rise residential buildings now and which used to be an industrial district on reclaimed land, an area that is lacking in biodiversity. The main office building was rebuilt in 2002 and the Saisei-no-Mori Urban Biotope was built on the grounds of the old main office building in 2006 to achieve coexistence of people with nature.
Although the biotope is not that large, at around 2,000 m2 (40 m x 50 m), it was planted with 600 trees and bushes from around 100 species indigenous to the Kanto area. The tree species chosen were species that the wildlife inhabiting the major surrounding green area and parks could use. Roughly 30% of the biotope area consists of streams and ponds and the gently sloped banks were created as ecotones that have gradually increased in depth. Many dragonflies and water fowl visited immediately after completion, and the common kingfisher has recently been spotted. We have confirmed more than 300 species visiting the biotope today.
Although the Institute of Technology is located in the center of the city, certification as an ABINC Certification recognizes our efforts to make coexistence with a wide variety of wildlife possible.
Wildlife that has Visited the Biotope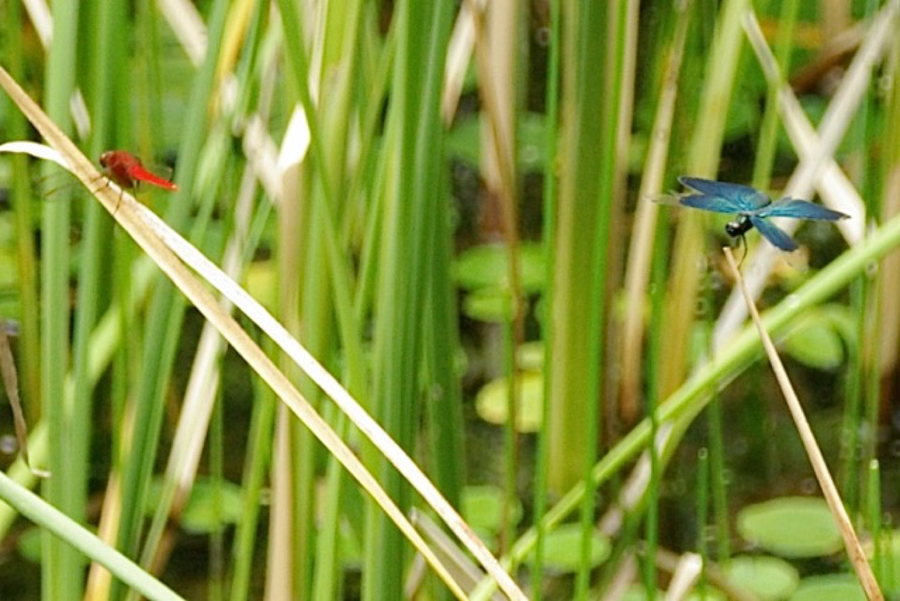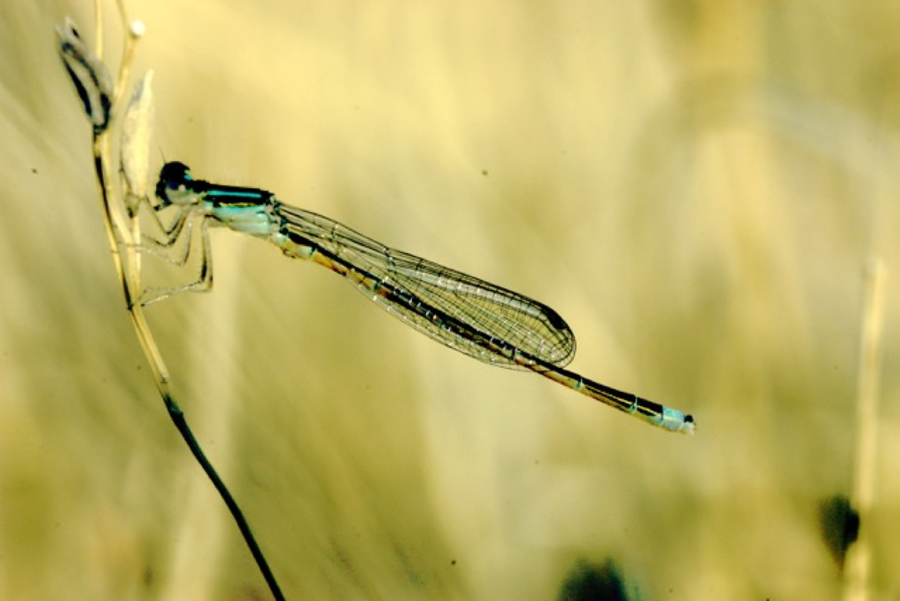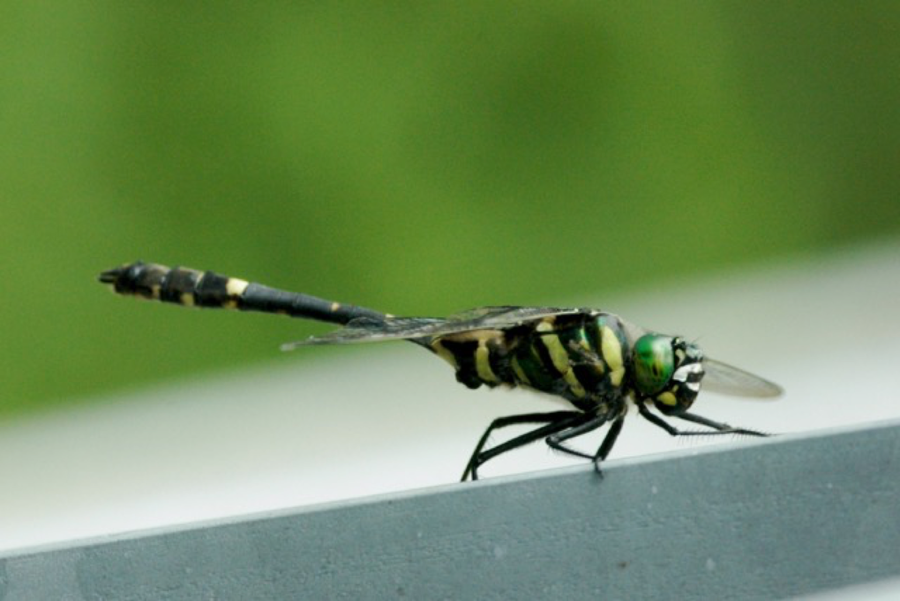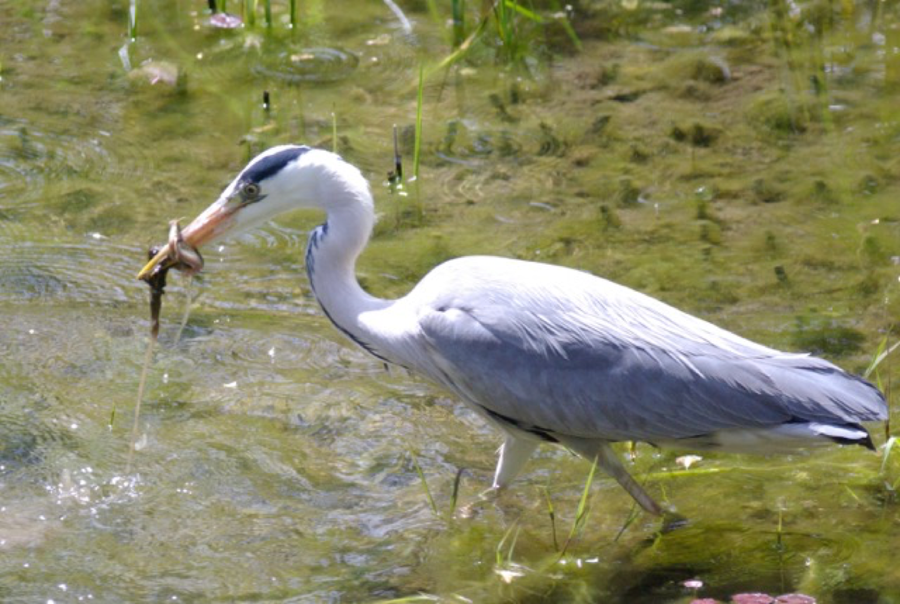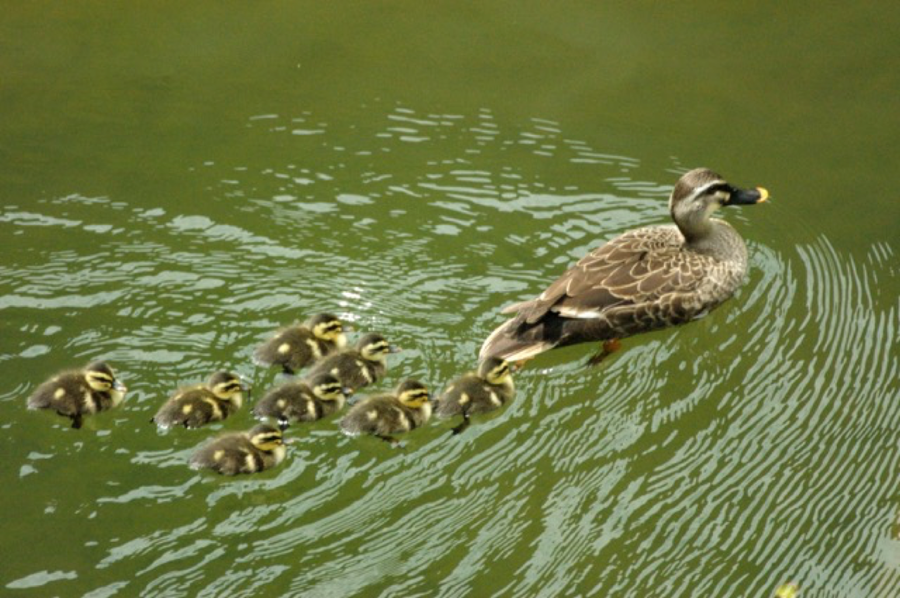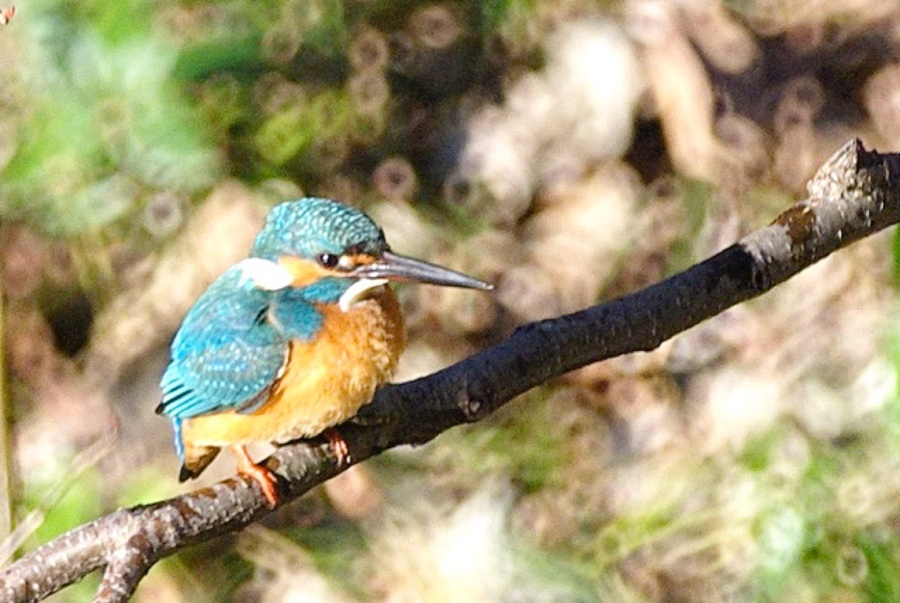 Initiative in Using Timber from Forest-thinning
Techniques Passed Down to Modern Woodworkers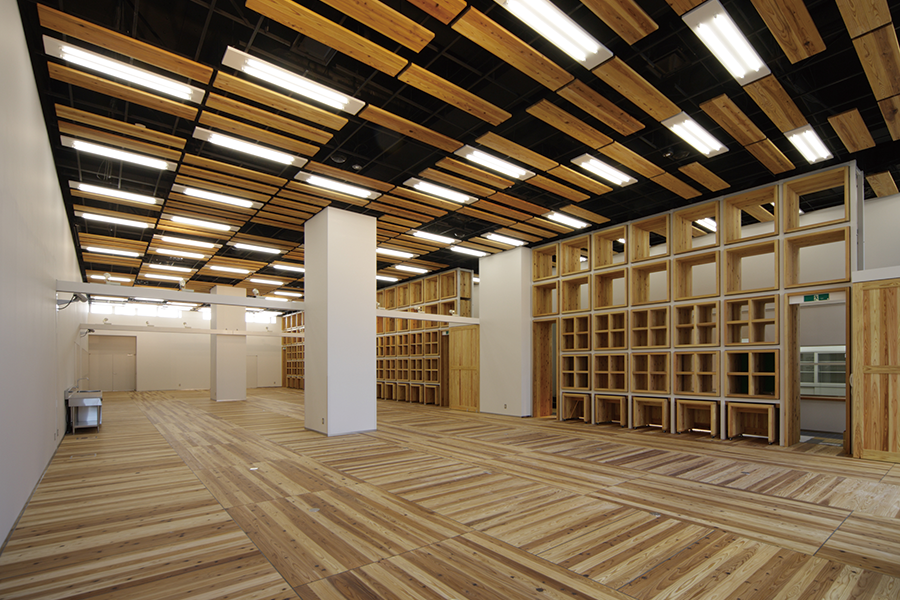 The woodworking techniques passed down from the era of shrine and temple craftsmen is still being passed on to modern woodworkers at Tokyo Mokkoujou Arts & Crafts Furnishings. Shimizu is the only company in the general contracting industry to have a woodworking shop.
Tokyo Mokkoujou Arts & Crafts Furnishings has fulfilled the needs of the times since it was established, continues to develop technological innovations, and produces wooden structures and many products such as items made of wood and interior décor for buildings. It is highly acclaimed by customers.
Using Timber Harvested from Thinning Forests for Familiar Everyday Items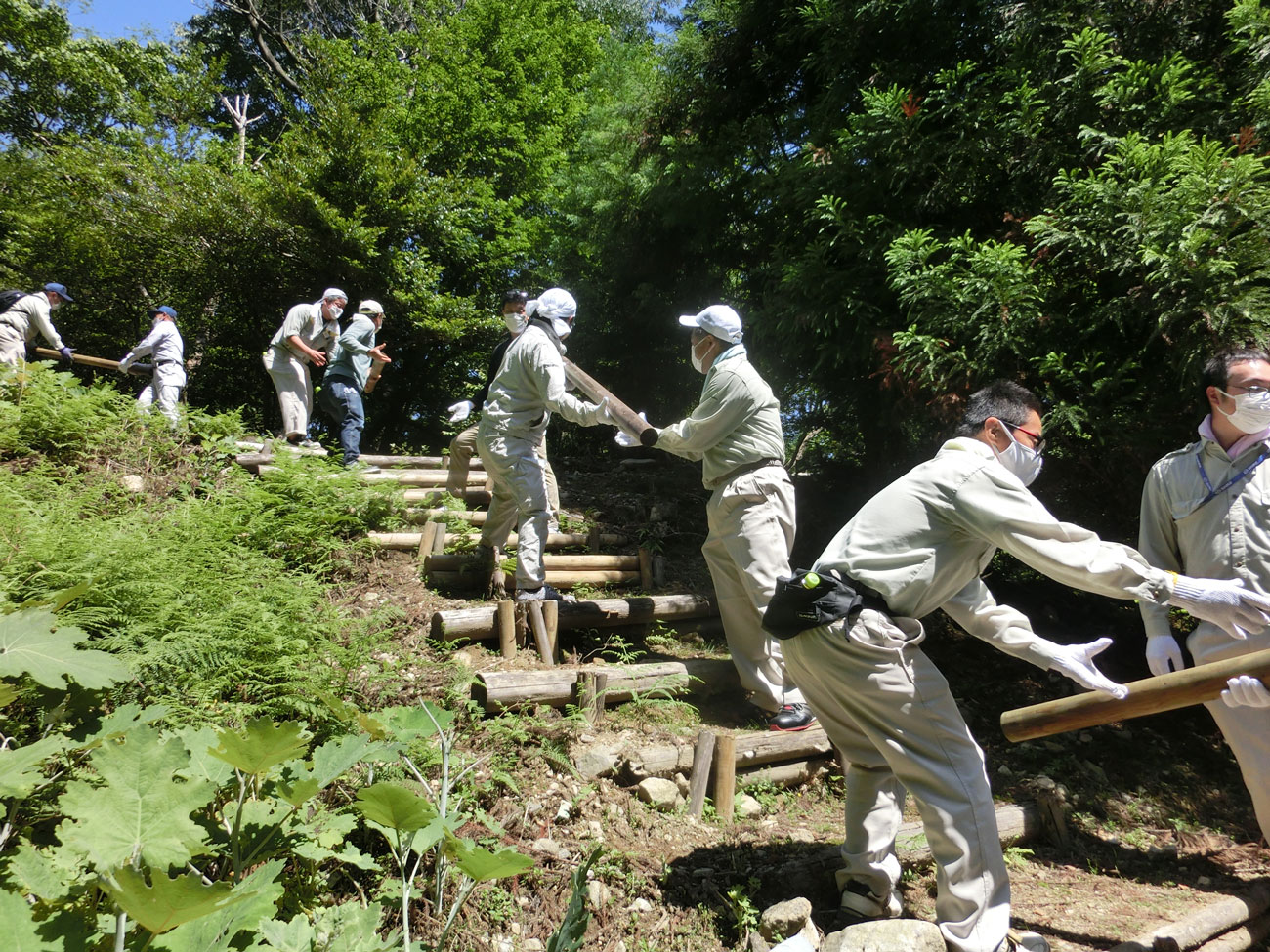 We do not just engage in our main business of building construction. We also utilize that technology to produce familiar everyday items to use as novelty items for distributing at events, etc. and to give as gifts to shareholders and our many other stakeholders.
It is necessary to thin trees that have grown too thickly to preserve mountain forests. We engage in activities aimed at effective use of timber from forest thinning, and members of the Forest-thinning Committee are the main participants in this, as one of the small group activities that Tokyo Mokkoujou Arts & Crafts Furnishings undertakes.
We have received comments from delighted recipients such as, "My image of Shimizu was of concrete and learning for the first time that Shimizu produces exquisitely crafted wooden products changed my impression," and "The warmth of the wood gave me a sense of tranquility amid this busy age."
Hands-on Experience in Forest-thinning
We visited the Kanagawa branch of Moroto Forest Co., Ltd. in Tanzawa, which is located in Hadano City, Kanagawa Prefecture. Moroto supplied the Japanese cypress lumber to Shimizu for constructing the stage when rebuilding the Kabukiza Theater, among other products. There, we participated in a study session on the current state of the forestry industry and gained hands-on experience in forest-thinning.
This enabled participants to gain a fresh awareness of the state of the forestry industry, the problems it harbors, and the importance of forest-thinning through actual experience. This is an activity that we will continue to participate in, especially since we are woodworkers in the construction industry. (Tomonori Takise, Sae Toyama, Tokyo Mokkoujou Arts & Crafts Furnishings, Building Construction Headquarters)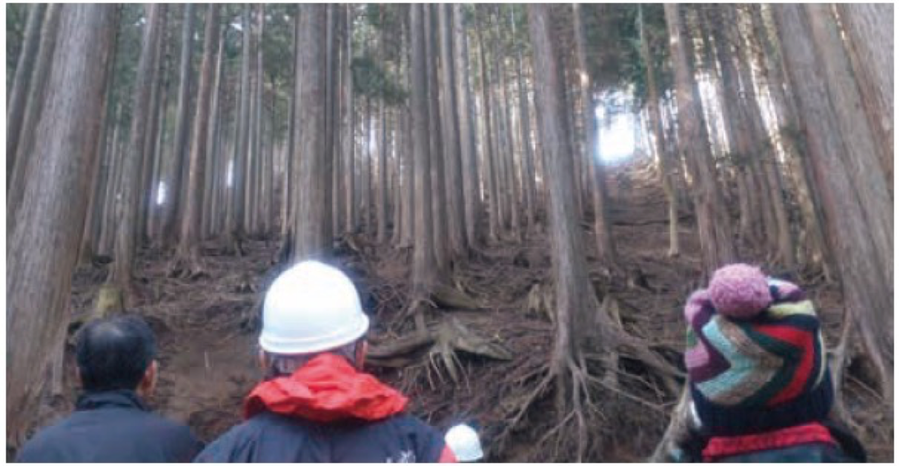 Location That Has Not Been Thinned
Sunlight does not penetrate and grass cannot grow beneath the trees, so the topsoil erodes, leaving the tree roots exposed. The soil is fragile and decaying fungus enters the trees from the exposed roots. This causes the trees to rot.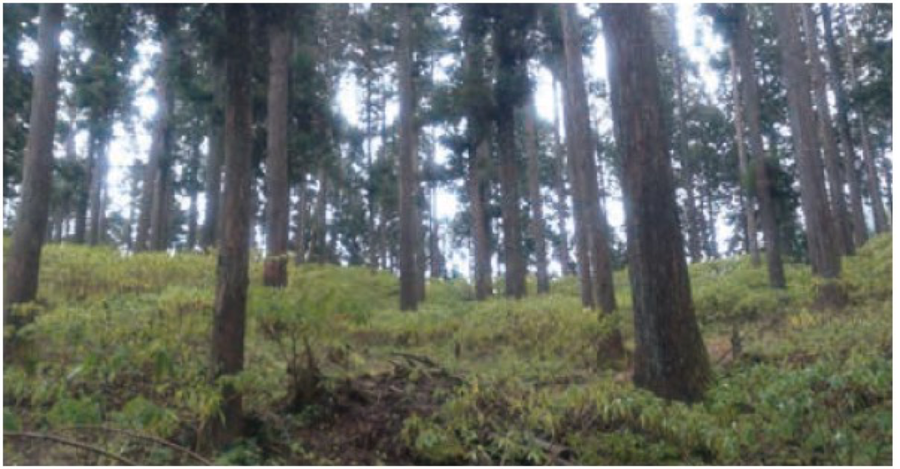 Four Years after Thinning
Sunlight penetrates well and Oriental Paperbush has grown beneath the trees. This controls topsoil erosion and keeps the soil healthy. The trees do not rot and grow in health.