Proper Processing of Waste
Countermeasures for Construction By-products
In addition to the dirt and sludge that is generated at building and civil engineering job sites, by-products such as steel, concrete, and glass from dismantling existing structures are also generated. Reducing the volume of these by-products and recycling them is an important mission for construction companies. Shimizu therefore engages the entire company in promoting "4R" activities (refuse, reduce, reuse and recycle).
Total Emissions Volume, Final Disposal Rate, and Total By-products Generated Per Square Meter
The results for fiscal 2018 are shown below.
We far surpassed our goal, thanks to the results from large construction projects in the metropolitan area.
Total volume generated:

1.95

million tons (+8% YoY)

Volume generated (excluding sludge):

1.28

million tons

Final disposal rate:

3.5

%


[/4.0% or less]
Total by-products generated per square meter:

15.6

kg/m2
[/15.8kg/m2or less]
Initiatives in Resource Conservation and Improvement of Resource Efficiency at Job Sites (4R Activities)
Shimizu aims to reduce the amount of waste generated and improve disposal rates by cooperating with manufacturers and recycling companies at our job sites on relevant "4R activities," namely regarding improvement of resource efficiency, reduction of by-product production, and reuse and recycling of resources.
Refuse

Going package-less, precutting at the factory, and unitization

Reduce

Using alternate formwork and industrialization at job sites to reduce use

Reuse

Reusing repetitive formwork (eco formwork) and improved soil

Recycle

Bringing materials to a recycling center so they can be reused, recycling by manufacturers (regional authorization, etc.)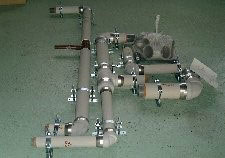 Pollution Prevention
Shimizu strives to manage pollution prevention properly as an important task of management.
Asbestos
Shimizu has developed various kinds of proprietary technology and is actively using these in asbestos remediation. These technologies include the ASP method, a highly effective removal method; Shico, a type of reduction equipment; FS-1, a real-time measuring device; technology for diagnosing degradation of asbestos; and Astector, an agent that prevents asbestos from scattering. surveyors of asbestos-containing construction materials in structures.
In fiscal 2017, 707 tons of airborne asbestos was generated from demolition and renovation work. We thoroughly disposed of all 707 tons with no incidents or accidents. Approximately 40% of this was detoxified by melting it.
Shimizu has developed various kinds of proprietary technologies such as a real-time measuring device (FS-1), volume reduction equipment (@), an agent to prevent asbestos from becoming airborne (Astector). Furthermore, Shimizu encourages its employees to build capacity regarding asbestos management, such as by providing special asbestos training to employees and providing certification support for managers involved in the use of asbestos and employees involved in investigation of construction materials containing asbestos.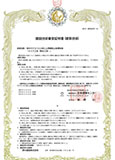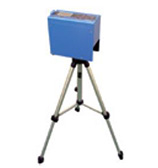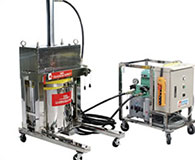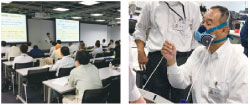 Dioxins, PCBs, CFCs, Halons, Noise and Vibration
Shimizu has developed and uses the S-DA method of remediation for dioxin contamination.
We store PCB waste properly at our company, and work with JESCO to systematically detoxify it.
The PCB waste currently in our possession as of September 30, 2019 is shown below. We are meeting with each contract processor and plan to complete the detoxification processing by fiscal 2020.
| Capacitor | Stabilizer | Other |
| --- | --- | --- |
| 89 pieces | 0 pieces | Drum can 11 cans |
As per the Act on Recovery and Destruction of Fluorocarbons, Shimizu has appropriately conducted necessary checks and inspections regarding the CFCs used in its managed equipment. Furthermore, through our internal environmental audits as constructors, we verify that our management of waste CFC emissions from special equipment used during building demolition is being managed properly.
Shimizu has also developed and uses the Cool Cut method to control the generation of noise, vibration, and dust during the demolition process.
Adoption of an Electronic Manifest
We have been working on use of electronic manifests to ensure that our waste is processed properly and to adhere to the Japanese government's policy to mainstream the use of electronic records. As of fiscal 2017, we are managing all construction via electronic manifests, with the exception of rare and special circumstances.
Resource Use
Policy on Resource Conservation
The most important thing in our approach to reducing resource consumption is to promote effective and precise 4R activities at our job sites. As a part of this, Shimizu developed the Construction By-product Forecasting System and implements it at its job sites. Implementing this system at each job site enables us to automatically draft the most optimal site-specific plan for our 4R activities.
We also aim to utilize resource management to engage with the local communities of our job sites. For example, we provide cardboard that is no longer needed to neighborhood associations, and set up recycle stations to distribute by-products such as usable surplus construction materials.
We have reduced by-products generated from new construction projects to 15.0 kg/m2 or less through such initiatives, which sets us at an industry leading level.
Encouraging Manufacturer Recycling Using a Region-wide Certification System
The Region-wide Certification System is a certification system where manufacturers that make exceptional achievements in managing the waste generated by their products such as through recycling are recognized. The manufacturer of a product obtains certification from the Minister of the Environment showing that they have cleared the strict standards of the Ministry of the Environment. This enables the public to know for certain that the discarded product will be processed properly and results in a higher rate of product recycling.
We carefully sort the drywall, urethane materials, and other by-products generated from construction at each construction project job site and are working to promoting product recycling by manufacturers through the Region-wide Certification System.
Conceptual flow diagram of the zero emission region-wide certification for drywall (photo)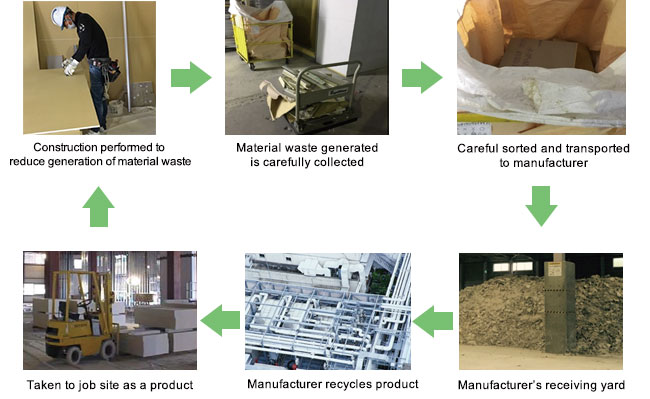 Pursuit for More Advanced 4R Activities
For future initiatives, we intend to reduce the actual generation of by-products, and implement 4R activities that shift efforts to more sophisticated Reuse and Reduce activities.
Lifecycle Analysis of Product and System Design
In the design and planning stage of our PDCA cycle for reducing waste, we use the Construction By-product Forecasting System and front-loading.
Description of Initiatives in Resource Conservation
Easily Removable Exhibition Hall for 100% Recycling
Construction of a Temporary Exhibition Hall on the East Side of Tokyo Big Sight (Tokyo Branch)
Shimizu diligently implemented 4R activities from the design and construction stage by preemptively considering the dismantling and removing of the building. In the construction stage, we applied various methods such as the steel pipe pile rotation and press fit method or our patented pile head ring socket construction method. We used precast concrete for the framework and unitized equipment during the construction stage, simplified packaging, and sorted waste, thereby substantially reducing generation of by-products. We also used recyclable materials for the exterior components and materials. We planned and implemented a 4D process using BIM, and employed environmentally friendly methods in the dismantling stage as well. Shimizu received a contributor's award from the Prime Minister for practicing the 3Rs (reduce, reuse, and recycle) in fiscal 2017 in this project.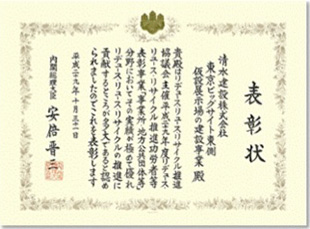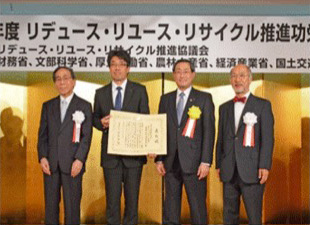 Preventing Water Pollution and Effective Use of Water Resources
Water Resource Conservation
From the Three Perspectives of Office Activities, Job Sites, and Research & Development
Along with global warming, conservation of water resources is becoming an increasingly serious global issue. Shimizu is committed to reducing water use and improving efficiency, and is implementing initiatives such as office based water conservation and reuse activities, job site based utilization of proprietary technologies to improve efficiency, reuse, and wastewater management, and R&D to improve water efficiency as well as quality of water treatment. We work to conserve local water resources through activities in each of these areas.
Initiatives Addressing Water Conservation and Mitigation of Water Related Risks at Job Sites
The amount of water needed at job sites is big difference depending on the surrounding environment, types and size of building and construction method. Furthermore construction industry is also a contract by order industry so construction begins as needed throughout the year.

Based on these factors, we have begun a trial in setting quantitative goals (discharge rate reduction, withdrawal amount reduction, etc.) for the amount of water withdrawn and discharged, in addition to managing goals relating to the occurrence of violations and malfunctions concerning existing environmental laws and regulations and other rules relating to water. It is our commitment to work to avoid any excessive water usage at each job site.
For regional water risks (typhoon season, rainfall amount, water usage and discharge volume, restrictions relating to water quality, etc.), we receive information from planning sessions held at the design and quote stages and confirm it in a pre-construction planning session that includes the divisions involved in construction and the person in charge of construction. We begin construction after developing a plan for appropriate water usage. This water usage plan focuses on reducing the volume of water withdrawn and discharged and efforts to use recycled water, as well as water quality management, particularly of the water discharged.
From the time construction begins up to delivery to the client, we install a notch tank of several Cubic meters in size for simple water treatment or a large-scale polluted water treatment plant, depending on the volume of water used and the size of the project. We perform routine management and strategic management according to voluntary management standards that meet or exceed legal requirements. We also contribute to regional water resource conservation by confirming management through cross-organizational job site patrols which involve the head, branch, and division offices.
Effective Use of Water Resources
In the construction industry, each job site is a production base. These sites therefore use water for daily activities and for construction, and discharge wastewater in their respective regions.
Shimizu has prepared a company-wide standard report form and manual for methods of water withdrawal and discharge, and measures to take for neighboring areas at each construction site.
The water intake / drainage situation and management plan for each facility related to the project are as shown in the following table.
Water Management Plans
As the table below indicates, all job site and offices manage water.
Category
Status of Main Uses of Water Resources
Water Resource Management Plan
Job Sites (in Japan)
Water withdrawal (municipal potable water, groundwater, surface river water*)

Water injected to stabilize porous walls in pile construction and drilling
Wet curing concrete at a high temperature after pouring it
Water sprinkling to control dust

We confirm the existence of risks related to water resources (costs to prevent water pollution, fines incurred by legal violations, etc.) considering the special characteristics of the job site and unique features of the surrounding environment at a pre-construction planning session with the divisions involved.
We formulate a water management plan that includes methods of water withdrawal and discharge at the job site, management items, etc.
We confirm methods for managing water withdrawal and discharge and standard values for water discharge with the land manager, local government agencies, etc.
We begin construction once confirmation and consent has been obtained from the local government (local citizens), and measure and manage pH and other management items at each job site.
The environmental department at the head office published the Manual on Preventing Water Pollution at Job Sites as a reference, and supports the activities noted above.

We manage all job sites according to the special characteristics of the job site and the neighboring environment, as described above.
Water discharge (off-site water treatment)

Wastewater discharge from washing and rainwater
Wastewater from pumping to lower the water table during drilling, when necessary

Job Sites (Overseas)
Same as in Japan
Nearly the same as in Japan
Offices in Japan & Overseas
Water use: Municipal potable water
Water used for daily activities
We are gradually adopting use of toilets that use less water as we renovate the office buildings we own. (Head office, approx. 3,300 people; Shikoku Branch, approx. 60 people; Institute of Technology, approx. 300 people; 40% reduction in water use for washing/flushing)

71% of the water we use at the Shikoku Branch is recycled water (local infrastructure).

Initiatives in Water Recycling

At the head office, we treat wastewater from the kitchen, washing (miscellaneous discharge), and rainwater run-off in a plant located inside the building. This water is recycled as gray water. (Approx. 14,000 tons/year)
At the Shikoku Branch, we use gray water from the local infrastructure.

Wastewater: off-site water treatment discharge
Wastewater from kitchen, washing/flushing, and rainwater
Supply Chain

Water used in manufacturing steel, concrete, timber, and other key construction materials
Water used in producing concrete at job sites (classified as a supply chain item because the work is performed by an affiliated company)

Key construction materials (cement, steel, etc.): We select suppliers based on our environmental commitment to reduce our environmental footprint. We have identified business regions under water stress, and have recognized that because the majority of our job sites are in Japan and materials are predominantly procured domestically, water stress is a relatively low risk to us.
Cooperation with other business partners at job sites: We provide guidance to our suppliers and subcontractors based on Shimizu's Environmental Management Policy.
Shimizu obtains the proper permits for using groundwater, surface/river water, etc. in areas where municipal potable water cannot be used.
Shimizu engages in systematic efforts to improve water use efficiency and mitigate or prevent a negative impact. Below are several examples of specific initiatives.
Water sprinkling to prevent dust
In cases where construction involves dismantling a building and requires sprinkling water to prevent dust, we reduced tap water usage by reusing the water that had collected in the underground spring pit during dismantling.
Reuse of processing water in underground pits
In cases where contaminated soil was excavated in underground pits and carried out, we initially used tap water to clean the pit after excavation and transport vehicle tires, but reduced water usage by treating water with water treatment equipment and recycling the treated water confirmed to meet the proper standards.
Use of Recycled Water in Tunnel Construction, etc.
We reuse water that wells up in the tunnel as construction water by using a turbid water treatment plant within the job site on projects involving tunnel construction and other types of construction as well, thereby recycling and reducing water use.
Qualitative Goals for Effective Water Use (Linked to Biodiversity)
As part of our long-term environmental policy, we aim to "minimize our environmental footprint in business activities" and "create and restore the environment" and have identified biodiversity as a key component of these goals. Reducing the impact of construction on the environment as far as possible is fundamental to that and is one category in the Shimizu Biodiversity Guidelines. We ascertain the mutual impacts between construction activities and the environment during construction, and work to prevent or mitigate any new impacts that demand concern. We also track the number of serious environmental incidents as a KPI (key performance indicator) to manage our goals for water resources and water pollution. We have included measures against water pollution as one of the items in the Job Site Environmental Key Point Management Chart that is created before construction begins. We manage construction wastewater at all construction sites.
External Collaboration on Effective Use of Water Resources
Shimizu participates in projects concerning water treatment and collaborates with external stakeholders in research on building infrastructure and water treatment in water-stressed areas.
Joint Research on Water Treatment
Development of a new water treatment system that uses biotechnology (bio-focus project)
Comprehensive technological development project by the Ministry of Construction that began in fiscal 1985 and implemented over five years
Aqua Renaissance 90 Plan
This plan was implemented over six years, from 1985 to 1990, as a project by MITI (Ministry of International Trade and Industry) and NEDO (New Energy and Industrial Technology Development Organization) entitled "Development of complex methane gas manufacturing equipment with a high-performance separation membrane." The goal of the project was to develop a system that combined biological treatment with membrane treatment.
Development of labor-saving technology for tunnel wastewater treatment
R&D on tunnel wastewater (mining wastewater) treatment technology by the Metal Mining Agency of Japan (now JOGMEC) and a special commission (1993–1998)
NEDO/RITE project to develop technology for remediation of contaminated soil, etc.
Technology for treating groundwater contaminated by trichloroethylene was developed in a project that extended from 1995 to 2001.
This was the first experimental verification of bio augmentation in Japan.
Joint research with the Japan Atomic Energy Agency
Research was performed on modeling groundwater flow and technology to control high-pressure spring water.
The research made effective use of limited data to explore ways to evaluate groundwater flow characteristics which included reverse analysis to enable efficient projection of the spatial distribution of uneven flow characteristics.
Various grouting methods (crack reinforcement in the dam base, etc.) and materials were also considered for controlling the high-pressure spring water that emerges from deep underground.
Joint research by NEDO and Shinshu University
Use of groundwater for heat pump air conditioning
Groundwater was used as a heat source to reduce the amount of energy used for air conditioning. The efficiency and reliability of the heat pump depending on the temperature of the groundwater was verified.
Joint research by Japan Cooperation Center Petroleum (JCCP), the Oman Ministry of Oil & Gas, and relevant professors and academics
Created a new water resource through research on the nature of water containing oil and development of treatment technology
This research verified the technology for using the large volume of produced water from exploratory drilling for crude oil as a water resource. (The groundwater pumped up along with the crude oil was previously designated as wastewater and was returned to the ground.)
Participation in Water Treatment Projects
August 2007 to March 2008: Council on Competitiveness-Nippon (COCN) project on technology for the effective use of water treatment and water resources
This project explored issues in overseas development, a water business model for overseas, and framework for proceeding with development
(Team members: The University of Tokyo, Hitachi Plant Services Co., Ltd., Hitachi, Ltd., Toray Industries, Inc., Shimizu Corporation, Kajima Corporation, Toshiba Corporation, Mitsubishi Electric Corporation, Fuji Electric Co., Ltd., and NGK)
August 2009 onward: Global Water Recycling and Reuse System Association, JAPAN (GWRA)
GWRA was established in November 2008 at the suggestion of COCN (45 corporate participants as of March 2010). Activities are conducted by the Project Committee (that conducts market research, etc.) and the Planning and Strategy Committee (plans projects, etc.)
September 2009 to February 2010: Survey and research committee on the effective use of water resources and the water resource supply business, Japan Industry Association
This committee conducted surveys and research on how to enter the water business market overseas (desalinization of ocean water and recycled sewage water)
April 2010 onward: Mekong-Japan Industry and Government Dialog sponsored by the Ministry of Economy, Trade & Industry for industry, government, and academic organizations
Project members participated with the goal of industry participation in the business of infrastructure development, etc. and regional development in the Mekong region.
April 2014 onward: Development of technology for washing dioxin-contaminated soil in Vietnam
Shimizu worked together with CTET, a research organization in the Vietnamese Ministry of National Defense on researching applications for soil washing technology at Bien Hoa Airport and other locations.
2014 onward: Building rain gardens
Rain gardens were use at Kyoto University of Advanced Science, Yokohama Nomura Building, and other locations to control rainwater run-off from the premises. We conducted a survey on the effectiveness, etc.
Building Water Treatment Infrastructure
Pahang-Selangor Raw Water Transfer Tunnel (Malaysia)
At 44.6 km long, this is Southeast Asia's longest water conduit tunnel. It was built to supply 1.89 million m3 of water per day to the Kuala Lumpur greater metropolitan area and Selangor State from neighboring Pahang State to provide a stable supply of water for daily life and commercial use.
This project was part of Greater KL, a national project to transform the greater metropolitan area into a global international city and provide an engine for economic growth. It involved over 100 local staff members, 1,000 workers from 12 countries, and a construction period of 1,800 days. It was completed in May 2014.


Project for produced water containing oil
In order to create a new water resource from this produced water, Shimizu worked with JCCP (Japan Cooperation Center Petroleum), Sultan Qaboos University, the Oman Ministry of Oil & Gas, and others on developing highly efficient produced water treatment technology that is simple and can be used for general purposes.
Sewer Systems and Treatment Facilities in Malaysia and Vietnam
Shimizu built four sewage treatment facilities, one slurry treatment facility, roughly 5.4 km of a main sewage line, and 17.3 km of a sewage pipeline network for the area surrounding Kuala Lumpur. We also built a sewage treatment facility in Ho Chi Minh. Both projects were completed in 2009.
Effective use of water in office buildings
Shimizu promoted use of water-saving sanitary fixtures and actively worked to make it possible to use gray water by treating it with a membrane separation method in the Shimizu head office building.
We received the LEED-NC Gold Award for our efforts. LEED (Leadership in Energy & Environmental Design) is an international system of certification for evaluating the environmental performance of buildings.
Compliance on Water Quality and Water Resources
Shimizu complies with laws and regulations, ordinances, and other rules concerning the use and discharge of water resources in construction.
Preventing Water Pollution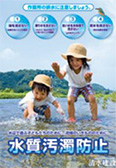 We work hard to prevent water pollution during construction by providing a Manual on Preventing Water Pollution at Job Sites, conduct e-learning courses, and holding meetings for the construction managers at each branch. We also implement various initiatives during Water Pollution Preventing Awareness Month in June of each year.
Number of Incidents of Violations Relating to Water Quality and Water Resources
In fiscal 2017 there were zero incidents of non-compliance or violations regarding water quality/quantity permits, standards, and regulations including those against water pollution laws, sewage system laws, groundwater laws, and riverway laws.
Business Activities in Areas with Water Shortages Overseas
Business activities in the water stress area
We manage the water risks of business activities (building construction and civil engineering) in water-stressed regions, utilizing the World Resources Institute's (WRI's) Water Risk Atlas.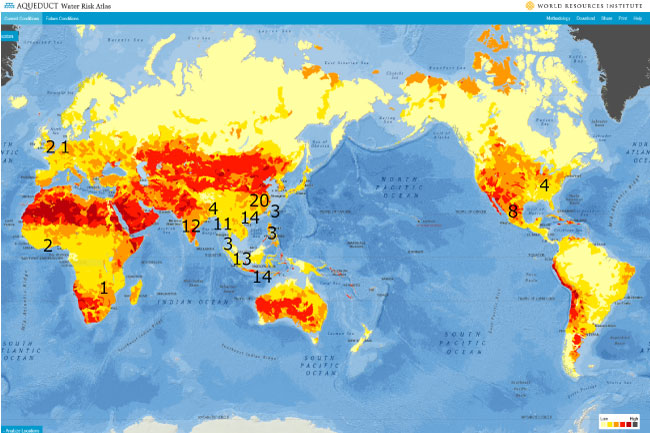 Shimizu's business activities in regions identified to be potentially exposed to water stress are listed in the table below.
Of the overseas job sites scored according to five levels of water risk, none were in areas of "extremely high risk." There were total of 13 job sites in areas of "high" risk, located in China, India, and Mexico (12% of all overseas job sites). This comprises less than 1% of all job sites, when including job sites in Japan.
In the future, we will continue to target strict risk management in advance and respond to restrictions in water management as we carry out business activities in areas of high water risk.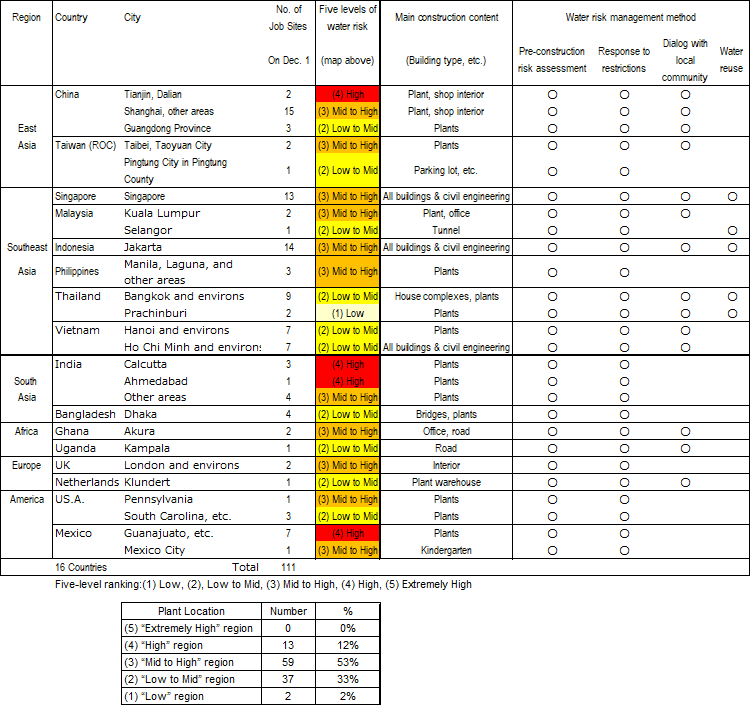 The percentage of all business activities (construction and civil engineering projects) conducted in water-stressed areas is shown below.
10% in water-stressed areas = Approx. 200 (water-stressed areas) ÷ Approx. 2,000 (total business projects (construction and civil engineering))
Produced Water Project: Aiming to Solve the Three Largest Environmental Challenges in Middle Eastern Oil Producing Countries by Creating New Water Resources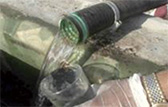 Produced water from oil production refers to the groundwater that wells up during oil drilling. The amount of water produced ranges from three to five times the amount of oil produced. In Oman, there are areas where one oil field generates 200,000 m3 of produced water a day, more than half of the potable water supply for Muscat, the capital of the country.
Produced water contains oil and hazardous heavy metals that are extremely difficult to remove. Treatment is difficult and nearly all of the produced water is returned, unused, to the subterranean mine, at present. In order to create a new water resource from this produced water, Shimizu working with JCCP (Japan Cooperation Center Petroleum), Sultan Qaboos University, the Oman Ministry of Oil & Gas, and others on developing highly efficient produced water treatment technology that is simple and can be used for general purposes. This treatment of produced water has already reached the level of the standard needed for water used in irrigation.
Shimizu is also working on an oil well waste treatment/usage system for the sludge and other waste pumped up along with produced water. We have developed an irrigation and seaweed farming system and are performing experimental verification aimed at commercialization. We are working to solve the three greatest environmental problems in Oman and other Middle Eastern oil producing countries: Produced water, oil well waste, and water resource depletion.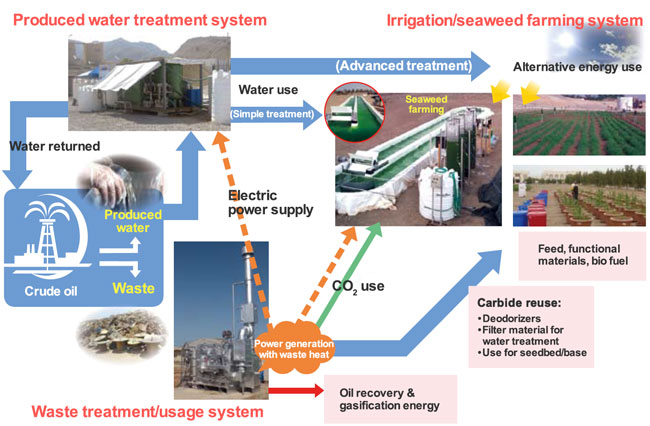 Water-related Risks
Responding to Abnormal Weather
One of the water-related risks caused by abnormal weather associated with climate change is concentrated rainfall on job sites where wastewater discharge facilities have not yet been completed. Potential damage could include worker casualties, damage to buildings under construction, and impact to the surrounding environment due to outflow of materials and soil.
From an environmental perspective, we focus on the impact to the surrounding environment, and develop a response plan and emergency materials stockpile based on the special characteristics of each job site and the specific characteristics of the surrounding environment and region. The general estimate for the cost of responding to water-related risks (stockpiling of emergency materials, etc.) is around 56 million yen a year for job sites in Japan.