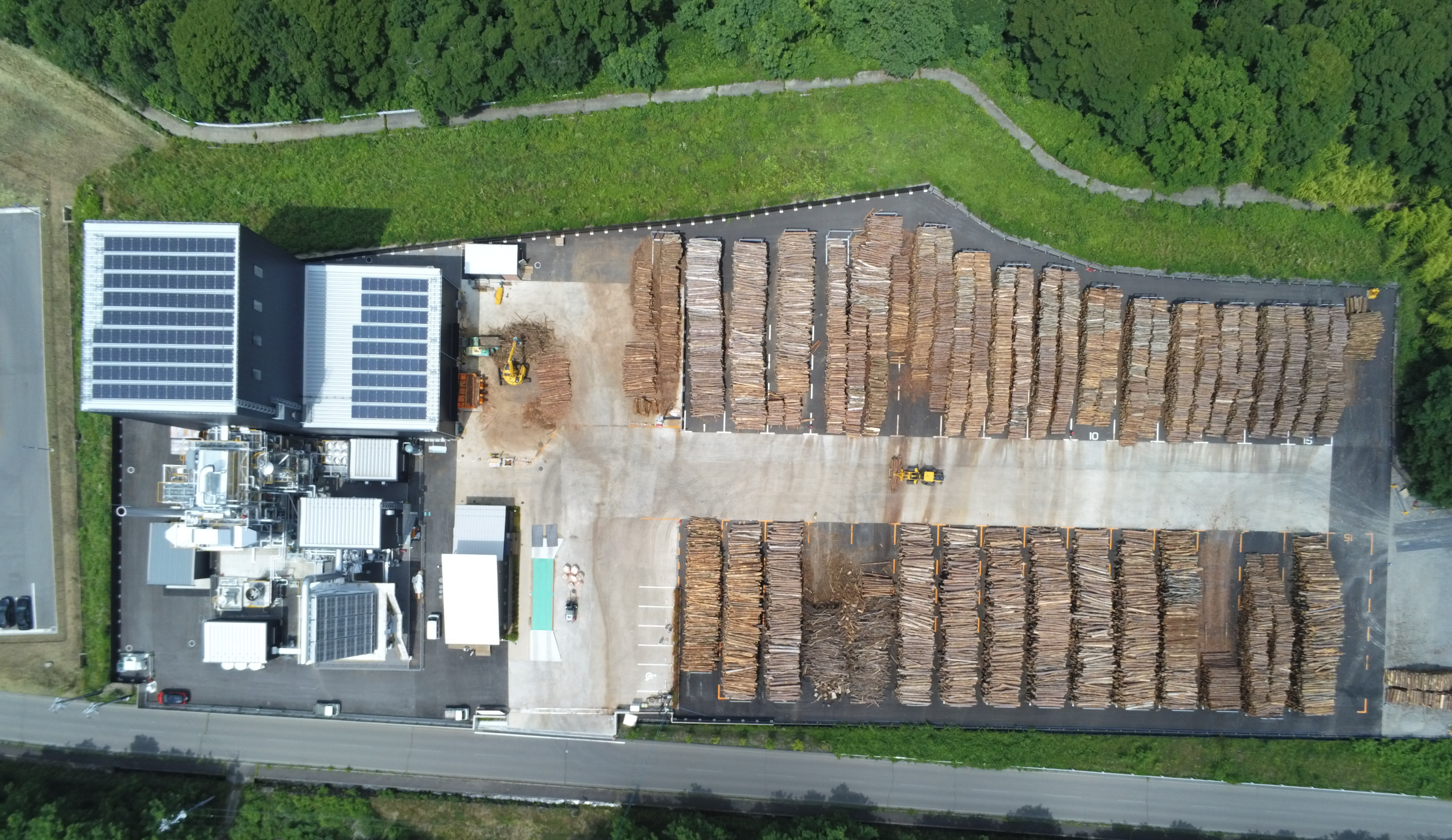 In July 2020, the first community-based wood biomass power plant promoted by Shimizu began operating in Tomi City, Nagano. The effective use of local forest resources to generate renewable energy plays one part in sustainable forest management, contributes to combating global warming, and promotes the forestry industry and revitalization of the local community.
Integrated Power Plant that Builds a Win-Win Relationship with the Local Community
Shinshu Wood Power was established to operate a power generation business by Shimizu and Toyota U group joint venture and Shinshu Wood Chip was established as subsidiary of Shinshu Wood Power to manufacture wood chip. Shinshu Wood Power & Chip (SWPC) built a power generation and wood chip manufacturing plant in the Hakeyama industrial district, which faces a small hill along the Chikuma River.
The plant has 2MW class power generation capacity and will sell electric power to Chubu Electric Power Company for 20 years, using the feed-in tariff(FIT)system. The power generated is enough to supply electricity to around 5,400 typical residential households.
The wood chips that will provide the fuel source come timber from tree-thinning and from unused lumber, including lumber damaged by pine weevils, and is purchased from the local forestry association and producers. The business has also generated new local jobs for 12 people to operate the power plant and wood chip manufacturing plant.
This is an integrated power generation plant that can circulate people and money, and contribute to revitalization of the local community by continuing to take on the challenge of incorporating advanced technologies, while building a win-win relationship with the local community and forestry business.
Shinshu Wood Power and Shinshu Wood Chip, Episode 1(only in Japanese): Our Philosophy(2 min. 24 sec.)*Click on the screen to start the video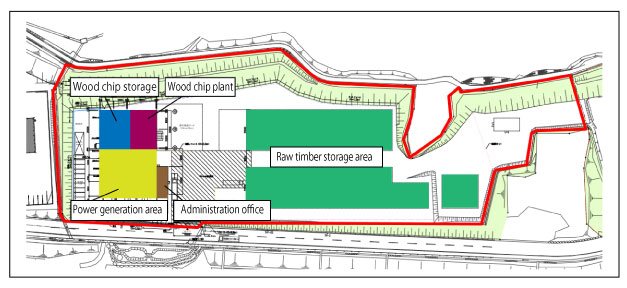 Turning Unused Lumber and Lumber Damaged by Pine Weevils into Local Resources
To maintain and protect forests, it is necessary to thin trees and perform other maintenance appropriately, while also using clear-cutting(harvesting all trees at once)and afforestation(replanting trees on harvested ground to create a man-made forest)at the appropriate times. The curved branches, treetops, and part of the roots generated during such harvesting have been left over and unused. This project uses the materials that are unusable for producing lumber, including such left over materials from such forests. This also contributes to processing and recycling wood damaged by pine weevils, a local problem, into resources that are used effectively as fuel.
Shinshu Wood Power uses around 30,000 tons/year of raw timber as fuel. The company procures all of them locally, based on their business scale policy to be operated with local resources alone. The company will operate the business on the premise of effectively turning unused materials into resources and achieving sustainable forestry management that will lead to the protection and development of forests.
Shinshu Wood Power Wood-fueled Biomass Power Generation Process
Wood-fueled biomass power generation is one type of renewable energy. Unused wood materials and other forest resources are turned into chips, which turn the turbine through direct combustion or are turned into gas that powers the engine. This operates the generator and produces power. Shinshu Wood Power uses the steam turbine method in which the wood chips are directly combusted to produce steam in the boiler, which then turns the turbine. This does not increase greenhouse gases, and the forests, which absorb CO2, are protected and developed, so it is expected to reduced CO2 emissions by about 7,000 tons/year through power generation that contributes to global warming mitigation.
This process also does not use the water-cooling method, which uses a large volume of water, and sufficiently provides for the protection of water sources and rivers. By using the air-cooling method, this process uses a maximum tap water volume equivalent to around 2.5 typical households and plant discharge is equal to or less than the tap water used.
The plant administration office is a two-floor wooden building. Shinshu Japanese larch, the best grade of lumber and the pride of the community, was used abundantly for the main structural materials, exterior walls, interior finishing, and elsewhere to create the building where people can experience the attractiveness of Shinshu lumber. A floor heating system that uses heat emitted from the boiler has also been installed. The presentation room on the second floor can also be used as a venue for tree education and other events.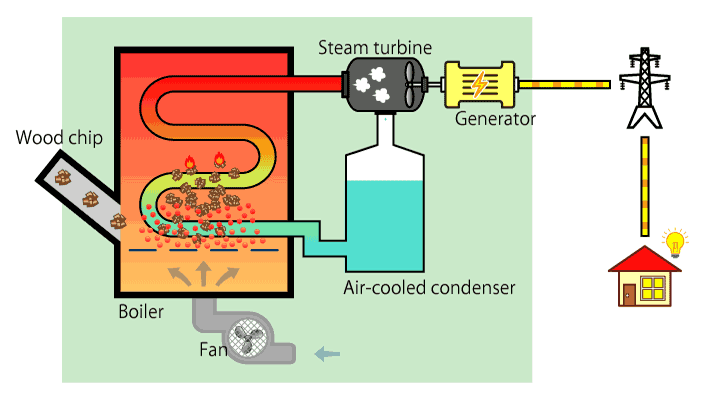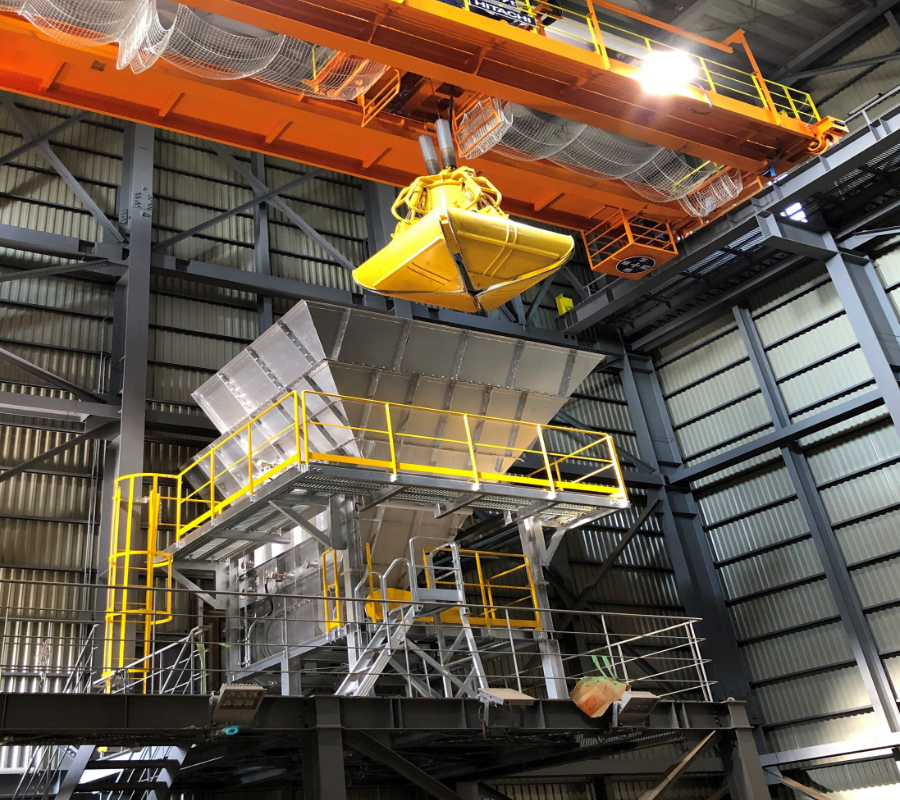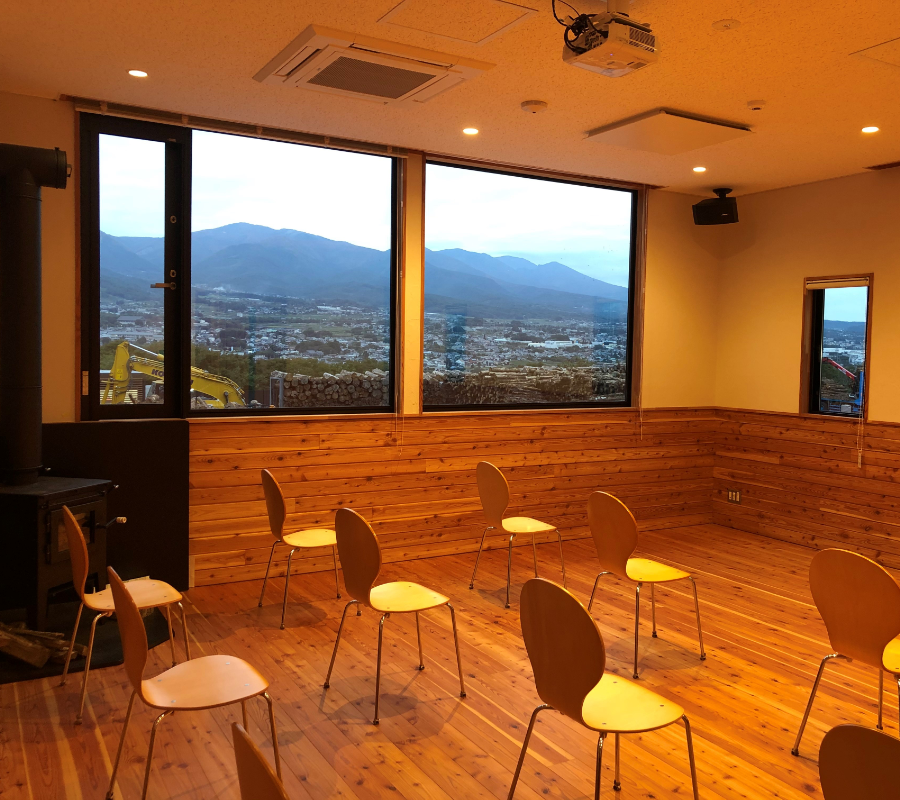 Business Innovation through State-of-the-Art ICT Technology
SWPC is rolling out innovative initiatives to promote ICT use in forestry and power generation plants.
Wood-fueled Biomass Certified Traceability System
This system(patent pending)was developed jointly with Japan Environment Management System Inc.(JEMS)to prove that unused timber of fair origin is transported from felling to storage. It uses GPS/GIS and image recognition technology that can verify the procurement route of the raw timber for fuel. The vehicle driver can easily enter information with one touch on a dedicated smartphone and then the transport route is visualized through automated tracking via GPS. The original source certification completes to create just touch a screen, and integrated management of the transport route and many other types of data on a cloud enables confirmation and use at any time.
In the future, SWPC will expand to certified lumber, matching lumber with users needing it, and forest management, which are connected to the digital transformation of forestry, based on this system.

Plant Operation Remote Support System
SWPC introduced the first remote support system for biomass power generation in Japan, which was developed jointly with the plant manufacturer(Mitsubishi Power Industries Co., Ltd.). The plant manufacturer's sites in Kure, Hiroshima Prefecture and Yokohama, Kanagawa Prefecture are linked to Shinshu Wood Power via a high-speed Internet. The plant manufacturer monitors transport status in real time while providing remote support, and local staff can receive operational assistance at any time so they can operate safety. SWPC will take on the additional challenges of digitalizing technology transfer and adding an AI monitoring function.
Crane Automation to Fully Automate the Chip Delivery System
Wood-fueled biomass power generation requires continuous delivery of wood chips and most of this is performed manually. Shinshu Wood Power has fully automated this process. The delivery of wood chips for fuel to the power generation plant from the wood chip storage has been automated by using a programmed crane. This has lightened the workload, which has been a problem in conventional biomass power generation, especially in terms of the fuel supply work at night and on holidays. SWPC aims to be not only environmentally friendly but also people friendly.
Shinshu Wood Power and Shinshu Wood Chip, Episode 2(only in Japanese): Our Biomass Plan for Forestry(2 min. 55 sec.)*Click on the screen to start the video.
Shimizu aims to increase the number of packages of a 2MW class wood-fueled biomass power plant and a wood chip manufacturing facility. We will make a substantial contribution to the achievement of SDGs by expanding this business, which will stop global warming and lead to sustainable forest management.
The information posted here is the current information on the date of posting.Please be aware that this information may have changed by the time you view it.