Shimizu Volunteer Academy
We hold a Shimizu Volunteer Academy training course to provide volunteers with broad knowledge about people with disabilities and Paralympic sports.
We have joined in public-private partnerships and industrial-academic partnerships to hold these courses since FY2016 to bring the experience to more people.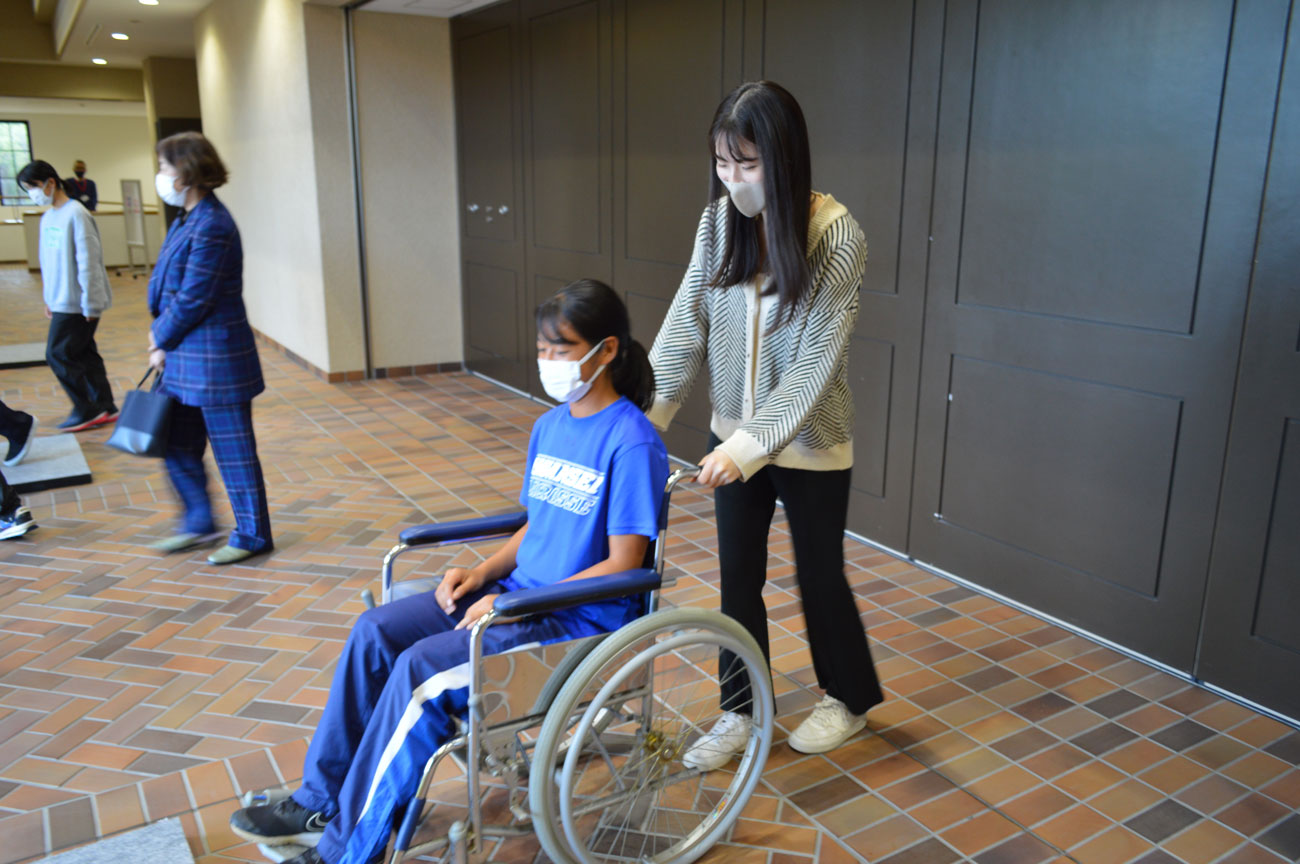 Official Sponsor of the Japanese Para-Sports Association
Shimizu is now an official sponsor of the Japanese Para-Sports Association (JPSA).
We agree with JPSA's philosophy of promoting independence and social participation of people with disabilities through sports and striving to realize a vital society in which all can co-exist harmoniously. Shimizu will continue to actively engage in activities with JPSA to promote the expansion of sports for people with disabilities in the future.

"Sports for Everyone" sports events to enable all people to experience para sports
Shimizu is a contributing sponsor of the Challenger's website. This website reports on sports for people with disabilities and is run by the non-profit organization, STAND (Shibuya, Tokyo/Representative: Kazuko Ito) which supports para-sports. We also actively support the STAND-sponsored para-sports events that provide an opportunity for the general public to try out para sports. We are also an active supporter of the hands-on para sports events sponsored by STAND and held nationwide. Shimizu officers and employees have served as volunteers at these events since 2014.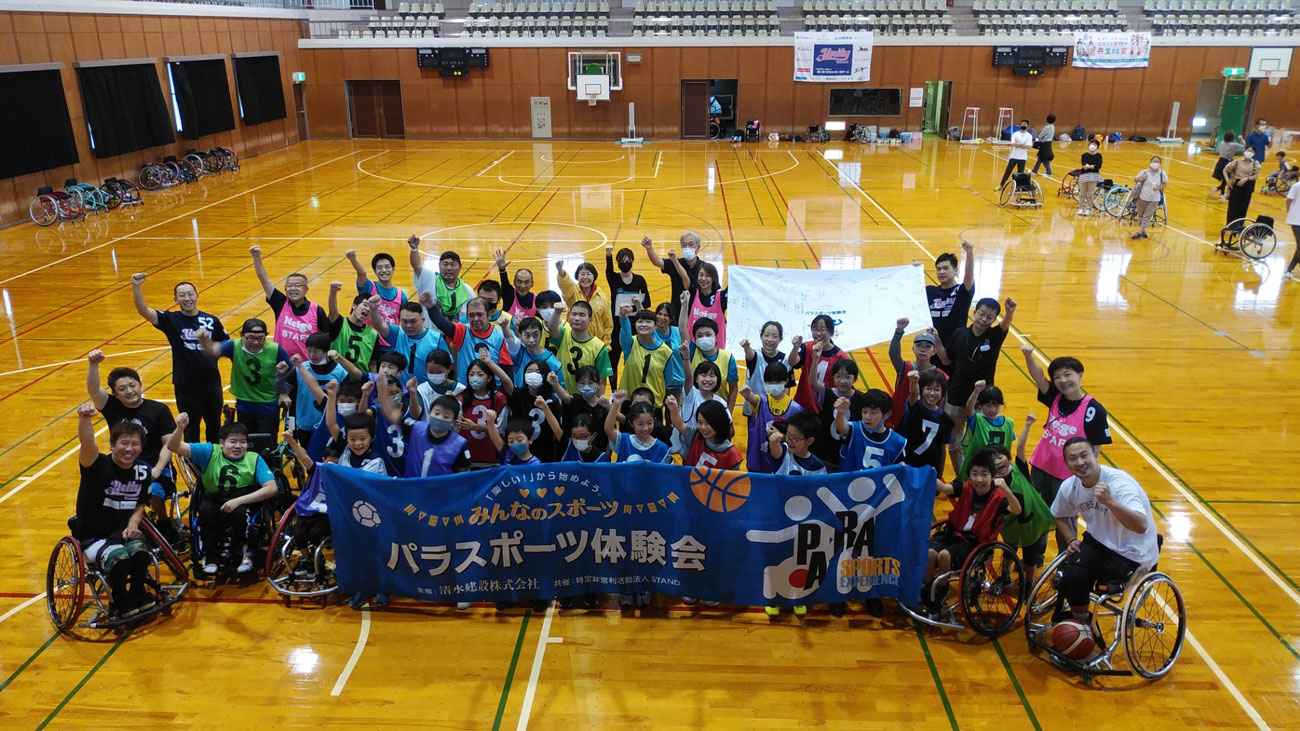 Places Where Sports Events Have Been Held in the Past
Fiscal 2014
Kanazawa City, Ishikawa Prefecture
Koto City, Tokyo
Sendai City, Miyagi Prefecture
Fiscal 2015
Hiroshima City, Hiroshima
Niigata City, Niigata Prefecture
Matsubara City, Osaka Prefecture
Fiscal 2016
Sapporo City, Hokkaido
Kawaguchi City, Saitama Prefecture
Chiba City, Chiba Prefecture
Fiscal 2017
Fukuoka City, Fukuoka Prefecture
Yokohama City, Kanagawa Prefecture
Yachiyo City, Chiba Prefecture
Fiscal 2018
Minamisoma City, Fukushima Prefecture
Shibuya Ward, Tokyo
Osaka City, Osaka
Cumulative number of participants to-date: 1,449 (as of Mar. 2019)
Let's Try! Adapted Sports in Iwamizawa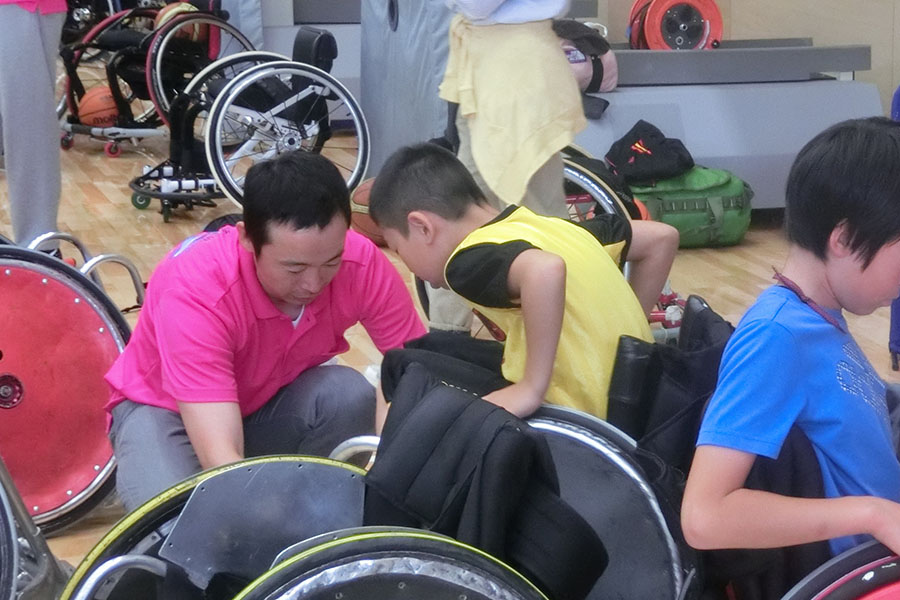 Thirteen employees from Shimizu participated in an adapted sports event that could be enjoyed by a wide range of people, from small children to the elderly people, people with disabilities, and others. Volunteers assisted in directing parking lot traffic, operating try-out booths, and in the reception area while participants reveled in Paralympic sports such as wheelchair rugby and blind soccer.
Participation as Volunteers in the Oita International Wheelchair Marathon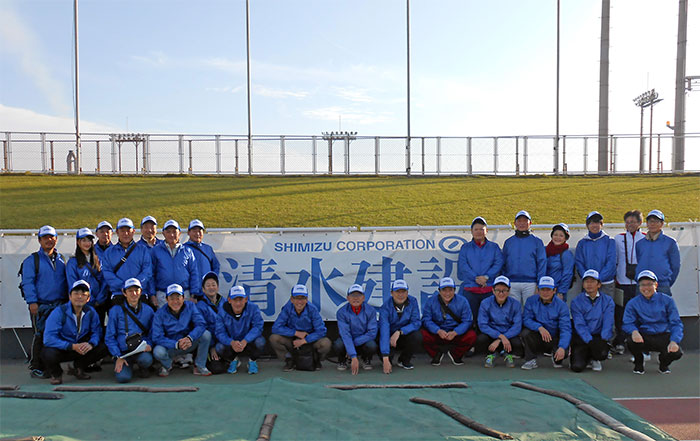 Interested employees from the Kyushu Branch have served as volunteers for the Oita International Wheelchair Marathon, the largest wheelchair marathon in the world, since 2015. Volunteers assist with running the marathon by working as course safety patrols, checking the belongings of competitors, distributing boxed lunches, and serving in other roles.